Best Dutch Baby Pancake Recipe
This is the Best Dutch Baby Pancake recipe! Sweet, tender, perfectly puffed German Pancakes are topped with berries and whipped cream. Even the picky husband gave it rave reviews!
Also known as an Oven Pancake, Puffed Pancake, or German Pancake, this breakfast treat has the texture of a Yorkshire Pudding and is impossible to resist.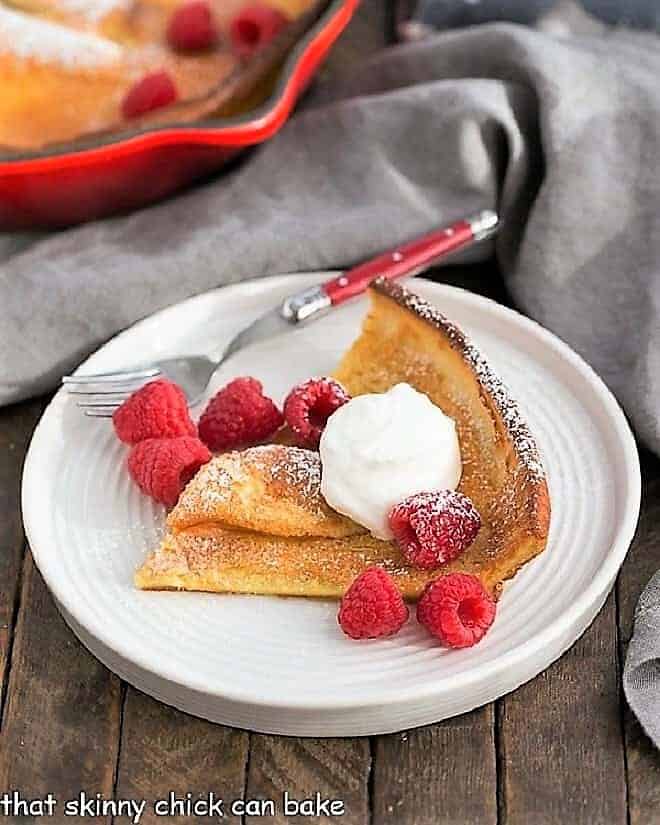 Why You Must Make
My mom discovered the Dutch Baby Pancake after I went to college. My lucky sisters were treated to this German pancake topped with powdered sugar and a squeeze of lemon juice. My mom called this puffed pancake a "Pancake Man," though a quick Google search returned absolutely no hits. Maybe it was dubbed this by my siblings or was a regional term.
This pancake has been around for over a century with German roots!
It's a super fun presentation with the pancake puffing up as it cooks, then collapsing.
There are numerous ways to serve it. Whether you're a butter and maple syrup lover or a fan of berries and powdered sugar, there's a perfect topping for your taste buds.
No matter what name you use, this Dutch baby pancake recipe is delicious! The hubby loved this with powdered sugar, fresh raspberries, and some sweetened whipped cream.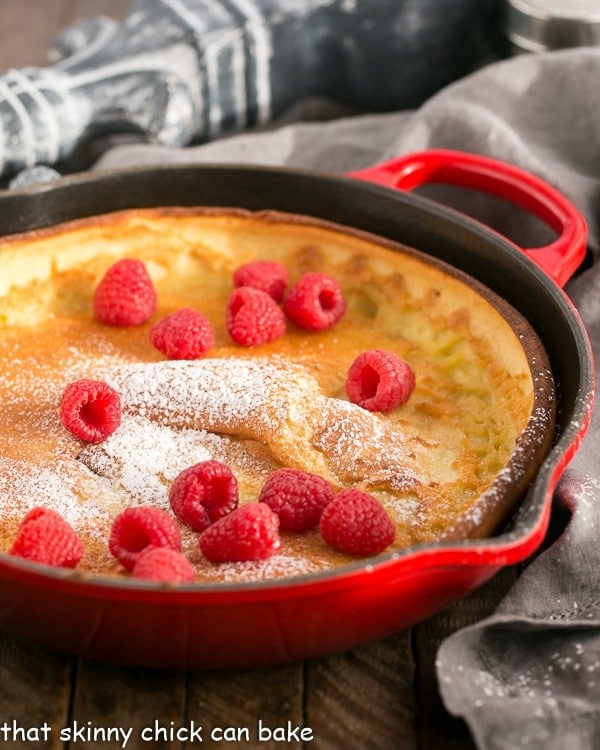 How to Make
There were a few tricks I've learned to ensure a marvelous result.
PRO-Tip: First of all, preheat your cast iron skillet while you heat up your oven. This will help the pancake inflate even more as the batter hits the hot pan.
PRO-Tip: Once your batter is mixed, pop it in the refrigerator for an hour or so to let the gluten rest, so that your finished product is nice and tender.
Place butter into the preheated pan, watching carefully so it doesn't burn. When it's almost melted, swirl the butter around to coat the bottom of the skillet, then pour in the batter.
Bake for 15-20 minutes or until puffed and golden, then reduce the heat bake for 5 more minutes.
Sprinkle with powdered sugar to serve wedges with berries, whipped cream, maple syrup, cinnamon sugar, or any of your favorite pancake toppings.
From what I recall, the hubby wasn't a huge puffed pancake fan the last time I made them. Maybe it was the whipped cream and berries this time or maybe it was my tweaked recipe. No matter, I'm thrilled he is a convert. Now I can serve this wonderful Dutch Baby Pancake the next time we have overnight company!
Expert Tips
Have your milk and eggs at room temperature before making the batter.
The batter is blended and must be chilled for at least an hour.
PRO-Tip: Make the batter the night before and keep it covered and chilled until you're ready to use it the next morning. Give it a quick stir if needed before using, but don't reblend.
The keys to success are having a hot oven and a hot pan. This enables a good rise of the pancake.
Use a heavy, cast iron pan for the best results.
If making for a holiday or company, offer a big assortment of toppings to make it festive!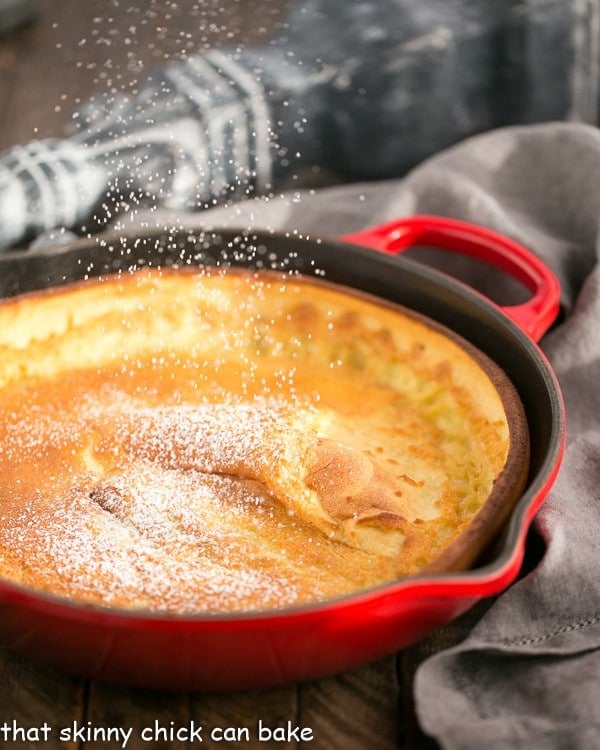 Frequently Asked Questions
What is a Dutch Baby Pancake?
A Dutch Baby Pancake is a German pancake recipe that's similar to a large popover or Yorkshire pudding. It puffs as it bakes, then collapses forming an eggy custardy base with crisp edges.
It's served for breakfast or brunch. A sweet version is the most common, but there are savory recipes as well.
Why Does a Dutch Baby Rise?
The whole eggs along with the gluten in the flour work together to help "puff" the pancake. The rising continues as the chilled batter hits the preheated pan, then the hot oven.
What's the Difference Between a Dutch Baby and a German Pancake?
They are the same thing. As mentioned above, there are numerous names for this pancake depending on where you live.
How did Dutch Baby Pancake get its name?
The Dutch baby pancake does not have any ties to the Netherlands but instead is German. In the early 1900s, a Seattle restauranteur, Victor Manca, put a German pancake, Pfannkuchen, on his menu.
One of the best guesses is that the owner's daughter, meaning say "Deutsch (German)" pancake, called it a Dutch pancake. Manca's Cafe claimed to have trademarked the name in 1942.
How are Dutch Baby Pancakes Served?
Besides powdered sugar and berries or plain old maple syrup, there are many other toppings that are delicious on these pancakes.
Serve your pancake warm with your favorite toppings. Some other options are sugar and a squeeze of lemon, lemon curd, jams or preserves, or cinnamon sugar.
How Do You Store the Leftovers?
Leftovers keep in the refrigerator for 3-4 days, but this pancake tastes best freshly baked. Just gently reheat in the microwave before serving.
You May Also Like
Whether for Mother's Day, Easter, or overnight guests, everyone loves a terrific brunch recipe.
Stay in touch through social media @ Instagram, Facebook, and Pinterest. Don't forget to tag me when you try one of my recipes! And if you love the results, please give it a 5-star rating in the recipe card. Note: As an Amazon Associate, I earn from qualifying purchases. Visit my Amazon Store for my favorite products.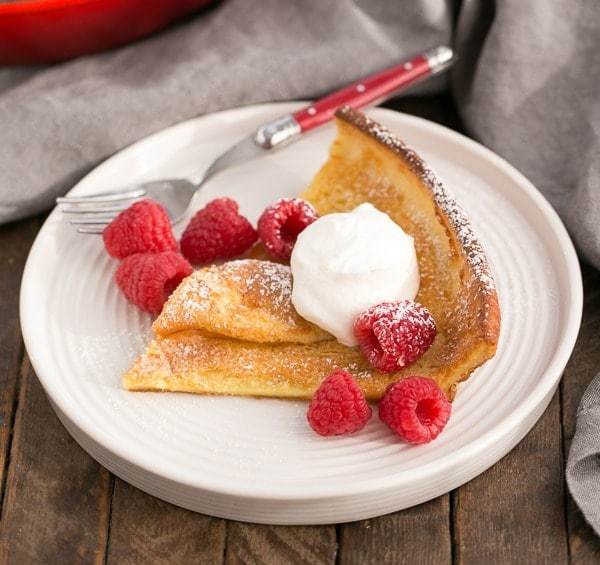 The Recipe:
Best Dutch Baby Pancake Recipe
Prep Time 5 minutes
Cook Time 25 minutes
Total Time 30 minutes
Yield 3 servings
A puffy pancake that makes a fabulous brunch entree!
Ingredients
3 eggs
1/2 cup flour
1/2 cup whole milk
1/2 teaspoon vanilla
3 tablespoons sugar
4 tablespoons butter, cut into 3-4 pieces
Powdered sugar, raspberries, sweetened whipped cream or maple syrup to serve
Instructions
Combine eggs, flour, milk, sugar and vanilla in your blender. Blend until smooth. Let rest in the refrigerator for one hour if you have time.
Preheat oven to 425º. Place a 10 inch cast iron skillet into the oven.
Place butter into the pan, watching carefully so it doesn't burn. When almost melted, swirl the butter around, then pour in the batter.
Bake for 15-20 minutes or until puffed and golden. Reduce oven to 300º and bake 5 more minutes.
Remove from oven, sprinkled with powdered sugar and cut into wedges. Sprinkle each piece with berries and a dollop of whipped cream or with maple syrup, if desired.
Notes
Total time doesn't include chilling time.
Calorie count does not include toppings.
Nutrition Information:
Yield:
3
Serving Size:
1
Amount Per Serving:
Calories: 537
Total Fat: 22g
Saturated Fat: 12g
Trans Fat: 1g
Unsaturated Fat: 8g
Cholesterol: 232mg
Sodium: 213mg
Carbohydrates: 76g
Fiber: 1g
Sugar: 58g
Protein: 10g
Note: This post may contain affiliate links; view
my Disclosure Policy
for details. I earn a small percentage from any purchase you make by clicking on these links at no extra cost to you.