Tex-Mex Breakfast Burritos
These Tex-Mex Breakfast Burritos are a hearty, flavorful way to start the day! Plus you can make extras to freeze for a busy morning. The picky hubby gave these two thumbs up, and I didn't even see a pile of avocado cubes on the side of his plate. They're just that delicious!
Frozen Breakfast Burritos will be your new best friend when your family needs a hearty meal to start the day. Just remove the foil and microwave! You can't beat that.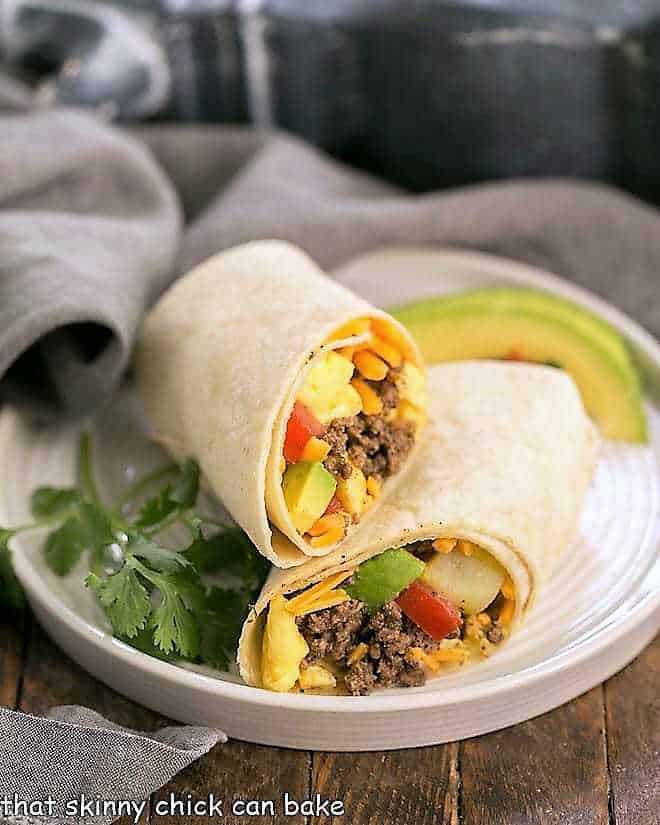 Why You Must Make
Even if you're a novice burrito maker, the process of filling and rolling is super easy to learn. After a couple of tries, you'll master it.
If you have family members with a hearty appetite, these are a delicious and protein-heavy way to start the day!
Plus, you can keep a stash in the freezer for busy mornings, finals week, or anytime your family needs a good, filling breakfast.
The ingredients are easily adaptable so you can customize them to your family's tastes.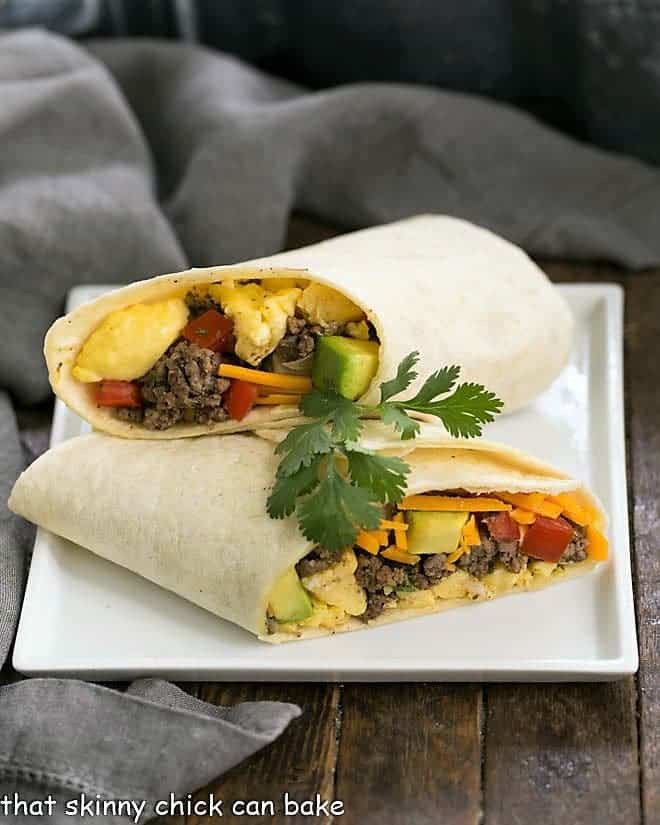 Expert Tips
Here are a few tips I learned along the way. If you're planning to make and eat these Tex-Mex Breakfast Burritos on the same day as you prepare them, the procedure is a little different than if you plan to freeze part of them for later. Make sure to use top-of-the-line products for the best results.
Purchase large tortillas made especially for burritos. These enable you to fold and wrap your burritos properly.
PRO Tip: Have all your components cooked or prepared before starting to layer.
These burritos have cold cheese instead of melted cheese if you serve them on the day they're assembled. If you want, just pop them in the microwave to melt the cheese.
Be careful not to pack as many ingredients as possible into these tortilla packages. My first attempt at burrito folding was bursting at the seams. Oops. But soon they were all just right.
PRO Tip: For the most efficient assembly, have all the components set out in containers across your counter in the order you plan to layer them. There's no right or wrong way, but I started with the beef, then layered the eggs, potatoes, cheese, and finally, the pico de gallo and avocados.
When layering the fillings across the center of the tortilla, leave room on both ends of the filling to fold up the tortilla before rolling. Fold those sides up over the filling before tightly rolling the tortilla into a burrito.
Place the burritos seam-side down on a baking sheet as you make them
I used the seasonings I use to make tacos for the Tex-Mex flavors, chili powder, cumin, oregano, garlic powder, etc. You can use your favorite taco or fajita seasoning mixtures instead.
Monterey jack or pepper jack cheese can be substituted for cheddar cheese.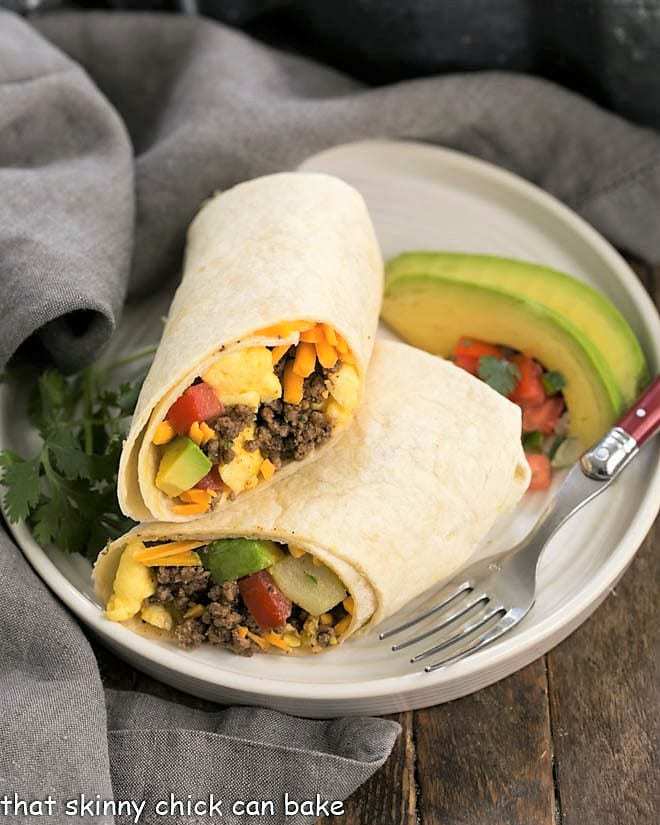 How to Freeze
Yes, believe it or not, breakfast burritos can be frozen as long as you wrap them correctly. Here are some hints for making Freezer Breakfast Burritos:
Have your spiced beef cooled to room temperature before adding to the tortillas. If the beef is warm, it can sweat and moisten the tortillas.
Layer the meat first when serving these burritos the same day, but if you plan to freeze for later, add some cheese first as that will block any moisture that may occur when they're reheated. This will help prevent a soggy shell.
Leave out the pico de gallo and avocados before freezing, unless you're OK with having them hot when reheated. Have them at the table for toppings at mealtime. Or just serve with salsa and guacamole instead.
To freeze, wrap each burrito in parchment, followed by a layer of foil, then freeze on a sheet pan for an hour or two. Store the frozen burritos in a freezer Ziploc bag for up to 3 months.
To serve from the freezer, remove the foil and microwave for about 2 minutes or until heated through. They also can be reheated in the oven at 350º for 12 or more minutes, or until hot.
The cheese will be melted, unlike my freshly made Tex-Mex breakfast tortillas pictured above. Who doesn't love some gooey cheese??
Frequently Asked Questions
What other fillings can you use?
The filling variations are endless. These burritos were filled with browned ground beef with taco seasoning, scrambled eggs, cheddar cheese, browned potato cubes, pico de Gallo, and a smattering of avocado cubes.
Instead of ground beef, try chorizo or breakfast sausage. Shake up the cheese by trying Monterey Jack or Pepper Jack. Watching your carbs? Use whole wheat or low-carb tortilla and skip the potatoes. Add some green chiles to up the spiciness.
What Toppings Can You Put on Breakfast Burritos?
My boys would probably use ketchup, but I'd serve these with salsa, guacamole, sour cream, or Mexican crema.
What Can You Serve with Breakfast Burritos?
Fresh fruit or a fruit salad, hash browns, or fried potatoes work well as side dishes.
You May Also Like:
Stay in touch through social media @ Instagram, Facebook, and Pinterest. Don't forget to tag me when you try one of my recipes! And if you love the results, please give it a 5-star rating in the recipe card. Note: As an Amazon Associate, I earn from qualifying purchases. Visit my Amazon Store for my favorite products.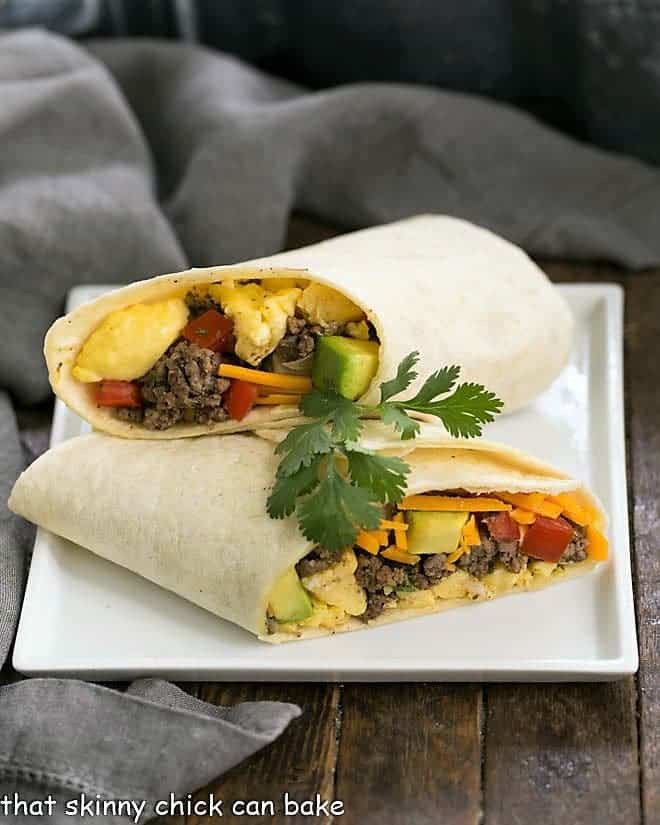 The Recipe:
Tex-Mex Breakfast Burritos
Prep Time 20 minutes
Cook Time 10 minutes
Total Time 30 minutes
Yield 4 servings
Eggs, potatoes and beef make for a delicious Tex-Mex breakfast burrito!
Ingredients
1/2 pound ground beef
1 tablespoon minced onion
1/2 teaspoon salt
1/8 teaspoon garlic powder
1/2 teaspoon ground cumin
1/2 teaspoon chili powder
1/2 teaspoon dried oregano
1 cup diced potatoes, I used Simply Potatoes
1 tablespoon olive oil
1/2 teaspoon seasoning salt
8 eggs, whisked with 1/2 cup water and 1 teaspoon salt
1/2 cup shredded sharp cheddar cheese
Pico de gallo, purchased or homemade*
1/2 avocado, diced
4 burrito sized flour tortillas
Instructions
Place the ground beef and minced onion in a saute pan (I use a non-stick pan) and add seasonings. Cook and break apart until the meat is thoroughly cooked. Remove to a bowl.
Wipe out the saute pan and add a tablespoon of oil. Add the potatoes and seasoning salt (plain salt and pepper is fine, too) and saute until browned. Remove to another bowl.
Whisk the eggs with the water and salt. Add to saute pan and cook, stirring occasionally, until the eggs are soft and set. Remove to a 3rd bowl. Wipe out the pan again.
Set out the cheddar cheese, pico de gallo, and diced avocado. Warm the tortillas in the saute pan if desired.
Lay a tortilla out on a flat surface. Place 1/4 of the beef along the center of the tortilla, then 1/4 of the eggs, potatoes, cheese, pico, and avocados. Fold up the sides over the short side of the filling, then rotate the burrito and tuck and roll the tortilla around the filling into a burrito shape.
Cut in half to serve. If you need to rewarm your burrito, zap in the microwave for a minute or so or place in the saute pan and gently heat.
Notes
Proportions inspired by a Breakfast Burrito recipe from the Food Network Kitchen.
To freeze, wrap in parchment, then foil. Remove foil and microwave gently to reheat.
To make your own pico de gallo, mix 2 diced plum tomatoes with 1 tablespoon minced onion, 1/2 of a jalapeno minced, minced cilantro, juice of half and lime, and a sprinkle of salt.
Nutrition Information:
Yield:
4
Serving Size:
1 burrito
Amount Per Serving:
Calories: 1107
Total Fat: 58g
Saturated Fat: 22g
Trans Fat: 1g
Unsaturated Fat: 30g
Cholesterol: 498mg
Sodium: 2597mg
Carbohydrates: 86g
Fiber: 13g
Sugar: 7g
Protein: 61g
Note: This post may contain affiliate links; view
my Disclosure Policy
for details. I earn a small percentage from any purchase you make by clicking on these links at no extra cost to you.