Homemade Chicken Parmesan
Don't you love an easy weeknight dinner? This lightly breaded Easy Chicken Parmesan Recipe is always on the menu when I have leftover marinara sauce.
Chicken Parmigiana is the perfect for a quick, tasty weeknight meal! With a double dose of cheese and Homemade Marinara Sauce, it will instantly become a family favorite!


Why You Must Make
This homemade chicken parmesan is one of those weeknight dinners I throw together at the last minute. As long as I have some leftover marinara in the fridge or freezer and some melty cheese, we're good to go. The rest can be easily tweaked.
I often have a box of seasoned croutons in the pantry to make the kids' favorite chicken nuggets, so that is a popular option for a lovely crust. Otherwise, some doctored-up bread crumbs work well.
No sliced cheese? Use some shredded mozzarella. No time for homemade marinara? Your favorite store-bought marinara or spaghetti sauce will work in a pinch.
Ingredient Notes
Kitchen Staples – Olive oil, Butter
Marinara – Homemade or use a good quality store-bought version.
Boneless skinless chicken breasts, pounded with a meat mallet to an even thickness
Seasoned Croutons – crushed or 1 – 1 1/2 cups breadcrumbs (Panko works well) seasoned with salt, basil and thyme
Parmesan Cheese – Use real Parmigiano Reggiano, not the green can on the grocer's shelves.
Egg – mixed with 2 tablespoons milk or water
Provolone Cheese – Sliced
Mozzarella Cheese – May use fresh mozzarella or classic mozzarella slices
Tips for Making Marinara
This marinara is SO darn easy to throw together, it's worth cooking up a double batch to have a stash in your freezer.
Make sure to buy quality canned tomatoes (I've been loving Pomi—BPA and GMO-free, made from Italian tomatoes) as they are the main component of this recipe.
After cooking the onions and garlic, the rest of the ingredients are added; and after a half-hour of simmering, the marinara is ready to go.
I also make Spaghetti Pie with my leftover marinara. The hubby loves that entree, too! Or try your hand at Homemade Ricotta Gnocchi. I hope you will work this easy dish into your dinner repertoire.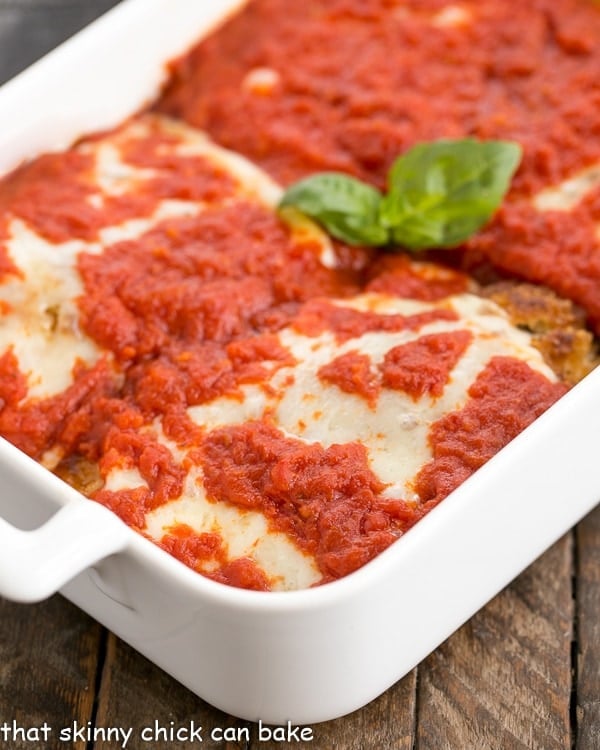 You May Also Like
The Recipe:
Homemade Chicken Parmesan
Prep Time 30 minutes
Cook Time 50 minutes
Total Time 1 hour 20 minutes
Yield 6 servings
A delicious weeknight dinner that always receives raves from my crew
Ingredients
For Marinara
1/4 cup extra virgin olive oil
3 whole garlic cloves
1 cup diced onion
2 tablespoons tomato paste
53 ounces canned chopped tomatoes
Large pinch of sugar
3 basil sprigs (or 1/2 teaspoon dried basil)
1 teaspoon dried oregano
1 teaspoon salt
Freshly ground pepper, to taste
For chicken
6 boneless skinless chicken breasts, pounded with a meat mallet to an even thickness
Box of seasoned croutons, crushed or 1 - 1 1/2 cups breadcrumbs (Panko works well) seasoned with salt, basil and thyme
1/2 cup grated fresh Parmesan cheese
1 egg mixed with 2 tablespoons milk or water
Olive oil
Butter
2-6 slices of Provolone cheese (if your slices are thin, you will need the larger amount)
2-6 slices Mozzarella cheese
Instructions
Make marinara: Heat olive oil and cook garlic cloves till slightly golden. Add onions and cook till soft. Add tomato paste and mix to combine and cook briefly. Carefully add tomatoes (oil will splatter), a large pinch of sugar, basil, oregano, salt and pepper. Simmer for about 30 minutes.
Remove garlic cloves.
Spray large baking dish with nonstick spray and set aside. Preheat oven to 350º.
Pound chicken into cutlets about 1/2-3/4 inch thick. Set aside.
In a pie tin, whisk egg with water or milk.
In another pin tin, mix breadcrumbs and Parmesan with 1/2 teaspoon salt, basil and thyme for each cup (or mix crushed, seasoned croutons with Parmesan and omit the seasonings).
Heat about 2 tablespoons olive oil and 2 tablespoons of butter in large saucepan.
Dip chicken first in egg wash, then in crumbs, pressing to help them adhere. Place into hot pan and cook on both sides till well browned. Remove to prepared pan. Top each piece of chicken with a half slice of provolone and a half slice of mozzarella (use a whole slice if your slices are thin. Cover chicken with 1 1/2 cups marinara sauce.
Bake for 20 minutes or till chicken is cooked through.
Notes
You may use a jar of good-quality marinara in lieu of the homemade marinara recipe.
Nutrition Information:
Yield:
6
Serving Size:
1 chicken breast
Amount Per Serving:
Calories: 671
Total Fat: 38g
Saturated Fat: 15g
Trans Fat: 0g
Unsaturated Fat: 20g
Cholesterol: 205mg
Sodium: 29396mg
Carbohydrates: 20g
Fiber: 4g
Sugar: 10g
Protein: 63g
Disclosure: Pomi supplied me with samples of their tomatoes. I was not compensated for writing this post and the opinions expressed herein are those of the author, and are not indicative of the opinions or positions of Pomi.
Note: This post may contain affiliate links; view
my Disclosure Policy
for details. I earn a small percentage from any purchase you make by clicking on these links at no extra cost to you.