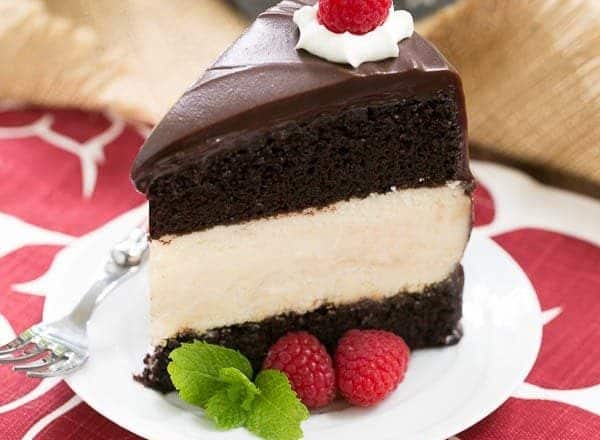 Looking for a showstopping dessert recipe? This Cheesecake Filled Chocolate Cake sandwiches a creamy cheesecake between two moist chocolate cakes and is finished off with a topping of decadent fudge sauce!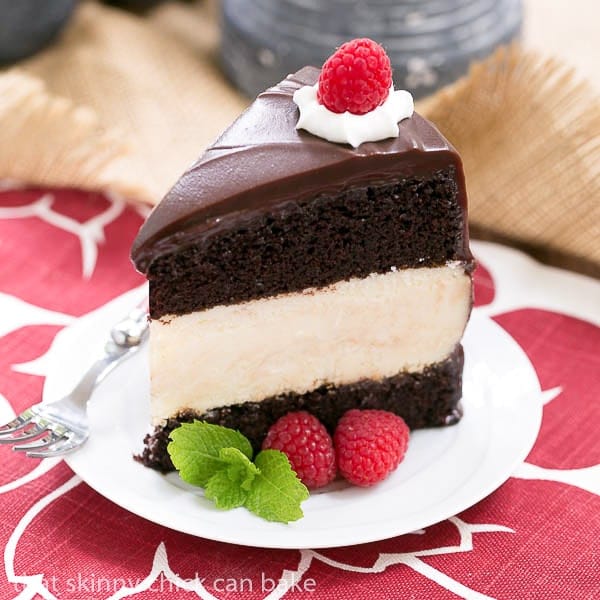 Cheesecake Filled Chocolate Cake
When I need a rich and gooey dessert, I know I can rely on my friend, Danielle, for the best recipes. I was headed to a gathering of about 20 girlfriends and we were all to bring heavy appetizers. I knew a dessert would be fine with my hostess and this Cheesecake Filled Chocolate Cake has something for everyone.
The rich, creamy cheesecake was perfect for my cheesecake loving daughter whereas my youngest would push aside the middle layer and eat only the cake and fudge topping. Of course, my gal pals have much less picky palates than my family members (who doesn't for that matter???) and swooned over their slivers of cake.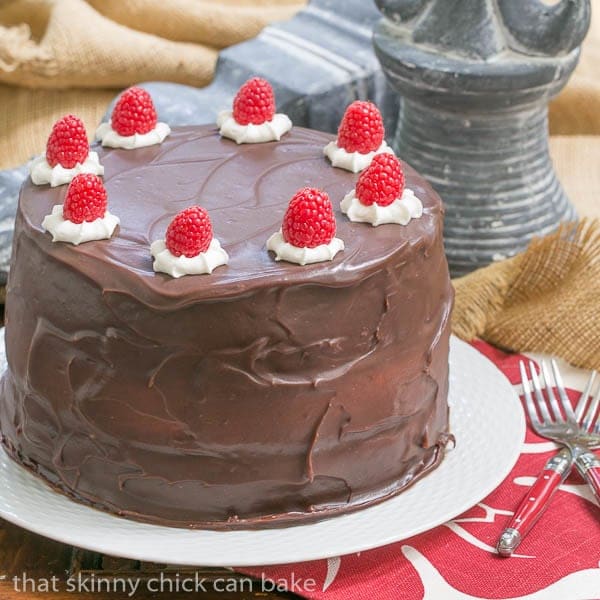 Fudge Drizzle Mishap
Danielle's version has the fudge sauce artfully dripping down the sides of the cake. Well, apparently, that's not my forte. So, instead of saving half the fudge for hot fudge sundaes, I used every spankin' drop to ice the whole cake. That's where the decadence x 3 comes in. Whoa, was this one amazing masterpiece. A sliver is all you need, unless you want a big slab instead of dinner. No judgement here! And if icing is not your thing, slices of this cake would be marvelous drizzled with fudge sauce!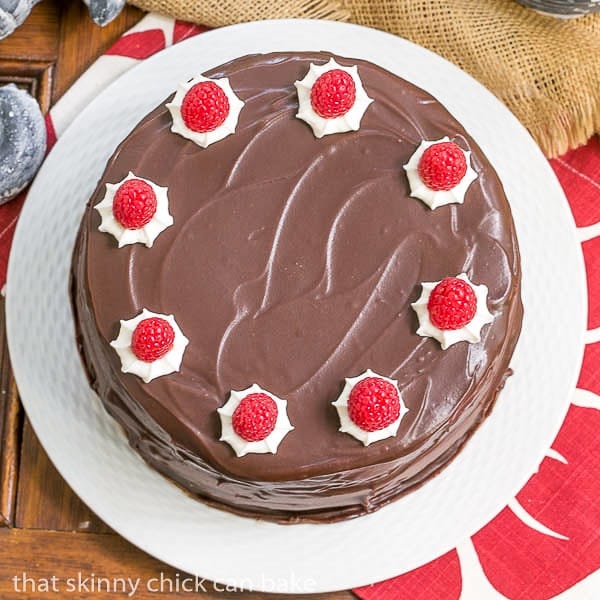 Hugs & Cookies XOXO
Thanks again to my lovely friend, Danielle for another magnificent dessert recipe! She is my go-to blogger for decadent treats. I promise you will love whatever you try!!! We share a recipe from each other's blogs every second Monday of the month.
Check out Danielle's take on this recipe as well as her social media sites!
Print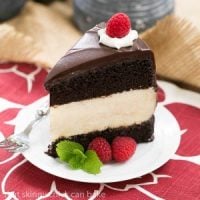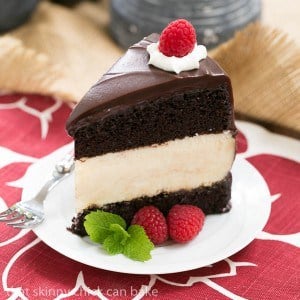 Cheesecake Filled Chocolate Cake
An insanely rich and delicious cheesecake filled chocolate layer cake topped with fudge
Author:
Prep Time: 40 mins
Cook Time: 2 hours 5 mins
Total Time: 2 hours 45 minutes
Yield: 16-20
Ingredients
For Chocolate Cake Layers:
2 cups sugar
1 3/4 cups all-purpose flour
3/4 cups cocoa powder
2 teaspoons baking soda
1 teaspoon baking powder
1 teaspoon salt
1 cup buttermilk
1 cup hot coffee
1/2 cup canola oil
2 large eggs
2 teaspoon pure vanilla extract
For Cheesecake Layer:
4 (8 ounce) packages cream cheese
1 2/3 cups sugar
1/4 cup cornstarch
1 tablespoon pure vanilla extract
2 large eggs
3/4 cup heavy whipping cream
For Hot Fudge:
4 tablespoons butter, cut into chunks
1/4 cup light corn syrup
4 oz. unsweetened chocolate, chopped
3/4 cup brown sugar
3/4 cup sugar
1-1 1/2 cups heavy cream (if icing your cake, start with 1 cup)
1/4 teaspoon salt
2 teaspoons vanilla
Instructions
Make cakes first. Adjust oven rack to the middle position. Preheat oven to 350º. Butter and line 2, 8-inch baking pans with parchment paper. Set aside.
In the bowl of a stand mixer fitted with the paddle attachment, add the dry ingredients & mix.
Add in the buttermilk, hot coffee, oil, eggs, and vanilla. Mix on medium speed until well combined 1-2 mins.
Divide batter among cake pans and bake until a toothpick inserted comes out almost clean, about 35 to 40 minutes.
Let cake cool in pans about 10 minutes then remove from pans and cool on a cooling rack until completely cooled. I froze mine at this point until ready to assemble the cake.
To make cheesecake, lightly butter an 8-inch springform pan. Wrap it in foil and place in a larger pan for a water bath. Preheat oven to 350º.
With the paddle attachment of your stand mixer, beat one pack of cream cheese with ⅓ cup sugar and cornstarch on low for 3 minutes. Add the rest of the cream cheese and blend. Increase mixer speed to high and add the red of the sugar. On medium add the eggs, vanilla and heavy cream and mix till just blended.
Pour into spring-form pan, then pour hot water into larger pan till it reaches 1 inch up sides of springform pan. Bake 60-75 minutes or till center is almost set. Let cool to room temperature then chill in refrigerator a few hours or overnight.
To make hot fudge, melt butter over medium heat in a large saucepan and swirl it around in pan to coat sides.
Add corn syrup and chocolate and stir until chocolate melts.
Add sugars, cream and salt and continue to cook over medium till mixture comes to a boil.
Using a candy thermometer, boil gently for 7 to 9 minutes, without stirring, until sauce is thickened and candy thermometer reaches 220-224º. Remove from heat. Pour sauce into 4 cup Pyrex measuring cup. Whisk in vanilla. Cool to room temperature on counter, then chill till it reaches spreadable consistency before frosting cake.
To assemble, place one chocolate layer on a serving plate, top with cheesecake layer, then the second chocolate layer. Frost with fudge sauce or just serve slices with a drizzle of fudge sauce.
Keep cake chilled.
Hot Fudge will last 2 weeks. Cool sauce completely before covering and chilling.
Notes
The fudge must be chilled to reach spreadable consistency. Keep cake refrigerated till serving time to keep the topping relatively firm.
I've decreased the amount of heavy cream in the fudge sauce so it's more spreadable. If you'd like it thinner, add up to ½ cup more cream.
An easier, just as delicious alternative would be to serve slices drizzled with fudge sauce and skip the icing step!

Note: This post may contain affiliate links; view my Disclosure Policy for details. I earn a small percentage from any purchase you make by clicking on these links at no extra cost to you.