The picky hubby panics a bit when I spout off our entree for the night and he doesn't recognize the name.  This Slow Cooker Carne Asada had him puzzled for an instant, but once he took his first bite, this Latin dish was a smash hit!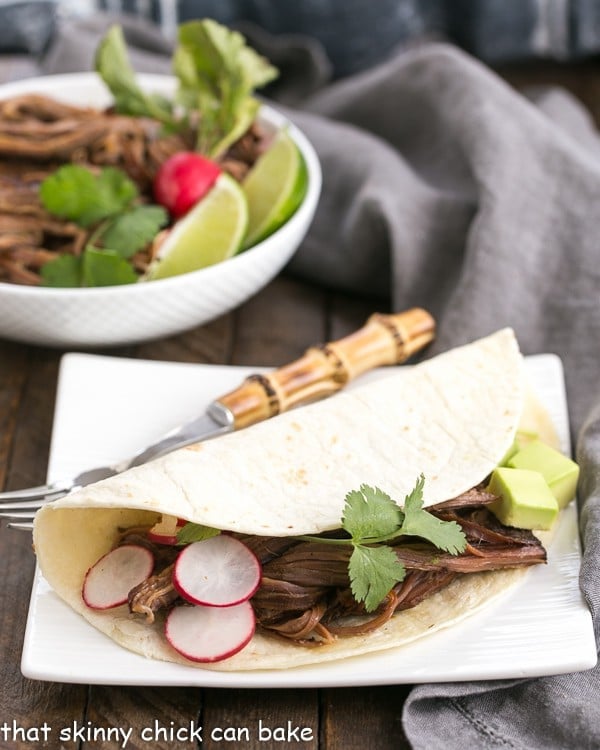 Slow Cooker Carne Asada
Of course, Bill's memories from high school Spanish probably cued him in. Carne = Meat. So he wasn't worried.
There was the time, more than a decade ago, when I first made Penne with Harvarti. His eyes widened as he fretted, "You're not feeding me fish are you???" He's come a long way since then! The literal translation of carne asada is "grilled beef, " but this slow cooker version is perfect for the winter or a busy day.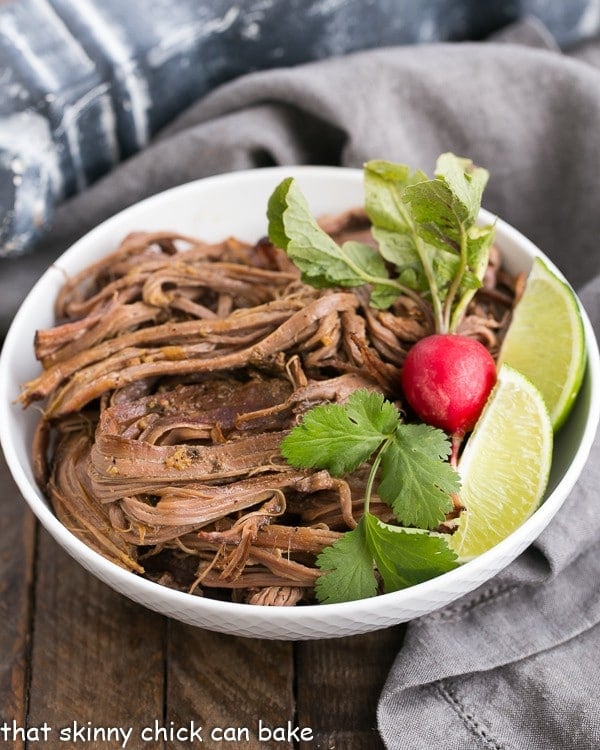 Garnishes
Like with tacos, carne asada wouldn't be the same without the garnishes! Typically served with radishes, avocados and lime, the hubby wouldn't have any of that.
I had some shredded cheese and salsa in the fridge as I anticipated that these "funky" toppings wouldn't be his style. We both loved this flavorful beef our own way.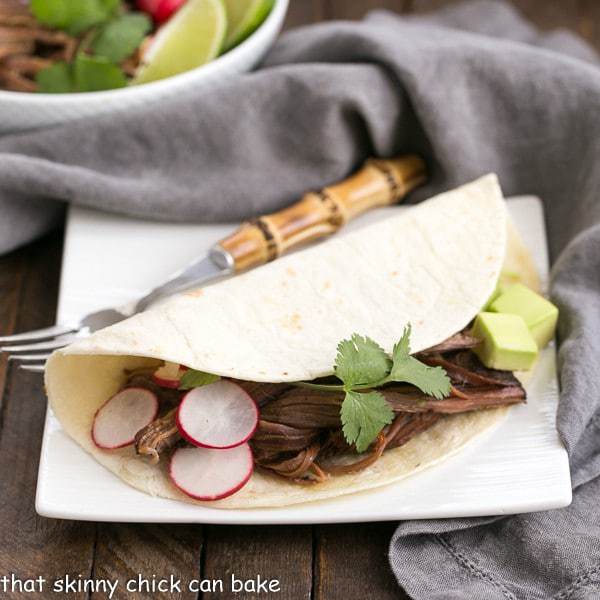 Misen Knives
I was sent two beautiful Misen knives to review, a chef's knife and a brand spankin' new paring knife. When you do a lot of cooking, sharp, ergonomic knives are a must. Misen is a new company that is introducing more reasonably priced knives.
They sliced and chopped wonderfully and are definitely attractive. At $65 and $30 respectively, these Misen knives are perfect for the starter cook. Of note, they are made in China and long term wear and tear was not tested. If you'd like to win a set of these knives, scroll down to the end of the post to enter.
More Recipes You'll Love:
Used in This Recipe:
Print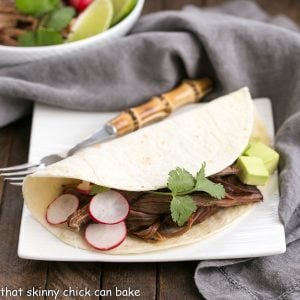 Slow Cooker Carne Asada
The slow cooker version of the classic Latin recipe. Adapted from Gourmet Slow Cooker via My Southwest Kitchen
Author:
Prep Time: 5 mins
Cook Time: 8 hours
Total Time: 8 hours 5 minutes
Yield: 6 servings 1x
Ingredients
1 (2.5-3) pound flank steak, I recommend Certified Angus Beef ® Brand
1/4 cup olive oil
1/4 cup orange juice
2 cloves minced garlic
2 tablespoons lime juice
1 tablespoon honey
1 teaspoon chopped cilantro
1 teaspoon salt
1 teaspoon chili powder
1 teaspoon ground cumin
Flour or corn tortillas
Garnishes: Cilantro, lime wedges, sliced radishes, avocado chunks
Instructions
Place flank steak into the slow cooker.
Whisk together the olive oil, orange juice, garlic, lime juice, honey, cilantro, salt, chili powder, and cumin. Pour marinade over the meat.
Cover and set the slow cooker to low. Cook for 8 hours.
Remove the meat from the slow cooker and shred. Place the meat back in the slow cooker and coat with the juices.
Serve on tortillas and garnish with lime wedges, sliced radishes, and avocado chunks.
Note: This post may contain affiliate links; view
my Disclosure Policy
for details. I earn a small percentage from any purchase you make by clicking on these links at no extra cost to you.