Caramel Topped Date Cake
My recipe inspiration for this Caramel Topped Date Cake was a Sticky Toffee Bundt Cake, a twist on the British sticky toffee pudding. It took me two attempts, but I finally got it right and it's certainly an outrageously rich and gooey dessert-like its namesake.
It's truly a picture-perfect date cake drizzled with caramel.
Caramel Topped Date Cake
My mom loved to bake with dates. I remember the date bread and cookies. Since she was more likely to cook up paella or moussaka, any sweet treat was memorable. Though she never made us a sticky toffee cake, it would have been right up her alley!
My parents spent a year in Scotland, so if they had any chance to experience a true British sticky toffee cake, I'm sure they indulged. This recipe is made in a 6 cup Bundt pan, which is a half-sized, and serves just six. Perfectly sized to avoid the temptation to overindulge, as even very small slices should satisfy one's sweet tooth!
Tips for Making this Sticky Toffee Bundt Cake
Like I mentioned, I made this cake twice, just to get it right. My first version, pictured in this post, was made without pureeing the date mixture. I made a second cake using the smaller Bundt pan plus the pureed dates, and it was more reminiscent of British sticky toffee pudding. Whew.
I imagine most folks who love to bake own a standard Bundt cake pan, if any, so you may want to double the recipe below so you don't have to purchase another pan.
You will need to bake the larger size about 20 minutes longer.

I ended up running to Target for a new Bundt pan as even though mine was a non-stick pan, buttering and flouring wasn't totally preventing my cakes from sticking. It had lost too much of its coating from frequent usage. Note that even new pans benefit from prepping with butter or shortening, then a dusting of flour.
PRO-Tip: Bundt pans do wear out, so if you have noticed more problems with sticking of late, your pan may need to be replaced.

I used Medjool dates which are soft, chewy with almost a caramelly taste. They sound perfect for this dessert, don't they?
If you'd like a real toffee sauce, check out the Epicurious recipe for Sticky Toffee Pudding. I went the lazy route!

Be careful when blending the date mixture. It's best to let it cool down quite a bit before processing.
Hot mixtures will expand when blending and you want to prevent the hot date mixture from scorching your hands or leaking out of your blender.

PRO-Tip: Let your baked Bundt cake cool for about 20 minutes on a rack before releasing. Much longer and it may stick, much shorter and the cake may be too soft to come out in one piece.
Cool completely before drizzling with caramel sauce for the presentation above. Alternatively, you can brush caramel sauce over a warm cake to allow the caramel to infuse into the cake and make it extra moist!
More Date Recipes You'll Love
These Bacon Wrapped Dates were a hit a party a few years back with only 5 ingredients, they're super easy and addicting! For an easy, tasty snack, I've had my eyes on these Date and Nut Balls!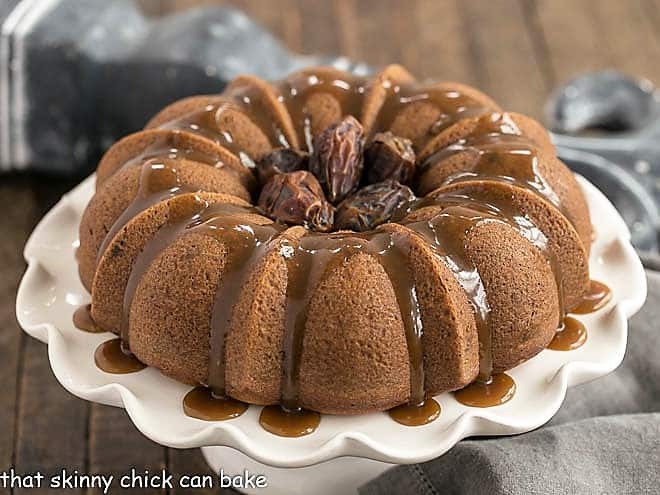 The Recipe:
Caramel Topped Date Cake
Prep Time 20 minutes
Cook Time 45 minutes
Total Time 1 hour 5 minutes
Yield 6 servings
A date bundt cake that tastes like sticky toffee pudding! Rich, sweet and irresistible.
Ingredients
1/4 cup butter, room temperature, plus more to prep pan
1 1/2 cups flour, plus more to prep pan
1 1/2 cups chopped pitted dates (about 6 ounces)
1 teaspoon baking soda
1 teaspoon baking powder
1/2 teaspoon salt
1 cup sugar
1 teaspoon vanilla
2 eggs
1 cup caramel or toffee sauce, homemade or purchased to garnish and serve
Instructions
Preheat oven to 350 degrees . Butter and flour a 6 cup Bundt pan (half the size of a regular Bundt pan). Set aside.
Add dates and 1 1/4 cups water to a sauce pan and bring to a boil. Then remove from heat and mix in baking soda. Allow to cool, then use a blender to puree.
Whisk together flour, baking powder, and salt in a small bowl. Set aside.
In your stand mixer, beat the butter, sugar, and vanilla in a large bowl to blend. Add 1 egg and mix until combined. Add half of flour mixture and half of date mixture and mix until well combined. Add the remaining 1 egg, flour mixture, and dates. Scrape the batter into the prepared pan.
Bake until a toothpick inserted into center of cake comes out clean, 40-45 minutes. Let cool in pan on a wire rack for 20 minutes, then invert cake onto rack.
When cooled, drizzle caramel sauce over top of cake. Serve with extra caramel sauce and whipped cream if desired.
Notes
If you don't have a 6 cup Bundt pan, you may double this recipe and bake for 55-65 minutes. Use a toothpick to check to make sure it's fully baked before removing from the oven.
Nutrition Information:
Yield:
6
Serving Size:
1 slice
Amount Per Serving:
Calories: 581
Total Fat: 11g
Saturated Fat: 6g
Trans Fat: 0g
Unsaturated Fat: 4g
Cholesterol: 85mg
Sodium: 839mg
Carbohydrates: 119g
Fiber: 4g
Sugar: 90g
Protein: 7g
Note: This post may contain affiliate links; view
my Disclosure Policy
for details. I earn a small percentage from any purchase you make by clicking on these links at no extra cost to you.