These Fried Sticky Rice Balls, or Carioca, are dough balls loaded with coconut, fried in oil, then drizzled with caramel sauce. Dense, decadent and packed with coconut flavor, this Filipino snack was incredibly delicious!
When my friend, Abigail Raines, asked me to review her new cookbook, Rice.Noodles.Yum, Everyone's Favorite Southeast Asian Dishes, I jumped at the chance. This was an unfamiliar new cuisine to conquer. Of course, I zeroed in on a dessert, these yummy Fried Coconut Balls.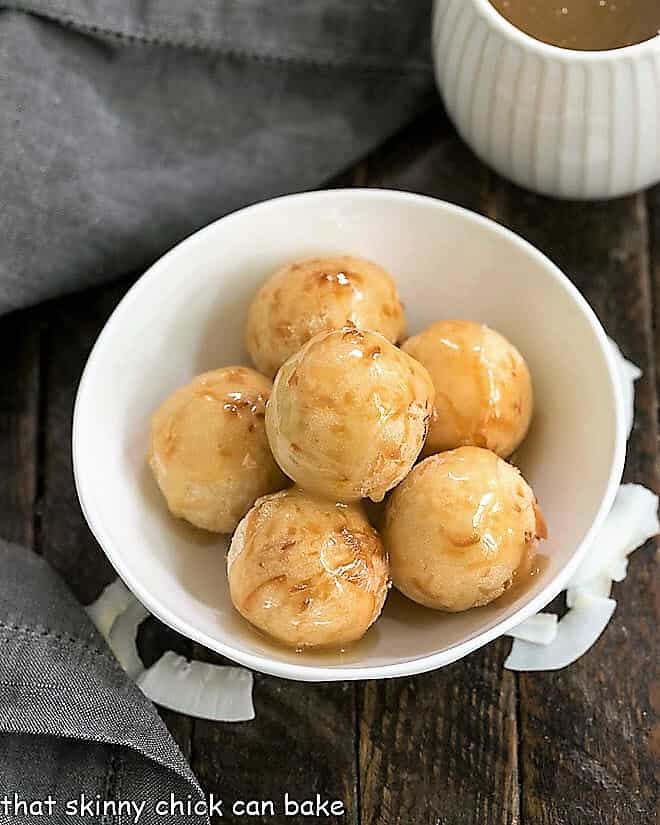 Fried Sticky Rice Balls
Abby found that noodles and rice are the "perfect canvas for the sweet, salty and spicy flavors of Asian cuisine." These carioca or fried sticky rice balls are made with sticky or glutinous rice flour then drizzled with a coconut cream based caramel sauce. Served as tasty snack or fun dessert, they're also gluten free!
They're like dense, coconut laden doughnut holes doused with caramel sauce instead of a glaze. From my first nibble, I was smitten. If you love coconut, you'll go nuts fore these amazing coconut balls!
Rice.Noodles.Yum.
Growing up in Southeast Asia, Abby found rice and noodle dishes were plentiful. Americans are most familiar with pad thai, pho and nasi goreng, but there is so much more. Besides these delicious fried coconut balls, Abby's Moo Sarong caught my eye. Made of fried pork meatballs wrapped in noodles, these make a visually impressive presentation and are a tasty appetizer! She also shares a tempting recipe for Beringhe, a Filipino paella-like dish with turmeric, coconut milk, fish sauce, chorizo and raisins.
In total there are 75 wonderful recipes for those who'd love to explore this cuisine with an expert. Nothing too complicated, just delicious! Abby also blogs at Manila Spoon, where she shares tried and true recipes from around the world.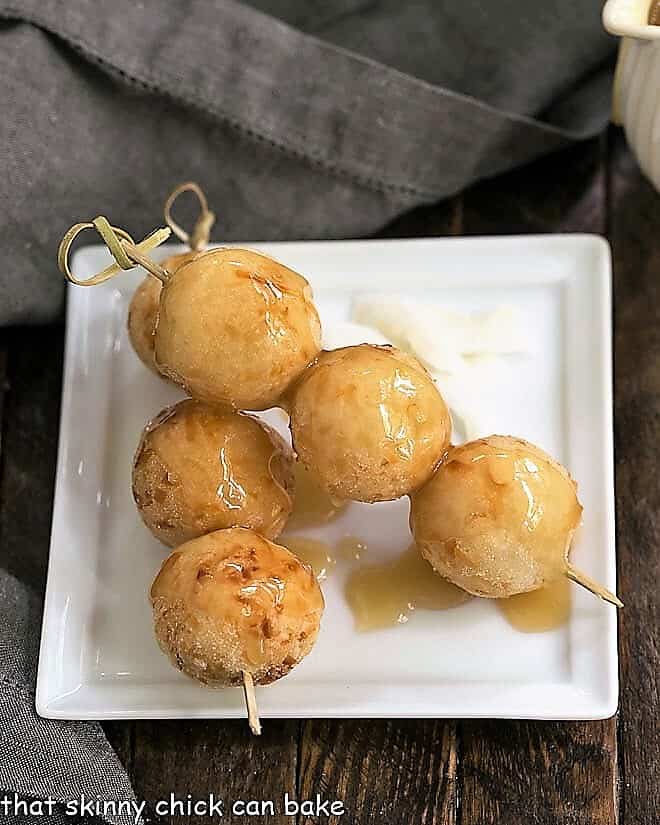 How to Make Fried Coconut Balls
Made with just a handful of ingredients, the most difficult part of this tasty recipe is rolling the dough into balls. As a certified coconut fan, I can vouch for these fried sticky rice balls. With my first nibble, I was tempted to skip lunch and feast on these carioca. They were Abby's favorite after school snack in elementary school, and I can see why!
The dough is a simple mixture of sticky rice flour, shredded coconut and coconut milk. It takes some time stir the ingredients into a cohesive dough, and I finally used my hands to finish off the process.
Use a cookie disher or scoop to measure out tablespoons of dough. A medium cookie disher holds more like 1 1/2 tablespoons, but that size worked well, too.
Roll each scoop of dough between your palms to form nice round balls.
Once all the coconut dough balls are formed, heat the cooking oil (I used canola oil) to 350º and fry in batches for 4-5 minutes or until lightly browned.
Roll the balls around in the hot oil so all sides get evenly browned.
Line a colander or strainer with paper towels to absorb any excess oil after the coconut balls are fried. Remove the carioca into the strainer, then place on a paper towel lined baking sheet until ready to glaze.
The caramel sauce is simple. Mix the ingredients, bring to a boil and time for 5-8 minutes until the mixture thickens.
To glaze, dip each fried sticky rice ball into the caramel, then set on a platter. Alternatively, thread a few onto a skewer and drizzle with the caramel sauce.
Add to Your Shopping List:
Sticky or Glutinous Rice Flour, I used Bob's Redmill Sweet White Rice Flour.
Shredded, Sweetened Coconut
Coconut Milk
Coconut Cream
Cooking Oil
More Coconut Recipes:
Coconut White Chocolate Truffles
More Dessert Recipes
Print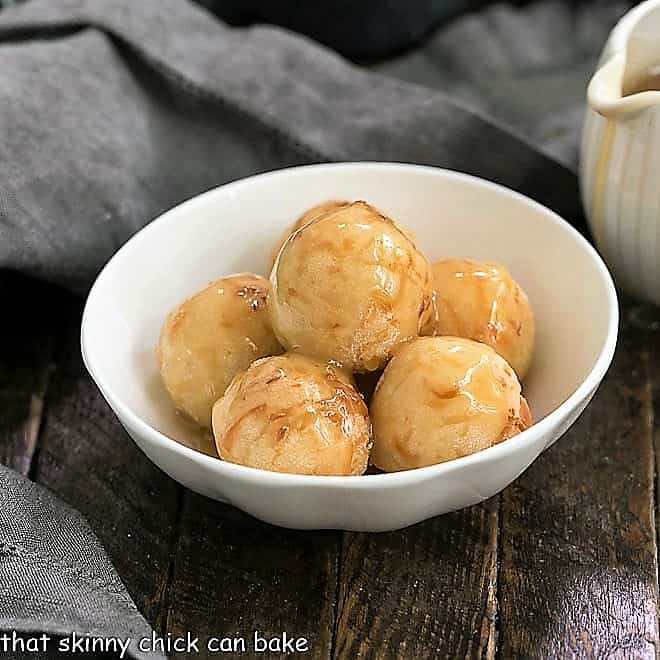 Fried Sticky Rice Balls
A sweet, coconut Filipino after school snack or dessert!
Author:
Prep Time: 20 minutes
Cook Time: 12 minutes
Total Time: 32 minutes
Yield: 24 rice balls
Category: Dessert, Snack
Method: Mixing, Frying, Boiling
Cuisine: Filipino
Ingredients
2½ cups (315 g) sticky or glutinous rice flour
2½ cups (250 g) shredded sweetened coconut
1¼ cups (300 ml) coconut milk
2 cups (480 ml) cooking oil for deep-frying, or more as needed
1 (13.5-oz [400-ml]) can coconut cream
½ cup plus 3 tablespoons (120 g) brown sugar
½ teaspoon salt
Instructions
In a bowl, mix the sticky rice flour, sweetened shredded coconut and coconut milk until a dough forms.
Scoop out about a tablespoon (15 g) of dough and shape into a ball. Repeat until all the dough is used up. A cookie dough scooper is helpful for this.
Heat the cooking oil in a saucepan over medium heat to about 350°F(175°C). To test if the oil is hot, dip a skewer into it. When bubbles form around the skewer, the oil is ready.
Fry the dough balls in batches for 4 to 5 minutes or until lightly browned all over. Scoop onto a strainer lined with paper towels to remove any excess oil. Repeat until all the balls are cooked. Set aside.
In a saucepan, stir together the coconut cream, sugar and salt. Bring to a boil over medium heat. When it starts to boil, lower the heat slightly, stir and cook for 5 to 8 minutes or until the mixture has thickened.
Dip the balls into the sauce, or to avoid sticky fingers, thread about four balls onto a wooden skewer and pour the caramel sauce over. Serve individually or on skewers.
Note: This post may contain affiliate links; view
my Disclosure Policy
for details. I earn a small percentage from any purchase you make by clicking on these links at no extra cost to you.