Classic Strawberry Shortcake
When fresh strawberries come into season, there's no more delicious dessert than a Classic Strawberry Shortcake. Tender flaky biscuits pair beautifully with sweet, juicy berries and freshly whipped cream.
Scroll down for tips on How to Make the Best Strawberry Shortcake. This will become your go-to strawberry shortcake recipe! Your family will be begging for you to make this whenever ripe strawberries are in the market!!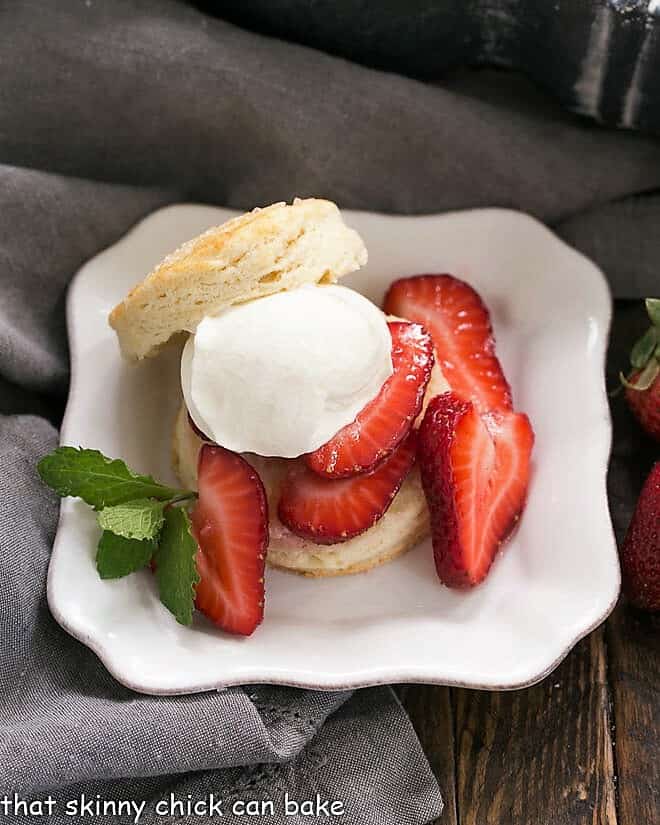 Why You Must Make
The inspiration for this recipe came from Cook's Illustrated. Their recipes are tried and true.
It's the perfect late spring and summer dessert when strawberries are sweet and juicy.
The biscuits are phenomenal, both tender and flaky.
Nearly 8 years ago, we had one of our parish priests over for dinner. He was a young guy and was thrilled when out of pure luck, I made his favorite dessert. He claimed it was the best strawberry shortcake ever. With the recipe in hand, he set out to find the elusive pastry blender called for in my recipe. he left completely unsure of exactly what this mystery item looked like. After checking the appliance aisles of numerous retailers he called a parishioner who brought him one of hers.
He was amazed when he realized he owned one himself, but called it a tuna masher…used only to make tuna salad. He went on to make this dessert a number of times….the ultimate compliment for a baker! That shortcake with white chocolate whipped cream has always been my go-to recipe, but when I saw a Cook's Illustrated recipe for a classic strawberry shortcake, I had to compare the two recipes!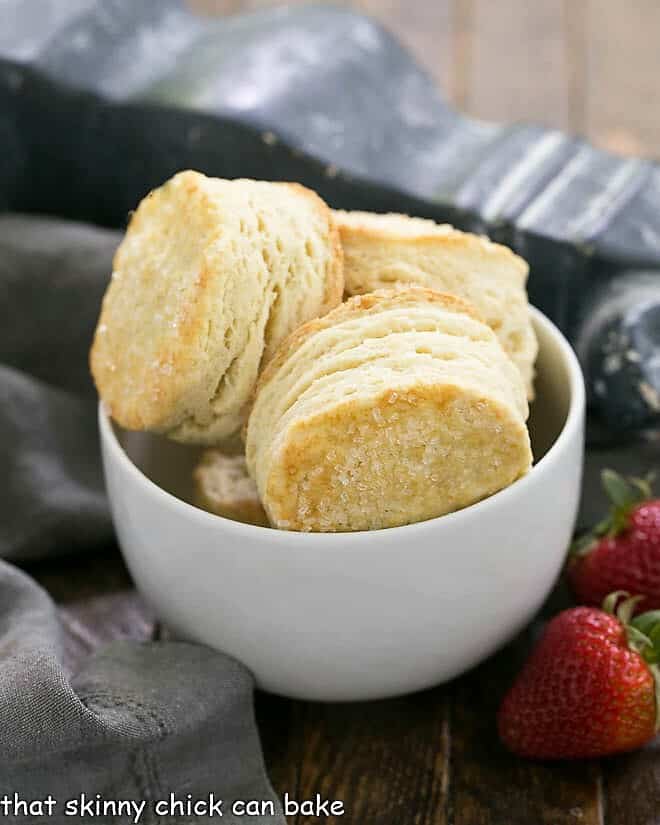 Tips for Making Shortcake Biscuits
This biscuit dough was a joy to work with and it rose to at least four times the unbaked height! Perfect for this fabulous strawberry shortcakes recipe! Once you learn How to Make Strawberry Shortcakes, they'll become a summer tradition!
There are a couple of things about this recipe that make it work so well. First is grating frozen butter. If making biscuits, scones, and pie crust is new to you, you may not be aware that the little bits of cold butter will release steam as they heat. This process helps produce beautiful layers with some assistance from the baking powder.
The butter grating process is kind of a pain, but worth the effort. Using your fingers to rub the butter bits into the flour gives better quality control compared to other mixing methods. The resulting mixture should look like coarse cornmeal. Before diving in, remember to remove your rings!
Using half and half or a mixture of cream and milk adds a lovely richness as does the egg. The addition of an egg also helps make for a more cohesive dough. It was a breeze to roll out, unlike typical shortcake or scone dough.
PRO-Tip: Do not overwork the dough. I still like to fold and roll the leftover dough after the first round of cutting out the shortcakes. This next round of shortcakes won't be as perfect, but still tasty!
PRO-Tip: Make sure your baking powder is fresh. Unlike the yellow box of baking soda, baking powder loses its potency before most home cooks ever use it all. If your supply is near it's expiration date, test it by putting a spoonful into a cup of hot water. If it's fresh, it will bubble vigorously. If it doesn't, replace your supply.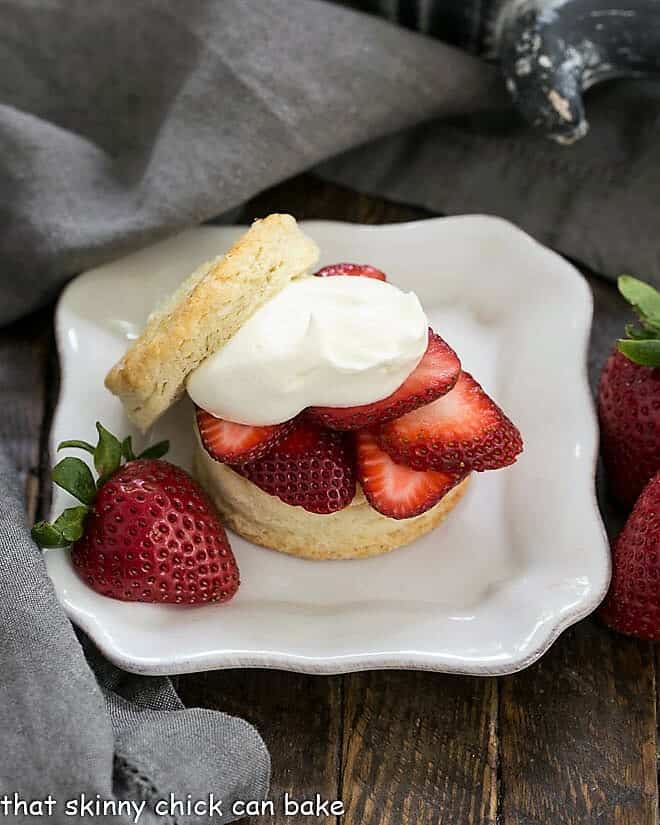 How to Make the Best Strawberry Shortcake
Do not overwork the shortcake dough. See the lovely, flaky layers in my biscuits? Those layers will be minimized if you over mix. Mix just enough to moisten all the flour, then knead until the dough is cohesive and roll out with a rolling pin.
Dust some flour on the work surface and onto your rolling pin. Make sure it's just a dusting as excess flour can make the biscuits tough.
PRO: Tip: When you cut the shortcakes with a biscuit cutter, cut straight down. Do not twist the cutter as this will seal the edges and prevent a nice rise. If needed, you can dust your biscuit cutter with flour so it doesn't stick.
I used a 2 3/4 inch biscuit cutter. I have a tin with assorted round cutters (affiliate link). You could always make them smaller or larger depending on your needs.
For the best strawberry shortcakes, make these with peak of the season strawberries. They should be red, with a slight sheen, not yellow or green at the stem end, and fragrant. If your berries have no aroma, their flavor will suffer.
I love buying local Indiana strawberries in early June. They're tiny, sweet, and delicious. When my family sees these in the fridge, they know I'll be making one of my two favorite shortcake recipes! Thank goodness this classic strawberry shortcake was another crowd-pleaser.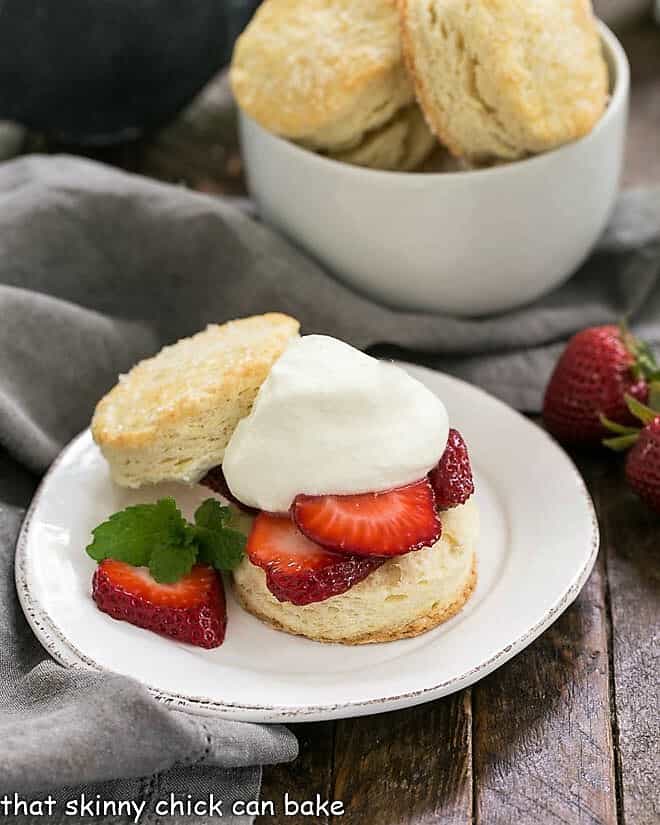 Frequently Asked Questions
What is Strawberry Shortcake?
The classic American shortcake recipe is a large biscuit that's cut in half and topped with sweet with sweetened strawberries and whipped cream.
What are Macerated Berries?
To macerate is to soak fruit in a liquid to infuse it with flavor. There is often alcohol like rum or a liqueur added.
How do you Make Homemade Whipped Cream?
The first step is to chill your bowl as this will help stabilize the whipped cream. Add the heavy cream to the bowl and whip on medium-high until it starts to thicken. Add sifted powdered sugar and vanilla and whip until stiff peaks form, but do not overwhip.

Stiff peaks are when the whipped cream stands up straight when the beaters are lifted.
You May Also Like:
Stay in touch through social media @ Instagram, Facebook, and Pinterest. Don't forget to tag me when you try one of my recipes! And if you love the results, please give it a 5-star rating in the recipe card. Note: As an Amazon Associate, I earn from qualifying purchases. Visit my Amazon Store for my favorite products.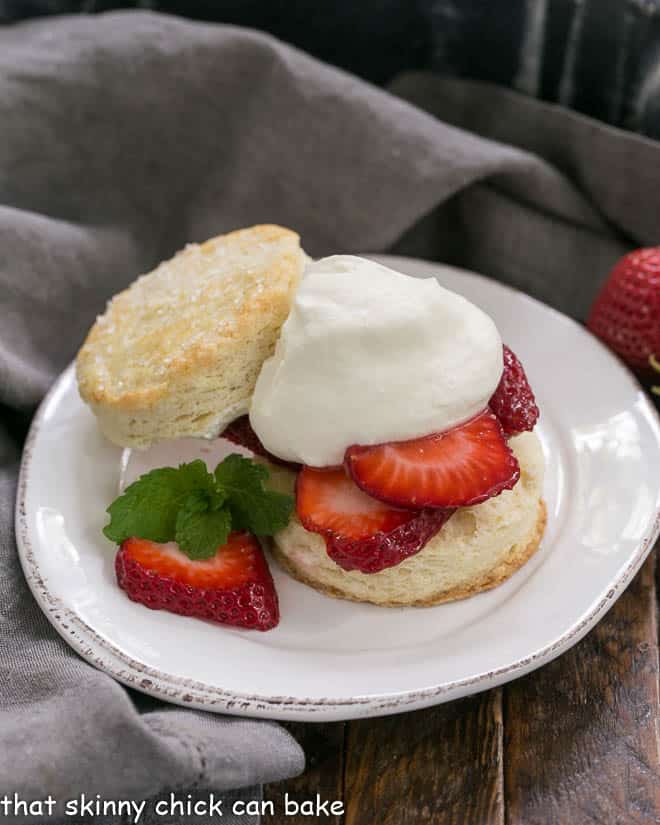 The Recipe:
Classic Strawberry Shortcake
Prep Time 30 minutes
Cook Time 14 minutes
Total Time 44 minutes
Yield 6 servings
A traditional strawberry shortcake recipe adapted from Cook's Illustrated.
Ingredients
Berries:
3-4 cups fresh strawberries, sliced
¼ cup plus 2 tablespoons sugar
Shortcakes:
2 cups flour, plus more for cutting biscuits
½ teaspoons salt
1 tablespoon baking powder
3 tablespoons sugar
½ cup (1 stick) frozen butter
1 egg
½ cup half and half
1 egg white, slightly beaten
1 tablespoon of Demerara sugar (regular sugar may be substituted)
Whipped cream topping:
1 cup heavy cream
¼ cup powdered sugar
1 teaspoon vanilla
Instructions
Mix crushed and sliced berries with sugar. Let it sit while preparing biscuits.
Preheat oven to 425º.
Whisk together flour, salt, baking powder, and sugar in a medium bowl.
Using the largest holes on a box grater, grate frozen butter into dry ingredients.
Toss butter with flour, then using your hands, rub the butter into the dry ingredients till the mixture looks like cornmeal.
Beat egg slightly and add to the half and half. Pour into the flour mixture.
Toss together till most of the flour is incorporated. Lightly flour the counter or work surface and gently knead the biscuit dough till it comes together.
Pat into a ¾-inch thick rectangle and cut rounds with a 2 ¾-inch biscuit cutter.
Gently gather leftover dough and fold and roll to a ¾-inch thickness and cut out another biscuit or two.
Place biscuits on a baking dish, brush with beaten egg white, and sprinkle with coarse sugar. Bake for about 12-14 minutes. Cool for about 10 minutes before serving.
Whip cream with sugar and vanilla.
To serve, cut the biscuits in half, top the bottom half with berries and juices, followed by a big dollop of whipped cream and the top of the biscuit.
Recommended Products
As an Amazon Associate and member of other affiliate programs, I earn from qualifying purchases.
Nutrition Information:
Yield:
6
Serving Size:
1 shortcake
Amount Per Serving:
Calories: 551
Total Fat: 21g
Saturated Fat: 12g
Trans Fat: 1g
Unsaturated Fat: 8g
Cholesterol: 86mg
Sodium: 534mg
Carbohydrates: 83g
Fiber: 8g
Sugar: 36g
Protein: 11g
Note: This post may contain affiliate links; view
my Disclosure Policy
for details. I earn a small percentage from any purchase you make by clicking on these links at no extra cost to you.