How to Make Strawberry Shortcake
Once you learn How to Make Strawbery Shortcake, you'll be set with a perfect summer dessert, whether for family or company, for a lifetime!
A Shortcake is basically a lightly sweetened biscuit, that is transformed into an iconic dessert when topped with juicy fresh strawberries and a luscious dollop of whipped cream.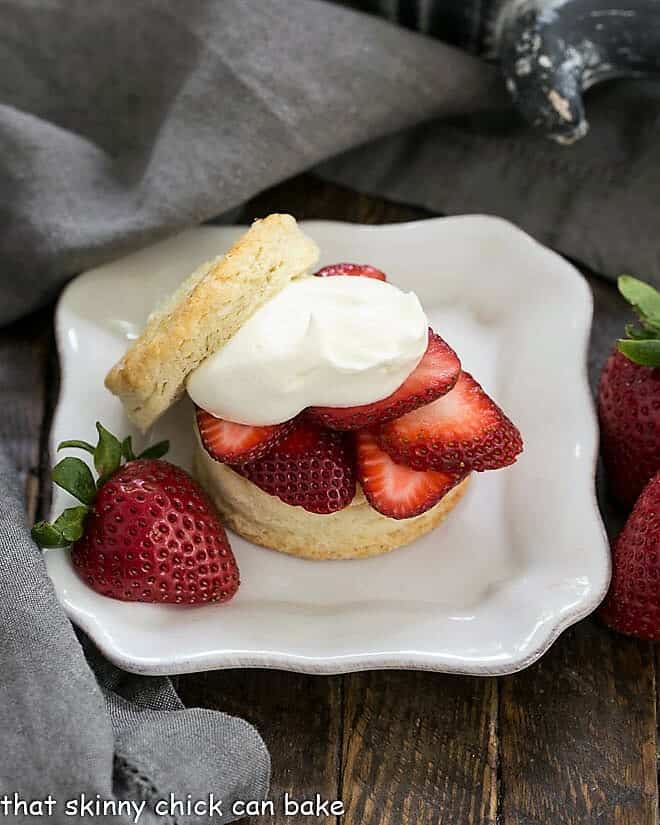 Why You Must Make
Although Bisquick biscuits will do in a pinch, there's nothing better than shortcakes made with sweet, flaky biscuits from scratch.
If in a time crunch, the biscuits can be made the day before, leaving whipping the cream and slicing and sugaring the strawberries until the day you plan to serve them.
The combination of tender, flaky biscuits, juicy strawberries, and rich and fluffy whipped cream creates a classic summer dessert!
Culinary Term: Macerate
To macerate is to soak a food in a liquid so the liquid absorbs the flavor. It's most often used with fruit. Often there is alcohol added to the macerating liquid.
When making a strawberry shortcake recipe, the berries are sliced and sugared, and this encourages the strawberries to release their juices.
How to Make
Make your biscuits and make sure they're cool before you start layering. You can also cut out rounds of pound cake or angel food cake for a quick, no-bake version.
Slice your strawberries, add sugar and let them rest so that the sugar dissolves and the berries release some juices.
Whip the cream adding sugar and vanilla to taste.
When you're ready to serve, slice the biscuits in half.
Assemble by placing the bottom half on a dessert plate. Top the base layer with the berries and some of their juices, then add a nice dollop of whipped cream, and finally, top with the other half of the biscuit. Add a sprig of mint if you want to be fancy!
Expert Tips
My favorite recipe for homemade shortcakes uses baking powder as the leavening. Check the expiration date as this product is not used as often as baking soda. Plus, compared to baking soda, it has a shorter shelf life. PRO-Tip: If you're unsure if it's active, you can test it by putting a spoonful in some very hot water. If it bubbles vigorously, the baking powder is still fresh and can be used.
Make sure the butter used to make your shortcakes is cold. Cut it in using a pastry blender or two knives until the butter is the size of small peas. Or use a box grater and grate frozen butter on the side with the largest openings.
These tiny pockets of butter in the dough will create steam as the biscuits bake which results in little pockets of air, making a flaky texture.
PRO-Tip: When you cut out your biscuit rounds, cut straight down. Twisting the cutters will smash the layers and, therefore interfere with their ability to rise.
Place the biscuits on a parchment-lined baking sheet. This prevents sticking to the pan and makes for easy cleanup.
If the biscuit dough has gotten warm after rolling and cutting, chill before baking. Like with puff pastry, you'll want the dough cold and the oven hot for the best rise.
PRO-Tip: Chill your bowl and beaters before whipping your cream. The chilled utensils will actually help stabilize the cream.
Using powdered sugar to sweeten the whipped cream will also stabilize it due to the cornstarch in powdered sugar. Regular white sugar works well, too.
Don't use Cool Whip as real cream is so much better (unless you really, really love Cool Whip!).
Select vibrant, fragrant strawberries without bruising or yellow or green areas around the stem.
If you decide to make your biscuits the day before, let them cool completely, then store them at room temperature in an airtight container.
Helpful Tools:
Frequently Asked Questions
What is Strawberry Shortcake?
The classic American Strawberry Shortcake is a rich dessert made with a large, sweet biscuit that's split horizontally and filled with sliced or chopped fruit and juices and lightly sweetened whipped cream.
Is Shortcake the Same as Cake?
Shortcake, like shortbread, is a dessert with a higher fat-to-flour ratio than regular cakes and cookies. This makes shortcakes more crisp and crumbly while cakes are typically light and airy.
What's the Best Way to Slice Strawberries for Shortcake?
It's all a personal preference. Once the berries are washed and gently dried, remove the leaves and extract the core using a paring knife or a special coring tool. Then cut thick slices or quarter the berries.
How Do You Make the Best Whipped Cream?
Start with a chilled bowl and beaters. This helps stabilize the whipped cream and minimizes the cream from separating.

Add either white granulated sugar or powdered sugar and vanilla to taste. The cornstarch in powdered sugar also helps stabilize the cream and its fine texture dissolves more easily.
Beat with a whisk or mixer until soft peaks are reached. This is when mounds or peaks form when you lift the beater from the bowl. The tips will flop over with soft peaks and stay more erect with firm
peaks.

Continue whipping until the peaks are firmer, but the tips still gently flop over. The whole process can take up to 5 minutes.
Can Overwhipped Cream Be Fixed?
Yes, if you whip your heavy cream too long and it goes from fluffy to clumpy and paste-like, there's an easy fix. With your mixer on low, start drizzling in more cream. You may need up to half the amount of cream as you started with. Slowly it will come back together, fluffy and perfect. If you add more cream, you may need to add more sugar and vanilla.
You May Also Like:
Note: This post may contain affiliate links; view
my Disclosure Policy
for details. I earn a small percentage from any purchase you make by clicking on these links at no extra cost to you.