Homemade Samoa Bars
When the freezer is void of those caramel, coconut, shortbread and chocolate Girl Scout cookies, it's time to make some Homemade Samoa Bars!
I'm a sucker for any scout or brownie who stops by to sell their cookies. It's a must to have a stash of Samoas, Thin Mints and Tagalongs in our freezer. But they eventually get eaten, and those cravings must be fulfilled!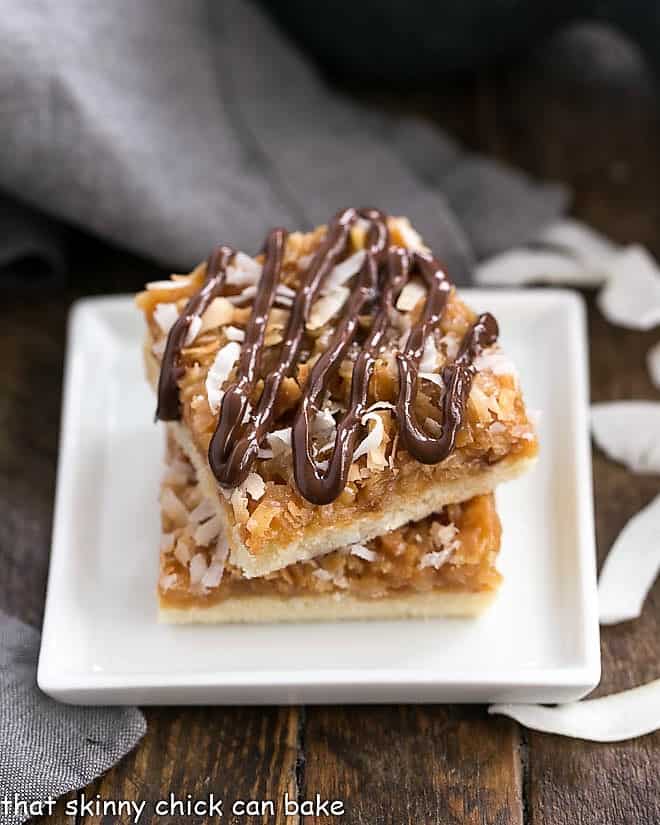 Homemade Samoa Bars
I first made these Samoa bars back in 2013 for a New Year's Day gathering. With two of my favorite dessert ingredients, coconut and caramel, I was in heaven. But the shortbread base was crumbly, so back to the drawing board with round 2.
I used a new crust recipe and upgraded the caramels. Instead of topping with a layer of ganache, I drizzled some melted chocolate chips over the coconut mixture. Though you're welcome to dip the bottoms of the individual bars in chocolate, I found the process rather tedious and decided I was happy with just the drizzle!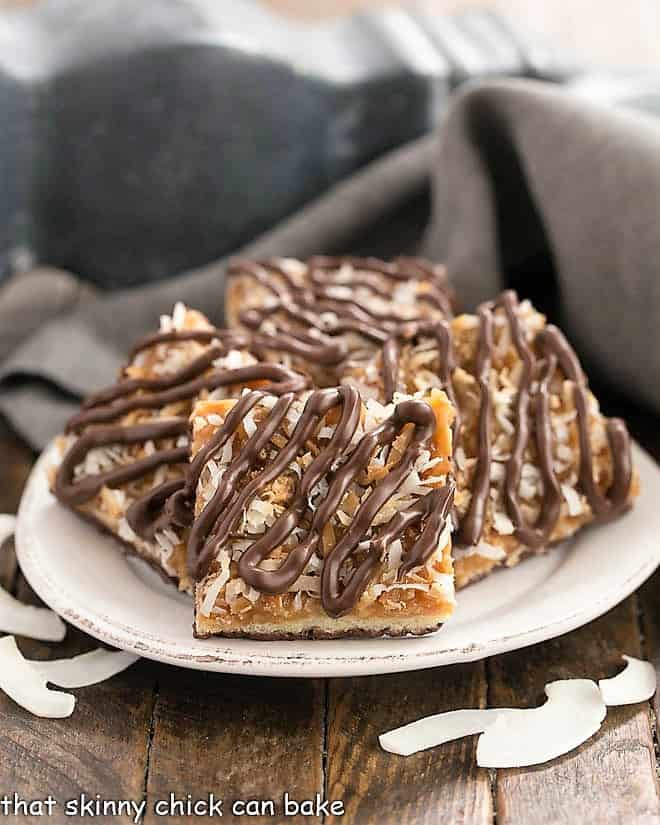 What are Samoas?
Samoas are a Girl Scout cookie also known by the name Caramel deLites depending upon the bakery from which they originate. They differ slightly in shape, kind of chocolate and amount of caramel, but they have the same basic components.
No one seems to know why these coconut, caramel cookies are called Samoas, but some surmise that due to the coconut, the tropical Samoan islands in the South Pacific may have been an influence.
Tips for Making Samoa Bar Cookies
There's nothing too difficult about making these Samoa bars, but some of the steps are optional for an easier recipe.
I like making the crust in a food processor, then pressing the crumbs into the bottom of the baking pan. If you don't own one, use softened butter and a handheld mixer. The results will be more of a dough that easily presses into a crust.
I like using the softer Werther's Original Caramels. If you can't find them, use Kraft caramels instead, but you may want to add another tablespoon of water when you melt them as they are much firmer.
Toasting the coconut is also optional. Sweetened angel flake coconut is quite moist and the toasting dries it out along with bringing out some of the natural oils and flavor. Beware that it can easily get too dark, so watch carefully when toasting.
The dipping of the bars in chocolate pays homage to the Samoa cookies which have both chocolate lines across the top and a chocolate-covered cookie base.
I dipped about 4 but then decided the drizzle would be enough for me. If you want an authentic Samoa copycat, you'll want to dip!
Make sure to place them on a parchment-lined baking sheet after dipping and let them cool completely before moving so the chocolate doesn't stick to the paper.
You may need these supplies to make this homemade Samoa bars recipe:
More Coconut Recipes You'll Love:
If you want a cookie that looks like a Samoa, check out my Homemade Samoas Cookies recipe. These Chocolate Dipped Coconut Macaroons are elegant enough for a baby shower or special event, yet easy to whip up anytime you have a coconut craving! My Chewy Coconut Cookies are also super simple to make!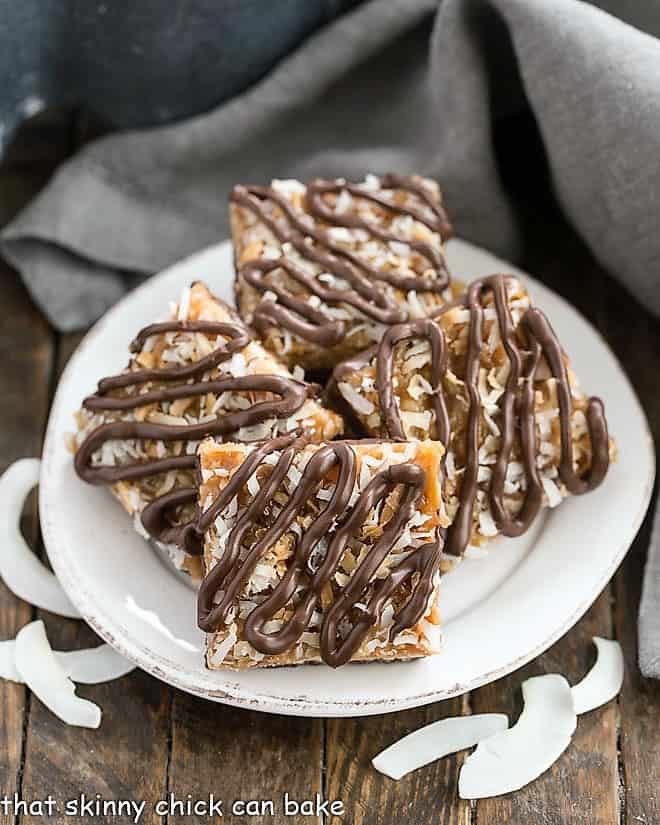 The Recipe:
Homemade Samoa Bars
Prep Time 30 minutes
Cook Time 50 minutes
Total Time 1 hour 20 minutes
Yield 16 bars
Decadent bar cookie with a shortbread crust, gooey caramel and coconut topping and chocolate drizzle like the famous Girl Scout Samoa Cookies.
Ingredients
Cookie Base:
1 cup flour
1/3 cup sugar
1/2 cup butter (one stick), cut into small pieces
Topping:
2 cups shredded coconut, toasted at 350 degrees for 15 minutes, stirring every 4-5 minutes
8 ounces caramels (I used an 8.1 bag of Werther's Original Soft Caramels unwrapped)
1-2 tablespoon water (use 2 tablespoons if you use Kraft caramels instead of Werther's)
2 tablespoons butter
 Drizzle*:
8 ounces semi-sweet chocolate chips
2 teaspoons vegetable oil
Instructions
Preheat oven to 350º. Lightly grease a 9 × 9-inch baking pan, or line with parchment paper or non-stick foil.
Process flour, sugar and butter in a food processor until forms fine crumbs. Pour the crumbs into prepared pan and press into an even layer.
Bake for 15 minutes, until base is set and edges are lightly browned. Cool completely on a wire rack before topping.
Place the caramels in a microwave-safe bowl with the water and butter, starting and stopping to stir every 30 seconds. When smooth, fold in 1 1/2 cups of the toasted coconut with a spatula.
Put spoonfuls of the topping all over the shortbread base. Using an offset spatula, spread topping into an even layer. Sprinkle with the remaining coconut and gently press into bars. Let topping set until cooled.
Use the foil or parchment to assist in moving the bars to a cutting board. Cut bars into 16 squares. In a medium bowl, gently melt together the chocolate chips and oil in the microwave. Stop to stir frequently until almost completely melted. Let the residual heat finish the melting process.
Line a baking sheet with parchment. Remove less than half the chocolate to a piping bag or a quart Ziploc bag for the final drizzle, and set aside.
Dip the bottoms of the bars into chocolate, removing excess on the side of the bowl, then placing on the baking sheet to firm up. Repeat with all bars.
Drizzle each bar with the remaining chocolate using a piping bag or Ziploc bag with the corner snipped off.
Allow chocolate to cool and firm up before serving.
Notes
* Use only half the chocolate dip and drizzle ingredients if you decide to only use the drizzle and not dip the bottoms in chocolate.
Nutrition Information:
Yield:
16
Serving Size:
1 bar cookie
Amount Per Serving:
Calories: 284
Total Fat: 16g
Saturated Fat: 10g
Trans Fat: 0g
Unsaturated Fat: 5g
Cholesterol: 20mg
Sodium: 124mg
Carbohydrates: 36g
Fiber: 2g
Sugar: 25g
Protein: 2g
Note: This post may contain affiliate links; view
my Disclosure Policy
for details. I earn a small percentage from any purchase you make by clicking on these links at no extra cost to you.