The BEST Homemade Samoas Cookies Recipe
When your stash of Samoas Cookies is depleted, bake up a batch of chocolate-dipped shortbread cookies topped with caramel and coconut!
Though my kids all have their favorite Girl Scout Cookies, I'm the one who has to have the box of Samoas also known as Caramel deLites. This version from scratch was absolutely delicious!!! This Samoas Recipe is the perfect baking project when your box of cookies is empty!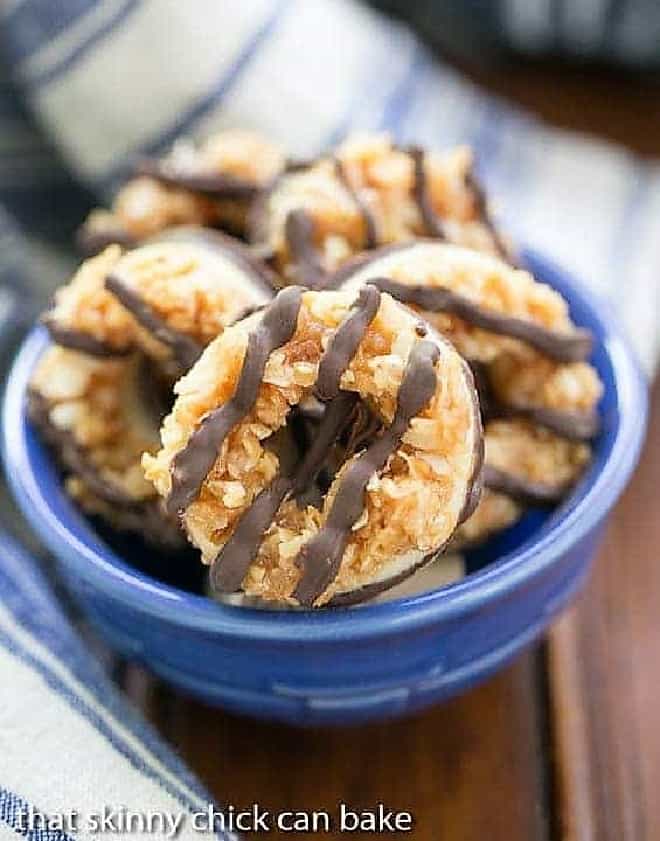 Why You Must Make
These are BETTER than the Girl Scout Samoas, much better!
When your freezer supply of Samoa cookies is depleted, you don't have to deprive yourself
If you love coconut, chocolate, and caramel, these cookies will rock your taste buds.
I won't deny grumbling to myself when painting caramel on the shortbread rings, then patting a sticky caramel-coconut mixture over that. Or when I tried to pipe straight chocolate lines over the surface of these gems.
This Samoas recipe did require a bit of fiddling that might have pushed me over the edge had the outcome not been so fantastic. They are delicious!!!
Ingredient Notes
Here's a list of ingredients you'll need to make your Caramel deLites or Samoa Cookies:
Kitchen Staples – Sugar, All-purpose Flour, Table Salt, Milk
Butter – I use salted and have adjusted the salt in the recipe
Baking Powder (NOT baking soda), make sure it's not expired. Baking powder often expires in the cupboard before you can use it all.
Vanilla extract – always pure vanilla extract, never imitation.
Coconut – Angel flake, sweetened coconut
Caramels – Werther's brand is softer and tastier than Kraft. But either will work.
Semi-sweet chocolate or Dark Melting Wafers – Ghirardelli brand is my preference. The melting wafers don't bloom when cooled, so no gray coating across the surface.

Tips on How to Make Samoas
These homemade Girl Scout cookies were made in three different steps. To make it easier, you may want to take 2 days to make and garnish these samoas cookies!
First up was making the donut-shaped shortbread cookies. Not too tough, but finding the right cookie cutters took a little trial and error. I ended up using a 2-inch round biscuit cutter and then a large metal piping tip with about a 1-inch diameter. The larger cutter was used to cut the rounds and the piping tip cut out the holes in the middle.
I baked these up one day and finished them the next by adding the topping, then the chocolate flourishes. The bottoms were dipped in dark chocolate, then that same chocolate was drizzled over the top to imitate the look of the classic Girl Scout cookies.
Use melting wafers instead of chocolate if you don't want to deal with tempering your chocolate (and who does???). Regular chocolate will "bloom" or get a gray cast over it as it sits. The chocolate will taste fine, but the cookies won't be picture-perfect!
You can drizzle with a fork for a rustic look or you can use a piping bag or quart zip-topped bag with a small bit of one corner clipped off for more controlled piping.
I gave these homemade Girl Scout cookies away as fast as I could as I know my willpower would flounder in their presence. Everyone who tasted these gems sang their praises. Sheer bliss. I feel safe in declaring this the BEST Homemade Samoas Cookies Recipe!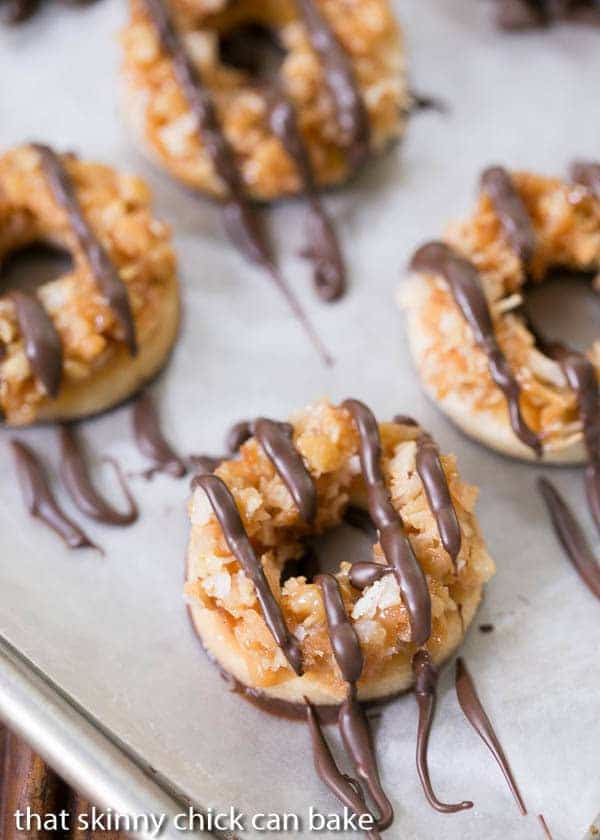 Frequently Asked Questions
What Are Samoas?
Samoas are Girl Scout cookies made of a donut-shaped shortbread cookie dipped in chocolate and then topped with a mixture of caramel and coconut, then a garnish of chocolate stripes.
Are Samoas the Same as Caramel deLites?
Yes, they're both Girl Scout cookies, with a few minor differences. There are actually two Girl Scout Bakeries that account for these versions not looking exactly the same. The ABC Bakers and Little Brownie Bakers versions are slightly different, but having the two bakeries helps with distribution and they are both commissioned by the Girl Scouts of the USA.
1. Samoas use darker chocolate.
2. Samoas cookie is less crunchy.
3. Caramel deLites have a stronger coconut flavor.
4. Caramel deLites are a bit less sweet.
You May Also Like:
We always have a stash of Girl Scout cookies in our freezer, but I love recipes inspired by some of our favorites. Plus some favorite recipes with caramel.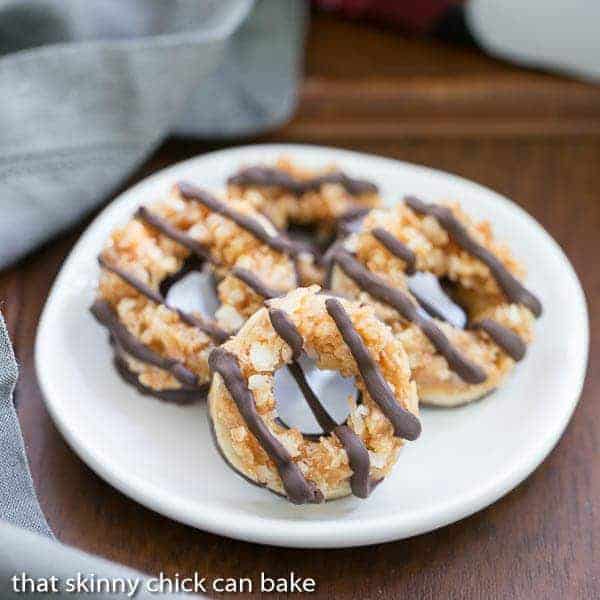 The Recipe:
Homemade Samoas
Prep Time 1 hour
Cook Time 12 minutes
Total Time 1 hour 12 minutes
Yield 2½ dozen
A copy cat recipe of the Girl Scout Samoas cookies.
Ingredients
Cookie base:
½ cup butter (1 stick), at room temperature
¼ cup sugar
1 cup flour
⅛ teaspoon baking powder
¼ teaspoon salt
1 tablespoon milk
¼ teaspoon vanilla
For the topping:
1 ½ cups coconut. Angel flake, toasted (bake on parchment at 350º for 10 minutes, stirring every 2 minutes so it won't burn)
7.5 ounces soft caramels
1 ½ tablespoons milk
4-6 ounces semi-sweet chocolate (or use dark melting wafers)
Instructions
½¼⅛Preheat the oven to 350º. Line baking sheets with parchment paper.
In a large bowl with a hand mixer, cream together the butter and sugar until light and fluffy.
In a separate bowl, whisk together the flour, baking powder, and salt. Slowly mix in the dry ingredients, then Add the milk and vanilla extract and mix until the dough comes together.
Form the dough into a disk, wrap it in plastic wrap and refrigerate for about an hour.
On a lightly floured surface, roll chilled dough to about a ⅛-inch thickness. With a 2-inch round cookie cutter, cut out as many rounds as you can. Place on baking sheets.
Using a smaller cookie cutter (about 1-inch diameter), cut out centers to make donut-shaped cookies. Reroll scraps of dough and continue to make as many cut-outs as you can.
Bake the cookies for 10 to 12 minutes until they are very lightly browned. Remove the cookies to a wire rack to cool completely.
To make the topping, first put the caramels and milk in a microwave-safe bowl. Zap at 30-second increments, stopping and stirring in between, till caramels are almost totally melted. Remove from the microwave and the small bits should melt from the residual heat.
Put the toasted coconut into a large bowl and add about ¾ of the caramel, mixing until combined. Set aside.
With the remaining caramel, paint on a thin layer on a cookie to use as the "glue" to attach the coconut topping.
With your fingers press on some of the coconut mixture to cover the top of the cookie base. Repeat with the remaining cookies, gently reheating the caramel if needed.
Let cookies solidify for an hour or so, then gently melt the semi-sweet chocolate or melting wafers in a small bowl.
Dip the bottoms of the cookies into the chocolate and place them on a wax paper-lined baking sheet to dry.
Use the remaining chocolate to drizzle the chocolate over the top of the cookies. I used a quart-sized zip-topped back with a corner cut off as a piping bag.
Let rest until the chocolate is firm.
Nutrition Information:
Yield:
30
Serving Size:
1 cookie
Amount Per Serving:
Calories: 205
Total Fat: 12g
Saturated Fat: 7g
Trans Fat: 0g
Unsaturated Fat: 4g
Cholesterol: 9mg
Sodium: 77mg
Carbohydrates: 27g
Fiber: 2g
Sugar: 20g
Protein: 2g
Dizzy Miss Izzy watching me take photos while hoping for a spill.
Note: This post may contain affiliate links; view
my Disclosure Policy
for details. I earn a small percentage from any purchase you make by clicking on these links at no extra cost to you.