Creamy Chicken Marsala with Herbed Mushrooms
When you're craving Italian food, don't limit yourself to pasta! This flavorful, Creamy Chicken Marsala is topped with a dreamy, mushroom sauce you won't believe came from your own kitchen!
Why You Should Make this Chicken Marsala Recipe
A few weeks ago, on one of the first really crisp fall nights, we met up with some friends at a quaint little Italian spot in Broad Ripple Village. The tables filled quickly as we browsed the menu and sipped our wine. Bill ordered chicken Marsala, one of their specialties. He happily let me eat all his delicious, wine-soaked mushrooms.
You may remember he has a faux allergy to what he calls fungus. I've heard his "I'm deathly allergic" response so many times over the years. Always said with a smirk to get out of eating foods he's not fond of like nuts, pineapple, mint, and on and on. I was smitten without even tasting the chicken!
It truly tastes as though it came from a restaurant. This recipe provides marvelous layers of flavor.
It's definitely much less expensive than enjoying chicken marsala at your favorite Italian restaurant.
It's a few extra steps than your typical weeknight entree, but it's perfect for a Sunday family dinner or company.
Restaurant Worthy Italian Chicken Recipe
But I digress. I knew I'd have to recreate this dish at home. Ambrosia's version did not contain cream, but the addition created a lovely richness to the sauce. This elegant entree is equally as appropriate for a weeknight meal as it is for a dinner party.
So much depth of flavor layered within each step of this recipe. Reducing the chicken broth, the addition of fresh herbs, the Marsala (did you know wine was a flavor enhancer?) all are key in making one outstanding entree. This chicken marsala with herbed mushrooms will be a dish I make again and again!
Frequently Asked Questions
What is Marsala Sauce Made Of?
This sauce starts with reduced chicken broth, then cream and lemon juice are added. The browned bits from sauteing the chicken, the mushrooms, butter, and shallots also contribute to the flavors of the sauce.
Where Did Chicken Marsala Originate?
Marsala is an Italy's most famous fortified wine. But chicken marsala most likely was not an Italian recipe, but instead developed by British who settled in Sicily. Dating back to the 1800s, there is speculation these immigrants used the locally made Marsala wine to develop this chicken dish.
What to Serve with Chicken Marsala?
With saucy dishes, it's nice to have something to sop up the juices like crusty bread, rice, risotto, potatoes or even some pasta. A crisp green salad would be lovely and some simple vegetables like roasted green beans or asparagus.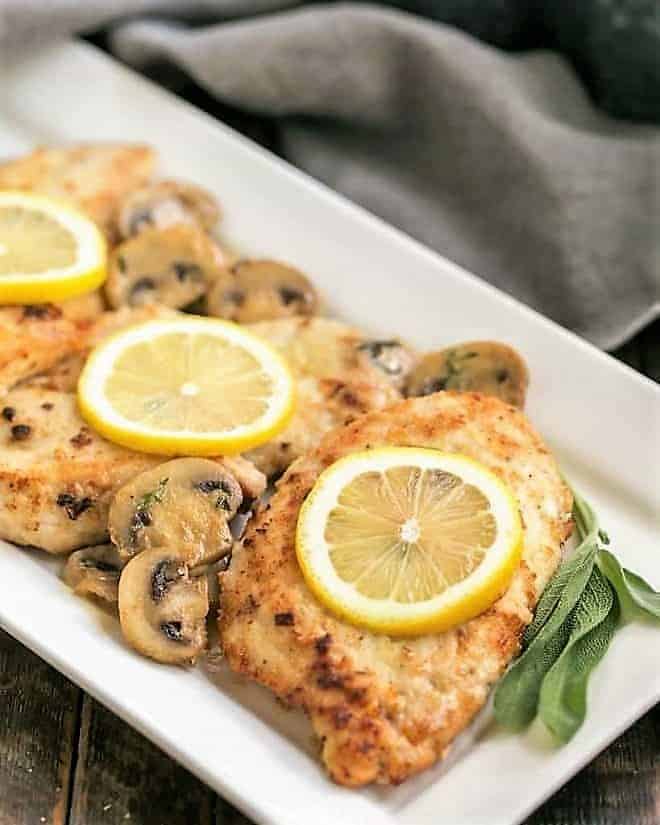 More Recipes You'll Love:
Helpful Tools:
The Recipe:
Creamy Chicken Marsala with Herbed Mushrooms
Prep Time 20 minutes
Cook Time 40 minutes
Total Time 1 hour
Yield 4
The classic Italian chicken dish with a creamy sauce and herbed mushrooms!
Ingredients
1 3/4 cups chicken broth
2 tablespoons minced shallots
5 tablespoons butter, divided
10 ounces sliced mushrooms
1 teaspoon minced sage
Kosher salt
Freshly ground black pepper
4 boneless, skinless chicken breasts
1/2 cup flour
2 tablespoons olive oil
1/2 cup dry Marsala
2/3 cup heavy cream
1 teaspoon fresh lemon juice
1/2 teaspoon minced thyme
Instructions
Preheat oven to 200º.
Pour broth into a sauce pan and simmer until reduced by half, about 20 minutes. Then set aside.
Cook shallots in 3 tablespoons of butter in a large skillet, stirring for about a minute until they start to get some color. Add mushrooms, sage, a bit of salt and pepper and cook, stirring occasionally, until the mushrooms are cooked and start to brown. Remove mushrooms from pan and set aside.
Put flour into a pie plate. Gently pound chicken till about 1/2 inch thick. I place them in a ziplock bag and use a meat mallet. Season chicken with salt and pepper and dredge in flour on both sides. Shake off excess.
Heat olive oil and remaining butter using the same skillet. Saute the chicken, flipping after first side is browned.
When both sides have browned and chicken is just cooked through, remove chicken to a heat proof dish. Place it in a warm oven if desired while you make the sauce.
Add the Marsala to the skillet and bring to boil over high heat, scraping up brown bits from the bottom of the pan. After about 30 seconds, add broth, cream, reserved mushrooms and cook till sauce thickens slightly. Add the lemon juice and thyme. Serve the chicken with mushroom sauce.
Notes
Recipe adapted from Gourmet.
Feel free to use all sage or all thyme, but I like the combination of both.
Nutrition Information:
Yield:
4
Serving Size:
1
Amount Per Serving:
Calories: 624
Total Fat: 41g
Saturated Fat: 21g
Trans Fat: 1g
Unsaturated Fat: 17g
Cholesterol: 187mg
Sodium: 948mg
Carbohydrates: 21g
Fiber: 2g
Sugar: 4g
Protein: 43g
Note: This post may contain affiliate links; view
my Disclosure Policy
for details. I earn a small percentage from any purchase you make by clicking on these links at no extra cost to you.