With a touch of autumn in the air, this ultra-creamy Easy Sour Cream Cheesecake with Caramel Apples seemed like the perfect dessert.
I am partnering with DairyPure to bring you this post, but all opinions are my own.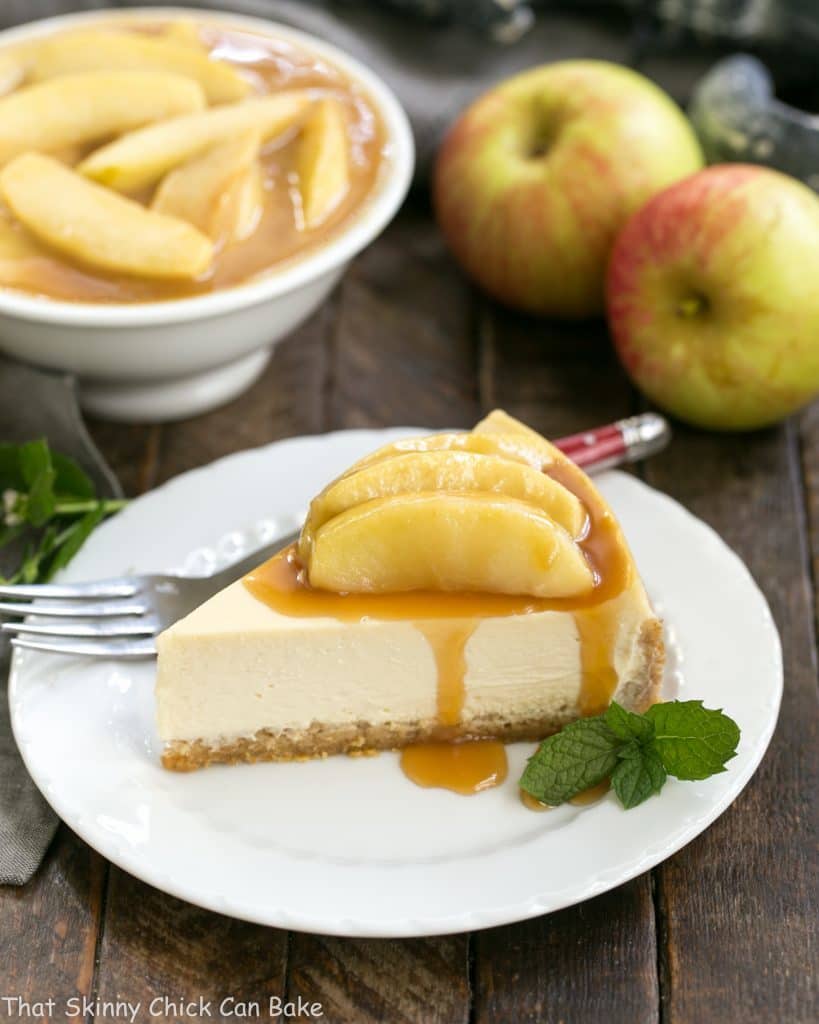 Easy Sour Cream Cheesecake with Caramel Apples
With September's arrival, the morning air has a definite chill. It's time to say farewell to the desserts of summer and move onto pumpkin, pear, and my favorite, apple desserts! I had a hankering for cheesecake and wanted to shake things up a bit. There was plenty of cream cheese in the fridge as well DairyPure sour cream, so a sour cream cheesecake was a no-brainer.
I checked the produce bin, which was stocked with Granny Smith apples, plus I spied a jar of caramel sauce in the pantry. The wheels were turning and a super easy caramel apple topping was going to push this cheesecake over the top! We swoon over decadent homemade cheesecake recipes around here!

Quality Ingredients are Key!
I've already rattled on numerous times on this topic, but using quality ingredients is imperative for a good cheesecake. I've discussed my favorite cream cheese and vanilla in the past, and now I'll reveal my favorite sour cream, DairyPure from Dean's. DairyPure products have been a constant in my refrigerator since before I started blogging. I'm never without a quart of their heavy cream and their sour cream is a must as well. DairyPure sour cream is all natural with absolutely no artificial growth hormones. It's the kind of product you feel great about feeding to your family. Some additional reasons DairyPure is my go-to sour cream:
DairyPure Sour Cream is made with fresh cream and milk from their own dairy. You know you're giving your family the highest quality product!
DairyPure Sour Cream is backed by a 5-Point Purity Promise, so you know it will always have the freshest taste.
Besides containing no artificial grown hormones, DairyPure Sour Cream is continually quality tested to ensure purity.
DairyPure Sour Cream comes in a fridge-friendly package that I love to keep on-hand! They easily stack so it's a cinch to store more than one package in my refrigerator.

Winner, Winner, Chicken Dinner!
I was toying with whether to use all brown sugar or half brown and half white. After I decided I wanted more caramel undertones, brown sugar won out. The results was sweet, luscious perfection. I couldn't keep my sticky fingers away from the caramel apples. They were a breeze to prepare and would be fabulous on ice cream, too, unless you just eat them all with a spoon. Not like I'd ever do that!
My recommendation is to make the apples on the day you're going to serve the cheesecake.  As the apples sit in the caramel sauce, they exude some juices and they're just not as attractive the next day. I hope you will add this Easy Sour Cream Cheesecake with Caramel Apples to your menu this fall, whether for a Sunday night family dinner or company, I know it will be a hit!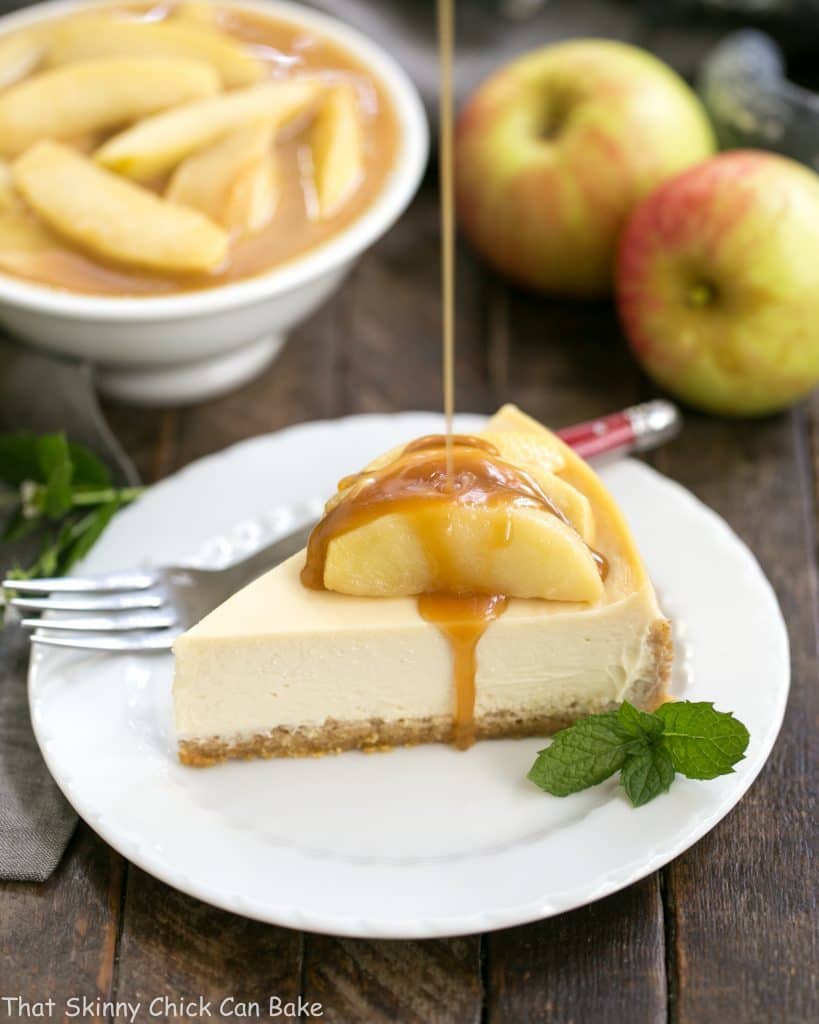 More Cheesecake Recipes You'll Love:
Used in This Recipe:
OXO Good Grips Swivel Peeler (The best peeler I've every owned!)
KitchenAid 5-Qt. Artisan with Glass Bowl (Using the paddle attachment is crucial for making a perfect cheesecake)
Wilton Cake Lifter, 8-inch (Perfect for moving the cheesecake off the springform base to a cake plate)
Small Offset Spatula (I hope you all own one of these invaluable tools! I use mine almost every time I bake. In fact, I own two!)
Print
Easy Sour Cream Cheesecake with Caramel Apples
An exquisite twist on a sour cream cheesecake with a bonus topping of caramel laden apples!
Author:
Prep Time: 30 minutes
Cook Time: 75 minutes
Total Time: 1 hour 45 minutes
Yield: 12
Category: Dessert, Cheesecake
Method: Baking
Cuisine: Dessert, Cheesecake
Ingredients
Graham Cracker Crust:
1 1/2 cups graham cracker crumbs
3 tablespoons sugar
6 tablespoons butter, melted
Cheesecake:
1 pound (16 ounces) cream cheese, at room temperature
1 1/2 cups brown sugar
2 cups DairyPure sour cream, at room temperature
3 eggs, at room temperature
1 1/2 teaspoons vanilla
1 1/2 teaspoons bourbon (or add more vanilla)
Caramel Apples:
4 Granny Smith apples, peeled, cored and each cut into 12 wedges
2 tablespoons butter
2 tablespoons sugar
3/4 cup homemade or good quality jarred caramel sauce
Instructions
Preheat oven to 325 degrees.
Butter a 9-inch springform pan and line with a round of parchment paper.
In a medium bowl, mix together graham cracker crumbs, sugar and melted butter. Pat into the bottom and about 1 1/2-2 inches up the sides. Place the refrigerator while you make the filling.
In a stand mixer with a paddle attachment (you can also mix with a hand mixer), beat the cream cheese on low until smooth. Slowly add the brown sugar, scraping the sides of the bowl as needed. Add half the sour cream, mix just until combined, and then add the rest and repeat. Add the eggs, one at a time, mixing until each is absorbed before adding the next. Mix in vanilla and bourbon.
Wrap the bottom of the springform pan with a double layer of foil, then place into a roasting pan (or other large pan). Pour hot water into the roasting pan until it's about an inch deep. Place roaster with the cheesecake into the oven. Bake for 55-60 minutes or until almost all the top of the cheesecake is set.
Remove springform pan from the water, remove the foil and place on a cooling rack.
When the cheesecake is cool, wrap in plastic wrap and chill overnight.
Before serving, make caramel apples. In a large saucepan, melt butter and add apple slices and sugar. Saute until apples are cooked, stirring as needed. You can make until this point early in the day.
When ready to serve, add caramel sauce to apples and cook until apples are covered with warm caramel sauce.
Remove sides of the springform pan and place cheesecake on cake stand or serving plate. Cut into wedges and serve topped with apples and caramel sauce.
Notes
Cooking the cheesecake in a bain marie, or water bath, will help bake the cheesecake at a constant temperature and prevents the top from cracking.
Nutrition
Calories: 509kcal
Sugar: 33g
Sodium: 298mg
Fat: 30g
Saturated Fat: 17g
Trans Fat: 0g
Carbohydrates: 55g
Fiber: 2g
Protein: 6g
Cholesterol: 122mg
Note: This post may contain affiliate links; view
my Disclosure Policy
for details. I earn a small percentage from any purchase you make by clicking on these links at no extra cost to you.