Chicken with Garlic and Parsley
On a busy weeknight, there's nothing better than a quick, 30-minute or less recipe, like this tasty Chicken with Garlic and Parsley, for dinner. Simple flavors make it a win for the cook and a win for the family!
This cubed and Pan Fried Chicken Breast is perfect for dinner. Boneless, skinless chicken cooks in no time and it tastes delicious with butter and garlic!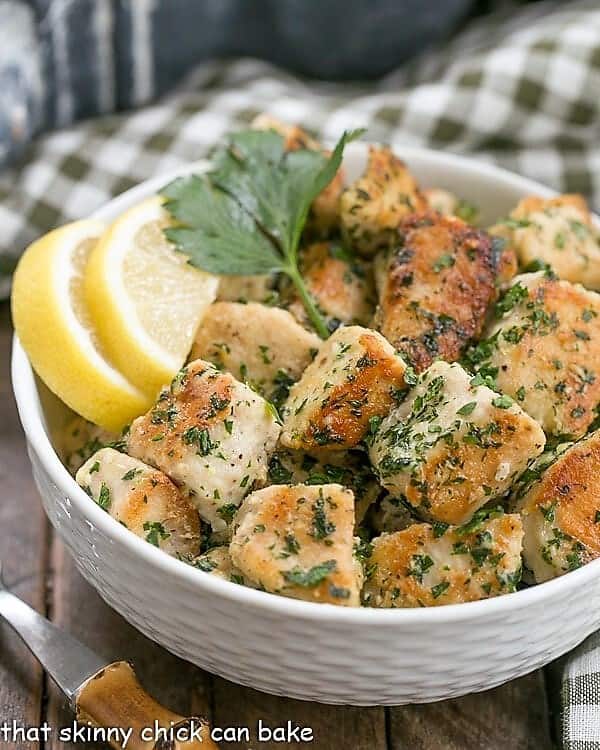 Why You Must Make
To tell the truth, I'm a lazy cook when it comes to making dinner for my family. I look for meals that come together quickly.
I'm not much for take-out but love easy, restaurant-worthy recipes like this delicious garlic chicken.
I've been making this speedy weeknight meal for nearly a decade. The skillet dinner originates from Jacques Pepin, the renowned French chef, and television personality.
Almost all the ingredients are kitchen staples. Just add parsley to your shopping list!
Reader Endorsement
From Jenny on Pinterest: This was fast, easy, and amazing. I definitely will do it again.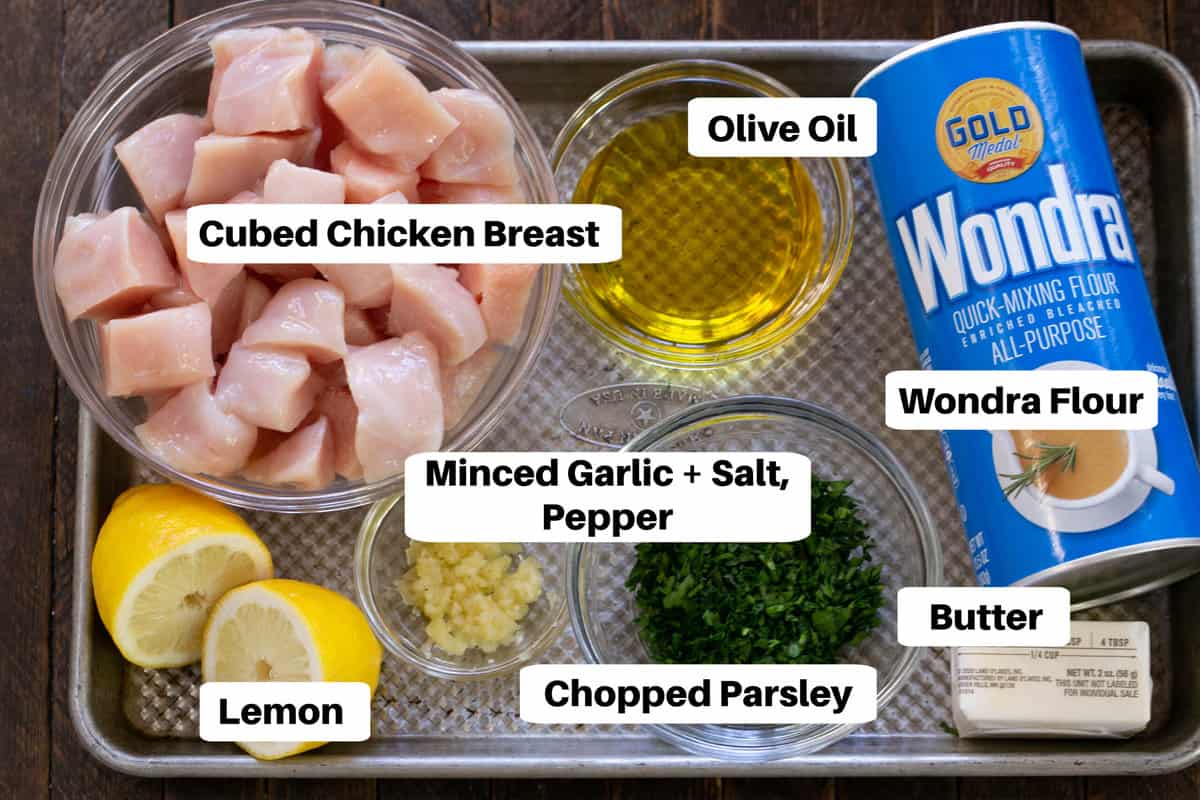 Ingredient Notes:
Kitchen Staples – Salt, Freshly Ground Black Pepper
Boneless, Skinless Chicken Breasts – Cube into bite-sized pieces
Olive Oil – I use extra virgin
Flour – I use Wondra Flour, a granular flour in a blue canister. It's great to have on hand for coating chicken, fish, and for making lump-free gravy. Regular all-purpose flour can be substituted.
Garlic – Fresh garlic cloves, minced or use a garlic press
Fresh Parsley – Provides a bright, fresh flavor
Butter – I always use salted as salt is a flavor enhancer and the small amount will not make the dish too salty.
Lemon – Optional to squeeze over the finished dish to enhance the flavor
How to Make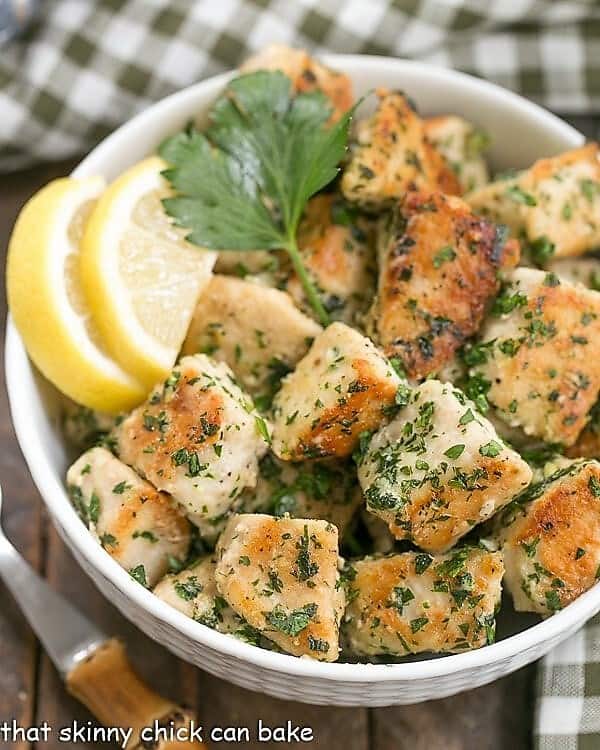 Expert Tips
I love to pour through the dessert sections of cookbooks, tagging only the most decadent recipes to try. As I mentioned, when it comes to the day-to-day grind of cooking dinner, eh, well, I'm not so enthusiastic. I love simple, flavorful recipes that can be whipped together with ingredients I have in my pantry and fridge. I often have fresh parsley in the fridge or garden, but that's the only item that might need to go on the grocery list when this chicken with garlic and parsley is on the menu.
Most of the ingredients are already in your kitchen, just add fresh parsley and maybe a lemon to your shopping list.
Cook in batches so you give each cube of chicken the space to brown.
Don't add the garlic until the end. You'll get the best flavor if it doesn't overcook or burn.
Use Wondra Flour. It's a granulated flour made by Gold Medal is touted as an "All-Purpose Quick-Mixing Sauce 'N Gravy Flour." I routinely pull it out on Thanksgiving to make my turkey gravy as it doesn't lump like all-purpose. It also makes a lovely crisp coating on these chicken pieces. I keep a box on hand at all times. Check the baking aisle to see if your grocery store carries it.
Use a Ziploc bag to shake up chicken chunks with flour, salt, and pepper.
A squeeze of lemon before serving brightens the flavor even more!
This is the perfect recipe for after a hectic day. It comes together in less than 30 minutes, and it's fabulous! I've doubled the original recipe to feed my family of 5. This easy chicken recipe tastes incredible with little effort.
Frequently Asked Questions
How Do You Cook Skillet Chicken?
Make sure all the chicken pieces are in a single layer so they don't steam, but instead, saute. Do multiple batches if necessary. The oil should be hot before the chicken is added to the skillet. Let one side brown before using a spatula to flip the chicken so that all sides get crispy.
How Do You Know When Chicken is Done Frying?
Cook until the chicken cubes are crispy and browned. When you cut into one of the pieces, it should be opaque with no raw undercooked pink areas.
How Long Can You Store the Leftovers?
The rule of thumb is up to 4 days if kept in an airtight container in the refrigerator. Never let the leftovers sit out at room temperature for longer than 2 hours to prevent the chance of food poisoning.
You May Also Like:
Stay in touch through social media @ Instagram, Facebook, and Pinterest. Don't forget to tag me when you try one of my recipes! And if you love the results, please give it a 5-star rating in the recipe card. Note: As an Amazon Associate, I earn from qualifying purchases. Visit my Amazon Store for my favorite products.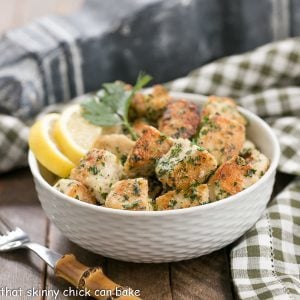 The Recipe:
Chicken with Garlic and Parsley Recipe
Prep Time 10 minutes
Cook Time 15 minutes
Total Time 25 minutes
Yield 6 servings
An easy, family-pleasing recipe that comes together in 30 minutes or less. Adapted from Jacques Pepin
Ingredients
6 boneless, skinless chicken breasts, cut into 1 ½- inch cubes
¼ cup flour, Wondra flour recommended
¾-1 teaspoon salt
½ teaspoon freshly ground pepper
¼ cup olive oil
2 tablespoons minced garlic
¼+ cup chopped parsley
¼ cup butter
Lemon, slices or quartered, to garnish or for a squeeze of juice before serving
Instructions
Combine flour, salt and pepper and place in bowl or gallon ziplock bag.
Dry chicken cubes, then toss in flour.
Heat olive oil and saute chicken in batches, till browned and cooked through.
Return all chicken to the pan and add garlic, parsley, and butter. Saute another minute, tossing to coat all chicken with garlic and parsley.
Serve with lemon if desired.
Notes
Helpful Tools (As an Amazon Associate and member of other affiliate programs, I earn from qualifying purchases).
Wondra Flour - A granular flour that makes a light crispy coating as the chicken cooks.
Adapted from Jacques Pepin.
Nutrition Information:
Yield:
6
Serving Size:
1
Amount Per Serving:
Calories: 398
Total Fat: 21g
Saturated Fat: 7g
Trans Fat: 0g
Unsaturated Fat: 12g
Cholesterol: 122mg
Sodium: 533mg
Carbohydrates: 12g
Fiber: 1g
Sugar: 5g
Protein: 39g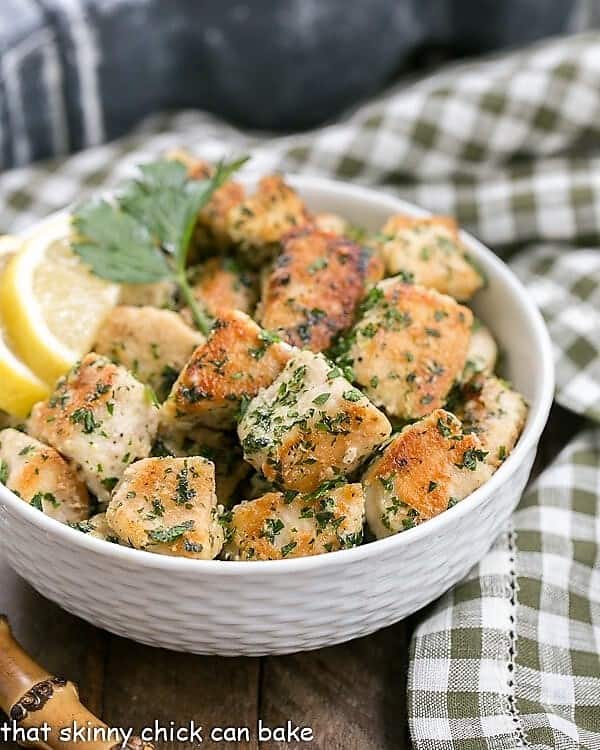 Miss Lambeau is wondering why one of her family members considers her a lap dog? (Image circa 2012)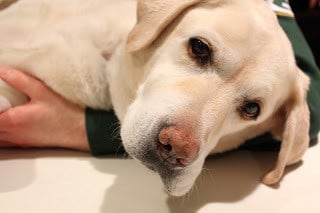 Note: This post may contain affiliate links; view
my Disclosure Policy
for details. I earn a small percentage from any purchase you make by clicking on these links at no extra cost to you.