Dressy Pasta "Risotto"
Dorie Greenspan's Dressy Pasta "Risotto" was a hit with my crew. Creamy and delicious, it's cooked more like risotto than pasta! It's definitely an upscale mac and cheese.
Dressy Pasta "Risotto"
Will wonders never cease? This is the fourth French Friday dish in a row that's received compliments from my other half. Yes, Bill approved again. This creamy Pasta "Risotto" is a simple, delectable mac and cheese. Its name is derived from the method of cooking, not the ingredients. No worries, though…this unprecedented record will end soon as Moules Marinière is up in a couple weeks…and bivalves are on his "will not pass my lips" list.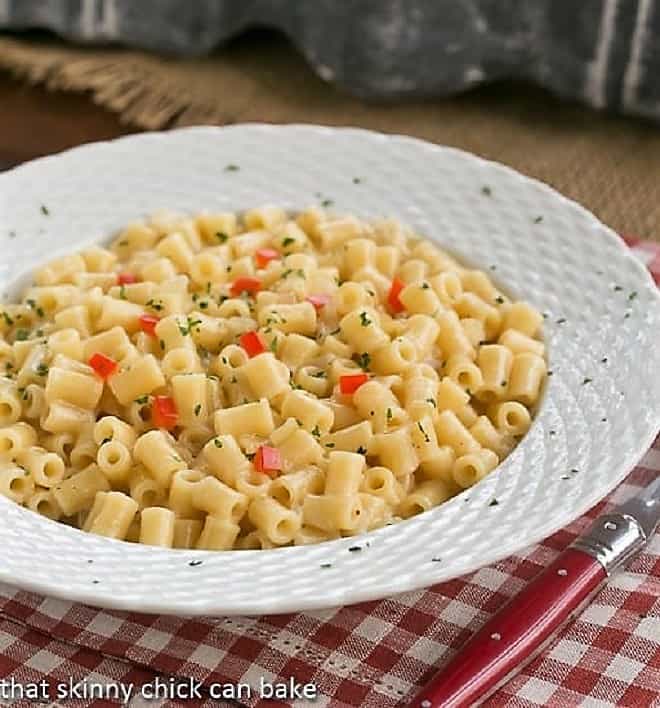 Upscale Macaroni and Cheese
Much speedier than the classic risotto made with rice, but with the same creamy flavor coming from the addition of butter, heavy cream and mascarpone cheese. Finely chopped onions were sauteed in butter before adding chicken broth and tubetti (small, short tubes) and cooked till most of the stock was absorbed.
The cream, mascarpone, and Parmesan cheese were added at the end to boost the mouthfeel and flavor. Sounds like a marvelous upscale mac and cheese, doesn't it?
Tips for Making This Pasta Risotto
Dorie, as usual, had a couple of bonne idées, or alternatives, such as using elbow macaroni and beef broth or the addition of dried mushrooms, thyme or rosemary, black truffle peelings or crushed black peppercorns. I would have jumped on the mushroom and herb bandwagon, but then the record would have stopped at only 3 Bill approved recipes in a row.
I jazzed mine up with a sprinkling of minced parsley and red bell pepper…not exactly truffles, sigh. Who wants to place a wager on next Friday's Baked Apples?
Dorie's recipe for the Dressy Pasta "Risotto" can be found in The Wall Street Journal or in her incredible cookbook, Around My French Table.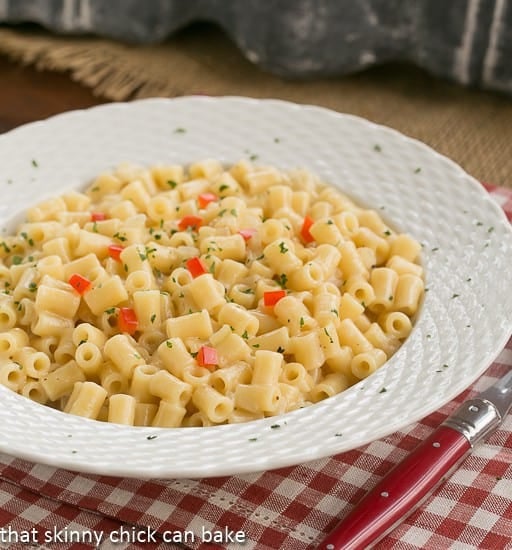 The Recipe:
Dressy Pasta "Risotto"
Prep Time 10 minutes
Cook Time 35 minutes
Total Time 45 minutes
Yield 2 servings
A macaroni and cheese recipe made in the style of risotto
Ingredients
2 tablespoons butter
1 small onion, finely chopped
Salt and freshly ground pepper
3¾ cups chicken broth
1 1/3 cups tubetti pasta
½ cup heavy cream
½ cup freshly grated Parmesan
3½ tablespoons mascarpone
Instructions
Melt the butter in a large saucepan over medium-low heat. Add the onion, season with salt and pepper, and cook, stirring occasionally until the onions are translucent, about 10 minutes.
Add the chicken broth bring to a boil. Add the pasta, stir and let it simmer until it has absorbed almost all the broth, 20 to 25 minutes.
Pour in the cream and allow it to simmer for a few minutes, until it thickens slightly. Stir in Parmesan and mascarpone, cook for 1 minute, and taste for salt and pepper. Remove the pan from the heat, cover, and let rest for 3 minutes before serving.
Nutrition Information:
Yield:
2
Serving Size:
1
Amount Per Serving:
Calories: 792
Total Fat: 64g
Saturated Fat: 38g
Trans Fat: 2g
Unsaturated Fat: 19g
Cholesterol: 195mg
Sodium: 2653mg
Carbohydrates: 37g
Fiber: 2g
Sugar: 7g
Protein: 19g
Note: This post may contain affiliate links; view
my Disclosure Policy
for details. I earn a small percentage from any purchase you make by clicking on these links at no extra cost to you.