Easy King Cake
This Easy King Cake Recipe is a Mardi Gras treat that's a twist on our family's favorite Cream Cheese Tea Roll made with frozen bread dough! Makes it super easy to throw together!!
This festive King's Cake is decorated with bold yellow, green and purple sugars, the colors of Mardi Gras, and filled with sweetened cream cheese before baking. Add a King Cake Baby for the ultimate holiday celebration.
Why You Must Make
It's a semi-homemade recipe so it's super easy to make!
This easy king cake recipe is perfect for Mardi Gras after you sprinkle the wet icing with sugars in the classic trio of colors of the holiday.
It's a tasty indulgence before Lent begins!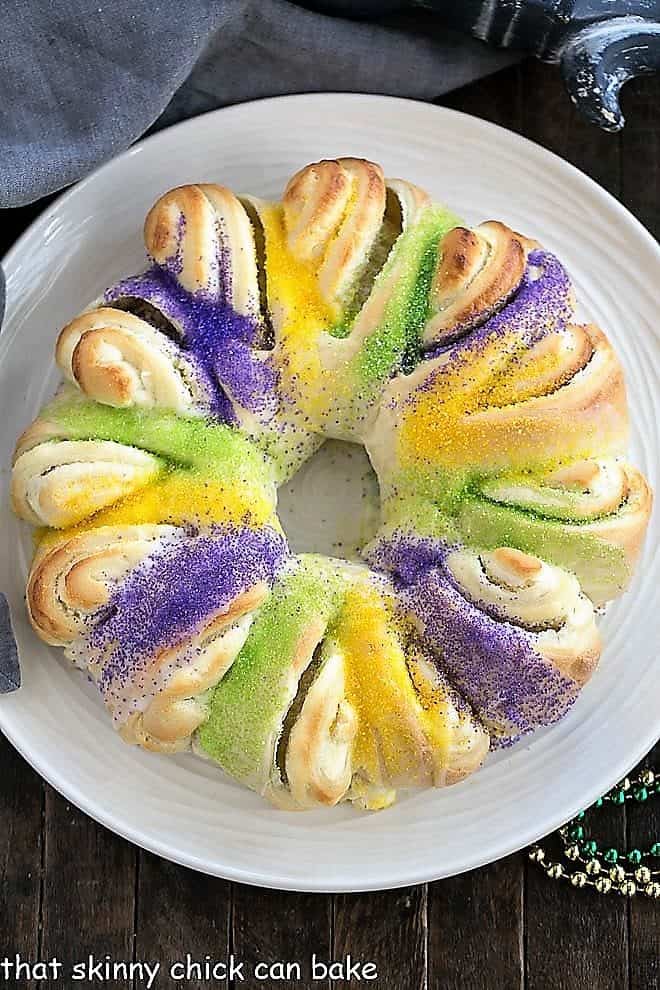 Expert Tips
If you forget to purchase a king cake before Fat Tuesday, you can easily make this semi-homemade recipe for a king cake at home.
Starting with a loaf of frozen bread dough makes the process super simple. Just wrap the frozen dough in plastic or place in a Zipoc bag and let the dough defrost overnight in the refrigerator.
PRO-Tip: Make sure your cream cheese sets out for at least 30 minutes before mixing the filling. It should be soft enough so that it blends smoothly.
To roll out your dough and contain the flour mess, use a large Silpat (affiliate link). I dust it with flour, roll the dough, shape, and transfer it to a baking sheet. All I have to do is fold up the silicone mat and shake off the flour over the trash can. Easy cleanup is a bonus.
Once the filling is spread on the dough, roll it over the cream cheese filling just like you were making cinnamon rolls. You want to avoid spreading the cream cheese mixture all the way to the top and bottom edges or it will seep out when you roll. The goal is to have a roll that's the same diameter all the way across.
After it's rolled, the two ends must be connected so the rope becomes a ring. Pinch the two ends together the best you can so that it's sealed. I've made this a lot and it's hard to get a picture-perfect ring. If your filling doesn't come all the way to both ends, feel free to trim the ends to the filling.
PRO-Tip: Next, take a sharp knife and make cuts from the outside to about 7/8 of the way through at 1 1/2-inch intervals. Don't cut all the way through to the center!
Then, take each section you've cut and twist so the swirl of dough and cream cheese face upwards. The sections will overlap as seen in the photos. Go around once, then make adjustments as needed.
PRO-Tip: If you have an oven-safe king's cake baby, tuck it into the cake before baking. If you're unsure, insert it after the cake comes out of the oven.
PRO-Tip: Monitor any children so they don't choke if they get the baby in their slice.
If you don't have a baby, wrap a large dried bean or even a coin in foil to use instead.
Once you're satisfied with the look, you can proof the dough, bake, frost, sprinkle with colored sugars, and enjoy!
I sent the leftovers home with my youngest to share with his roommates. Apparently, it didn't last long! I hope you have time to make a semi-homemade king cake this year!
Frequently Asked Questions
What is a King Cake?
As a child, our King Cake was served on Epiphany, the last of the 12 Days of Christmas. Epiphany celebrates the three kings or wise men visiting the baby Jesus, so a cake named after these kings seems apropos. If my mom would remember, she'd wrap a coin or dried bean in foil and bake it into the cake.
Nowadays, a king cake is more aligned with Mardi Gras, AKA Fat Tuesday, the day before Lent begins. It's actually OK to serve a king cake recipe anytime from Epiphany through Mardi Gras. King cakes are found in grocery stores across the states, made of eggy brioche dough or even puff pastry, and filled with cream cheese, cinnamon sugar, fruit, or chocolate.
What Do the Colors of a King Cake Represent?
Most are decorated in those traditional Mardi Gras colors which represent power (gold), faith (green), and justice (purple), and shaped in a ring, symbolizing a crown. The oval also represents the unity of faith.
Why Is a Baby Put in A Mardi Gras Cake?
The baby represents baby Jesus and whoever finds it in their serving of King Cake is blessed with the gift of prosperity over the next year. And the lucky person is also assigned the task of providing the cake for the following year's Mardi Gras celebration.
You May Also Like:
Stay in touch through social media @ Instagram, Facebook, and Pinterest. Don't forget to tag me when you try one of my recipes! And if you love the results, please give it a 5-star rating in the recipe card. Note: As an Amazon Associate, I earn from qualifying purchases. Visit my Amazon Store for my favorite products.
The Recipe:
Easy King Cake
Prep Time 30 minutes
Cook Time 25 minutes
Total Time 55 minutes
Yield 8 servings
A semi-homemade cream cheese filled tea roll iced, then decorated with colored sugars for Mardi Gras
Ingredients
1 loaf frozen bread dough, defrosted in the refrigerator overnight
Filling:
8 ounces cream cheese, at room temperature
1/4 cup sugar
1 teaspoon lemon juice
1 tablespoon butter, at room temperature
Glaze:
1 cup powdered sugar
1 tablespoon butter, at room temperature
1/2 teaspoon vanilla
1+ tablespoons milk
Gold, green and purple sanding sugars
Instructions
Roll dough to a 16 x 12 rectangle (approximately). Spread filling on top. Roll up the dough as if making cinnamon rolls.
Take the rolled dough and make a ring by joining the two ends together. Gently pinch the ends together to seal.
Make cuts every 1 1/2 inches or so, about 3/4+ of the way through the ring (from outside towards the middle). I like to make 12 sections so that I can have 4 of each color
.Twist each ring on its side so that filling shows.
Loosely cover with plastic wrap and let rise in a warm spot for about 1 hour.
Preheat oven to 350º. Bake for 20-25 minutes. Cool before icing.
Whisk or beat together glaze ingredients and add enough milk to thin into a glaze.
Brush over the bread, avoiding the filling, one section at a time.
Before the glaze over each section dries, sprinkle the glaze with sugar, alternating between colors.
Let set before serving.
Notes
Add a king cake baby before or after baking if desired. Make sure you monitor children if they're eating if you've hidden a baby in the cake.
Nutrition Information:
Yield:
8
Serving Size:
1 slice
Amount Per Serving:
Calories: 206
Total Fat: 13g
Saturated Fat: 8g
Trans Fat: 0g
Unsaturated Fat: 4g
Cholesterol: 36mg
Sodium: 113mg
Carbohydrates: 22g
Fiber: 0g
Sugar: 21g
Protein: 2g
Note: This post may contain affiliate links; view
my Disclosure Policy
for details. I earn a small percentage from any purchase you make by clicking on these links at no extra cost to you.