Rotisserie Style Chicken
Avoid artificial ingredients by roasting a Rotisserie Style Chicken right in your own oven! Every bite is juicy, tender, and flavorful!
You'll love this chicken so much, you'll want to roast more than one! This Rotisserie Chicken Seasoning is perfect. This is definitely one of the Best Roast Chicken Recipes you'll ever taste. Make one to eat and one to save for soups, casseroles, chicken salad, and more!
Why You'll Love this Chicken Recipe
Unlike store bought rotisserie chicken, you can control the amount sodium added.
It's super simple and you can even make up a double or triple batch of the rub for another meal down the road.
The results are a tender, juicy, and flavorful chicken dinner.
Dry Rub for an Oven Roasted Chicken
No special equipment is needed, just a long list of seasonings to mix and apply before a long and low stint in the oven. I'd call it a dry brine or rub. Salt, along with paprika, three different peppers, thyme, garlic, and onion powder were combined and allowed to work their magic for at least 6 hours. I stuffed the cavity with an onion, then roasted the chicken at only 250º for 3 1/2 or more hours until done. This low and slow technique kept the meat moist and tender.
I found that the skin needed a little oil after the chicken was removed from the oven, so feel free to baste it at the last minute or rub the skin with a tablespoon of butter before letting it rest. The family was thrilled with this meal. In fact, next time I'll roast two! There are so many dishes you can make with the leftovers.
What is a Rotisserie?
A rotisserie is a piece of equipment that cooks food, usually meat, while it slowly rotates. The food is placed on a spit and held stable with prongs.
This cooking process allows the heat to surround the meat, providing even circulation while it self bastes. This can be done in an oven or on a barbecue. Many grocery stores sell rotisserie chickens.
How to Make Rotisserie Chicken at Home:
Step 1: Mix together the seasoning mixture.
Step 2: Pat your chicken dry.
Step 3: Rub the spices all over the exterior of the chicken, plus toss some inside the chicken, too.
Step 4: Wrap the chicken in a double layer of plastic wrap, place it on a rimmed baking sheet to catch any moisture that the chicken gives off, and place it in the refrigerator for at least 6 hours. Overnight is even better.
Step 5: Preheat the oven, remove the plastic and insert an onion or onion halves into the chicken's cavity.
Step 6: Slow roast until a meat thermometer inserted into the middle of the thigh reads 180º or for about 3 1/2 hours. The exact time depends on the size of your chicken.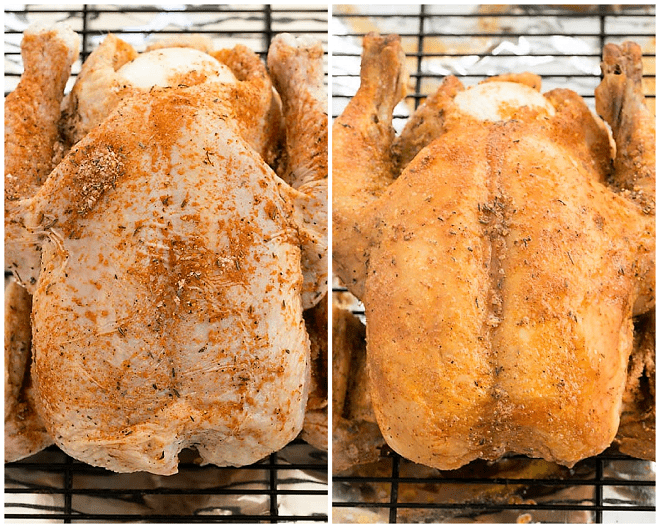 Ingredients Needed for this Whole Roasted Chicken:
This rotisserie chicken seasoning is perfectly balanced. Make sure to rub it on your whole chicken well before you plan to roast it for the best results.
4-pound roasting chicken (or somewhere between 3 1/2 and 4 1/2 pounds)
kosher salt (do not substitute table salt unless you decrease the amount)
paprika
onion powder
dried thyme
white pepper
cayenne pepper
black pepper
garlic powder
medium onion
More Chicken Recipes You'll Enjoy
Don't Forget to Subscribe!
Have you subscribed to my weekly newsletter? You'll get the latest blog recipes plus some seasonal favorites delivered to your inbox every Saturday morning! And as a bonus, you'll receive a series of 5 Tips & Recipes for Leveling Up Your Desserts! Of course, you can unsubscribe at any time!!
SUBSCRIBE HERE—> https://bit.ly/3tLQIcL
This recipe was first shared in October 2014. Photos and text were updated in 2021.
The Recipe:
Rotisserie Style Chicken
Prep Time 10 minutes
Cook Time 3 hours 30 minutes
Total Time 3 hours 40 minutes
Yield 4 servings
Make rotisserie style chicken at home!! Tender, juicy and flavorful!
Ingredients
3 teaspoons kosher salt
1 teaspoons paprika
1/2 teaspoon onion powder
1/2 teaspoon dried thyme
1/2 teaspoon white pepper
1/4 teaspoon cayenne pepper
1/4 teaspoon black pepper
1/4 teaspoon garlic powder
1 medium onion, quartered
4-pound roasting chicken, giblets removed
Instructions
In a small bowl, mix together salt, paprika, onion powder, thyme, white pepper, black pepper, cayenne pepper, and garlic powder.
Pat chicken dry with paper towels. Rub each chicken inside and out with spice mixture. Place 1 onion into the cavity of the chicken. Double wrap with plastic wrap. Refrigerate overnight or at least 6 hours.
Preheat oven to 250º.
Place chicken in a roasting pan. Bake uncovered for 3 1/2 hours or till its temperature reaches 180º. Baste with some of the drippings or rub skin with a tablespoon of butter, then let the chicken stand for 10 minutes before carving.
Yield: 4 servings
Total time:10 hours
Notes
Total time does not include dry brining overnight.
Recipe adapted from AllRecipes.com
Recommended Products
As an Amazon Associate and member of other affiliate programs, I earn from qualifying purchases.
Nutrition Information:
Yield:
4
Serving Size:
1
Amount Per Serving:
Calories: 728
Total Fat: 21g
Saturated Fat: 6g
Trans Fat: 0g
Unsaturated Fat: 8g
Cholesterol: 2005mg
Sodium: 1892mg
Carbohydrates: 4g
Fiber: 1g
Sugar: 1g
Protein: 124g
Note: This post may contain affiliate links; view
my Disclosure Policy
for details. I earn a small percentage from any purchase you make by clicking on these links at no extra cost to you.