Fresh Peach Ice Cream
With fragrant, Georgia peaches piled high in my fruit bowl, it's no surprise this fabulous recipe for Fresh Peach Ice Cream beckoned me. Chopped and macerated peaches were mixed into a vanilla custard then frozen into creamy deliciousness.
This Easy Homemade Peach Ice Cream is the epitome of summer desserts! Seasonal peaches frozen with a luscious, creamy custard is a most delicious way to keep cool on a hot, humid day.
Why You Must Make:
Peach season is generally the hottest time of the year, so making peach ice cream is the perfect way to stay cool!
This ice cream is rich, creamy, and irresistible!
Made with simple ingredients like cream, half and half, sugar, and peaches, this ice cream was destined to be sublime.
Reader Endorsement:
From the comments:
It's peach season here in central PA and this recipe looked like a winner. Well, it's MORE than a winner, maybe the best of all time!!! I followed the directions exactly and hello peaches and cream! A smooth and creamy delight! One warning though, the recipe makes 3 full quarts of liquid, so I had to run 2 batches in my 1 1/2 quart Cuisinart, the 2nd batch came out a little softer than normal but a few hours in the freezer should fix that. Get your peaches and make this recipe NOW!!
Recipe Tips:
No overnight chilling was needed, just mix and pour into the ice cream maker.
It took a few hours in the freezer to become firmer than soft serve, but it was worth the wait. I was on cloud nine sampling what was left on my machine's paddle.
Since any larger pieces of fruit can get icy when frozen, I recommend a good mashing of the diced fruit.
My son, Nick, and I doubled up our peach intake by having our scoops of fresh peach ice cream over Peach Crisp. Fruit is healthy, right???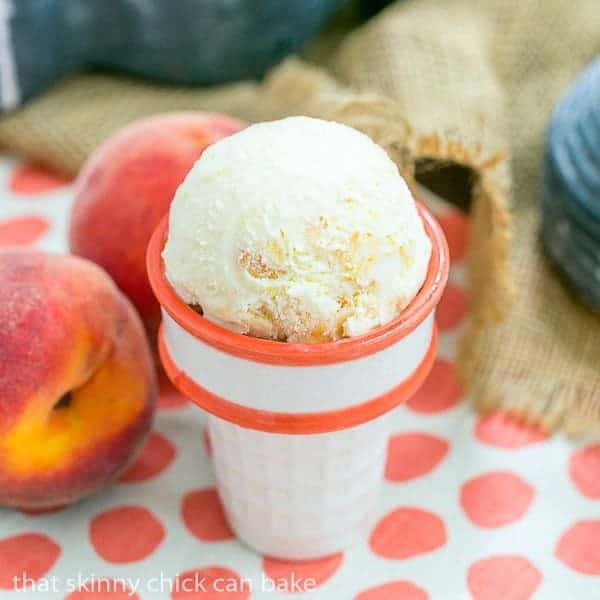 Frequently Asked Questions
What Does Peach Ice Cream Taste Like?
If you use fresh, ripe, fragrant peaches the ice cream will taste like peaches. Do not make unless your peaches are flavorful.
What Can I Make with Overripe Peaches?
You can always freeze the peaches you cannot use before they spoil. Make sure to add a product like Fruit Fresh which will keep the peaches from oxidizing, or turning brown, in the freezer.
You can also make quick bread, jam, muffins, pies, crumbles, crisps, sauces, or salsas.
What Makes Ice Crystals in Ice Cream?
When an ice cream recipe does not include eggs, there's a higher probability that ice crystals will form after it freezes. To minimize the chances, adding some alcohol to the ice cream base will lower the freezing point.
According to the New York Times, adding 1½ tablespoons of 80-Proof alcohol for every quart of ice cream base is the rule of thumb.
You May Also Like:
Stock up on peaches so you, too, can make this old-fashioned homemade ice cream recipe and a few more of my favorites!
Check out more delectable Ice cream recipes on my Ice Creams and Gelatos Pinterest Board.
Stay in touch through social media @ Instagram, Facebook, and Pinterest. Don't forget to tag me when you try one of my recipes! And if you love the results, please give it a 5-star rating in the recipe card. Note: As an Amazon Associate, I earn from qualifying purchases. Visit my Amazon Store for my favorite products.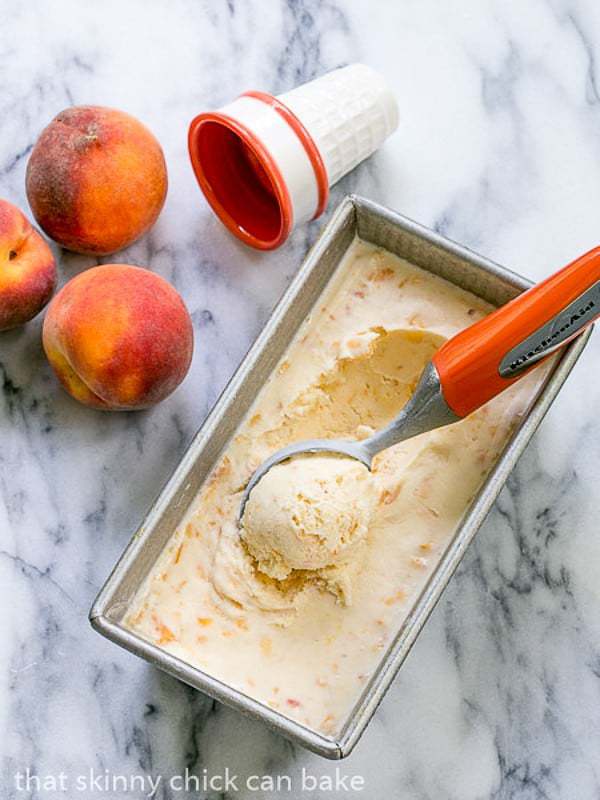 The Recipe:
Fresh Peach Ice Cream
Prep Time 15 minutes
Total Time 15 minutes
Yield 10 servings
This marvelous fresh peach ice cream recipe creamy and delicious!
Ingredients
3 eggs, beaten
1 3/4 cups sugar
5 fresh peaches, peeled, pits removed and finely chopped
2 cups heavy cream
1 cup half and half
1 1/2 teaspoons vanilla
A rounded 1/4 teaspoon salt
Instructions
In a large bowl, whisk together eggs and sugar till smooth.
Place diced peaches in a medium bowl and mash a few times with a potato masher.
Stir the peaches into the eggs, then mix in cream, half and half, vanilla and salt.
Pour the mixture into the freezer container of ice cream maker and process according to manufacturer's instructions.
Notes
This recipe utilizes raw eggs. If serving to children, the elderly or the immune-suppressed, please use pasteurized eggs to avoid salmonella.
Total time depends on how long it takes your ice cream maker to process the ice cream.
This recipe is half of Lea Ann's original recipe and I still could not fit it all into my ice cream maker. Store unused peach custard in the refrigerator and freeze it within 24 hours.
The recipe is courtesy of Lea Ann of Cooking on the Ranch.
Nutrition Information:
Yield:
10
Serving Size:
1
Amount Per Serving:
Calories: 384
Total Fat: 21g
Saturated Fat: 13g
Trans Fat: 1g
Unsaturated Fat: 7g
Cholesterol: 118mg
Sodium: 102mg
Carbohydrates: 46g
Fiber: 1g
Sugar: 45g
Protein: 5g
Note: This post may contain affiliate links; view
my Disclosure Policy
for details. I earn a small percentage from any purchase you make by clicking on these links at no extra cost to you.