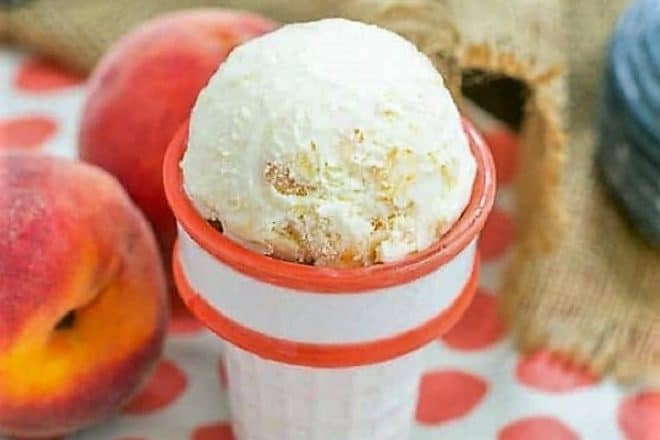 With fragrant, Georgia peaches piled high in my fruit bowl, it's no surprise Lea Ann's recipe for Fresh Peach Ice Cream beckoned me. Chopped and macerated peaches were mixed into a vanilla custard then frozen into creamy deliciousness.
Fresh Peach Ice Cream
The Blogger Clue team was on the hunt for recipes to beat the heat. Each of us was assigned another blog, and I was the lucky recipient of Cooking on the Ranch. Lea Ann hails from just south of Denver at the foot of the Rocky Mountains, and lives on what was formerly a working cattle ranch. She adores food and wine and takes awesome photos and cooks up some marvelous recipes. I had an inkling that I'd like to feature an ice cream, and I zeroed in on both her fresh peach version and her balsamic roasted strawberry ice cream. Since I had an ample supply of Georgia peaches ripening on my counter, the deal was done.
Peaches and Cream
Cream, half and half, sugar and peaches—destined to be sublime. I loved that there was no overnight chilling, just mix and pour into the ice cream maker. It took a few hours in the freezer to become firmer than soft serve, but I was on cloud nine sampling what was left on my machine's paddle.
As larger piece of fruit can get icy when frozen, I'd recommend a good mashing of the diced fruit. Nick and I doubled up our peach intake by having our scoops of fresh peach ice cream over Peach Crisp. Fruit is healthy, right??? Thanks, Lea Ann, for the terrific recipe. With my dad now living in Denver, I'm hoping we can meet in person on one of my future visits! I've also had my eye on this dreamy Peach Sherbet. So make sure to stock up on peaches!
More Marvelous Summer Recipes:
Check out more delectable Ice Creams on my Ice Creams and Gelatos Pinterest Board.
Print
Fresh Peach Ice Cream
This marvelous fresh peach ice cream recipe is courtesy of Lea Ann of Cooking on the Ranch.
Author:
Prep Time: 15 minutes
Total Time: 15 minutes
Yield: 10 servings 1x
Category: Dessert, Ice Cream
Method: Freezing
Cuisine: American
Ingredients
3 eggs, beaten
1 3/4 cups sugar
5 fresh peaches, peeled, pits removed and finely chopped
2 cups heavy cream
1 cup half and half
1 1/2 teaspoons vanilla
A rounded 1/4 teaspoon salt
Instructions
In a large bowl, whisk together eggs and sugar till smooth.
Place diced peaches in a medium bowl and mash a few times with a potato masher.
Stir the peaches into the eggs, then mix in cream, half and half, vanilla and salt.
Pour the mixture into the freezer container of ice cream maker and process according to manufacturer's instructions.
Notes
This recipe utilizes raw eggs. If serving to children, elderly or the immune-suppressed, please use pasteurized eggs to avoid salmonella.
Total time depends on how long it takes your ice cream maker to process the ice cream.
This recipe is half of Lea Ann's original recipe and I still could not fit it all into my ice cream maker. Store unused peach custard in the refrigerator and freeze within 24 hours.
Note: This post may contain affiliate links; view
my Disclosure Policy
for details. I earn a small percentage from any purchase you make by clicking on these links at no extra cost to you.