Fresh Peach Clafoutis
It was time for our summer book club dinner and we were in the heart of peach season! I decided to revisit this easy Fresh Peach Clafoutis, a rustic French fruit tart!
This Clafoutis Recipe is so much easier than making a peach pie or tart since there is no crust. But you can still serve it in wedges with a scoop of ice cream.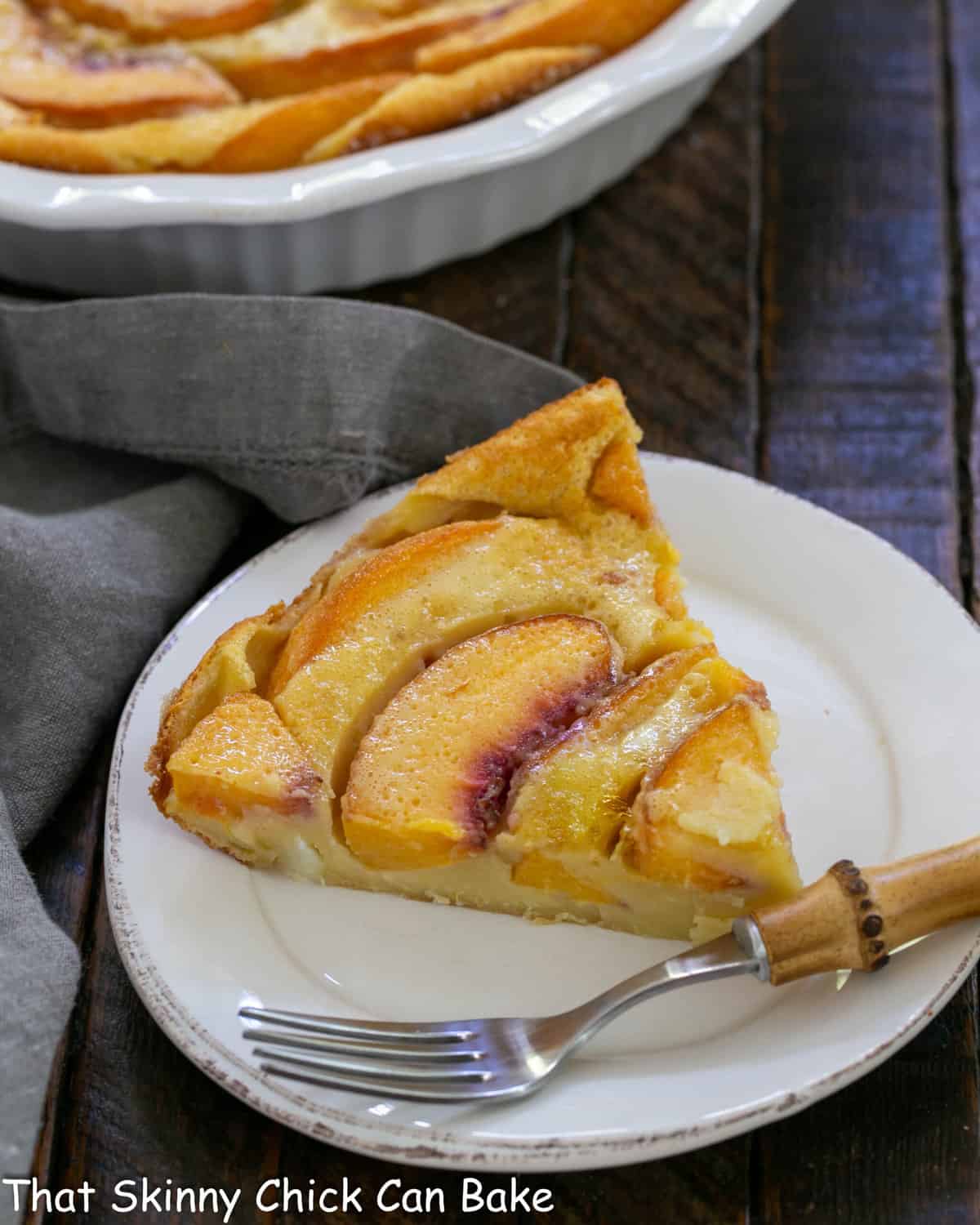 Why You Must Make
I don't think I'd even heard of a clafoutis until I started blogging in 2010. A clafoutis (pronounced kla-FOO-tee) is basically fruit topped with a crepe-like batter and baked until puffed and custardy. It's a rustic French dessert that can be thrown together in minutes.
If you don't have peaches available, you can use any stone fruit, but traditionally black cherries with the pits are utilized, like in my Whole Cherry Clafoutis.
Since I seem to have a surplus of peaches, peaches it was! I loved this dessert, but alas, Bill wasn't a fan. Lacking in chocolate, I suppose. But I plan to have another slice for breakfast!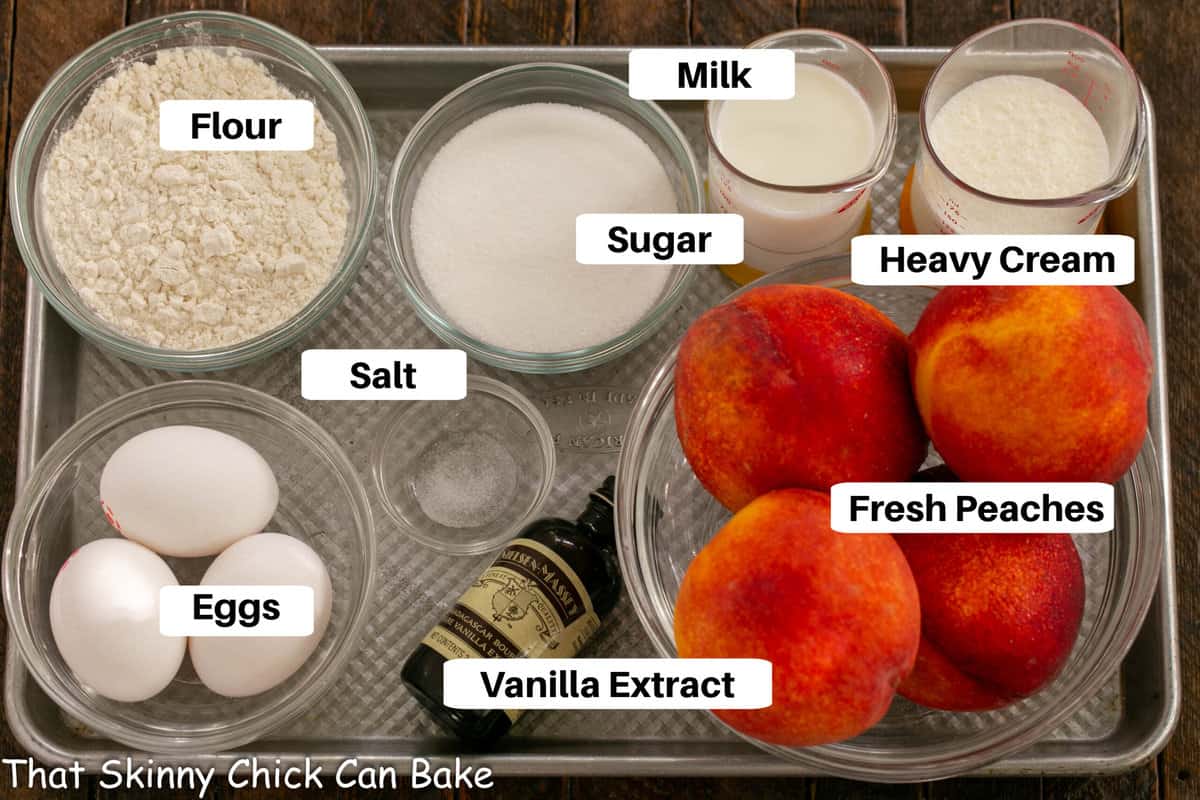 Ingredient Notes
Kitchen Staples – Sugar, Flour, Table Salt
Milk – I used 2%
Heavy Cream – 36% butterfat. Adds richness to the batter.
Eggs – Have them at room temperature for easier incorporation
Vanilla Extract – Make sure it's real vanilla, not imitation (check the label)
Fresh Seasonal Peaches – Ripe and fragrant, they should give just a bit when giving a gentle squeeze. In the off-season, you can use canned peaches, but drain well.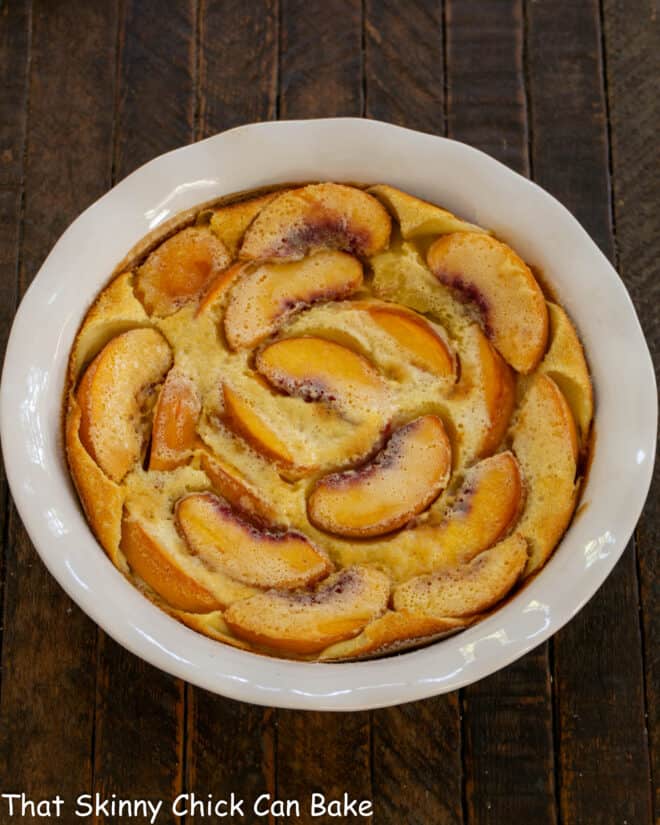 Recipe Tips
Plums, peaches, nectarines, pears, and berries are delicious options. Note that sturdy fruit works best.
Try ½ teaspoon of almond extract instead of vanilla. Almonds and peaches are related (just compare the shape of almonds to the shape of a peach pit and you'll see) so almond extract always tastes wonderful in peach desserts. They both belong to the same genus.
I prefer using peeled peaches, but if you don't mind the texture of the peels, you can skip this step.
Your clafoutis is done when it looks set or a toothpick inserted in the middle comes out clean, but it can still be a bit wobbly. But don't fret too much if it's a little overbaked. It will still taste fabulous.
With only a few simple pantry ingredients plus milk, cream, eggs, and a splash of vanilla, the peach flavor really shines through in this French peach tart.
A sprinkle of powdered sugar is all the garnish this lovely French dessert needs before serving. It can be served lukewarm, at room temperature, or even cold. Bon appetite!!
How to Make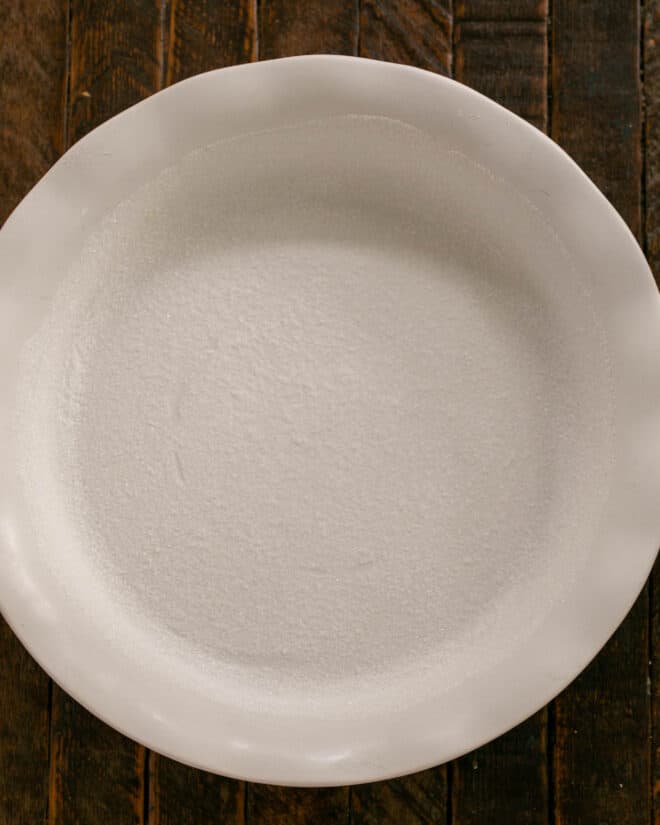 With only a few simple pantry ingredients plus milk, cream, eggs, and a splash of vanilla, the peach flavor really shines through in this French peach tart.
Though I adore a cinnamon-spiced peach pie or crisp, I also love when the pure unadulterated flavor of the luscious peach is highlighted. I hope you'll be a fan of this clafoutis recipe, too.
Frequently Asked Questions
What is a Clafoutis?
Originating in France, the word clafoutis comes from the verb clafir, meaning "to fill," referring to the fruit filling the baking dish. As you can see, the fruit-to-batter ratio is high!
The clafoutis hails from the Limousin region of France where black cherries are plentiful. Traditionally baked with cherries, pits and all, other fruit is now commonplace. Though officially the other versions are called flaugnarde not clafoutis.
Can You Use Frozen Fruit for a Clafoutis?
Yes, frozen fruit will work in a clafoutis. Just defrost and pat with paper towels to remove excess juices. Note to expect some bleeding if using frozen fruit like cherries.
Why Did My Clafoutis Crack?
A clafoutis will crack if it's overbaked. It can also be rubbery. You can use a toothpick to check for doneness. It should come out clean after being inserted when the clafoutis is done.
How Do You Store a Clafoutis?
You can store your clafoutis at room temperature for two days. After that store for up to 2 more days in the refrigerator.
Should a Clafoutis Be Served Hot or Cold?
It's up to you! Try it both ways and see what temperature tastes best—hot, cold, or at room temperature.
You May Also Like
Stay in touch through social media @ Instagram, Facebook, and Pinterest. Don't forget to tag me when you try one of my recipes! And if you love the results, please give it a 5-star rating in the recipe card. Note: As an Amazon Associate, I earn from qualifying purchases. Visit my Amazon Store for my favorite products.
The Recipe:
Fresh Peach Clafoutis
Prep Time 15 minutes
Cook Time 1 hour
Total Time 1 hour 15 minutes
Yield 6 servings
A French dessert made of fruit and an eggy batter.
Ingredients
½ cup sugar
½ cup milk
½ cup heavy cream
3 eggs
1 teaspoon vanilla
pinch of salt
⅔ cup flour
3 cups peeled and sliced peaches
Instructions
Preheat oven to 350º. Grease a 9-inch pie plate or ceramic tart dish with butter and use about 1 tablespoon of sugar to dust the dish.
Mix all ingredients except peaches in a blender on high for about a minute, stopping to scrape down the sides.
Pour half the batter on the bottom of the dish. Arranged sliced fruit over batter.
Pour the rest of the batter over the peaches.
Bake 45-60 minutes till the top puffs and turns golden brown. Dust with powdered sugar to serve.
Notes
Adapted from Martha Stewart.
The clafoutis will crack if overbaked. It will still taste delicious, but check the middle for doneness at 45 minutes and continue baking if the middle isn't set.
Recommended Products
As an Amazon Associate and member of other affiliate programs, I earn from qualifying purchases.
Nutrition Information:
Yield:
6
Serving Size:
1 slice
Amount Per Serving:
Calories: 261
Total Fat: 10g
Saturated Fat: 6g
Trans Fat: 0g
Unsaturated Fat: 4g
Cholesterol: 117mg
Sodium: 74mg
Carbohydrates: 36g
Fiber: 2g
Sugar: 24g
Protein: 7g
Note: This post may contain affiliate links; view
my Disclosure Policy
for details. I earn a small percentage from any purchase you make by clicking on these links at no extra cost to you.