Strawberry Cheesecake Ice Cream Pie
Strawberry Cheesecake Ice Cream Pie: A graham cracker crust is filled with homemade cheesecake ice cream, then topped with luscious strawberries. Cool and tasty, this Ice Cream Pie Recipe makes for an irresistible summer dessert!
Strawberry Cheesecake Ice Cream Pie
June's weather brought some oppressive temperatures with matching humidity. I broke out my ice cream maker numerous times to whip up a cool, refreshing dessert.
The oven only needs to be turned on briefly, and I may have been nuts to even do that! I incorporated one of our family's favorites when I developed this Strawberry Cheesecake Ice Cream Pie.
How to Make an Ice Cream Pie Recipe
I found Nigella's recipe for cheesecake ice cream early in my blogging days. The picky daughter (and almost as picky husband) both relished every spoonful, so it was time to push it to another level.
I was inspired by my fondness for the classic vanilla cheesecake topped with luscious, ripe strawberries. So why not fill a graham cracker crust with this silky smooth frozen treat and top it with sliced berries. You can make any version of an ice cream pie by picking out a crust recipe, like graham cracker, pastry, chocolate cookie, etc. then filling it with a compatible ice cream flavor!
Try an Oreo crust with coffee, chocolate, or brownie bite ice cream! A graham cracker crust would be wonderful with s'mores ice cream, butter brickle, caramel swirl or any sherbet! The options are endless.
My initial thought was to cover the pie with berries, but with only 3 of us in the household most days, I wasn't thrilled with the idea of these berries getting hard and icy when the pie was returned to the freezer. So onto Plan B…which was even simpler. I sliced more berries and sprinkled them with a couple of spoonfuls of sugar and let them macerate until sryupy. Each slice of this frozen confection was given a few spoonfuls of strawberries and their ambrosial juices right before serving. A winner!!!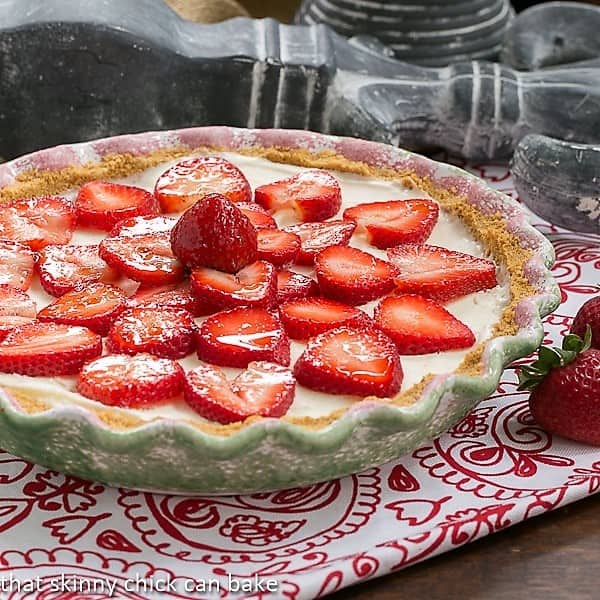 J
The Recipe:
Strawberry Cheesecake Ice Cream Pie
Prep Time 30 minutes
Cook Time 8 minutes
Total Time 38 minutes
Yield 8 servings
A graham cracker crust filled with cheesecake ice cream and topped with berries is the perfect hot weather dessert!
Ingredients
Graham cracker crust:
1 3/4 cups graham cracker crumbs
3 tablespoons sugar
1/3 cup butter, melted
Cheesecake ice cream:
1 cup sugar
½ cup (4 ounces) cream cheese, at room temperature
½ teaspoon vanilla
1 egg
3/4 cup whole milk
juice of ½ lemon
1 ½ cups heavy cream
Topping:
1 1/2 cups sliced strawberries
Sugar, to taste
Instructions
Preheat oven to 350º. Grease 9-inch pie plate and set aside.
Mix together graham cracker crumbs and sugar. Add melted butter and mix till combined. Pat into prepared pie plate. Bake 8 minutes. Cool completely.
To make ice cream base, beat together the sugar, cream cheese, vanilla and egg in a large bowl. In a medium saucepan, heat milk till almost boiling (or you can heat the milk in the microwave in a Pryex measuring cup). Remove from heat. Pour hot milk into cream cheese mixture, slowly, while whisking constantly.Then pour the mixture back into the sauce pan.
Cook over medium heat, stirring constantly, till mixture thickens. Remove from heat and let cool to room temperature. I hurried this along by setting my pan in the kitchen sink which was partially filled with ice and water. When cool, add the lemon juice and the lightly whipped cream.
Place in refrigerator till well chilled, then follow manufacturer's instruction on your ice cream maker to freeze. Place in covered container and freeze a couple hours till ice cream is firmer but not rock hard.
When ice cream is firm, scoop it out and into the prepared crust. Smooth top and return to freezer till firm enough to cut slices, at least an hour.
Mix strawberries and sugar, to taste, in a medium bowl. Let rest 10 minutes or more, occasionally stirring, till juices develop. To serve pie, cut slices and top with berries and juices.
Notes
Ice Cream recipe adapted from Nigella Lawson
If you're going to serve up the whole pie in one sitting, feel free to decorated the top of the pie with plain strawberry slices in a design of your choice. Brush tops of berries with slightly warmed red currant jelly to glaze if desired.
Total time depends on your ice cream maker and does not include freezing time.
Nutrition Information:
Yield:
8
Serving Size:
1 slice
Amount Per Serving:
Calories: 474
Total Fat: 28g
Saturated Fat: 16g
Trans Fat: 1g
Unsaturated Fat: 9g
Cholesterol: 98mg
Sodium: 206mg
Carbohydrates: 54g
Fiber: 1g
Sugar: 43g
Protein: 5g
Note: This post may contain affiliate links; view
my Disclosure Policy
for details. I earn a small percentage from any purchase you make by clicking on these links at no extra cost to you.