Best Banana Bread Recipe
The Best Banana Bread Recipe is spiked with pecans and enhanced with nutty brown butter. Plus use my tips for perfect results every time!
This Moist Banana Bread is wonderful for breakfast, brunch, or snack time! It's destined to become a family favorite.
Why You Must Make
The addition of both brown butter and pecans elevates the deliciousness of this bread.
Quick breads like this banana bread are so much easier to make than yeast bread.
Keep this recipe on hand for those times you buy too many bananas and they are ripening faster than you can eat them.
I had a board meeting to attend back in 2013 when I first created this moist banana bread recipe. It was my turn to bring snacks and take minutes. Let me tell you, I'd rather bake all night long than have to take minutes, but I'm a volunteer, so I just do as I'm told. This Classic Banana Walnut Bread is an old favorite and this Blueberry Muffin Bread is scrumptious, but I decided on a Banana Nut Bread with brown butter, and fruit for a nice mid-morning treat.
Ingredient Notes
Kitchen Staples – Flour, Baking Soda, Salt, Sugar, Cinnamon
Eggs – Have at room temperature for easier incorporation
Nutmeg – I prefer freshly ground nutmeg, but ground nutmeg can be used in a pinch
Bananas – They should not have any green spots on the peels. They should be yellow with some brown spots for the best flavor.
Butter – This will be cooked in a saucepan until it turns brown, the color of hazelnuts
Vanilla – Real vanilla extract, never imitation. Read the label.
Pecans – Toast for a few minutes in a skillet, turning frequently, to bring out the natural oils and flavors. Cool and then chop finely.
Recipe Tips
A girlfriend raved about Tyler Florence's banana bread recipe. Since I wasn't baking for my family I could add the chopped pecans. Plus a little grating of fresh nutmeg, cinnamon, and that flavorful brown butter would make a fabulous treat.
First, make the brown butter so it has a chance to cool. Feel free to use regular melted butter if you're in a hurry, but brown butter offers a nutty taste with caramel undertones. It's worth a try. Detailed instructions are located below.
Spray the pan with Baker's Joy and line the bottom with a piece of parchment, then spray that, too. PRO-Tip: An oil and flour spray helps prevent the loaf from sticking to the pan.
Follow the mixing directions in the recipe. Part of the banana is mashed and part is beaten. The dry ingredients are whisked together, but once they're added to the wet ingredients, they should be mixed with a wooden spoon or rubber spatula.
PRO Tip: Using a mixer or whisk to incorporate the dry ingredients will overdevelop the gluten and create undesirable tunnels! It's better to have a few small clumps of the dry mixture in the batter than to overmix it.
Add walnuts instead of pecans if that's your preference. Substitute chocolate chips if you're not a fan of nuts or leave them out without substituting.
Make sure to cool the bread on a wire rack for 10 minutes before removing it from the pan to finish cooling. This gives the bread a little time to firm up before removing the loaf from the pan.
Pro Tip: If you just have one over-ripe banana, put it in the freezer in a zip-top bag. Add more when you can't eat them fast enough until you get enough to make a batch. Defrost overnight in the refrigerator before using.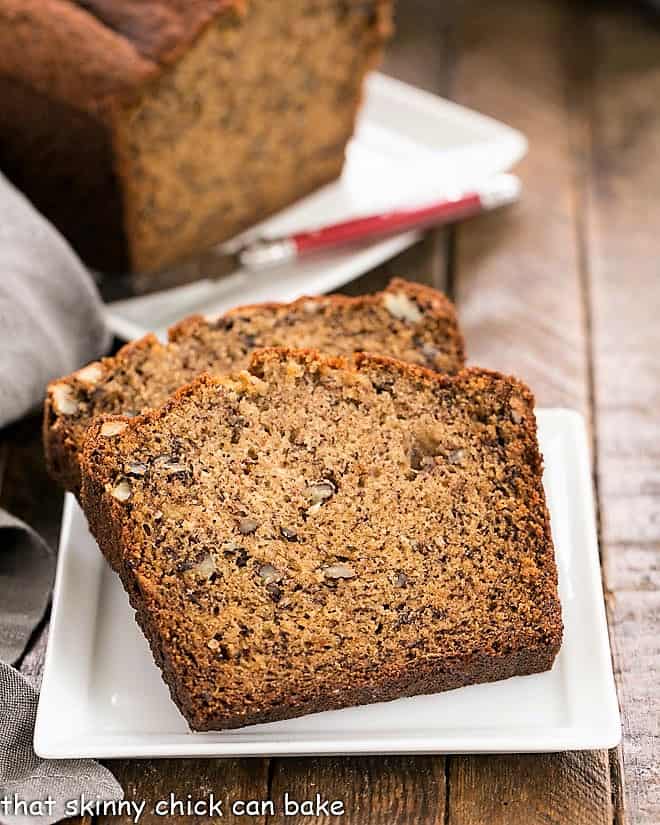 How to Make Brown Butter or Beurre Noisette
After making brown butter cookies last week, I just had to brown some more butter to give this loaf even more nuttiness.
To make brown butter, start by slicing the butter into tablespoon-sized chunks.
In a heavy saucepan, cook over moderate heat, swirling occasionally.
It is done when it begins to brown and smell nutty. I used salted butter, but unsalted is actually preferred as it doesn't foam as much and it's easier to see the color change.
Tips for Making Brown Butter
Use a heavy saucepan, preferably stainless steel, as it's hard to watch for browning with a dark finish.
Don't walk away from the stove as the butter goes from yellow to brown quickly, and if it burns, you'll need to toss it and start over.
Pull it off the heat once the mixture gets to the color of hazelnuts.
The browning comes from the heat of the burner toasting the milk solids. Coincidentally, this Maillard Reaction is what gives seared and grilled meat their delicious flavor and aroma. The chemical reaction transforms amino acids and sugars into hundreds of flavor compounds!
PRO-Tip: There are 3 types of brown butter according to the Science of Cooking: " A lightly browned butter with mild flavors, a golden brown butter, and a dark brown butter sauce mainly found in baked goods." My preference is a brown butter somewhere between the golden brown stage and the dark brown butter stage.
Frequently Asked Questions
How Long Do You Bake Banana Nut Bread?
The time will vary a bit depending on your oven, the kind of pan you use (glass, metal, or ceramic) along with the size and ripeness of your bananas.

This batch took 1 hour and 15 minutes. I tested by inserting a toothpick into the crack along the top. When I pulled it out, it was clean of batter, indicating the loaf was done. 
How Do You Store Banana Bread?
Store your banana bread in a sealed container at room temperature for up to 3 days. Add a paper towel to the container to absorb any excess moisture.

After 2-3 days, it's wise to wrap the bread well in plastic wrap and move it to the refrigerator. Since the fridge is a dry environment, it must be wrapped well. This will extend its lifespan for a few more days, or up to a week after baking.

Banana bread, like most quick bread, freezes wonderfully. To prevent it from drying, besides wrapping well in plastic, add a layer of aluminum foil. Bread keeps well in the freezer for up to 3 months.
How to Ripen Bananas More Quickly?
I like to buy green bananas so they don't get bruised on the trip home from the market. They eventually ripen when left at room temperature. But if you're in a hurry to use them in a recipe, you can speed up the ripening process by placing them in a brown paper sack. The bananas excrete ethylene gas which accelerates the ripening process. The bag prevents the gas from escaping into the air so it can work its magic on the bananas.

If you need a process that takes minutes, not days, you can roast your bananas to soften and concentrate the flavors. Simply place the bananas (they should be yellow, not green) on a sheet pan, preheat the oven to 350º and cook for 15-30 minutes, until the peels area dark brown. Cool and use as directed.
This is truly the best banana bread. My daughter, Katie, the nut avoider, ate 3 slices with nary a complaint. That says something!
You May Also Like:
Stay in touch through social media @ Instagram, Facebook, and Pinterest. Don't forget to tag me when you try one of my recipes! And if you love the results, please give it a 5-star rating in the recipe card. Note: As an Amazon Associate, I earn from qualifying purchases. Visit my Amazon Store for my favorite products.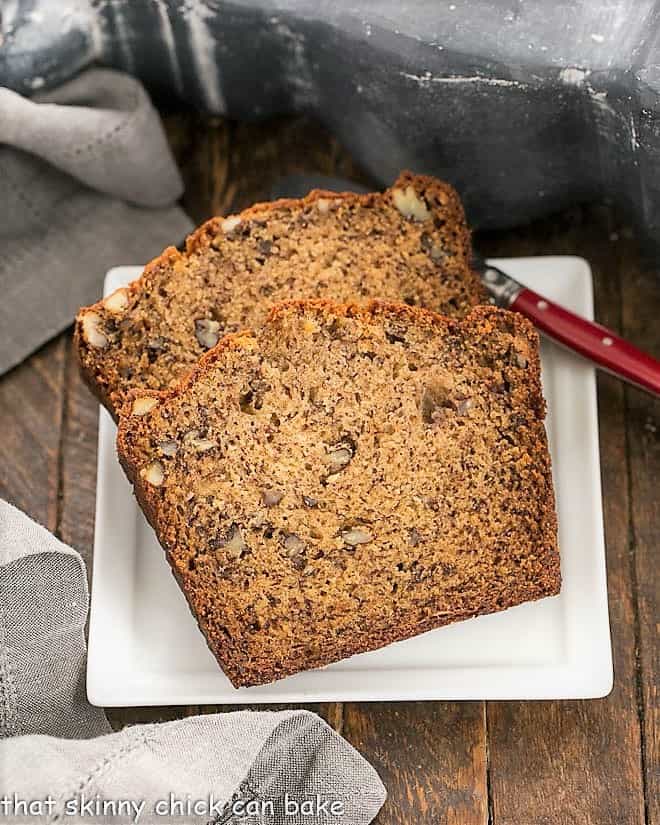 The Recipe:
The Best Banana Bread Recipe
Prep Time 20 minutes
Cook Time 1 hour 15 minutes
Total Time 1 hour 35 minutes
Yield 1 loaf
An extra nutty banana bread with brown butter and pecans.
Ingredients
2 cups flour
1 ½ teaspoons baking soda
¼ teaspoon salt
1 teaspoon cinnamon
⅛-¼ teaspoon freshly grated nutmeg
4 ripe bananas
1 cup sugar
¾ cup (1 ½ sticks) butter, browned
2 eggs
1 teaspoon pure vanilla
½ cup pecans, finely chopped
Instructions
Preheat oven to 350º. Spray a 9 x 5-inch loaf pan with Baker's Joy or another non-stick cooking spray. Add a rectangle of parchment paper to the bottom and spray that, too. Set aside.
In a large bowl, whisk together the flour, baking soda, salt, cinnamon, and nutmeg. Set aside.
With a fork, mash two of the bananas so they still have a bit of texture.
With an electric mixer, beat the remaining bananas and sugar till light and fluffy, about 3 minutes.
Add the brown butter, eggs, and vanilla and beat well. Mix in the dry ingredients with a wooden spoon or rubber spatula, just until incorporated.
Then fold in the nuts and the mashed bananas with a rubber spatula. Do not overmix. Pour the batter into the prepared loaf pan. Give the pan a good rap on the counter to get any air bubbles out.
Bake for about 1 hour and 15 minutes, until golden brown and a toothpick inserted into the center comes out clean.
Cool the bread for about 10 minutes, and remove the loaf from the pan to a wire rack to finish cooling. Slice when cooled completely.
Notes
Recipe adapted from Tyler Florence.
*To make brown butter, cook over medium-high heat till just browned with a nutty fragrance, then cool.
The nuts are optional. I love them, but the rest of my family doesn't!!!
Recommended Products
As an Amazon Associate and member of other affiliate programs, I earn from qualifying purchases.
Nutrition Information:
Yield:
12
Serving Size:
1 slice
Amount Per Serving:
Calories: 219
Total Fat: 4g
Saturated Fat: 1g
Trans Fat: 0g
Unsaturated Fat: 3g
Cholesterol: 31mg
Sodium: 214mg
Carbohydrates: 42g
Fiber: 2g
Sugar: 22g
Protein: 4g
Note: This post may contain affiliate links; view
my Disclosure Policy
for details. I earn a small percentage from any purchase you make by clicking on these links at no extra cost to you.