Sunflower Whole Wheat Bread
With a touch of sweetness, this Sunflower Whole Wheat Bread was perfect smeared with butter. Hearty and healthier than most soda bread, it was delicious!
I spied this soda bread recipe in an old North Dakota cookbook that belonged to my aunt.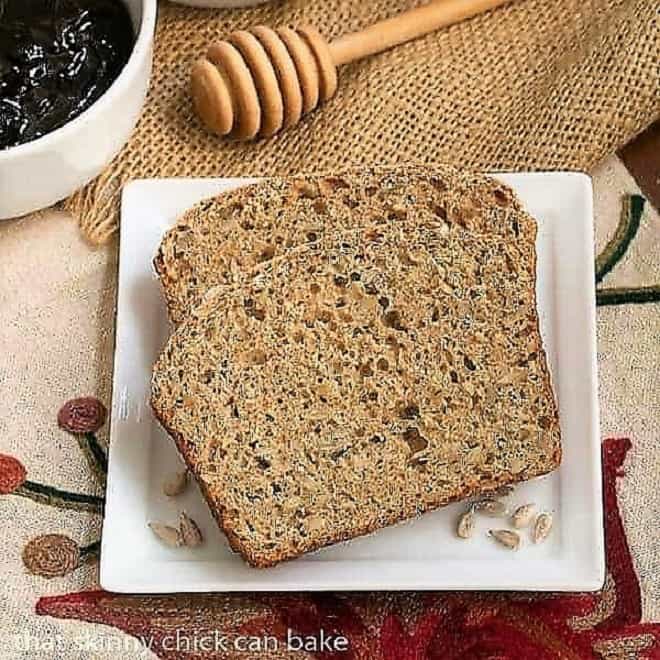 Sunflower Whole Wheat Bread
We spent a week in Ireland when the kids were little. They loved exploring castles (Nick was enthralled with "murder holes") and we all appreciated the kind and jovial residents. We had a little fender bender when trying to maneuver a rather narrow hotel entrance in Kilkenny, and when returning the car at the airport, Bill was reassured that it was "not a hangable offense." Plus it cost nearly nothing to repair. Gotta love that.
Now, where was I going with this? Oh, yeah, back to soda bread. I must have eaten a different variety of Irish brown bread once, if not twice, a day. Plain or with Irish butter, I enjoyed every iteration of this classic Irish loaf. I'm always on the lookout for hearty, whole wheat soda bread like this yummy Sunflower Whole Wheat Bread. And when you finish this loaf, why not bake up this healthier whole wheat banana bread. Why not feel virtuous while you're enjoying a slice of homemade bread??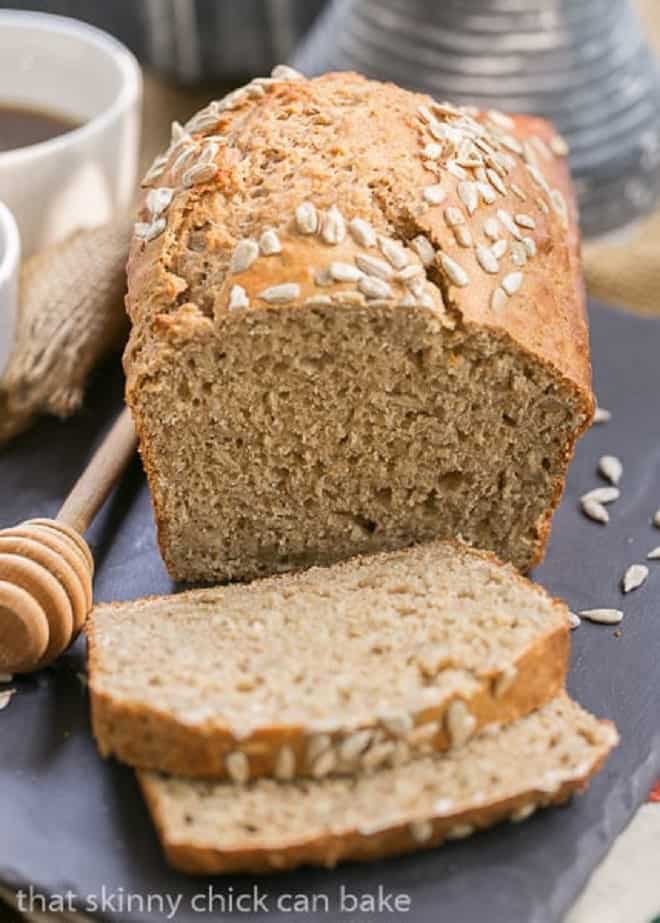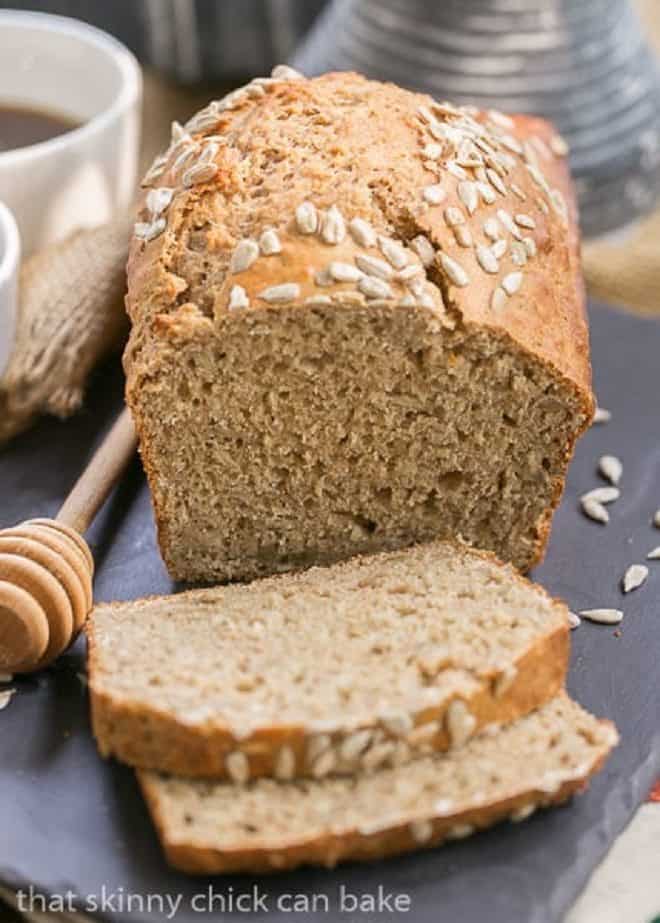 Tips for Making Soda Bread
I have admitted my weakness for grainy, seedy bread. Adding a handful of sunflower seeds to a soda bread sounded heavenly to me! And, believe it or not, Bill did not even notice the extra crunch and ate a big slab himself. He is not a fan of nuts or seeds so I called it "whole wheat bread," and gave him a small sample to taste. After an "mmmm, that's good," I cut him a thick slice of this sunflower whole wheat bread to eat along with his dinner. I call that a win!
Make sure your baking powder is fresh. Soda does not expire as quickly, but baking powder does! And since fewer recipes call for baking powder, you are less likely to replace it on a regular basis.
Do not over mix your batter. PRO-Tip: Never use a mixer when making quick breads. Overworking the dough will cause tunnels throughout your bread!

Mix just until the dry ingredients are incorporated Any longer, the dreaded tunnels can develop and your bread may be tough.
Prep your pan well so your bread does not stick. Besides greasing the pan, I like to line the bottom of the pan with a rectangle of parchment paper which I then grease.

Start checking your bread about 10 minutes before the timer goes off. I insert a toothpick in the middle. When it comes out clean, the bread is done.
Don't worry if your bread develops a crack along the top. This is characteristic of quick bread. Just make sure to make sure that center area is cooked before pulling the pan out of the oven.

Let your bread cool for 10-15 minutes before removing it to a cooling rack. This will help the bread's crust to firm up before it's released.
Enjoy warm or at room temperature. Quick breads can be stored at room temperature for a couple of days, then in the refrigerator for up to a week and the freezer for up to 3 months!
More Soda Bread Recipes You'll Love:
Unlike yeast bread, soda bread gives you much speedier gratification. And this sunflower whole wheat bread was amazing!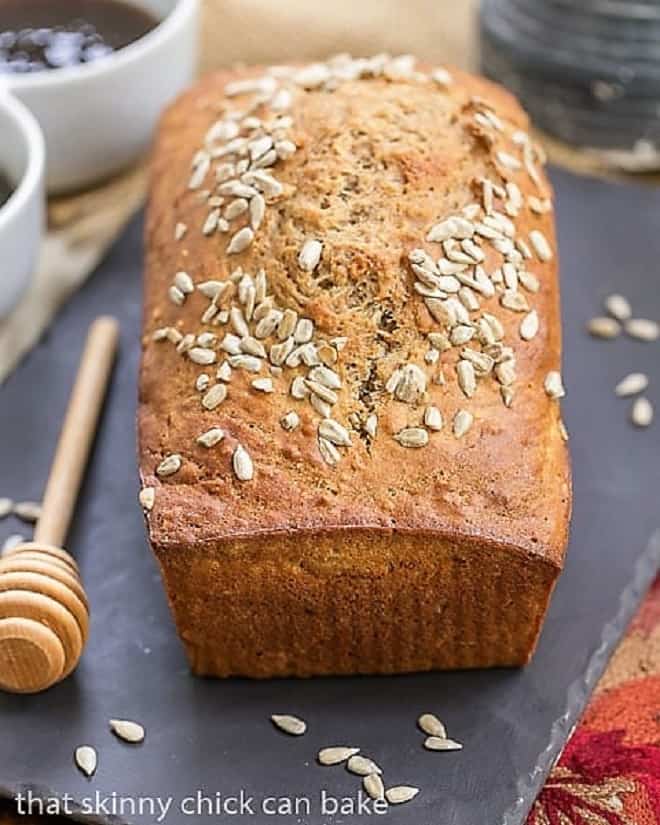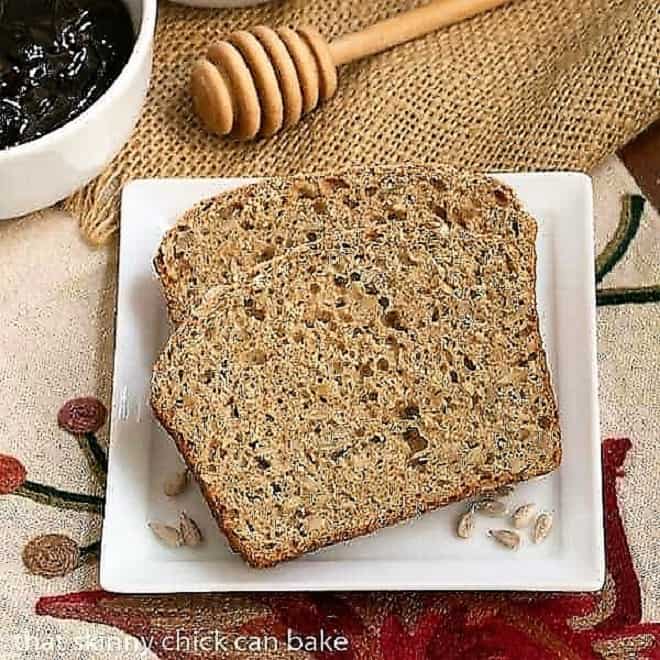 The Recipe:
Sunflower Whole Wheat Bread
Prep Time 15 minutes
Cook Time 1 hour
Total Time 1 hour 15 minutes
Yield 12 servings
A whole wheat soda bread with some extra crunch from sunflower seeds.
Ingredients
1 1/2 cups whole wheat flour
1 cup all purpose flour
1/2 cup quick oats
1/2 cup brown sugar
1/2 teaspoon baking powder
1/2 teaspoon baking soda
1/2 teaspoon salt
1 3/4 cups buttermilk
1 egg, slightly beaten
1/2 cup sunflower seeds, plus more to sprinkle on top of loaf, if desired.
Instructions
Preheat oven to 350º. Grease a 9 x 5 loaf pan. Set aside.
In a large bowl combine the flours, oats, brown sugar, baking powder, baking soda and salt. Stir in the buttermilk and egg just till combined. Mix in sunflower seeds.
Pour into prepared loaf pan. Sprinkle top with a few more sunflower seeds, if desired.
Bake for 50-60 minutes. Cool for 10 minutes, then remove to wire rack to finish cooling.
Notes
Inspired by a recipe in The Prairie Collection Cookbook.
Nutrition Information:
Yield:
12
Serving Size:
1 slice
Amount Per Serving:
Calories: 178
Total Fat: 4g
Saturated Fat: 1g
Trans Fat: 0g
Unsaturated Fat: 3g
Cholesterol: 17mg
Sodium: 565mg
Carbohydrates: 31g
Fiber: 3g
Sugar: 9g
Protein: 6g
Note: This post may contain affiliate links; view
my Disclosure Policy
for details. I earn a small percentage from any purchase you make by clicking on these links at no extra cost to you.