Buttermilk Goat Cheese Biscuits
Tender and flaky, these Buttermilk Goat Cheese Biscuits will tickle your fancy after just one nibble!
Bill and I enjoyed these tender, Homemade Biscuits on a trip to Chicago. Thank goodness I found a way to recreate these gems at home!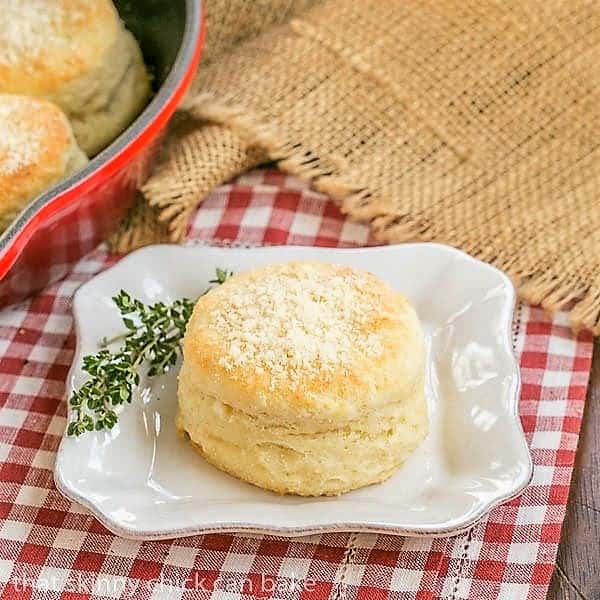 Why You Must Make this Buttermilk Biscuit Recipe with Goat Cheese
A few years ago, Bill and I dined at Art Smith's Chicago restaurant, Table 52, and were treated to some magnificent piping hot buttermilk goat cheese biscuits. They were so tasty that we practically inhaled them.
They were tender, flaky, and delicious!
Even if you're not a huge goat cheese fan, don't worry. The cheese provides moisture, making the biscuits soft without adding an overt goat cheese flavor.
Frequently Asked Questions
How Do You Make Homemade Biscuits?
There are just a few steps to make homemade biscuits. First, mix together the dry ingredients. Next mix in the cold butter (and goat cheese if using this recipe) with a pastry blender, two knives, your fingers or even pulse in a food processor. Then mix in the buttermilk or other liquid to make a dough.
Roll out the dough and cut the biscuits straight down with a biscuit cutter. Chill if the dough has warmed up, then bake as directed.
How to Store Homemade Biscuits?
It's best to wrap them in plastic wrap or foil as air exposure will dry them out more quickly. They can keep 1-2 days at room temperature, up to a week in the refrigerator, and up to 3 months in the freezer.
Can You Freeze a Homemade Biscuit?
Yes, biscuits keep well in the freezer if they're wrapped well individually. This will minimize freezer burn and any moisture loss.
Why Are My Biscuits Crumbly?
Crumbly biscuits are caused by an improper ratio of dry ingredients to fat. Excess dry ingredients will create crumbly biscuits.
Why Are My Biscuits Hard?
Hard biscuits result when the butter or fat is not incorporated evenly. The flour and fat mixture should look like coarse cornmeal when the fat is cut in properly.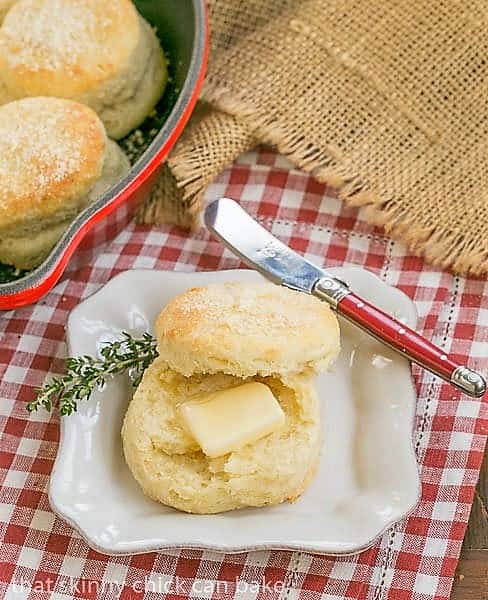 Twelve Loaves Bread Baking Group
I'm delighted to be back baking with the #TwelveLoaves crew. For the month of April, our theme led me to experiment with a few bread recipes featuring cheese. Who doesn't love a cheesy bread? Gooey cheese paired with carbs is totally irresistible.
I whipped up some magnificent cheddar popovers, but I needed a chisel to release them from my pan.
Then there was the cheesy cornbread with peppers and corn kernels. It was rather bland, though I still managed to eat a nice big wedge. So I turned to an old favorite, Cheese Biscuits.
Buttermilk Goat Cheese Biscuits
The butter, buttermilk, and goat cheese worked their magic and produced a biscuit with a very subtle tang and all the characteristics of a perfect biscuit. See the layers? See how moist the interior is?
The windy city lived up to its name on our weekend getaway. After record-breaking warmth, a cold and rainy front hit the Midwest in time for our jaunt to Chicago. We bundled up as best as we could and headed to Table 52 for dinner on our first night in town. My toes were cold by the time we arrived, but the cozy dining area of Art Smith's restaurant warmed me up immediately.
Art was Oprah's former personal chef, turned restaurateur. Our meal started with an amuse-bouche of deviled eggs…Bill was delighted…and ate my share minus a nibble. Next, we were treated to perfectly formed, warm Goat Cheese Biscuits. Tender and moist, they were delightful on a chilly evening. Ours were speckled with green…probably minced chives, which I forgot to add when recreating these at home. A sprinkle of Parmesan over these hot gems finished them off with a flourish.
Bill ate two with his dinner and two for breakfast the next morning. I'd say that's a positive endorsement. The rest of our meal at Table 52 was just as fabulous.
More Terrific Cheese Bread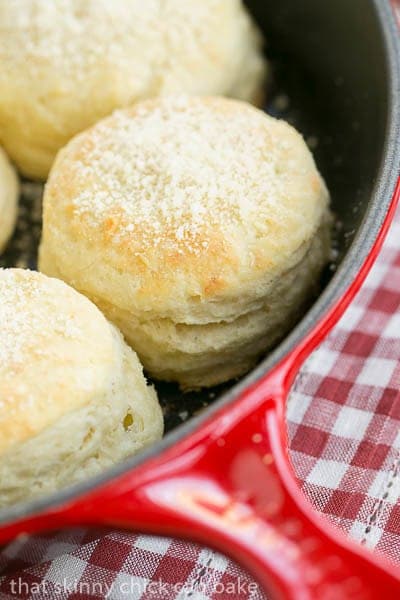 More Biscuits You'll Love:
This recipe was first shared in April 2015. The text was updated in 2021.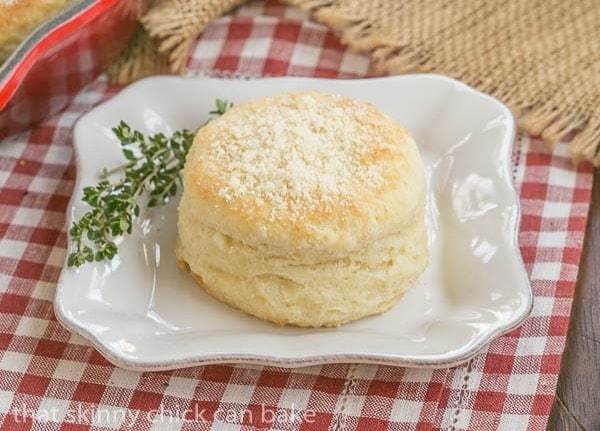 The Recipe:
Buttermilk Goat Cheese Biscuits
Prep Time 15 minutes
Cook Time 16 minutes
Total Time 31 minutes
Yield 8
Tender buttermilk biscuits with the tang of goat cheese.
Ingredients
2 cups flour
2 1/2 teaspoons baking powder
1 1/4 teaspoon salt
4 tablespoons cold butter, cut into small pieces
4 tablespoons (2 ounces) good quality goat cheese, cut into small pieces
1 cup buttermilk
2 tablespoons butter, divided, to grease the pan and top the biscuits
1/4 cup freshly grated Parmesan cheese
Instructions
Preheat oven to 425º. Place 10 inch cast iron skillet into the oven to heat.
Sift flour, baking powder, and salt into medium bowl. Add butter and goat cheese and with fingers, pinch and break apart pieces till mixture has the consistency of coarse cornmeal. Add buttermilk and gently mix to form the dough. You may add an extra tablespoon of buttermilk if needed.
Remove hot skillet from oven. Add 1 tablespoon butter and swirl to coat bottom of the pan. Remove dough from bowl onto a floured surface. Knead a few times till dough comes together, then pat into a rectangle about 1-1/2 inch in height. Using a 2 1/2-inch biscuit cutter, press straight down to cut out rounds. Place into skillet. Brush with additional melted butter.
Bake 14-16 minutes, till lightly browned. Sprinkle hot muffins with Parmesan and serve warm.
Notes
Buttermilk Goat Cheese Biscuits - Tender, flaky biscuits with an extra richness from goat cheese
Nutrition Information:
Yield:
8
Serving Size:
1 biscuit
Amount Per Serving:
Calories: 280
Total Fat: 14g
Saturated Fat: 9g
Trans Fat: 0g
Unsaturated Fat: 5g
Cholesterol: 34mg
Sodium: 775mg
Carbohydrates: 30g
Fiber: 1g
Sugar: 2g
Protein: 8g
Note: This post may contain affiliate links; view
my Disclosure Policy
for details. I earn a small percentage from any purchase you make by clicking on these links at no extra cost to you.