Buttermilk Goat Cheese Biscuits
Tender and flaky, these Buttermilk Goat Cheese Biscuits will tickle your fancy after just one nibble!
Bill and I enjoyed this terrific Homemade Biscuit Recipe on a trip to Chicago. Thank goodness I found a way to recreate these gems at home!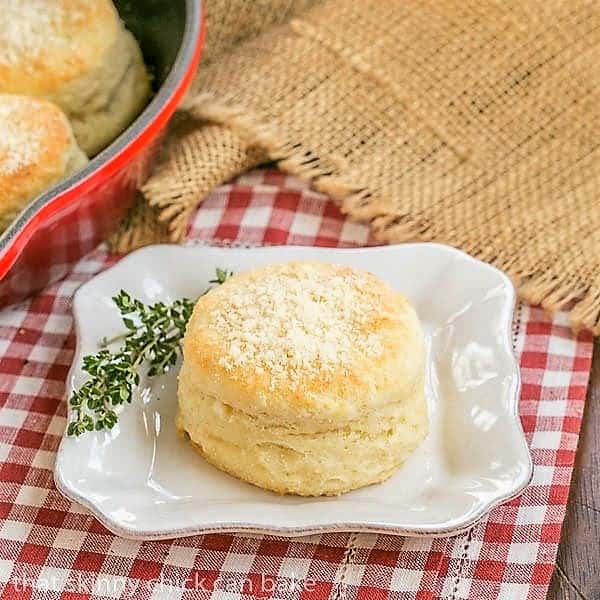 Why You Must Make
These cheese biscuits were inspired by Art Smith owner of the Chicago restaurant, Table 52, and Oprah's personal chef.
They were so tender, flaky, and delicious that we practically inhaled them.
Even if you're not a huge goat cheese fan, don't worry. The cheese provides moisture and fat, making the biscuits soft without adding an overt goat cheese flavor.
Ingredient Notes
Kitchen Staples – All-purpose flour, salt
Baking Powder – Unlike baking soda, baking powder has a short shelf life. Check the expiration date and replace it if needed before making this recipe.
Butter – Must be cold for flaky biscuits. Salted butter is fine.
Buttermilk – If you don't have any on hand, a quick substitute is for each cup needed, add 1 tablespoon fresh lemon juice or light-colored vinegar to a 1 cup liquid measuring cup. Fill to the 1 cup mark with whole milk or 2% milk. Let rest a minute or two until it starts to curdle. Stir and use as directed.
Grated Parmesan – Don't use the green can. Look for real Parmesano Reggiano.
Goat Cheese – Look for firm goat cheese without a lot of water in the packaging. Examine for discoloration which is undesirable.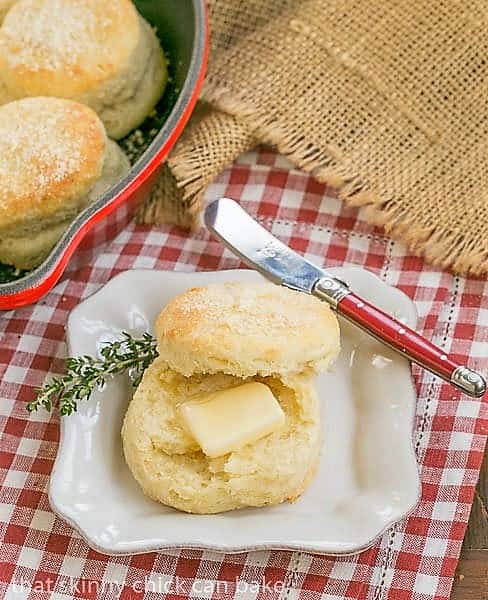 Expert Tips
The butter, buttermilk, and goat cheese worked their magic and produced a biscuit with a very subtle tang and all the characteristics of a perfect biscuit. See the layers? See how moist the interior is?
PRO-Tip: Cutting in COLD butter creates little pockets of fat that will produce steam as they heat. This is crucial for creating layers.
Since goat cheese is the ingredient that provides the flavor to these biscuits, make sure to buy a quality product.
PRO-Tip: Preheat your oven so the biscuit dough gets a blast of heat when it enters the oven.
Preheating your skillet, too, allows the sides and the bottom of the biscuits to get a blast of heat, too.
Line your pan with parchment paper to prevent sticking and to help with easy cleanup.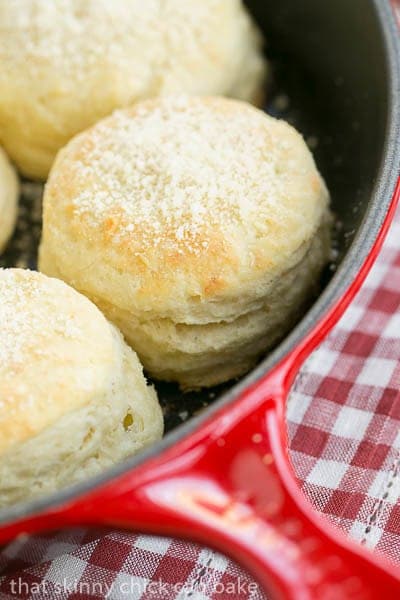 Frequently Asked Questions
How Do You Make Homemade Buttermilk Biscuits?
There are just a few steps to make homemade biscuits. First, mix together the dry ingredients. Next mix in the cold butter (and goat cheese if using this recipe) with a pastry blender, two knives, your fingers or even pulse in a food processor. Then mix in the buttermilk or other liquid to make a dough.
How Do You Store Cheese Biscuits?
It's best to wrap any biscuits in plastic wrap or foil as air exposure will dry them out more quickly. They can keep 1-2 days at room temperature, up to a week in the refrigerator, and up to 3 months in the freezer. But they're always best on the day they're baked.
Can You Freeze a Homemade Biscuit?
Yes, biscuits keep well in the freezer if they're wrapped well individually. This will minimize freezer burn and any moisture loss.
Why Are My Biscuits Crumbly?
Crumbly biscuits are caused by an improper ratio of dry ingredients to fat. Excess dry ingredients will create crumbly biscuits.
Why Are My Biscuits Hard?
Hard biscuits result when the butter or fat is not incorporated evenly. The flour and fat mixture should look like coarse cornmeal when the fat is cut in properly.
You May Also Like:
Stay in touch through social media @ Instagram, Facebook, and Pinterest. Don't forget to tag me when you try one of my recipes! And if you love the results, please give it a 5-star rating in the recipe card. Note: As an Amazon Associate, I earn from qualifying purchases. Visit my Amazon Store for my favorite products.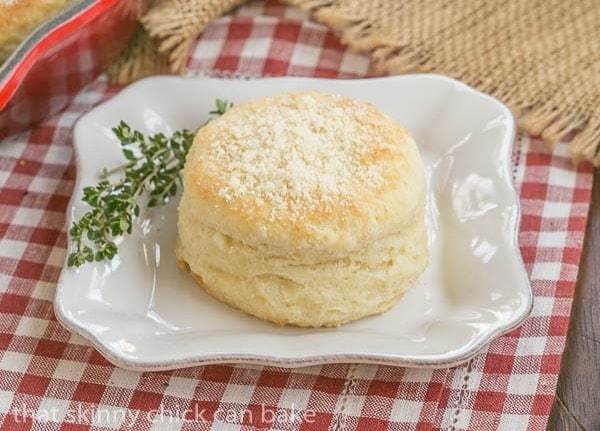 The Recipe:
Buttermilk Goat Cheese Biscuits
Prep Time 15 minutes
Cook Time 16 minutes
Total Time 31 minutes
Yield 8
Tender buttermilk biscuits with the tang of goat cheese.
Ingredients
2 cups flour
2 ½ teaspoons baking powder
1 ¼ teaspoon salt
4 tablespoons cold butter, cut into small pieces
4 tablespoons (2 ounces) good quality goat cheese, cut into small pieces
1 cup buttermilk
2 tablespoons butter, divided, to grease the pan and top the biscuits
¼ cup freshly grated Parmesan cheese
Instructions
Preheat oven to 425º. Place a 10-inch cast iron skillet into the oven to heat.
Sift flour, baking powder, and salt into a medium bowl. Add butter and goat cheese and with fingers, pinch and break apart pieces till the mixture has the consistency of coarse cornmeal.
Add buttermilk and gently mix to form the dough. You may add an extra tablespoon of buttermilk if needed.
Remove the hot skillet from the oven. Add 1 tablespoon of butter and swirl to coat the bottom of the pan.
Remove dough from the bowl onto a floured surface. Knead a few times till the dough comes together, then pat it into a rectangle about 1 ½ inches in height.
Using a 2 ½-inch biscuit cutter, press straight down to cut out rounds. Place into skillet. Brush with additional melted butter.
Bake for 14-16 minutes, till lightly browned. Sprinkle hot muffins with Parmesan and serve warm.
Notes
Buttermilk Goat Cheese Biscuits - Tender, flaky biscuits with an extra richness from goat cheese
Recommended Products
As an Amazon Associate and member of other affiliate programs, I earn from qualifying purchases.
Nutrition Information:
Yield:
8
Serving Size:
1 biscuit
Amount Per Serving:
Calories: 280
Total Fat: 14g
Saturated Fat: 9g
Trans Fat: 0g
Unsaturated Fat: 5g
Cholesterol: 34mg
Sodium: 775mg
Carbohydrates: 30g
Fiber: 1g
Sugar: 2g
Protein: 8g
Note: This post may contain affiliate links; view
my Disclosure Policy
for details. I earn a small percentage from any purchase you make by clicking on these links at no extra cost to you.