Homemade Chicken Pot Pie
This hearty and delicious Homemade Chicken Pot Pie may be the best comfort food you'll ever taste! It's perfect on a chilly winter's night. The chicken and vegetables are bathed in a rich creamy sauce then topped with the most exquisite, flaky goat cheese biscuits or canned Buttermilk Flaky Layers Biscuits if you need a shortcut.
When the temperatures plummet, and you're craving something warm and comforting, give this Chicken Pot Pie Casserole a try! It will get rave reviews!!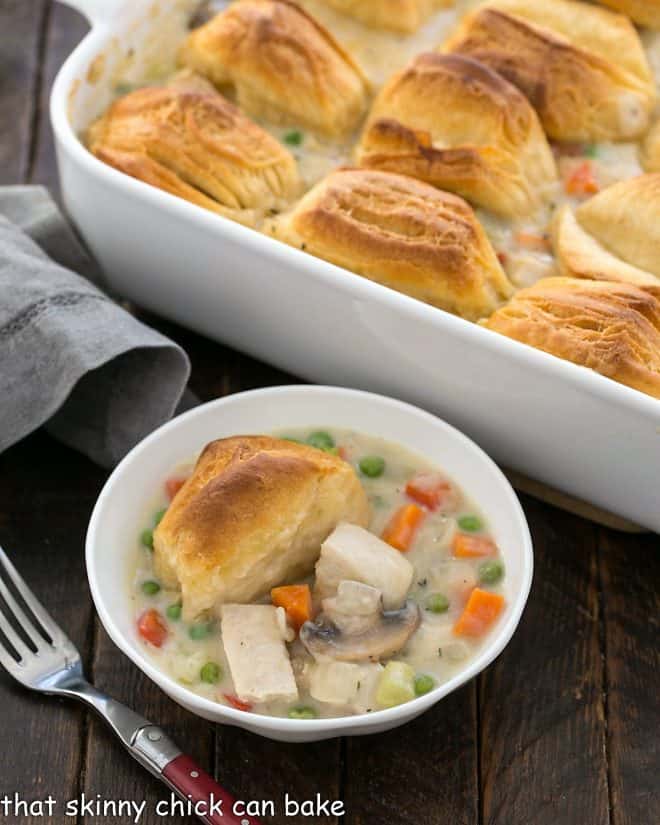 Why Your Family Will Love this Creamy Chicken Casserole
Chicken Pot Pie is the epitome of comfort food.
It's a full meal in one dish. There is meat, vegetables, and starch in every serving.
It's easily adapted to use your favorite vegetables and toppings. Skip the mushrooms. Top with homemade or canned biscuits.
I had a log of herb and garlic goat cheese in the fridge and I decided to make my favorite Goat Cheese Biscuits with a twist for the finishing touch this time. The resulting Homemade Chicken Pot Pie was amazing!

How to Make Chicken Pot Pie
There is nothing complicated about making pot pies, though there are a number of steps and a few dirty dishes. Here's the lowdown:
Saute your vegetables in oil and set them aside.
Make a white sauce with butter, flour, and chicken broth. Add seasonings.
Add the sauteed vegetables and peas. Mix in your cooked chicken and place it in the casserole dish.
Make your biscuits. Of course, you can always use canned biscuits, but homemade is much better!
Top the casserole with the biscuits while the chicken filling is hot. This will help the biscuits rise from all sides. PRO-Tip: If your pot pie filling has cooled down, microwave it for a bit before adding the biscuit topping.
Bake as directed.
How to Make a Chicken Casserole Filling
Before you start, make sure your chicken is cooked and cut into cubes. This can be rotisserie chicken, leftover chicken, or poached boneless, skinless chicken breasts. I like to do this the day before so it's ready to go.
Next, chop and cook all the vegetables so they're soft as they won't be in the oven long enough to fully cook. Do not precook the peas as they will turn gray after being in the oven.
Finally, make the sauce. It's a basic white sauce, enhanced with sherry and fresh thyme. PRO-Tip: I recommend using Wonder flour if you don't make a lot of sauces or gravy. It is a granular flour by Gold Medal that doesn't get lumpy.
To make the sauce, melt the butter, then whisk in and cook the flour to remove any raw flour taste. Slowly whisk in the milk and chicken broth and keep whisking until thickened. Add the sherry, then taste and add salt and pepper if needed.
PRO-Tip: Like salt, alcohol will enhance the flavor of the sauce. If you're worried about serving alcohol to your children, just cook it a few extra minutes and the alcohol will evaporate. Of course, you can skip this addition, too, if that's your preference.
Add the chicken, reserved vegetables, and peas to the sauce. Then make the biscuits.
How to make Buttermilk Biscuits
I have topped this pot pie recipe with both goat cheese biscuits or my favorite buttermilk biscuit recipe. Both are flaky and delicious and work well.
There is an art to making flaky biscuits. First, depending on the recipe, your butter, shortening, and buttermilk should be very cold.
The fat should be worked into the dry ingredients quickly so it stays cold. I like using my hands to press the pieces of butter and/or shortening into flat pieces using my fingers. Then using a pastry blender or a couple of knives, blend until the mixture is the consistency of cornmeal.
Mix in the buttermilk to form the dough.
Pat the dough out on a well-floured surface. I like to fold the dough over itself a couple of times to help make more layers. A floured rolling pin can help even out the dough before cutting.
Use a biscuit cutter dipped in flour to cut out 12 rounds. PRO-Tip: Do not twist the cutter, but instead, cut straight down. This will make for taller biscuits. Top the casserole and brush the biscuit tops with melted butter before baking.
PRO-Tip: If you don't have buttermilk on hand, you can easily make your own at home. Add 1 tablespoon of lemon juice, white or cider vinegar to a one-cup liquid measuring cup. Fill the cup with milk to the one-cup mark. Let rest a couple of minutes, stir, then use it as a substitute.
Frequently Asked Questions
How Long to Bake a Chicken Pot Pie?
Since the filling is hot and the chicken is precooked, this easy chicken pot pie only takes about 14 minutes in a hot oven. The goal is to cook the biscuits, so once they've risen and are browned, the casserole is done. Again, make sure the filling is hot before adding the biscuits and baking the pot pie.
Before you pull the casserole out of the oven, carefully lift up one of the biscuits with a fork to make sure the bottom is not doughy. If it is, continue cooking for at least 5 more minutes.
Are Pot Pies healthy?
Although the cream sauce is made with milk, not cream, the biscuit topping does add some calories to this entree. Alterative toppings include canned biscuits or butter flake rolls cut in half, puff pastry, or a pie crust. Using a pie crust is probably the least caloric of the three options.
Think of a chicken pot pie casserole as comfort food, not an entree that you make every week if you're worried about the calories.
How do you reheat pot pies?
Use the microwave or the oven. Scoop out your serving, then microwave for a minute or two until it's heated through. To keep the topping crisp, reheat the pot pie in a 300º oven until it's heated through.
The Best Chicken Pot Pie Recipe
Wow. Was this scrumptious. The homemade biscuits were phenomenal. A must-try recipe. They were light, moist and flavorful. There is no better chicken pot pie recipe. This is it. And the hubby agreed. Who knew goat cheese would be an easy sell. Maybe I'm finally rubbing off on him after 2+ decades of living with a foodie. About time!
What to Serve with Chicken Pot Pie
Since a pot pie has meat, vegetables, and starch, it's practically a whole meal in one casserole. Adding a green salad like my best Caesar salad recipe or a refreshing gazpacho salad is a nice contrast to the filling entree. If you're looking for a beef version, check out this Marsala Mushroom Beef Pot Pie from Big Bear's Wife.
You can find more of the Best Chicken Recipes in my recipe index.
The Recipe:
Homemade Chicken Pot Pie with Biscuits
A rich and delicious Chicken Pot Pie topped with homemade buttermilk biscuits
Ingredients
Chicken Pot Pie Filling:
4 boneless skinless chicken breasts, poached or roasted and chopped
2 cups chicken broth
1-2 tablespoons olive oil
1 medium onion, chopped
4 carrots, peeled and sliced
2 stalks of celery, sliced or chopped
1/2 red bell pepper, diced
8 ounces button mushrooms, halved
Salt and freshly ground black pepper, to taste
4 tablespoons butter
1/2 cup flour, I use Wondra for a smoother sauce
1 1/2 cups milk
1 teaspoon fresh thyme leaves
3 tablespoons dry sherry
1 cup frozen peas, thawed
Biscuit recipe adapted from Art Smith (or use a 16.3 oz Pillsbury Grands Buttermilk Flaky Biscuits (cut in half and placed cut side down across the surface of the casserole).:
2 cups flour
2 1/2 teaspoons baking powder
1 1/4 teaspoon salt
4 tablespoons cold butter, cut into small pieces
4 tablespoons (2 ounces) good quality goat herb and garlic goat cheese, cut into small piece
1 cup buttermilk
About 1 tablespoon melted butter to brush on biscuits
Instructions
Heat oil in a Dutch oven. Add onions, celery, and carrots and cook for about 5 minutes. Add mushrooms and bell pepper and cook till all veggies are soft. Season with salt and pepper and remove from pot to bowl.
Heat butter in the pan and then add flour. Cook for about a minute, then slowly whisk in milk and chicken broth.
Add thyme and continue to cook and whisk till thickened.
Add sherry, then taste for seasoning and add salt and pepper to taste.
Add chopped chicken, reserved veggies, and peas to the sauce. Mix then pour in a casserole dish.
Preheat oven to 425º. Make biscuits.
Sift flour, baking powder, and salt into a medium bowl. Add butter and goat cheese and with fingers, pinch and break apart pieces till the mixture has the consistency of cornmeal…some bigger pieces are OK.
Add buttermilk and gently mix to form the dough. You may add an extra tablespoon of buttermilk if needed.
Pat out dough on a floured surface. Cut into rounds and place over hot filling. Brush with melted butter. Place casserole on a baking sheet to catch drips.
Bake 12-14 minutes or till biscuits are browned.
Notes
Use my buttermilk biscuit recipe if you don't have goat cheese on hand. Or for a shortcut, use canned biscuits found in the refrigerator section of the grocery store.
Instead of roasting or poaching chicken, you can use the meat off a rotisserie chicken.
This Chicken Pot Pie recipe is adapted from Pam Anderson.
Nutrition Information:
Yield:
8
Serving Size:
1 Servings
Amount Per Serving:
Calories: 688
Total Fat: 31g
Saturated Fat: 14g
Trans Fat: 1g
Unsaturated Fat: 15g
Cholesterol: 123mg
Sodium: 1457mg
Carbohydrates: 61g
Fiber: 5g
Sugar: 8g
Protein: 40g
Note: This post may contain affiliate links; view
my Disclosure Policy
for details. I earn a small percentage from any purchase you make by clicking on these links at no extra cost to you.