These Herbed Buttermilk Biscuits are tender and buttery with a boost of flavor from fresh garden herbs!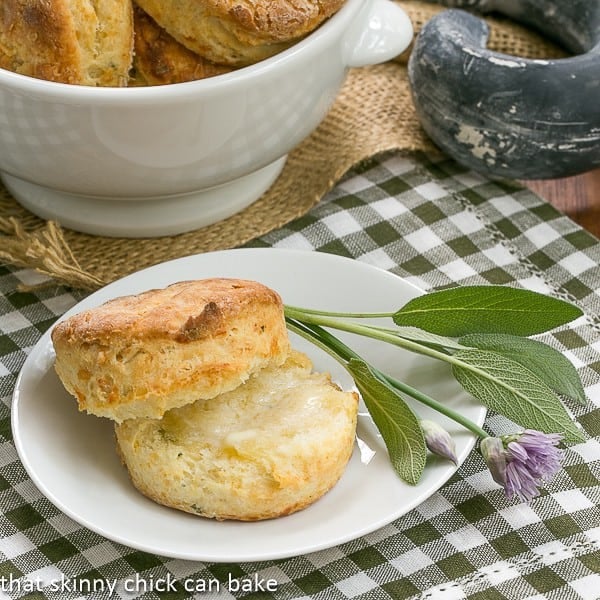 A Mediocre Gardener
I generally have a black thumb. I'm all gung ho when I plant my herb garden in the spring…but by late July, I tend to forget the all important "watering" task. Thank goodness we've had regular rainfall this summer, so my little plot is flourishing. I had no excuse to miss August's Twelve Loaves event since Summer Herbs was our chosen theme. But since I'd just returned from visiting my parents in Denver, I wanted to showcase my garden herbs in a quick and easy recipe. I remembered a flaky biscuit dough that required a pseudo-laminating. I snipped a few fragrant stems and leaves from my garden and baked up some Herbed Buttermilk Biscuits.


Flaky and Tender Biscuits
What is laminating, you ask? It's basically the technique used to make puff pastry. Folding, turning and rolling layers of dough and butter to form layers upon layers of pastry. With these biscuits, I worked the cold butter and shortening into the flour mixture with my fingers, thus forming flat pieces of fat which created layers when baked. But besides that step, I also folded the dough into thirds, thus "laminating" before the final rolling and cutting step. With puff pastry, this is done numerous times, with chilling between each "fold." This would be just one "turn" versus the many in a true laminated dough. So a pseudo-lamination, per se. Besides this extra folding, the addition of buttermilk ensured a tender biscuit. Feel free to adjust the amount and type of herb and cheese. Mine had a lovely, subtle herb flavor. No dominant flavor, so perfect with every meal and cuisine. But the options are endless. I hope you'll give them a shot!
August Twelve Loaves: Herbs
Skinny Tip
I'm offering a series of Skinny Tips. How I keep slim is one of my most frequent inquiries. I'll feature tips on some of my upcoming blog posts.
Tip #33: Herbs are an excellent way of boosting the flavor of lower calorie foods and recipes. You don't have to sacrifice taste, just because you've reduced calories doesn't mean your food should be bland! Add basil to your fresh garden tomatoes, thyme to your grilled zucchini or tuck sage leaves under the skin of your roasted chicken.