Chaussons aux Pommes
These Lady's Slippers or Chaussons aux Pommes are made of chunky, cinnamon-spiced apples nestled in buttery pastry. A classic French apple turnover, these can easily be made at home!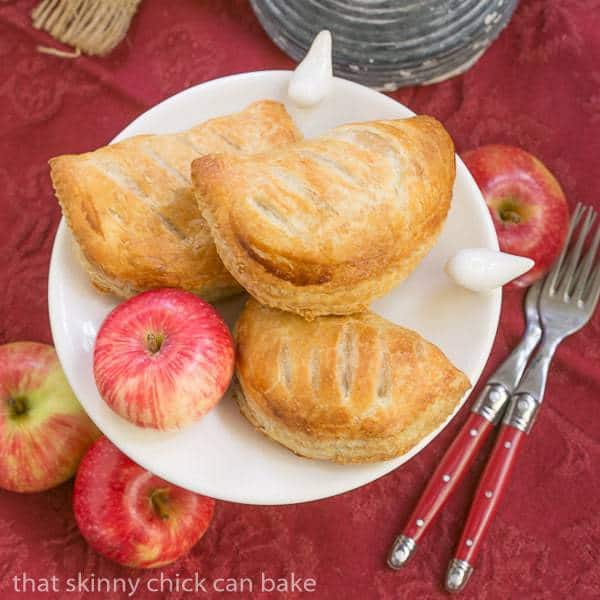 Chaussons aux Pommes
As we roll into September, the focus has left summer berries and stone fruit and moved on to apples, pears and pumpkin. Though the temps aren't reflecting autumn yet, it's not too early to whip up a tasty fall treat. Our Blogger CLUE theme for this month is focusing on fall fruit, so I went to my assigned blog, Food Lust People Love, and instantly fell for Stacy's French apple turnovers.
An easy peasy recipe made with homemade applesauce and puffed pastry, I knew these "apple slippers" AKA apple turnovers would hit the spot and satisfy my apple cravings. I also eyed her Apple Rhubarb Strawberry Pie and Pink Lady and Walnut Muffins. There was no shortage of deliciousness on Stacy's blog, plus she's one of the nicest bloggers in the world.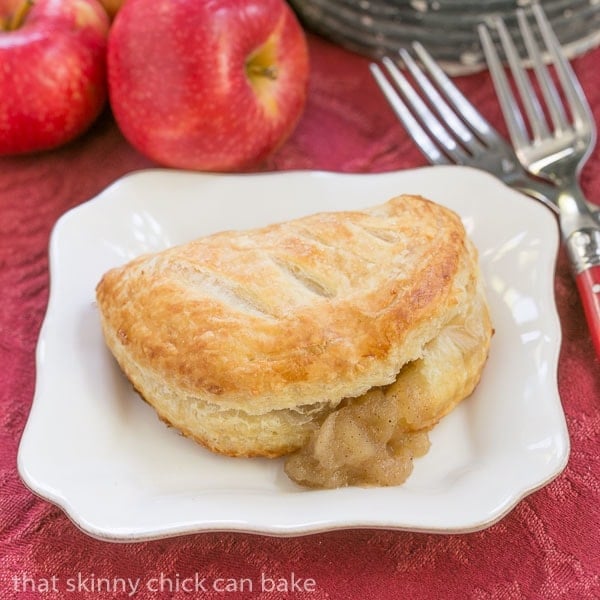 Chaussons aux Pommes AKA French Apple Turnovers
My love of apple turnovers began as a child with Hostess. Much as I tease my hubby for his love of Ho Hos and Ding Dongs, I have to admit, I loved those prepackaged apple pies. When I finally traveled to France, I discovered what real apple turnovers should taste like. Freshly made in the patisseries that line the Parisian streets, the buttery flaky crust and sweet apple filling created a turnover that was worlds better than those I formerly coveted.
But these are pretty darn simple to make at home if you have access to an all-butter puff pastry. I've made turnovers before, but Stacy's tip of cutting an oblong piece of puff pastry to fold over the apples made a huge difference in keeping the filling inside the pastry. And the chunky, homemade applesauce used for filling can be tweaked to your liking. I had some applesauce in the fridge so I added a touch of vanilla, more cinnamon, and a squeeze of lemon juice to create the perfect filling. I've included the recipe to Stacy's version which is pretty darn close to what I whipped up.
PRO-Tip: For a truly French version, leave out the cinnamon. Or maybe make half with cinnamon and half without and see which version you prefer! Once you fall in love with these gems, give my Rustic Berry Turnovers a try!
More Tasty Fall Fruit Recipes
Check out all the participating bloggers who cooked up a recipe featuring a fall fruit. And thanks again to my friend, Stacy, for the terrific Chaussons aux Pommes. I ate them for dessert and Bill ate them for breakfast!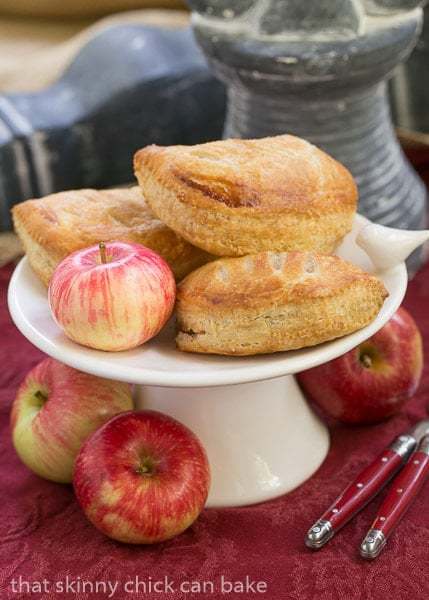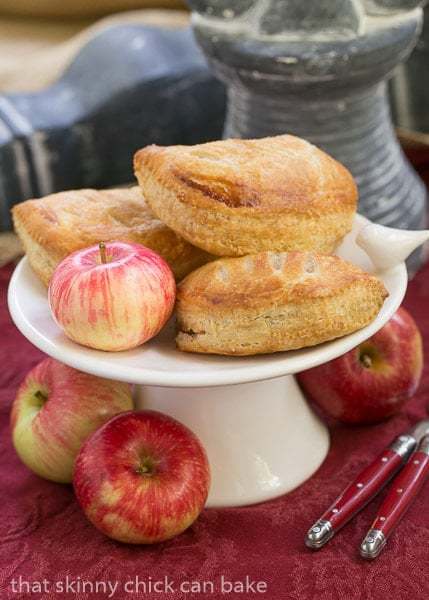 The Recipe:
Chaussons aux Pommes
Prep Time 20 minutes
Cook Time 45 minutes
Total Time 1 hour 5 minutes
Yield 8 servings
These apple filled pastries are found all over France, and now you can make them at home!
Ingredients
For the apple filling:
1 pound 4 ounces cooking apples, three large
Zest plus 2 tablespoons juice from fresh lemon
1 rounded tablespoon butter
1/4 cup sugar (plus more to taste)
1 teaspoon vanilla extract
1/4 teaspoon salt
Cinnamon, to taste, optional, but not truly French with cinnamon
Crusts:
11 1/3 ounces ready-made puff pastry dough, defrosted (look for an all-butter brand like Dufour)
2 tablespoons milk
Instructions
Zest and juice your lemon and put the zest and juice in a bowl that will be large enough to hold your apples, once peeled and chopped.
Peel, core and chop your apples into chunks. Add them to the juice bowl, as each one is done and stir well. This will stop the apples from turning brown.
Pour the apples into a small pot that has a lid and add in the sugar, butter, vanilla and salt. Stir well.
Cook over medium heat, covered for the first 15-20 minutes, stirring occasionally. There is no need to add liquid, as the apples will release their juice.
After the apples start to soften, you can remove the lid and lower the heat. Let the apples cook until the liquid is just about gone and you have a thick, chunky applesauce. You can mash gently with a fork but make sure to leave some chunks.
Allow to cool and taste to see if you need a little more sugar. Add cinnamon to taste, if desired.
Preheat your oven to 350° and line a baking sheet with baking parchment..
Make a template out of paper. Make an elongated oval about 4 x 5.5 inches.This worked much better than the circles I usually use for turnovers.
Roll out your puff pastry on a lightly floured surface and use template to cut out ovals with a sharp knife.
Brush the puff pastry ovals with a little water around the edges and add a healthy spoon of applesauce in the middle of each.
Fold one side over and gently seal the edges together.
Transfer the chaussons to your prepared baking sheet.
Lightly score the tops of the chaussons with a sharp knife.
Brush the tops with a little milk and bake in your preheated oven for about 20-25 minutes or until golden and puffy. Cool slightly before eating.
Nutrition Information:
Yield:
8
Serving Size:
1 turnover
Amount Per Serving:
Calories: 405
Total Fat: 24g
Saturated Fat: 6g
Trans Fat: 0g
Unsaturated Fat: 17g
Cholesterol: 4mg
Sodium: 301mg
Carbohydrates: 43g
Fiber: 2g
Sugar: 9g
Protein: 4g
Note: This post may contain affiliate links; view
my Disclosure Policy
for details. I earn a small percentage from any purchase you make by clicking on these links at no extra cost to you.