Rustic Berry Turnovers
These Rustic Berry Turnovers will tickle your taste buds and are perfect to eat at any time of day! Fill the buttery pastry with your favorite berry and get prepared for rave reviews!
Hand Pies are just mini pies that can are small enough to fit in your hand. No silverware is required to eat these tasty gems. But break out the napkins!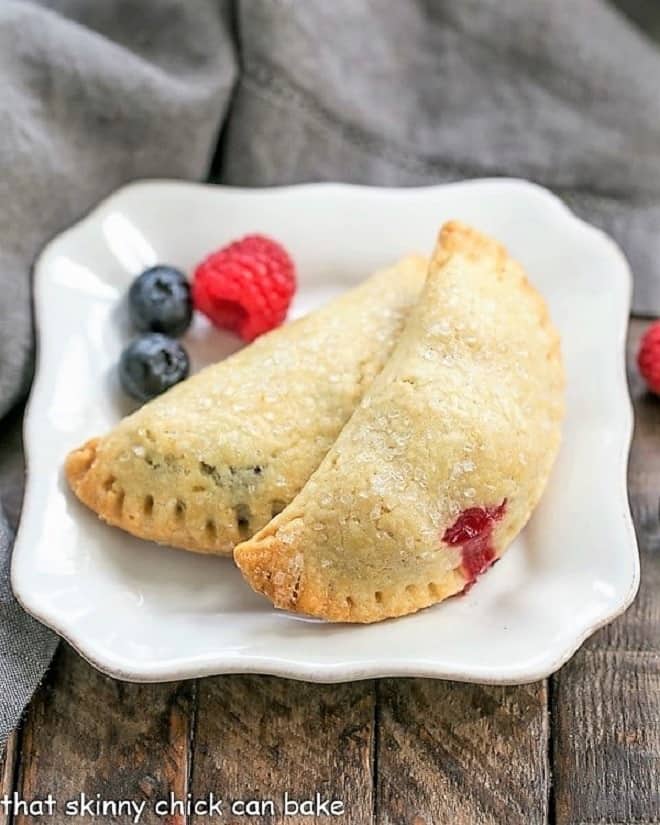 Why You Must Make
I love adding the word "rustic' to my dessert titles. Basically, it gives permission to show filling oozing, crusts cracking, but still utterly delicious treats. In this case, the juicy berry filling was encased in a tender butter pastry crust. After 30 minutes in the oven, the result was twelve fabulously delicious mini pies. Or at least that's the comment I got after hubby ate his first rustic berry turnover in just three bites.
Turnovers are finger food! No plates or forks are needed but have plenty of napkins.
Hand pies are easier to make than a double-crust pie!
The options are endless and can be sweet or savory.
Depending on the size, they can be served as appetizers, a lunch entree, or dessert!
My crusts weren't perfectly sealed, but that's the beauty of a "rustic" turnover. The berry juices bubbling out are just part of their charm. My youngest was searching for a peach one in the pile but to no avail. That version will be on my baking list later this summer! Apple turnovers are one of my favorite autumn treats as well.
Expert Tips
Homemade pastry dough always tastes best, but storebought will work in a pinch.
Use a larger biscuit cutter to make perfect rounds from the rolled-out dough. I used a 4-inch cutter for these turnovers.
PRO-Tip: You can use a round or square cutter as turnovers can be semi-circles or triangles after being folded in half. There is less wasted dough if you cut squares.
Add about 1 tablespoon of whatever sweetened fruit filling you prefer. If you use a firmer fruit, like apples, you might want to soften it first by sauteing some diced apples in some butter and adding sugar and cinnamon to taste.
Place the spoonful of filling on one half of the round of pastry, brush a little milk around the perimeter, then fold the other half over the top. From the first one, you can gauge whether you need more or less filling.
Gently press together the edges to seal. I like using a fork to press a simple pattern around the perimeter, which also reinforces the seal.
Brush the tops with milk and sprinkle with the reserved sugar. Feel free to use a coarser sugar for more sparkle! Bake as directed.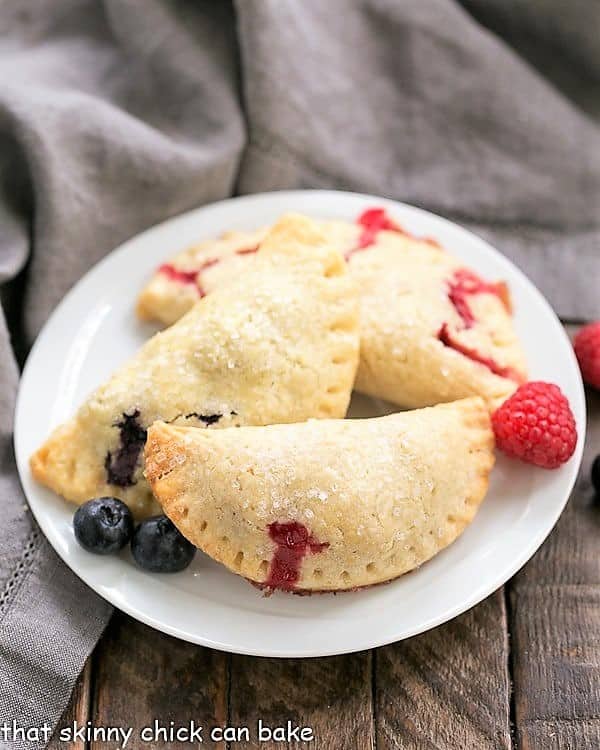 Frequently Asked Questions
What are Turnovers?
Turnovers or Hand Pies are made from pastry dough and a sweet or savory filling. They are then folded in half to make semi-circles or triangles. To seal, the edges are pinched or crimped to prevent the filling from leaking. Then they are baked or deep-fried.
How Do You Make Hand Pies?
1. Make and roll out the dough.
2. Cut rounds or squares that are big enough to accommodate some filling.
3. Spoon a small amount of the filling on one half of each of the pastries.
4. Brush the edge with milk.
5. Fold the half without the filling over the filling.
6. Pinch the edges to seal, then crimp with a fork to reinforce.
7. Brush the pastry with milk and sprinkle with coarse sugar if desired.
8. Bake as directed.
How Do You Eat Hand Pies?
It's perfectly acceptable to eat turnovers with your hands, but it's also fine to use a knife and fork. If you're at a luncheon and the entree is a large meat turnover, silverware would be prudent.
You May Also Like:
Stay in touch through social media @ Instagram, Facebook, and Pinterest. Don't forget to tag me when you try one of my recipes! And if you love the results, please give it a 5-star rating in the recipe card. Note: As an Amazon Associate, I earn from qualifying purchases. Visit my Amazon Store for my favorite products.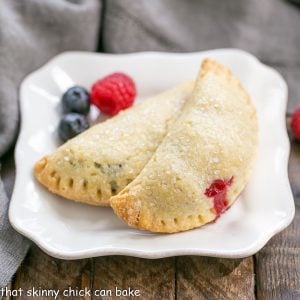 The Recipe:
Rustic Berry Turnovers Recipe
Prep Time 30 minutes
Cook Time 30 minutes
Total Time 1 hour
Yield 12 turnovers
These scrumptious mini berry pies are adapted from Fine Cooking.
Ingredients
Pastry:
2 cups (9 ounces) flour
14 tablespoons (7 ounces) cold butter, each tablespoon cut in half
1 egg, lightly beaten
2 tablespoons sugar
1 tablespoon cream
2 teaspoons fresh lemon juice
1 teaspoon salt
Filling:
3 tablespoons sugar, divided
1 tablespoon flour
½ teaspoon cinnamon
2 cups fresh berries
Milk, to brush on and seal pastry
Instructions
In a food processor, combine all pastry ingredients and pulse until the dough starts to clump together. Remove to the counter and gather dough together. Flatten into two disks and wrap in plastic wrap. Refrigerate at least 20 minutes.
Gently toss the berries with 2 tablespoons of sugar, flour, and cinnamon. Set aside.
Preheat the oven to 300º. Cover one or two rimmed cookie sheets with parchment.
Roll out one pastry disk on a floured surface to about ⅛ inch thickness.
Cut out six 4-inch rounds with a biscuit cutter. Using a spatula move one dough round to the prepared sheet.
Place about one tablespoon of berries on one side of a round of dough. Brush the edges with milk and fold the other side of the dough over the berries. Use fingers or fork to seal edges.
Repeat with the rest of the rounds. Then repeat with the second disk of dough. Refrigerate turnovers for at least 15 minutes and up to 4 hours.
Brush turnovers with milk and sprinkle with the remaining 1 tablespoon of sugar.
Bake for 30 minutes or till golden brown. Cool on a rack.
Serve warm or at room temperature.
Notes
You can make half with one berry and half with another like I did. Just put the berries in separate bowls and mix half the filling ingredients into each bowl (1 tablespoon sugar for each since the last tablespoon will be used to sprinkle over the dough before baking).
Nutrition Information:
Yield:
12
Serving Size:
1 turnover
Amount Per Serving:
Calories: 198
Total Fat: 16g
Saturated Fat: 10g
Trans Fat: 1g
Unsaturated Fat: 5g
Cholesterol: 58mg
Sodium: 324mg
Carbohydrates: 12g
Fiber: 1g
Sugar: 8g
Protein: 2g
Note: This post may contain affiliate links; view
my Disclosure Policy
for details. I earn a small percentage from any purchase you make by clicking on these links at no extra cost to you.