Chaussons aux Pêches or Peach Turnovers
Chaussons aux Pêches or Peach Turnovers are French hand pies made easily with puff pastry and a simple homemade peach filling.
Peach Hand Pies are perfect for picnics and casual gatherings since you can eat them without a fork. Using an all-butter laminated dough makes these super flaky, like a croissant!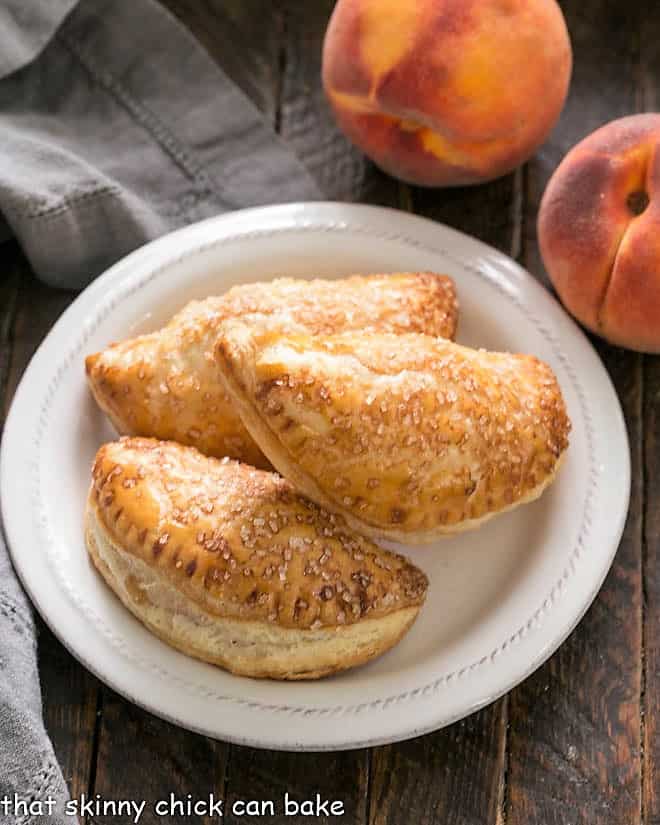 Why You Must Make
Georgia peaches have finally made their way up north! Elated after spying a sign at my local produce stand, I bought a few pounds of my favorite summer fruit and dashed home to pull the puff pastry out of the freezer.
Turnovers are a delicious, portion-controlled dessert.
You get all the flavors of a peach pie without all the work!
Once you make these, you'll want to bake up all sorts of different fruit turnovers.
But once I got those fragrant peaches into my kitchen, I knew I'd be transforming the perfectly ripe beauties into Peach Turnovers AKA Chaussons aux Pêches.
How to Make
Make the filling and let it cool to room temperature.
Roll out puff pastry and cut squares to make triangle turnovers or rounds to make semi-circle turnovers.
Place a tablespoon of filling in the center of each piece of dough, fold them in half, and seal the edges.
Brush each turnover with egg wash, place on a baking sheet, glaze and chill before baking.
Cut vents each turnover to release steam, if desired.
Bake as directed, until golden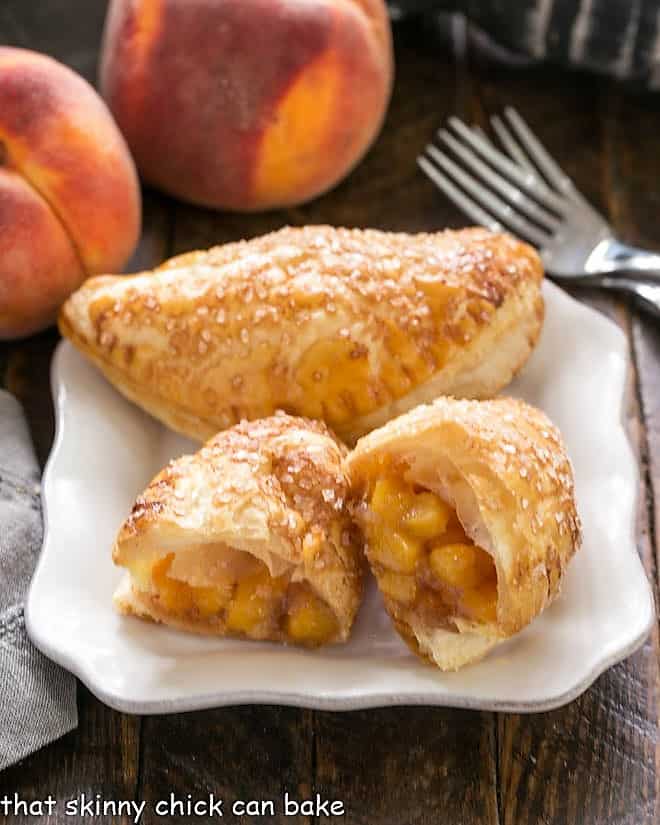 Expert Tips
These are the simplest turnovers you can imagine. Defrosting puff pastry. Check. Chopping and simmering peach chunks. Check. Cut the pastry, fill and fold, egg wash, bake, eat. Check, check, and more checks.
PRO-Tip: If you hunt down a frozen all-butter puff pastry, it will puff up much better than the typical store-bought brand. But you'll pay a premium price. I've made these with both the all-butter Dufour puff pastry and Pepperidge Farm. Both will work well. These were made with Dufour.
The only tough part was my tendency to overstuff these as anything over about a tablespoon of filling will prevent you from sealing the edges.
PRO-Tip: After a few batches, I realized besides sealing the edges with a fork, applying some egg wash before crimping helped keep these hand pies from breaking open.
To get the most out of your puff pastry, cut it into squares instead of using a cutter to make rounds. If you scroll down to the photo collage, it shows the triangle turnovers I made years ago.
A sprinkling of coarse sugar after applying the egg wash is optional but gives a nice finishing touch.
PRO-Tip: Chilling these peach turnovers before baking will help the puff pastry to puff to expand to the fullest extent. The rules for baking with puff pastry are to bake cold pastry in a hot oven for the best results.
They're still delectable even if the seams burst, but a bit more rustic looking. I baked these Chaussons aux Pêches up for dessert, but the hubby took one look and declared them breakfast food. Darned tasty breakfast food he declared. You'll love these no matter when you eat them.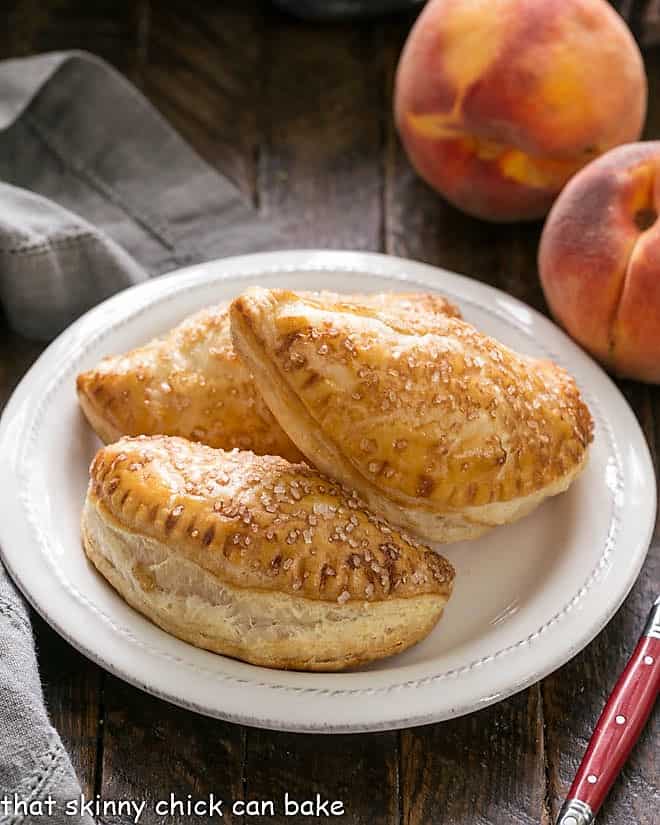 Frequently Asked Questions
What are Turnovers?
According to my food bible, The Food Lover's Companion (affiliate link), turnovers are pastry dough circles or squares that are covered with a sweet or savory filling, then folded in half in the shape of a triangle or semicircle.
They are pinched or crimped to seal, then baked or fried. Sizes vary as does the way they're served. I love these hand pies for breakfast, but they can also be for dessert or snacks. Savory versions make excellent appetizers or entrees.
How Do You Make Pastry Dough from Scratch?
Turnovers can be made with Puff Pastry Dough or Pie Crust Dough. These can be store-bought or homemade.

To make Homemade Puff Pastry Dough takes some time as it needs to be laminated or layered, chilled, and folded a number of times. If you have a Homemade Pie Crust Dough that can also be used. Pie dough can be made in a food processor and should be chilled well before use.
Bastille Day Celebration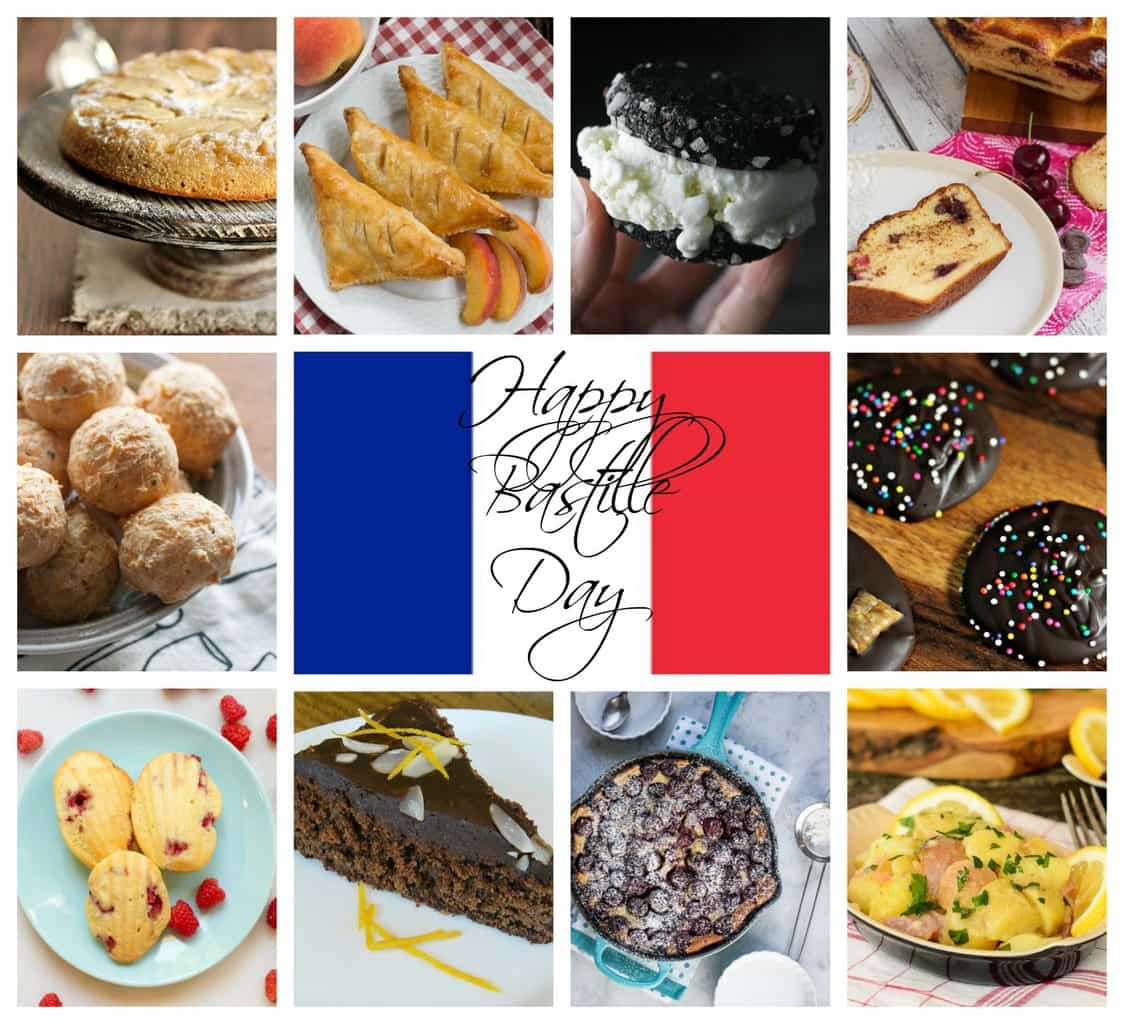 Did you know Bastille Day is almost here? Well, my food blogger friends did, so we whipped up a few of our favorite French recipes to honor this French National Day. If you're inclined to celebrate, here are some terrific recipes for you to try for the July 14th holiday:
Apple Tarte Tatin from Hungry Couple
Chaussons aux Pêches from That Skinny Chick Can Bake
Gougères (French Cheese Puffs) from Crumb
Cherry Clafoutis from Pineapple and Coconut
Meyer Lemon Fingerling Potato Salad from Magnolia Days
You May Also Like:
Stay in touch through social media @ Instagram, Facebook, and Pinterest. Don't forget to tag me when you try one of my recipes! And if you love the results, please give it a 5-star rating in the recipe card. Note: As an Amazon Associate, I earn from qualifying purchases. Visit my Amazon Store for my favorite products.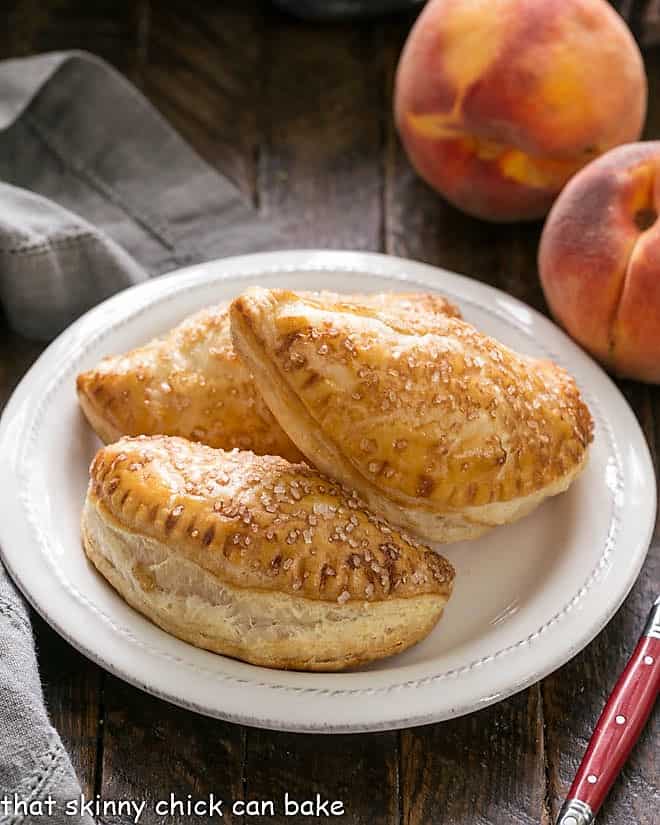 The Recipe:
Chaussons aux Pêches or Peach Turnovers
Prep Time 15 minutes
Cook Time 30 minutes
Total Time 45 minutes
Yield 9
Peach hand pies made with puff pastry and homemade peach filling
Ingredients
14 ounces frozen puff pastry, defrosted
3 medium peaches, peeled and diced
½ cup sugar
½ teaspoon cinnamon
½ teaspoon vanilla
¼ cup cold water, divided
2 tablespoons cornstarch
1 egg, beaten, for glaze and to seal the seams
Coarse sugar, to garnish, optional
Instructions
In a large saucepan, over medium heat, combine the fruit, sugar, cinnamon, and one tablespoon of the water. Bring to a simmer, stirring frequently, and cook until the fruit is tender.
In a small bowl stir together the remaining 3 tablespoons of cold water and the cornstarch until well blended.
Add to the fruit mixture and cook while constantly stirring until the mixture thickens. Add vanilla. Let cool to room temperature.
Roll out puff pastry to a 15 x 15-inch square on a lightly floured surface. Cut into nine 5 x 5-inch squares. Alternatively, use a 5-6-inch biscuit cutter to cut as many rounds as possible out of the pastry (you will get less than 9).
Place a tablespoon of filling in the center of each square (or round). Brush the perimeters with egg wash, then fold the pastry over the filling, forming a triangle (or semi-circle). Use a fork to press and seal the seam together where the two layers of pastry meet.
Brush each turnover with egg wash, using a spatula place egg-washed turnovers on a parchment-lined baking sheet, dust with coarse sugar if desired, then refrigerate for 15 minutes.
Preheat oven to 400º.
Remove turnovers from the refrigerator and cut 3 slits into the top of each turnover to release steam, if desired. Bake for 15 minutes, then decrease the oven temperature to 350º. Bake for 10-15 minutes more, until the turnovers are golden.
Notes
Filling adapted from Sweet Sensations blog.
If you make the round version, you'll have extra filling. Use any excess filling as an ice cream topping or mix with yogurt for a delicious breakfast or snack.
Recommended Products
As an Amazon Associate and member of other affiliate programs, I earn from qualifying purchases.
Nutrition Information:
Yield:
9
Serving Size:
1 Turnover
Amount Per Serving:
Calories: 337
Total Fat: 18g
Saturated Fat: 3g
Trans Fat: 0g
Unsaturated Fat: 14g
Cholesterol: 21mg
Sodium: 121mg
Carbohydrates: 41g
Fiber: 2g
Sugar: 19g
Protein: 4g
Note: This post may contain affiliate links; view
my Disclosure Policy
for details. I earn a small percentage from any purchase you make by clicking on these links at no extra cost to you.