Seed-Topped Whole Wheat Banana Bread
This "Healthyish" Seed-Topped Whole Wheat Banana Bread is a delicious, lighter version of your typical quick bread.
Made with bananas, whole wheat flour and sprinkled with crunchy seeds, it's almost guilt-free, unless you eat the whole loaf of Healthy Banana Bread!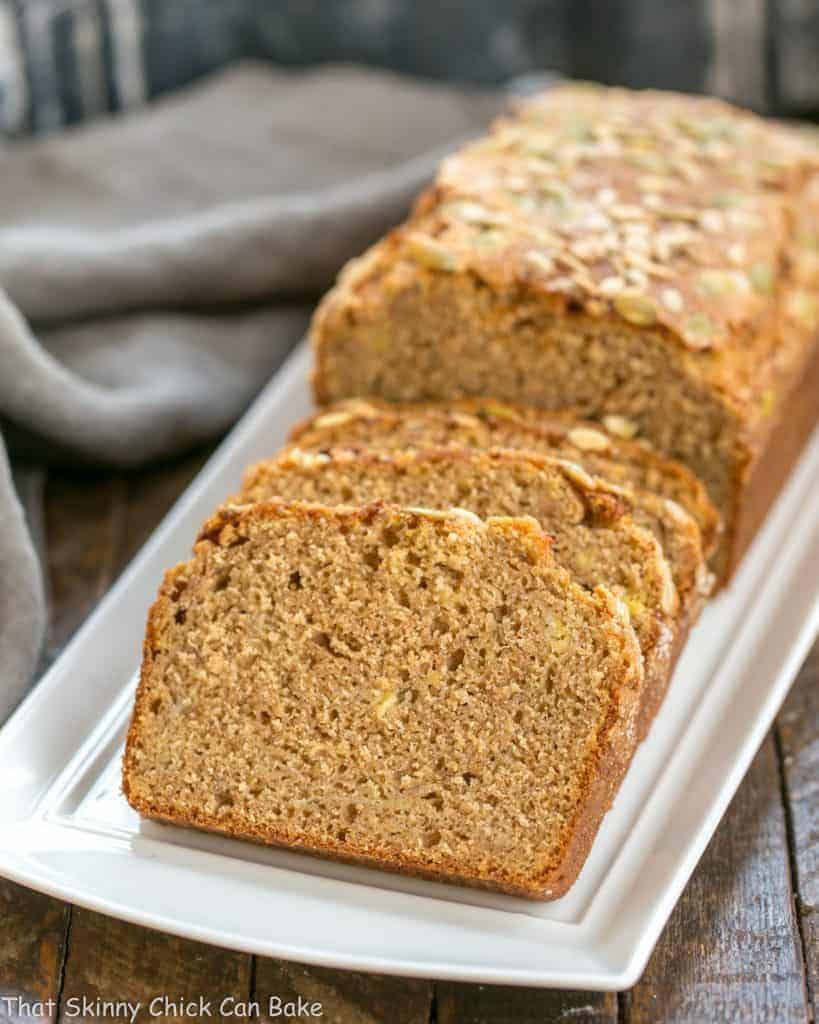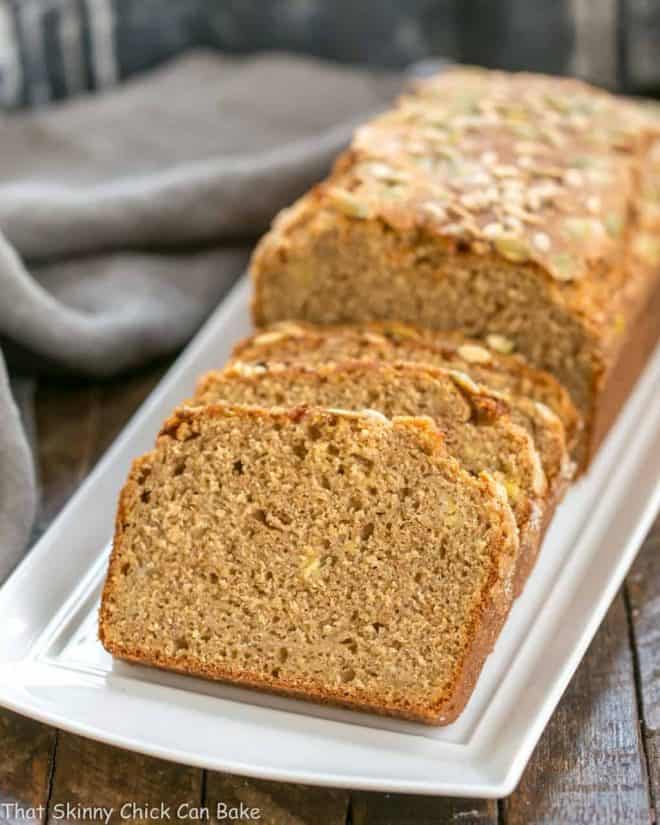 Seed-Topped Whole Wheat Banana Bread
My loyal readers may recall that I'm the only nut/seed fan in the household. So I had to tweak this recipe from Healthyish by Lindsay Maintland Hunt, so I wouldn't have to eat the whole loaf myself!
Bill doesn't like nuts, seeds or quick breads so he was a no go. Katie is OK with quick bread but none of the seedy additions. So instead of the pecans, poppy seeds and sesame seeds called for in the original recipe, I just topped this banana quick bread with a mixture of pepitas and sunflower seeds and kept the "crunchy stuff" out of the batter. I happily volunteered to eat all the discarded crusts of this Mini Pumpkin Cheesecakes – Bite-sized, individual cheesecakes with an autumn twist!for continued quality control!
Banana Quick Bread
I make a lot of quick breads. Quick bread is leavened with baking soda or baking powder instead of yeast.
Pumpkin bread is a family favorite. Doubling my recipe ensures each of my children has their own loaf. My personal favorite is any cranberry bread, but apple and pear bread are also outstanding. Then there's the perennial favorite, banana bread. And this Healthy Banana Bread is just my style!
You Might Like These Products to Make a Healthy Banana Bread:
First you need a quality loaf pan. This Non-Stick Pro 1 lb Loaf Pan was true to its name and released this seed-topped whole wheat banana bread like a charm. It features smooth, seamless bottom corners for easy cleaning, and square-rolled top edges for structure, strength, durability and a secure grip when handling.
Next, an easy to use Stainless Steel Measuring Cups and Spoons Set is imperative. I love the magnets on the handles that helps keep these implements attached for easy storage.
My old oven thermometer was covered in splotches and had lost its hanger, so a spanking new Chef's Precision Oven Thermometer was a joy. The gauge reassured me my oven was at exactly 350°. Whew. This thermometer stays securely in place in a wide range of ovens and withstands the opening, closing, rotating and general wear and tear that comes with active oven use.
Last, but not least was a Non-Stick Pro Cooling and Baking Rack which is my only non-stick version, so it will get tons of use! The non-stick, two-layer coating is PFOA-free and Swiss-engineered for exceptional performance and food release. The wire pattern is optimized for 360° air circulation, for quick cooling and even baking. Perfect for cooling this healthy quick bread, cakes, cookies and more!
More Banana Recipes You'll Love: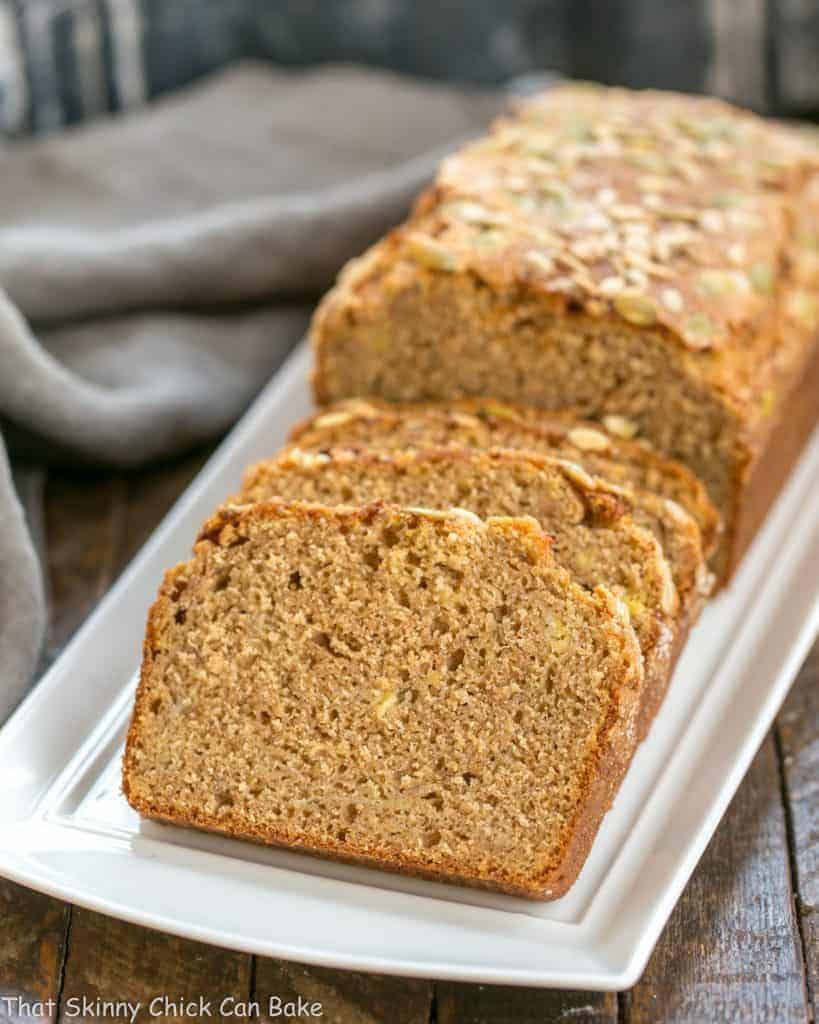 The Recipe:
Seed-Topped Whole Wheat Banana Bread
Prep Time 15 minutes
Cook Time 1 hour
Total Time 1 hour 15 minutes
Yield 1 loaf
This "Healthyish" Seed-Topped Whole Wheat Banana Bread is a delicious, lighter version of your typical quick bread.
Ingredients
2/3 cup plus 1 tablespoon sugar
2 teaspoons pepitas
2 teaspoons sunflower seeds
1 1/2 cups whole wheat flour
2 teaspoons baking powder
1/2 teaspoon kosher salt
1 cup mashed banana (about 3 very ripe bananas)
2 eggs, at room temperature
1 teaspoon vanilla
Instructions
Preheat oven to 350º. Grease and flour an 8 ½ x 4½-inch baking pan. Mix 1 tablespoon of sugar with pepitas and sunflower seeds.
Whisk together flour, baking powder, and salt in a medium bowl.
Whisk banana, eggs, vanilla, and remaining ⅔ cup sugar and ½ cup oil in a large bowl. Fold in dry ingredients until just combined. Scrape batter into prepared pan; smooth top. Sprinkle reserved seed mixture evenly over.
Bake bread until a tester inserted into the center comes out with just a few crumbs attached, 50–60 minutes. Let cool in pan 15 minutes, then turn out onto a wire rack and let cool completely.
Notes
I keep overripe bananas in the freezer in a Ziploc bag. When I get 3 or more, it's time to make some banana bread! Defrost overnight in the refrigerator.
Bread can be baked 3 days ahead. Wrap tightly in plastic and store at room temperature.
Recipe adapted from Healthyish by Lindsay Maintland Hunt.
Nutrition Information:
Yield:
12
Serving Size:
1 slice
Amount Per Serving:
Calories: 90
Total Fat: 2g
Saturated Fat: 0g
Trans Fat: 0g
Unsaturated Fat: 1g
Cholesterol: 31mg
Sodium: 209mg
Carbohydrates: 17g
Fiber: 2g
Sugar: 3g
Protein: 3g
Note: This post may contain affiliate links; view
my Disclosure Policy
for details. I earn a small percentage from any purchase you make by clicking on these links at no extra cost to you.