Sara Lee Butter Streusel Coffee Cake
Copycat Sara Lee Butter Streusel Coffee Cake is a tender, twisted breakfast treat filled with cinnamon, that's even better than the original!!
This packaged, frozen coffee cake was one of my husband's favorite weekend indulgences. Then, after it could no longer be found at the grocery store, I attempted to make a homemade version. After his first bite of this Cinnamon Coffee Cake Recipe, he was so thrilled, you would think he had won the lottery!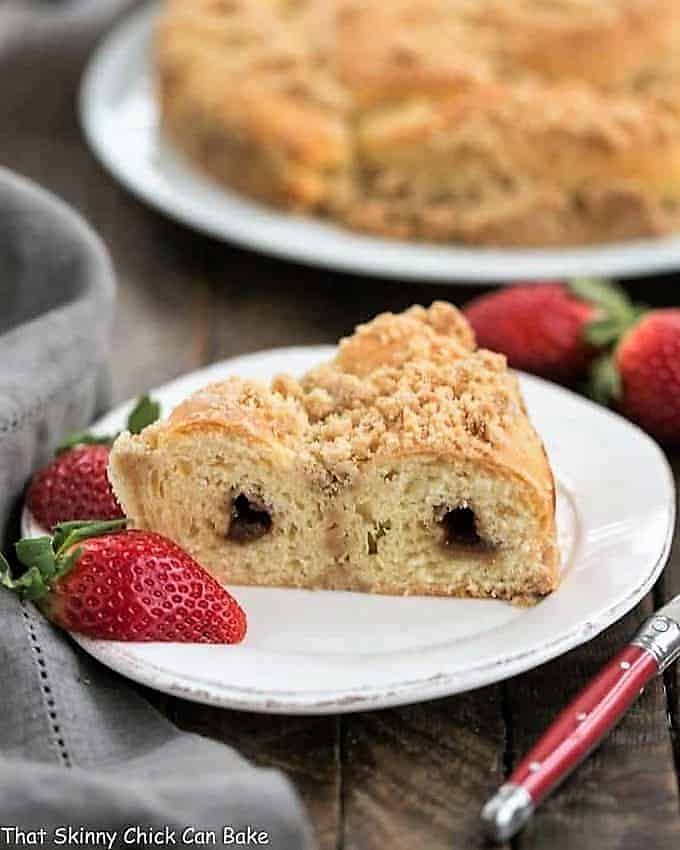 Best Coffee Cake Recipe
Nearly every time we're in a new supermarket, my husband detours through the frozen food department looking for the elusive Sara Lee Butter Streusel Coffeecake. It's his gold standard for the best coffee cake recipe.
It's his go-to easy breakfast treat. I have scoured the web and finally saw a copycat recipe to try. Check out this post for step-by-step photos.
Reader Endorsement:
Liz — I did prepare everything last night to bake for Christmas morning today and it turned out perfectly, to rave reviews! (This was my attempt to replicate my wife's traditional Christmas morning of the Sara Lee butter streusel coffeecake while opening gifts, as we can't find the frozen original anymore here in Northern California.) My wife thought it was perfect, as did the kids, and I thought it was far superior to the original.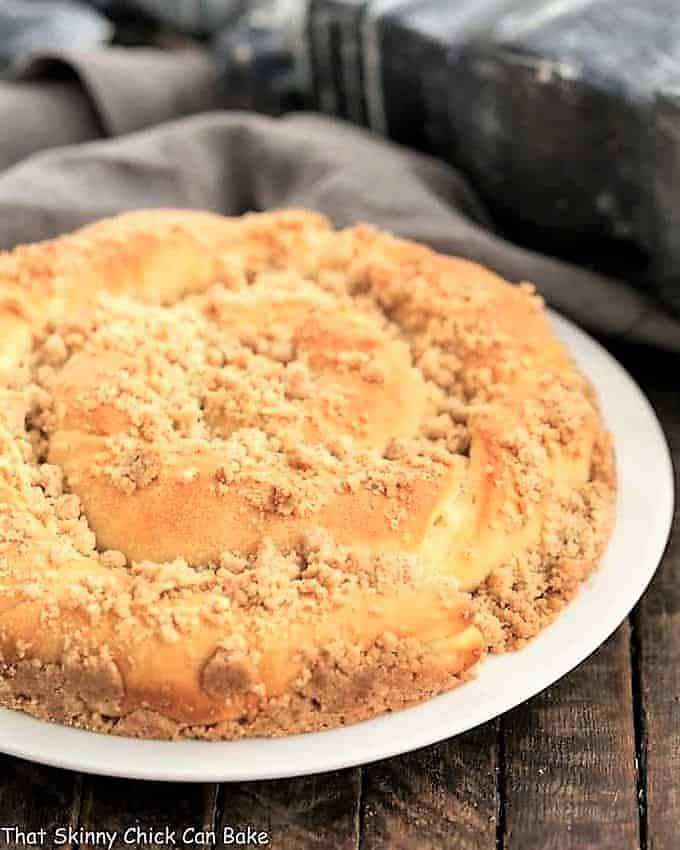 Tips for Making this Cinnamon Coffee Cake Recipe
PRO-Tip: Make sure your yeast has not expired. After going through the process of making the dough, it would be awful if your yeast had lost its potency. Check the expiration date on the label.
Don't rush the proofing (rising time) by putting your dough in an overly hot environment. About 80-85 degrees is perfect. My new oven has a proof setting that's set to 85 degrees.
One reader proofed the dough overnight in the refrigerator. This technique will actually build better flavor due to the slow rise. But the cold dough may take a little extra time for the second rise.
Note the second rise is shorter than with many yeast bread recipes, only 30 minutes.
After mixing the streusel, I like to use my fingers to pinch some of the crumbs into bigger pieces.
When I handed the hubby the recipe I printed off, he saw cream cheese listed in the list of dough ingredients. He suggested I leave it out. What? This dude has never made anything from scratch except chocolate chip cookie bars. I discretely rolled my eyes and ignored this advice.
The challenge was on! Which was tastier? The Sara Lee box from the frozen foods section or the homemade butter streusel coffee cake?
The hubby said mine was WAY better than Sara Lee's Butter Streusel Coffee Cake. Whew. Even with cream cheese in the dough. And as a bonus, each batch makes TWO coffeecakes. One to eat and one to freeze!
Do you have a favorite pre-made breakfast treat?? I used to love the Sara Lee Cheese Danishes my mom would stash in our freezer. I have an inkling my sisters and I didn't even wait for them to defrost before digging in!
More Coffee Cake Recipes You'll Love:
The Recipe:
Copycat Sara Lee Butter Streusel Coffeecake
Prep Time 30 minutes
Cook Time 30 minutes
Total Time 1 hour
Yield 16
My husband has an extreme fondness for a certain frozen breakfast treat that is nearly impossible to find. When I told him I could make a Copycat Sara Lee Butter Streusel Coffeecake, you would think he had won the lottery!
Ingredients
Dough:
3/4 cup whole milk, at room temperature
6 tablespoons cream cheese, at room temperature
6 tablespoons butter, at room temperature
1/4 cup sugar
1 egg
1 package instant yeast, I use Red Star Yeast
1 teaspoon salt
3 cups flour (may add another 1/2 cup if needed)
Filling:
1/2 cup brown sugar
2 tablespoons flour
1 teaspoon cinnamon
1/8 teaspoon freshly grated nutmeg
Milk, for brushing on dough
Streusel:
1 1/4 cups flour
1/2 cup brown sugar
2 tablespoons sugar
1/8 teaspoon salt
1/4 teaspoon cinnamon
1/2 cup butter, melted and cooled
Instructions
To make the dough, combine all of the dough ingredients (start with 3 cups flour) in order in the bowl of a stand mixer fitted with the paddle attachment.
Mix until a smooth, soft dough comes together. Knead until the dough is smooth. The dough should be soft, but slowly add up to 1/2 cup more flour if it's sticky.
Cover and let rise in a warm place for about an hour. The dough may not double in size but should appear to have been proofed.
To make the filling, mix all of the ingredients (except the milk) together until well blended. Set aside.
To make the streusel, whisk together the flour, sugars, salt, and cinnamon to combine. Pour in the butter and mix until combined.
Preheat the oven to 350°. Grease two 9" round pans.

Place the dough onto a floured work surface. I use a Roulpat for easy clean-up and roll into a 12 x 14-inch rectangle. Cut the dough into four lengthwise strips (each 3 inches wide). Brush each strip with milk and spoon a 1-inch strip of the filling down the center.

Fold the dough over the filling and pinch to seal the filling inside. Repeat with the remaining strips of dough.

Twist one of the dough strips and place one end of the twisted strip in the center of one of the prepared pans. Wind the dough around in a spiral, leaving a bit of room between the "coils" to allow space for expansion during baking. Twist the second strip and continue the spiral to fill the pan.
Repeat the process to fill the second pan, then crumble the streusel over the top, dividing it between the pans. Let rise for 30 minutes.
Bake for 30 minutes, or until golden brown. Remove to a rack and let cool before serving.
Notes
Recipe adapted from thewellplatedlife.net.
A reader had success making this coffeecake and letting it rise in the fridge overnight, bringing it to room temperature for the second rise in the morning, then baking. He did note that it took longer than planned for the second rise.
Recommended Products
As an Amazon Associate and member of other affiliate programs, I earn from qualifying purchases.
Nutrition Information:
Yield:
16
Serving Size:
1 slice
Amount Per Serving:
Calories: 755
Total Fat: 34g
Saturated Fat: 19g
Trans Fat: 1g
Unsaturated Fat: 12g
Cholesterol: 92mg
Sodium: 647mg
Carbohydrates: 103g
Fiber: 3g
Sugar: 33g
Protein: 12g
Note: This post may contain affiliate links; view
my Disclosure Policy
for details. I earn a small percentage from any purchase you make by clicking on these links at no extra cost to you.