If you love brownies, you'll go crazy for these Chocolate Brownie Cookies chock full of mini chocolate chips. They're mini in size but maximum in chocolate intensity!
With semisweet and unsweetened chocolate, a touch of espresso and a generous helping of chocolate chips, these are destined to become your dream cookie!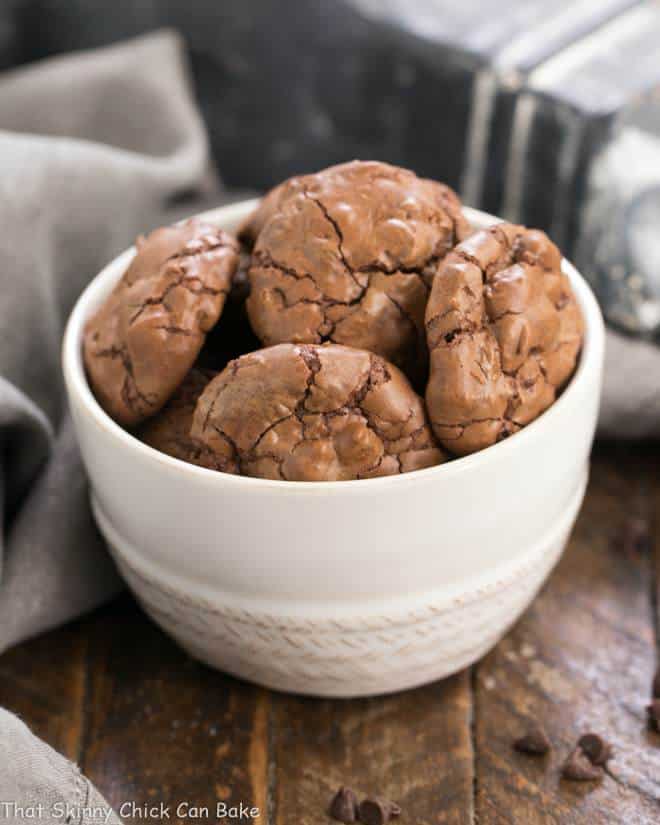 Chocolate Brownie Cookies with Mini Chocolate Chips
These tiny two bite chocolate brownie cookies taste just like brownies, hence the name. I made these delicious gems for my son, Tom, to take to a Super Bowl party, but I had to make a second batch shortly after as there was much disappointment when these left the premises.
I've had this recipe since 2007 and wonder why the heck it took me so long to bake them! If you're having a chocolate craving, I'd suggest baking up a batch of these chocolate laden cookies. And I bet you'll want more than one! And luckily, due to their petite size, more than one won't ruin your diet!
If you adore brownies as much as my family does, check out this Fudgy Skillet Brownie recipe which is served in wedges and delicious topped with a scoop of vanilla ice cream. This decadent Snickers Cheesecake Brownie Cake satisfies both brownie and cheesecake cravings! And how about this twist on a classic summer dessert, Brownie Strawberry Shortcake!
Tips for Making These Brownie Cookies
This ultra chocolaty dough is pretty sticky and, therefore, can be tough to dish out onto your baking sheets. The first batch was lovely and glossy, but subsequent batches were definitely on the duller side. But don't worry, they're all delicious. Just a food blogger's quandary—how to get them all to be perfect!
I like using the microwave to melt chocolate, but do it slowly and cautiously. I start with 30 seconds, stop and stir and then repeat. Once you see only teeny bits of chocolate, the heat of the melted chocolate will finish the job.
You might want to use a stand mixer for these cookies. The eggs, sugar, espresso and vanilla are beaten for 15 minutes. It's a long time with a hand held mixer, but you can definitely use one.
PRO-Tip: Line your baking sheets with parchment paper. The cookies must cool completely on the baking sheet before removing them so the bottoms do not stick. Using parchment also makes cleanup a breeze!!!
I used a small cookie disher to scoop out rounded balls of dough. The disher will need to be cleaned frequently as the dough tends to stick to the insides. Alternatively, you can use a teaspoon and scoop out about 1 1/2 teaspoons of dough per cookie.
Note that the first batch of these chocolate brownie cookies came out of the oven glossy, like in the photos.  Do not worry if your second and third batches are not as pretty. I would guess this is partially due to the dough sticking to my cookie disher. They will still taste terrific!
When you use a regular teaspoon, your cookies may not be perfectly round. You can use your spatula and tap the hot cookies into shape immediately after removing them from the oven. This works for almost all cookies.
These cookies taste best on the day and day after they are baked. I place any leftovers in an airtight container and freeze for later.
Print
Chocolate Brownie Cookies
A brownie lover's dream cookie, chock full of mini chocolate chips!
Adapted from Claudia Fleming
Author:
Prep Time: 20 minutes
Cook Time: 8 minutes
Total Time: 28 minutes
Yield: 36 cookies 1x
Category: Dessert, Cookies
Method: Baking
Cuisine: American
Ingredients
5 ounces bittersweet or semisweet chocolate, chopped
2 ounces unsweetened chocolate chopped
2 tablespoons butter
2 eggs, at room temperature
2/3 cups sugar
1/2 tablespoon brewed espresso
1 teaspoon vanilla
1/4 cup flour
1/4 teaspoon baking powder
1/8 teaspoon salt
3/4 cup mini chocolate chips
Instructions
Preheat oven to 375º. Line two baking sheets with parchment and set aside.
Melt butter and chocolates in microwave using 30 second increments, stopping to stir until melted and smooth. Set aside.
In electric mixer, mix eggs, then add sugar, espresso and vanilla and beat on high for 15 minutes. Fold chocolate mixture into eggs, but do not totally incorporate. Sift flour, baking powder and salt into batter and carefully fold till incorporated. Fold in chocolate chips.
Using a teaspoon scoop, place generous spoonfuls onto prepared baking sheet. Bake for about 8 minutes. Cool on baking sheets before removing to rack.
Notes
These cookies taste best the day or day after they are baked. Freeze any extras in an airtight container.
Note: This post may contain affiliate links; view
my Disclosure Policy
for details. I earn a small percentage from any purchase you make by clicking on these links at no extra cost to you.