Vanilla Cake with White Chocolate Buttercream
This dense, delicious Vanilla Cake with White Chocolate Buttercream made a dreamy, one-layer birthday cake! It's just the right size for a small gathering.
With a variety of picky palates in our household, I went to our favorite white chocolate cupcake recipe and baked it up in an 8-inch cake pan. There were absolutely no complaints or leftovers of this scrumptious White Cake Recipe!
Why You'll Love this Vanilla Cake
It's only one layer so it's great for a small party or as a gift to a friend!
If you know someone who doesn't like chocolate desserts (gasp), this is a delicious alternative.
Swiss meringue buttercream is my favorite frosting. It's ultra creamy and irresistible.
Bill's birthday was approaching, and even though I know he'd prefer the most decadent dark chocolate dessert I could create, he always selects a birthday cake that Katie would enjoy. This year, instead of the yellow cake with chocolate icing we've had the past 3 or so birthdays, he asked for a white chocolate cake.
I decided to convert our favorite white chocolate cupcakes recipe into an 8-inch cake and use the same exquisite Swiss meringue buttercream for icing. And voila…Vanilla Cake with White Chocolate Frosting. The cake turned out denser than I expected, but still really tasty…though the true star of the show was the icing!
How to Make Swiss Meringue Buttercream
Though this frosting takes a little longer than a simple buttercream, it's such a luscious, silky frosting that it's worth making for special occasions.
Have your butter cut into tablespoons and at room temperature.
Melt your chocolate and let cool to room temperature.
Fill a pan with a couple of inches of simmering water. Combine the sugar and egg whites in your mixer bowl and place it into the pan allowing the water to come up high enough to heat the mixture. Whisk until hot to the touch, which should take a few minutes.
PRO-Tip: This heating process should bring the egg whites to at least 160 degrees and will kill any pathogens that could cause food poisoning.
Return the bowl to your mixer and beat on high until the eggs thicken and cool to room temperature.
With the mixer on medium, add the butter one tablespoon at a time, making sure each pat is incorporated before adding the next.
Finally, add the flavorings (and chocolate if using) and mix until smooth.
Refrigerate if the buttercream needs to thicken a bit before frosting your vanilla cake.
How to Store this White Chocolate Frosting
You will have some extra, but it's too darn tasty not to save! Thank goodness this buttercream has a good shelf life! It can be held safely at room temperature for up to 2 days, but it will start to deteriorate a bit after 8 hours. Keep it refrigerated for up to 2 weeks and it also can be frozen for up to 3 months, stored in an airtight container. I haven't tested freezing and defrosting this frosting, though.
Converting a Cupcake Recipe into a Cake
I decided to convert our favorite white chocolate cupcakes recipe into an 8-inch cake and use the same exquisite Swiss meringue buttercream for icing. And voila…Vanilla Cake with White Chocolate Buttercream. The cake turned out denser than I expected, but still really tasty, though the true star of the show was the white chocolate icing and jumbo white chocolate curl garnish.
To convert a recipe for 12 cupcakes into a cake, this method works for most recipes.
Make the cupcake batter as directed in the recipe.
Once it's mixed, scrape it into a greased 8-inch cake pan.
If you're worried about sticking, line the bottom of the pan with a round of parchment, then grease the top of the parchment.
Bake for about 25 minutes or until a toothpick inserted in the middle comes out clean.
Cool on a rack for about 15 minutes, then invert it onto a wire rack to finish cooling.
Frost as desired.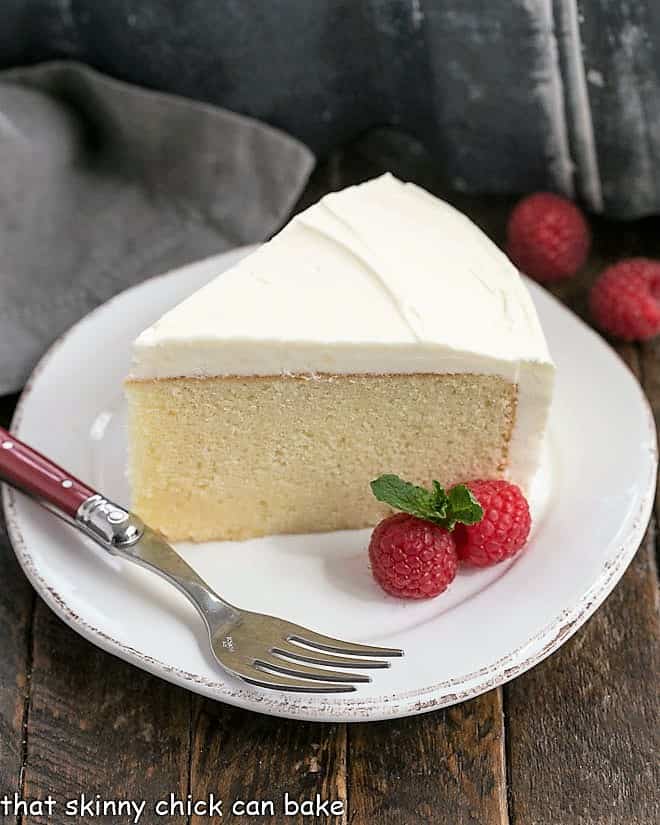 How to Make White Chocolate Curls
The first time I made this white cake recipe, I went the extra mile and topped it with white chocolate curls. See a photo and the technique in the second recipe card below.
In case you haven't mastered the chocolate curl, read on. I've abandoned the vegetable peeler and started using the Pioneer Woman's method, first shared in this blog post to top this Fluffy Chocolate Dessert. Note that white chocolate is softer than semisweet chocolate so may need to be chilled a wee bit longer.
Basically, melt the chocolate with a small amount of shortening.
Then spread a thin coating on the back of a sheet pan or another flat surface you can fit in the freezer.
After a few minutes, test the chocolate by taking a bench scraper or metal spatula and scrape from the bottom of the pan to make a curl.
If your chocolate is too soft, place the pan back in the freezer for a minute or so. If your chocolate breaks instead of curls, let the chocolate warm up a bit at room temperature. Then try again!
PRO-Tip: To test whether your chocolate is ready to curl, use your fingertip to press down on your chilled chocolate. It should leave a slight mark, not an obvious indentation. A white chocolate version of curls made a beautiful topper for this tasty Vanilla Cake!
Frequently Asked Questions
What are the Three Types of Buttercream Frosting?
American Buttercream or simple buttercream is a 2-to-1 ratio of powdered sugar to butter along with milk or cream and flavorings. This is the easiest type of buttercream to make, but it easily melts in hot weather.
Swiss Meringue Buttercream is used by professional bakers and involves heating sugar and egg whites in a double boiler, then beating the mixture into a fluffy meringue. Next softened butter is slowly incorporated. Finally, flavorings are added. This frosting is more stable than American Buttercream.
Italian Meringue Buttercream is a bit more difficult as the egg whites are first whipped, then a hot sugar syrup, at a specific temperature, is drizzled into the whipping egg whites. This mixture must cool before adding the butter. This is the most stable of the three buttercream frostings.
What Makes Swiss Meringue Buttercream So Silky?
The sugar is actually melted as it's heated with the egg whites, so if done properly, there will never be any graininess or crusting of the frosting. The butter adds the fat that provides the luxurious mouthfeel of this frosting.
PRO-Tip: Make sure the egg whites have cooled down so the batter will emulsify when added instead of melting, making a greasy mess.
Can You Add Coloring to a Swiss Meringue Buttercream?
Yes, but use gel food coloring since you won't need to add a lot of liquid to get a deep color. You can also add flavorings, like melted white chocolate!
Is Swiss Meringue Safe to Eat?
Yes, since the egg whites are cooked to a point where any potential bacteria should be killed. If concerned, use an instant-read thermometer to make sure the egg-sugar mixture reaches 160°. This is important when serving to the very young, elderly, or those who are immune-compromised.
You May Also Like:
Stay in touch through social media @ Instagram, Facebook, and Pinterest. Don't forget to tag me when you try one of my recipes! And if you love the results, please give it a 5-star rating in the recipe card. Note: As an Amazon Associate, I earn from qualifying purchases. Visit my Amazon Store for my favorite products.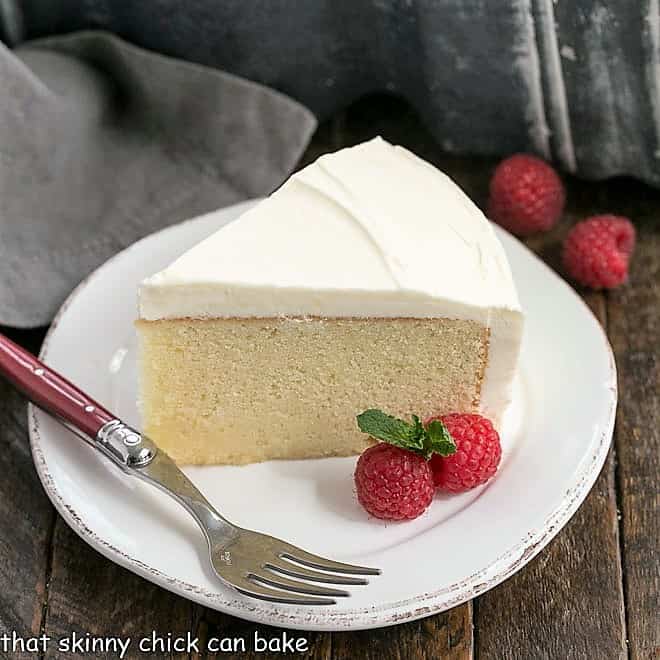 The Recipe:
Vanilla Cake with White Chocolate Buttercream
Prep Time 40 minutes
Cook Time 50 minutes
Additional Time 10 minutes
Total Time 40 minutes
Yield 10
A tender, one layer vanilla cake topped with a luscious white chocolate Swiss meringue buttercream frosting and white chocolate curls!
Ingredients
Cake
1 ¾ cups plus 2 tablespoons flour
¾ teaspoon baking powder
¼ teaspoon salt
¾ cup butter, at room temperature
1 ½ cups sugar
3 eggs
¾ cup whole milk
¾ teaspoon fresh lemon juice
1 ½ teaspoons vanilla extract
Frosting:
6 ounces white chocolate, chopped
4 eggs whites
1 cup plus 2 tablespoons sugar
1 cup plus 2 tablespoons butter, at room temperature (if you use unsalted just add a pinch of salt)
1 ½ teaspoons vanilla
Instructions
Preheat oven to 350º. Line 8 inch cake pan with a parchment round, then grease the pan
Whisk together flour, baking powder, and salt.
In a large bowl, beat the butter and sugar on medium speed till light. Add eggs, one at a time, scraping bowl between additions. Mix together milk, lemon, and vanilla. Add half this mixture to the batter.
Mix until just blended, scraping down the sides of the bowl if necessary. Add half the dry ingredients and mix in well, followed by the remaining milk mixture, then the rest of the flour. Scrape down the sides of the bowl between additions.
Pour batter into prepared pan. Bake in the middle of the oven for about 50 minutes or till a tester inserted in the middle of the cupcakes comes out clean. Cool for 10 minutes then remove to rack to finish cooling.
Melt the white chocolate in a microwave-safe bowl, gently in the microwave…use 15-30 second intervals, stirring till melted. Cool to room temperature.
Combine the egg whites and sugar in the bowl of the mixer. Place the bowl over a pot of simmering water so that the water comes a third of the way up the bowl. Whisk the egg whites till just hot to the touch, about 1-2 minutes.
Use a mixer on high to whip the eggs till thick and cooled to room temperature, about 5 minutes. Turn mixer speed to medium and add butter by tablespoon, making sure butter is mixed in before adding the next tablespoon.
Add the chocolate and vanilla and mix till smooth. If the icing is too runny, refrigerate briefly till it thickens. Ice the cake...there will be plenty of frosting for a generous layer!
Notes
Adapted from The Ghirardelli Chocolate Cookbook.
Make sure your bowls and beaters are completely free of oil or yolk or the egg whites won't whip properly. Run through the dishwasher if you're unsure.
Nutrition Information:
Yield:
10
Serving Size:
1 slice
Amount Per Serving:
Calories: 431
Total Fat: 26g
Saturated Fat: 15g
Trans Fat: 1g
Unsaturated Fat: 9g
Cholesterol: 178mg
Sodium: 291mg
Carbohydrates: 45g
Fiber: 0g
Sugar: 44g
Protein: 6g
Note: This post may contain affiliate links; view
my Disclosure Policy
for details. I earn a small percentage from any purchase you make by clicking on these links at no extra cost to you.