Coconut Macaroon Easter Nests
Classic macaroons are easily transformed into these festive Coconut Macaroon Easter Nests with just a few simple steps! The coconut lovers in your life will adore these holiday cookies.
This tasty, amped-up Easter Cookie is perfect for Easter especially if you're a fan of Coconut Macaroon Recipes!
Why You Should Make these Easter Nests
How to Make these Easter Cookies
If you've made coconut macaroons before, this recipe will be a breeze. Plus, they are so cute and festive.
Make the macaroon cookies following the recipe below.
Use a generous scoop to form the balls in order to get a sizable nest.
As soon as they come out of the oven, create a well right in the center while they are hot and pliable.
The filling is up to you, but make it easy on yourself and us a jar of fudge sauce. Lemon curd is another fun idea—especially if topped with jelly bean eggs!
There are loads of different Easter egg candies, but these Cadbury Mini Eggs looked the most like real eggs except for the crazy colors!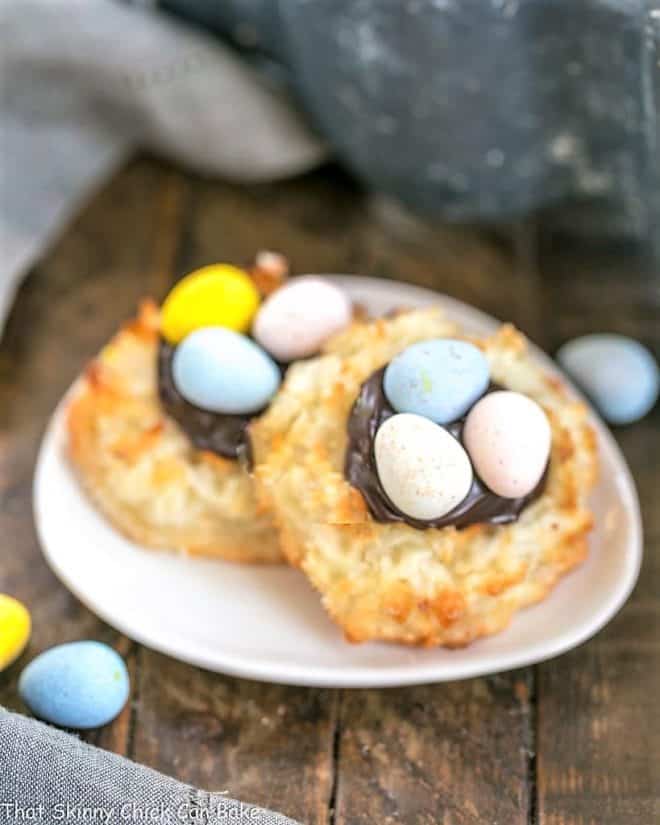 Tips for Making These Easter Cookies
How is a Macaroon Different from a Macaron?
Though the spelling is similar, macaroons and macarons are very different. Both are cookies, but the macaroon, as I've featured here, is coconut-based. The French macaron, though, is meringue-based.
Macaroons (Mack -a- ROONS) are composed of egg whites, coconut, and sugar, though there are shortcut versions made with sweetened condensed milk. Their name comes from the French macaron. Sweeter and chewier than their namesake, there are only a few variations including vanilla, lemon, and chocolate. Macaroons are super easy to make.
Macarons (Mack- a – ROHNS) are composed of almond flour, egg whites, and sugar, and can be made in numerous flavors. Their name comes from the Italian word Macaroni. With a delicate crust and a meringue-like middle, two usually form a sandwich with a complimentary filling. Macarons are more technical to make including whipping egg whites to the perfect consistency and baking up even-sized cookies to pair and fill.
More Easter Treats You'll Love:
Recommended Tools:
The Recipe:
Coconut Macaroon Easter Nests
Prep Time 20 minutes
Cook Time 30 minutes
Total Time 50 minutes
Yield 16
Classic macaroons are easily transformed into these festive Coconut Macaroon Easter Nests with just a few simple steps! The coconut lovers in your life will adore these holiday cookies.
Ingredients
4 egg whites
3 cups sweetened coconut
3/4 cup  sugar
2 teaspoons  vanilla extract
1/4 teaspoon salt
1 jar premium fudge sauce (you won't need it all)
Candy Easter eggs, I used Cadbury Mini Eggs
Instructions
Line two baking sheets with parchment. Set aside.
Fill a skillet halfway with water and bring to a simmer. In a heatproof bowl, combine all ingredients and place the bowl into skillet.
Cook, stirring frequently for about 5 minutes, till mixture thickens and becomes opaque. Remove bowl from the water and let cool for about 30 minutes.
Preheat oven to 350º.
Scoop out about 2 tablespoons of batter (I used a large cookie scoop) and place about 2 inches apart on baking sheets. Bake for about 5 minutes, then decrease oven temperature to 325º and bake till cookies are lightly browned with some darker edges, 10-15 more minutes.
Remove from the oven and use a spatula to tap the edges of the cookies to make a more circular shape. Then take a measuring spoon and made an indentation in the center. Keep in mind the size of egg candies you want to place in the nests.
Cool completely on a wire rack.
Fill the center of each cookie with a generous spoonful of fudge sauce. Garnish with egg-shaped candies. Store in the refrigerator to keep fudge firm.
Notes
This classic macaroon recipe from Alice Medrich is the perfect base for these Easter cookies.
Nutrition Information:
Yield:
16
Serving Size:
1 cookie
Amount Per Serving:
Calories: 138
Total Fat: 6g
Saturated Fat: 5g
Trans Fat: 0g
Unsaturated Fat: 1g
Cholesterol: 12mg
Sodium: 105mg
Carbohydrates: 21g
Fiber: 2g
Sugar: 17g
Protein: 2g
Note: This post may contain affiliate links; view
my Disclosure Policy
for details. I earn a small percentage from any purchase you make by clicking on these links at no extra cost to you.