Grand Marnier Mimosas
Mimosas make the perfect brunch cocktail! With freshly squeezed orange juice, sparkly champagne, and an optional shot of Grand Marnier, this Grand Marnier Mimosas recipe was the perfect choice when we hosted our dinner club for a Sunday brunch.
If you don't know How to Make Mimosas, you've come to the right spot! The basic rule is equal parts orange juice to champagne, but there are many delicious twists!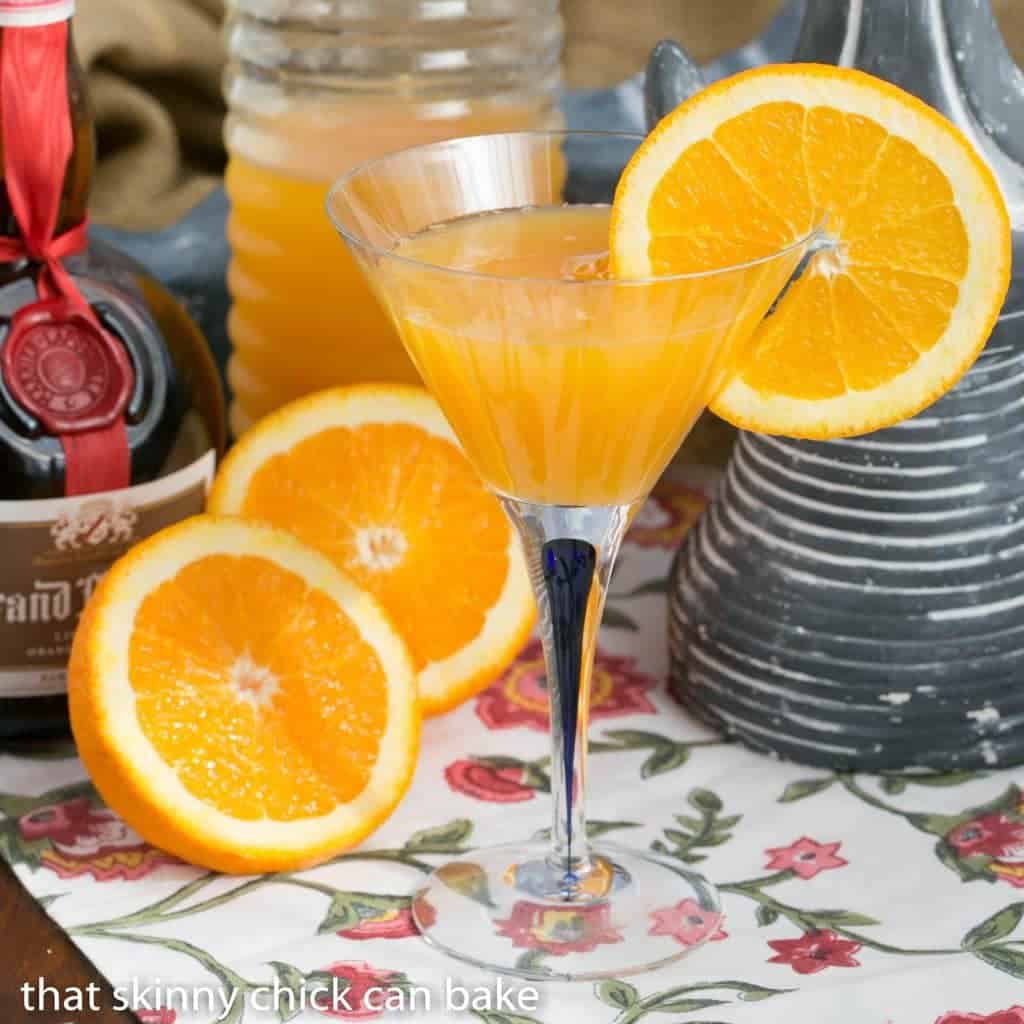 Why You Must Make
Freshly squeezed orange juice and a touch of Grand Marnier make this recipe stand out from a regular mimosa.
It's a fun addition to a brunch recipe, especially for holidays, wedding showers, or other special occasions.
You don't need to break the bank using high-end champagne! Any sparkling wine like Cava or Prosecco will work well when making Grand Mimosas.
Expert Tips
The mixture of orange juice and champagne has been served for celebratory breakfasts and brunches for eons. Here are a few tips for making mimosas.
Though you don't need top-of-the-line champagne, you do need terrific orange juice to make the best version of this brunch cocktail. Cava and Prosecco are less expensive sparkling wines that will work well.
The standard ratio is half orange juice and half sparkling wine. You can make them stronger or weaker depending on your guest's preferences.
There is no need to stir as the ingredients will automatically mix as you pour them into each glass.
PRO-Tip: To minimize fizz when pouring the champagne, hold a spoon with the underside up over the glass. Then pour it over the spoon so the champagne glides off the spoon into the orange juice.
Have you ever made freshly squeezed orange juice? Once you do, you'll know what you've been missing.
It is a bit of work unless you own a juicer, but it's worth it for special occasions. If you can find a bag or two of Valencia oranges, nab them up and reserve them for juicing. That variety of oranges makes the best orange juice.
And if you don't have to drive anywhere, you may want to spike your mimosas with a tablespoon of Grand Marnier, or your favorite orange liqueur. Totally blissful.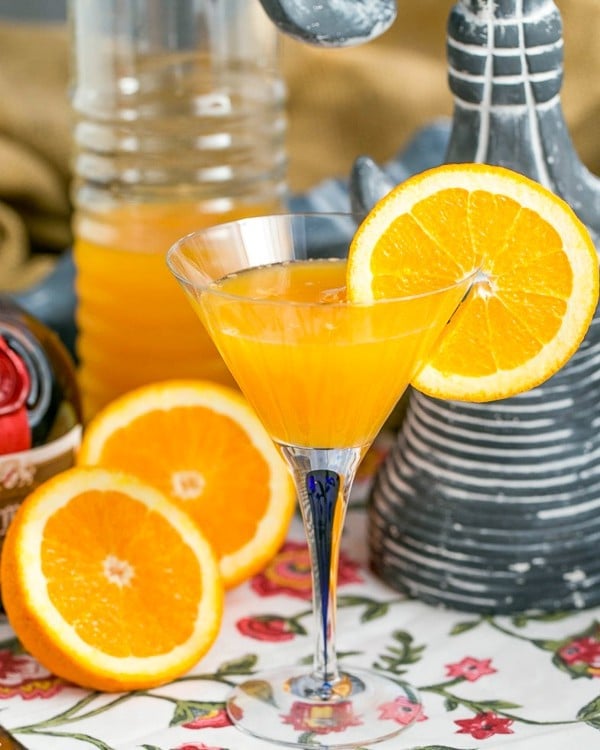 What to Serve with Mimosas
Adding a signature cocktail is fun for a special occasion, holiday brunches included! These Grand  Mimosas are perfect as you'll typically have orange juice on hand.
Set your menu with an entree, sides, drinks, and something sweet, if desired.
Think of your guests and their preferences. Is someone gluten-free? Vegetarian? Children with picky palates?
Vary your menu with the season. For Mother's Day or Easter, berry and lemon dishes are perfect. For a fall event, think of apple and pumpkin recipes.
Set up a beverage bar with juices, milk, coffee, and tea along with cream, sweeteners, stir sticks, etc.
Since "brunch" is a combination of lunch and breakfast, almost all dishes are acceptable. Think of what you can load your plate with at a restaurant's brunch selections. Even a spiral ham works with little buns and condiments!
Casseroles will feed a crowd. I love a French Toast Casserole, Spinach Gruyere Breakfast Strata, or how about the ever-popular Funeral Potatoes?
Too many options to decide what to include? Set a theme! Tex-Mex/fiesta, French with croissants, tarts, and bubbly, or even a color, like pink or green!
Make sure to have some healthy fare like a big fruit salad. If you want to go the extra mile, let folks make parfaits with fruit, vanilla yogurt, and granola!!
Don't forget to garnish your specialty cocktail. An orange slice works well. Check my photos to see how cutting a slit halfway through the slice makes it easy to add to a glass. A strawberry sliced from the bottom almost to the stem can rest on the rim to add a beautiful pop of red or just float a few raspberries or pomegranate arils in each Grand Marnier mimosa.
Frequently Asked Questions
What's in a Mimosa?
Mimosas are a super easy cocktail with minimal ingredients making them perfect for entertaining. You need just 2 or 3 quality ingredients mixed together for a stellar cocktail recipe.
Mimosa Ingredients include orange juice, champagne or sparkling wine, and Grand Marnier. Some versions contain vodka or Chambord. How simple is that?
Reserve an orange to slice and garnish your glasses. No need for a bottle of high-end champagne, but instead use Cava or Prosecco, and freshly squeezed orange juice if possible. A beautiful presentation is key! Cheers!
How Do You Make Mimosas?
1. Fill the glass halfway with freshly squeezed orange juice for the standard mimosa ratio of oj to champagne. Unless someone wants less alcohol, then fill with ⅔ juice before adding the champagne.
2. Add champagne almost to the top of the glass, leaving room for the optional Grand Marnier.
3. Add one tablespoon of Grand Marnier to each glass if desired.
Where Did the Mimosa Originate?
Back in the 1920s, it was a bartender at the Ritz Hotel in Paris who mixed equal parts juice and sparkling wine to create the first mimosa cocktail. Apparently, it's a twist on an earlier cocktail invented in London, Buck's Fizz, which contained a larger proportion of champagne.
What's the Difference Between Grand Marnier and Cointreau?
They are both orange liqueurs and either would be a tasty addition to a classic Mimosa, but a Grand Mimosa is typically made with Grand Marnier.
Grand Marnier is sweeter with vanilla undertones. Cointreau is smoother and has a more complex flavor since it's made with both sweet and bitter oranges.
You May Also Like:
The Recipe:
Mimosas Recipe
Prep Time 5 minutes
Total Time 5 minutes
Yield 1 serving
The Classic Mimosa with an optional shot of Grand Marnier
Ingredients
2 ounces freshly squeezed orange juice, I recommend Valencia oranges
2 ounces champagne, or another sparkling wine chilled, does not need to be a high-end brand
½ ounce Grand Marnier, optional
Instructions
Fill each glass about ½ full with freshly squeezed orange juice.
Add champagne almost to the top of the glass, leaving room for the optional Grand Marnier.
Add one tablespoon (½ ounce) of Grand Marnier to each glass if desired.
Do not stir as this will decrease the amount of fizz.
Garnish with fresh fruit.
Notes
Measurements need not be precise but use the above amounts to start and tweak to your liking.
There's no need to buy expensiive champagne. Any sparkling wine like Cava or Prosecco will be fine.
Use freshly squeeed orange juice for the tasiest mimosas. And don't forget some orange slices to garnish.
Recommended Products
As an Amazon Associate and member of other affiliate programs, I earn from qualifying purchases.
Nutrition Information:
Yield:
1
Serving Size:
1
Amount Per Serving:
Calories: 193
Total Fat: 0g
Saturated Fat: 0g
Trans Fat: 0g
Unsaturated Fat: 0g
Cholesterol: 0mg
Sodium: 8mg
Carbohydrates: 27g
Fiber: 3g
Sugar: 18g
Protein: 2g
Note: This post may contain affiliate links; view
my Disclosure Policy
for details. I earn a small percentage from any purchase you make by clicking on these links at no extra cost to you.