Peach Bellini Cocktail
A Peach Bellini Cocktail is the perfect brunch cocktail, made with fresh peaches, peach schnapps, and of course, champagne. You have got to try this easy cocktail recipe!
Use fresh or frozen peaches to create a refreshing Bellini Recipe and sip on them all summer long.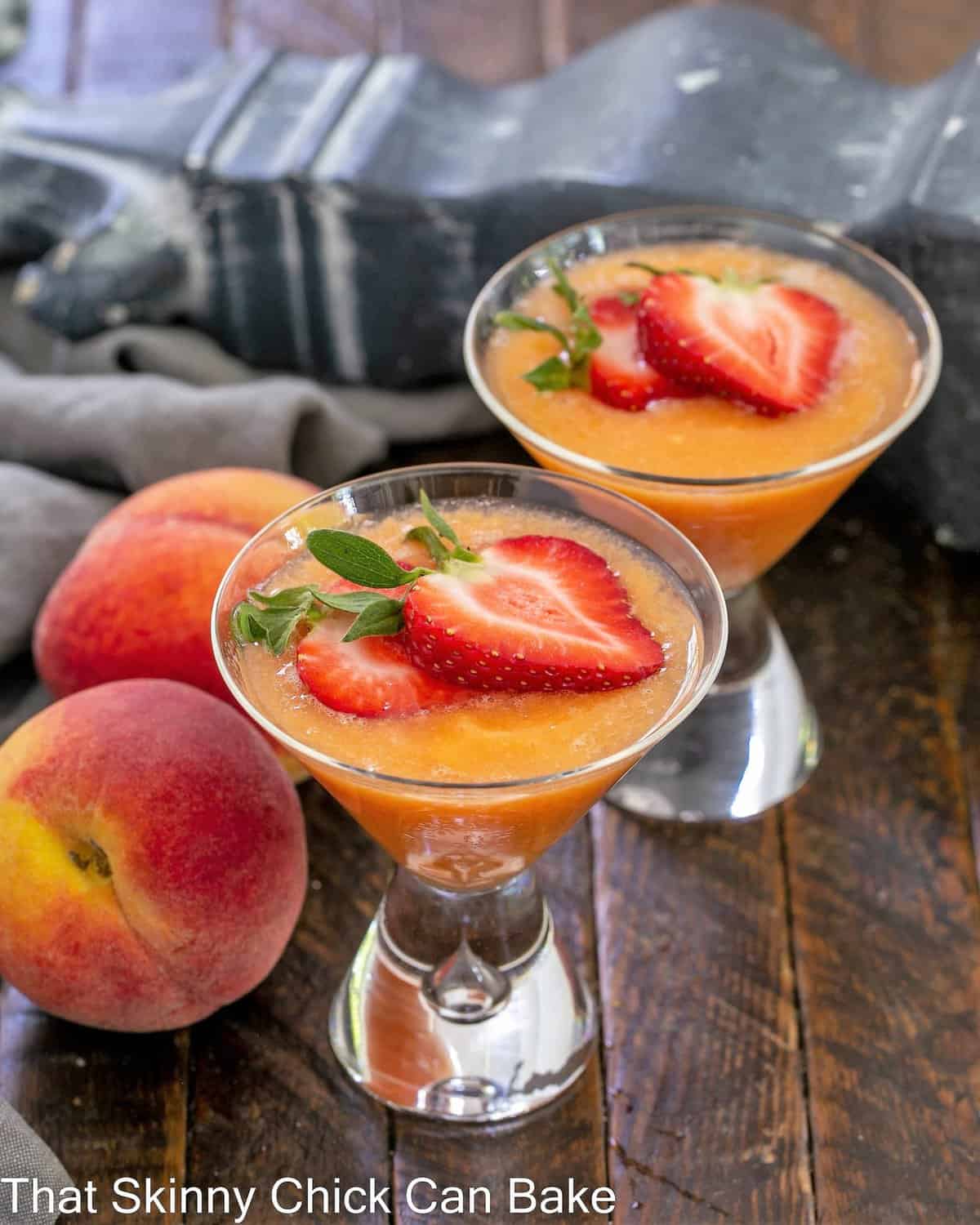 Why You'll Love
Frozen cocktails are ideal for summer sipping.
These are especially exquisite when peaches are in season.
If you're making an Italian meal for company, these frozen peach bellinis are ideal for cocktail hour!
How to Make
Purchase the best quality peaches available. Local fresh peaches in the summer are ideal, but not always available.
To make the best frozen bellinis, you may want to slice and freeze your peaches at least a few hours before mixing.
Place all the ingredients, including the ice, into your blender. Puree until slushy.
Garnish with a peach wedge, pomegranate arils, ripe fresh raspberries, or strawberry slices.
Serve immediately.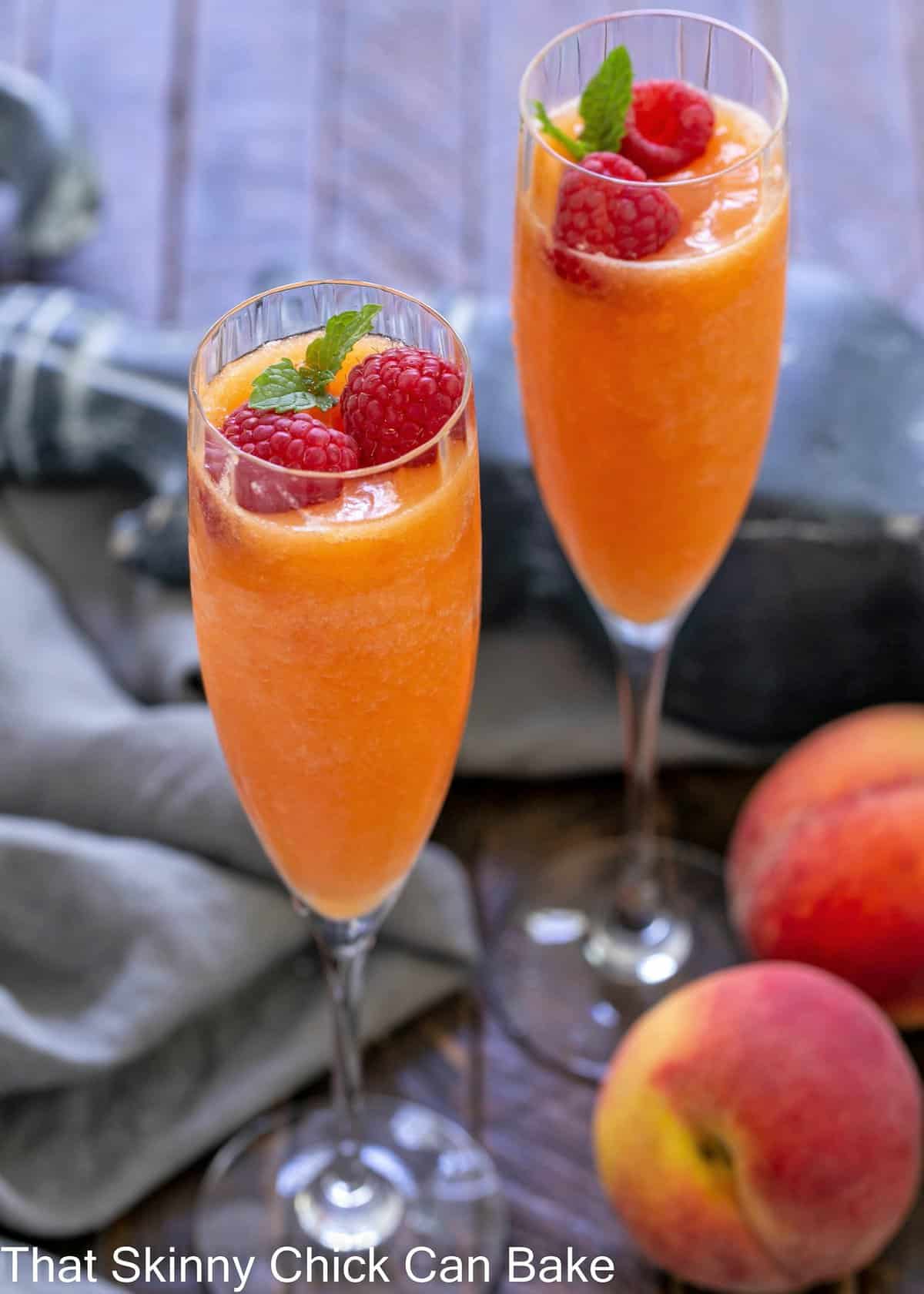 Expert Tips
PRO-Tip: Use the ripest, most flavorful fresh peaches for the tastiest results.
When peaches are out of season, frozen or even canned peaches are a great alternative. They are usually packaged at the peak of ripeness. Rinse the peaches before using them if they're canned in heavy syrup.
PRO-Tip: Classically made with Italian Prosecco, Champagne or Cava are other sparkling wine alternatives that will work well as a substitute.
Add grenadine, a pomegranate syrup, to maximize the look of a Bellini painting sunrise.
If you don't have Grenadine, you can add raspberry syrup, pomegranate juice, cranberry juice cocktail, or a scant drop of red food coloring instead.
Taste your peaches as you may want to add extra simple syrup if they're not very sweet.
Frequently Asked Questions
What Is a Bellini Made Of?
The original Bellini Ingredients included Peach Puree or Nectar and Prosecco. Peach Schnapps, Simple Syrup, and a splash of Grenadine for color are also popular additions.
What is the Difference Between a Bellini and a Mimosa?
The classic Bellini is made with peach juice or puree and Prosecco which reflects its Italian origin, and Mimosas are made with orange juice and champagne.
Why Is This Cocktail called a Bellini?
This classic Venetian cocktail was created at the famous Harry's Bar in the late 1940s. The colors of the bellini reminded the creator of the sunset colors found in paintings by the artist, Giovani Bellini.
What is Sour Mix?
Sour Mix is a popular cocktail ingredient made with lemon juice, lime juice, sugar, and water. In a pinch, you can purchase bottled sour mix, but homemade with fresh citrus juice taste so much better.
What is Grenadine?
Grenadine is a red-colored, non-alcoholic syrup made from pomegranates that is used in cocktails.
You May Also Like: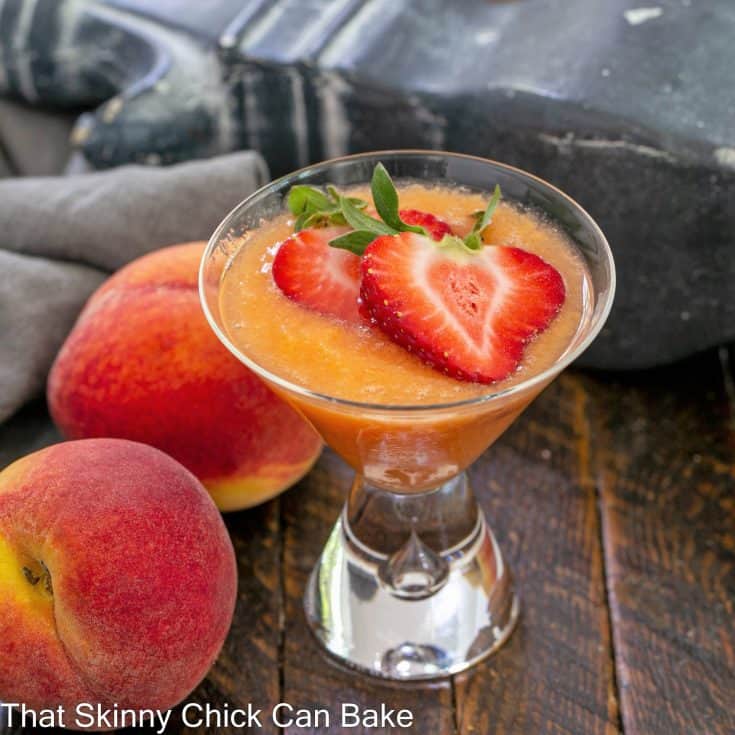 The Recipe:
Peach Bellini Cocktail Recipe
Prep Time 5 minutes
Total Time 5 minutes
Yield 1 serving
A classic Italian cocktail made with peaches and champagne. Recipe courtesy of Dole.
Ingredients
3 ounces Frozen Peach Slices, partially thawed
¾ ounces peach schnapps
4 ounces (½ cup) champagne or Prosecco
1 ounces fresh sour* see link to recipe below
½ ounces grenadine syrup
½ ounce simple syrup (equal parts sugar and water, cooked till sugar dissolves, then cooled)
¾ cup ice cubes
Instructions
Combine peaches, schnapps, champagne, fresh sour, grenadine, simple syrup, and ice in a blender container.
Cover; blend until smooth.
Pour into glass. Garnish with a peach or strawberry slice.
Notes
You can buy sour mix where liquor is sold or use
this recipe
from Serious Eats.
Recommended Products
As an Amazon Associate and member of other affiliate programs, I earn from qualifying purchases.
Nutrition Information:
Yield:
1
Serving Size:
1 glass
Amount Per Serving:
Calories: 134
Total Fat: 0g
Saturated Fat: 0g
Trans Fat: 0g
Unsaturated Fat: 0g
Cholesterol: 0mg
Sodium: 6mg
Carbohydrates: 29g
Fiber: 1g
Sugar: 26g
Protein: 1g
I fell hard with my first sip of a Peach Bellini Cocktail. Sitting in picturesque Piazza San Marco, we toasted to the beauty of Italy with some dear friends from Indianapolis who also happened to be in Venice. It wasn't just the magical locale that made them taste so amazing, it was the fresh Italian peach puree mixed with bubbly that won me over.
We nabbed the first table we spotted in the busy tourist destination. A tall, "professional" waiter, as he dubbed himself, took our order as a band played in the background setting the mood. A silver tray with chips and olives arrived along with our beverages. I had a feeling this would cost us a pretty penny—and it did. Bill still jokes about it to this day. We could have gotten 4 steak dinners at home for the price of our afternoon cocktails. But what the heck. We were on a once-in-a-lifetime trip with our family. And I still remember those bellinis.

Photo circa 2015
Note: This post may contain affiliate links; view
my Disclosure Policy
for details. I earn a small percentage from any purchase you make by clicking on these links at no extra cost to you.