How to Arrange a Simple Cheese Tray
Learning how to arrange a simple cheese tray is a life skill that will help you entertain for years to come!
How to Arrange a Simple Cheese Tray
When entertaining, a cheese tray is one of the simplest appetizers you can serve. But it takes more than slapping a rectangle of Velveeta and sleeve of Ritz on a plate. With a little finesse, you can take some basic supermarket finds to create a delicious, enticing cheese board. Below are a few hints on How to Arrange a Simple Cheese Tray.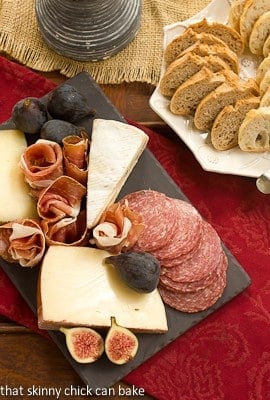 Necessities for Your Cheese Tray
Here's what you need:
A wooden board or tray, ceramic plate or other attactive serving dish (I used this rectangular "slate" platter from Sur la Table).
Cheeses…at least 2, but 3 or more if serving a crowd. Vary tastes and textures. Use a couple cow's milk cheeses and add a goat's or sheep's milk cheese. I like to include a soft buttery cheese like Brie, Camembert or Cambozola (which is a combination of a triple creme cheese and Gorgonzola), a blue (if not using a Cambozola), and a firm mild cheese, like cheddar, fontina (ones my hubby will eat) on each cheese tray.
Cheese knives…use one for each cheese if available
Something sweet…I used fresh figs on this tray, but fresh fruits like apple or pear slices or dried fruits also work well with cheeses. Quince paste is a more unusual addition…it works well with Manchego.
Nuts add a nice crunch…use your favorites
Crackers or toasts
More Tips:
Make sure to bring your cheeses to room temperature before serving. Taking the cheeses out of the fridge an hour or two before serving will bring them to the proper temperature. I arrange the cheeses on the board first, then fill in the empty spaces with piles of fruits, nuts or even meats. For this party, I wanted more of an antipasto platter and used Prosciutto, Genoa salami, Cambozola, Manchego and Fontina. Roasted red peppers with a drizzle of balsamic and extra virgin olive oil plus a bowl of Mediterranean olives completed this appetizer offering.
I hope this has given you some ideas or inspiration. What combination of cheeses is your favorite when entertaining?
Note: This post may contain affiliate links; view
my Disclosure Policy
for details. I earn a small percentage from any purchase you make by clicking on these links at no extra cost to you.