Pomegranate Cosmopolitan Cocktail
A smooth, sippable Pomegranate Cosmopolitan Cocktail is a twist on the now classic cocktail and a delicious signature cocktail for the holidays. Their vibrant red color paired with a green lime twist will dazzle your guests, making you the host or hostess with the mostess! Made famous by Sex in the City in the late 1990s, the cosmo has stood the test of time.
This Cosmopolitan Recipe has the classic ingredients of vodka, orange liqueur, cranberry juice, and lime juice, plus the addition of pomegranate juice. Perfect for a girls' night out or any holiday entertaining!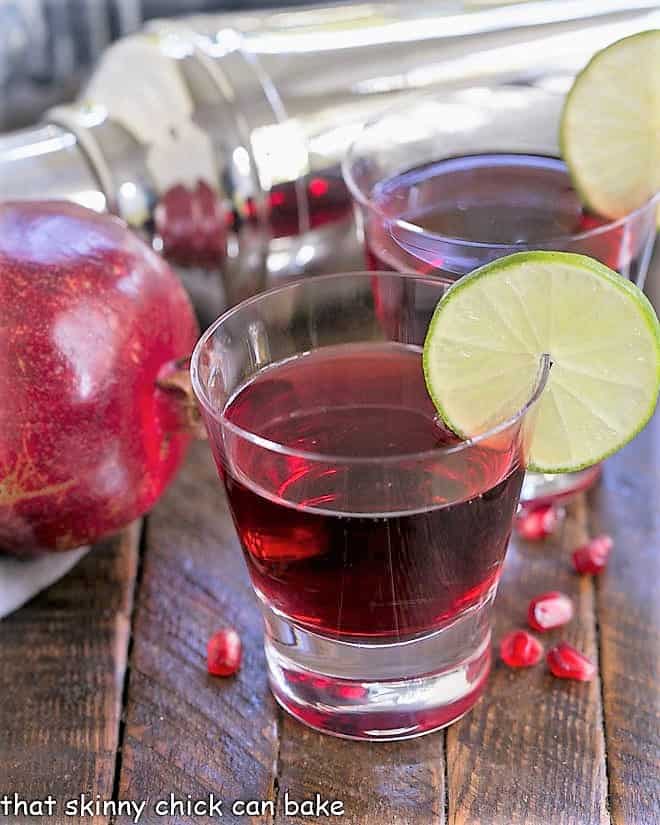 Pomegranate Cosmopolitan Cocktail
When entertaining, it's nice to have a signature cocktail that varies with the season or event. When pomegranates start appearing in the market, a cocktail with pomegranate juice seems apropos.
With cocktail recipes, the proportion of ingredients is key to its success. The perfect balance of sweet, sour, and bitter is vital. So I took Ina Garten's cosmopolitan recipe gave it a wee twist.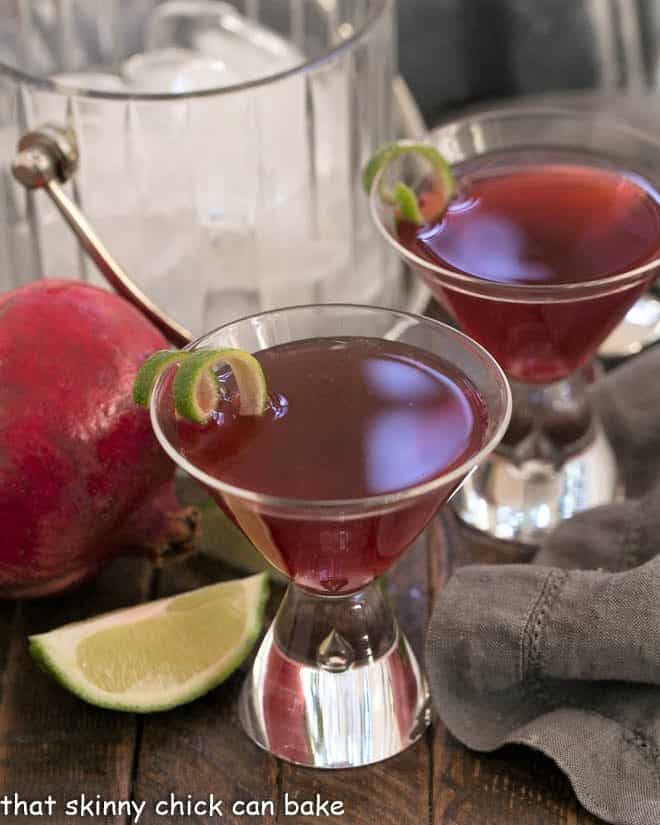 Cosmopolitan Recipe with Pomegranate Juice
Although not the traditional girly pink cosmo, I love the rich hue from the addition of pomegranate juice. If the pomegranates were not so sad in the markets, I would have added some ruby red pomegranate arils to this cosmopolitan recipe, too. Besides the usual cranberry juice, a deep red pomegranate juice added a magical holiday look to this cocktail, making it perfect for sipping on Christmas night or New Year's Eve!
Who Made The First Cosmopolitan?
There were cocktails similar to the Cosmo, like the Daisy, but the official invention of the Cosmopolitan Cocktail was in 1987. First mixed by bartender Toby Cecchini at the Odeon in Manhattan's Tribeca neighborhood, it was the TV show Sex in the City that made the cosmopolitan famous.
What is in a Cosmopolitan Recipe?
The classic cosmopolitan is made with vodka, Cointreau, cranberry juice and fresh lime juice. Many recipes call for Citron vodka, to double up on the citrus undertones. My version has the addition of pomegranate juice for an autumnal flair. Plus, I substituted Grand Marnier, another orange liqueur, for Triple Sec.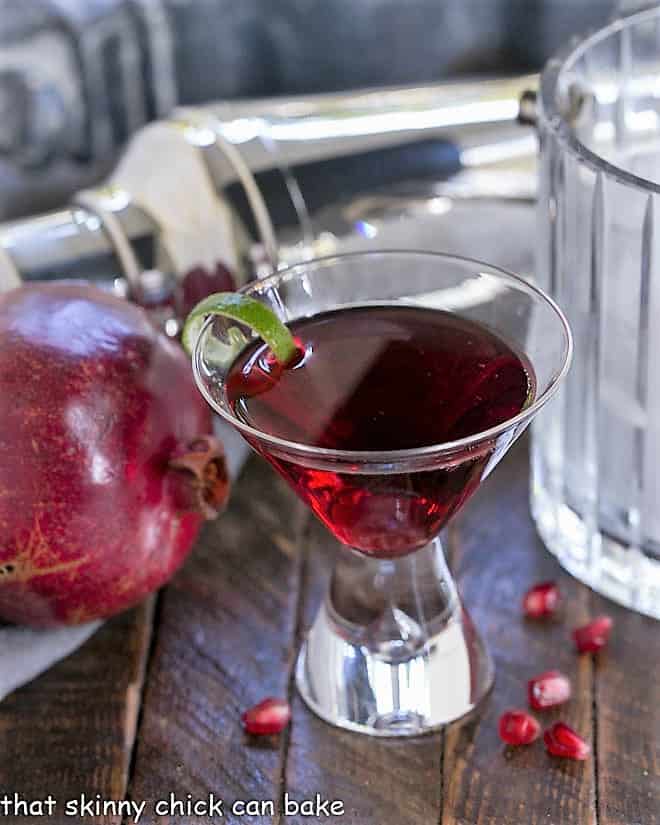 What is Triple Sec?
Triple Sec is one of a number of orange liqueurs. Originally called Curaçao triple sec, it is a sweet, colorless orange-flavored liqueur. It's used in cocktails like the Cosmopolitan as well as margaritas and Long Island ice tea.
How Do You Serve a Cosmopolitan Cocktail?
Though a cosmo is not a martini (the latter officially made of gin or vodka, vermouth, and an olive or lemon twist), it's still served in a martini glass. A cosmopolitan should be ice cold, so often it's served with crushed ice. Other purists disagree and demand a true cosmo be without ice!
How Do You Make a Lime Twist?
I've tried many methods but found it was easiest to make lime twists by hand instead of using a tool. First, peel the lime like you would an orange. Cut the peel into a few large pieces, aiming to have the ability to slice some long strips. Slice the sections into narrow strips, then carefully remove some of the pith, or white lining of the peel. This will make the strips easier to curl. Next, roll up the strips into tight coils. When released, the coils will make nice lime twists.
So if you're entertaining this fall and winter, this pomegranate cosmopolitan cocktail is a must for your party! They are potent, so serve responsively along with plenty of delicious appetizers and snack recipes!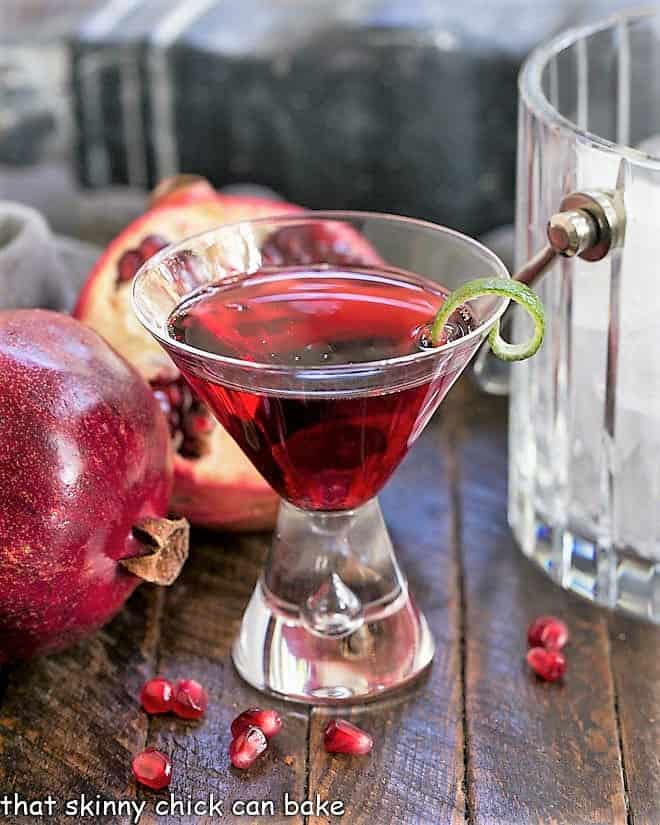 More Cocktail Recipes You'll Love:
You'll Also Love These Bar Snacks:
Add to Your Shopping List:
Vodka or Citron Vodka, good quality required
Orange liqueur, Cointreau standard but Grand Marnier is my preference
Cranberry Juice Cocktail, I use Ocean Spray, pure cranberry juice is too tart
Pomegranate Juice, I use Pom Wonderful
Fresh lime juice, plus a lime slices or twists to garnish
Welcome to Progressive Eats, our virtual version of a Progressive Dinner Party. This month's theme is Everything Pomegranate — from pomegranate juice to molasses to fresh arils straight from the fruit. Our host this month is Beth Lee who blogs at OMG! Yummy.
If you're unfamiliar with the concept, a progressive dinner involves going from house to house, enjoying a different course at each location. With Progressive Eats it's a virtual party. We choose a theme each month, members share recipes suitable for a delicious meal or party, and you can hop from blog to blog to check them out. Come along and see all of the deliciousness we've put together for our celebration inspired dishes!
A Pomegranate Party
Cocktails
Appetizers
Salad
Main Courses
Sides
Desserts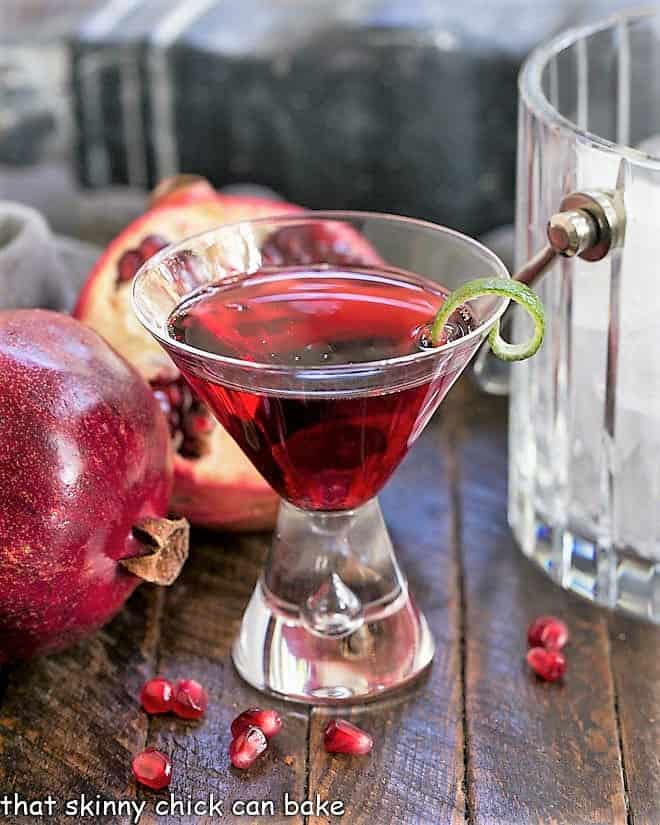 The Recipe:
Pomegranate Cosmopolitan Cocktail Recipe
Prep Time 5 minutes
Total Time 5 minutes
Yield 4 cocktails
A twist on the classic Cosmos with the addition of pomegranate juice.
Ingredients
1 cup good quality vodka
1/2 cup orange liqueur, I used Grand Marnier, but Cointreau is the standard
1/2 cup cranberry juice cocktail
1/4 cup pomegranate juice, I used Pom Wonderful
1/2 cup fresh lime juice
Sliced limes or lime twists to garnish
Instructions
In a pitcher, mix together all ingredients except garnishes. Fill cocktail shaker with ice, add the cocktail mixture and shake until the cocktail is well chilled, about 30 seconds.
Pour into glasses and garnish with a lime slice or twist.
Notes
Very slightly adapted from Ina Garten.
Fresh lime juice makes a tastier cocktail than bottled.
Nutrition Information:
Yield:
4
Serving Size:
1 glass
Amount Per Serving:
Calories: 292
Total Fat: 0g
Saturated Fat: 0g
Trans Fat: 0g
Unsaturated Fat: 0g
Cholesterol: 0mg
Sodium: 4mg
Carbohydrates: 22g
Fiber: 1g
Sugar: 17g
Protein: 0g
Note: This post may contain affiliate links; view
my Disclosure Policy
for details. I earn a small percentage from any purchase you make by clicking on these links at no extra cost to you.