Grilled Margarita Shrimp
A marinade flavored with tequila, lime, garlic and more, transformed ordinary shrimp into zesty, delectable Margarita Shrimp! This Grilled Shrimp Recipe is out of this world and is guaranteed to become a favorite with your family!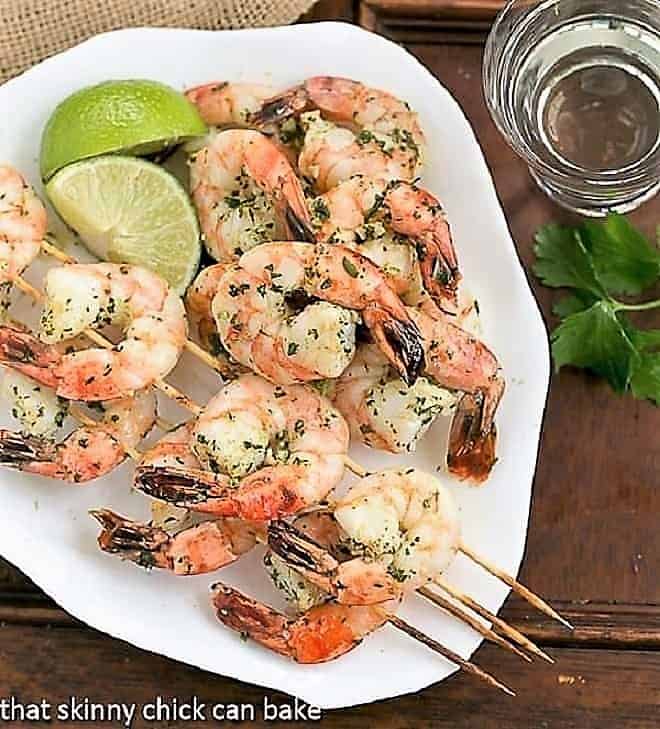 Grilled Margarita Shrimp
Did you all know today is National Margarita Day? I can barely keep track of what day of the week it is, let alone if it's a foodie holiday. Well, without my foodie friends, I wouldn't have either. My friend, Heather, of girlichef, has organized a group of bloggers to share margarita recipes. Now margaritas just happen to be my favorite cocktail, but Bill is in the hospital recovering from a heart valve replacement. Much as I'd like to liquor up with a gargantuan slushy margarita, I decided a light, zesty Grilled Shrimp Recipe was a better alternative.

How to Grill Shrimp
It only takes an extra minute on the grill and shrimp goes from tender and succulent, to tough and rubbery. And since a grill is often way hotter than your oven, it can happen in the blink of an eye! So here are a few tips on how to grill shrimp perfectly!
Start with the freshest shrimp available. Purchase on the day you plan to grill it. If you buy frozen, defrost it on the day you're going to eat it.
Buy extra-large shrimp for the best results. Small shrimp will cook way too fast on the grill and getting them off in a timely manner is more difficult.
Marinate about 30 minutes to an hour. When there is citrus in the marinade, the shrimp will start to deteriorate from the acid more quickly than sturdier protein sources like beef or pork.
Grill over direct, medium heat, about 350-450º. The internal temperature of shrimp should reach 120º, but chances are you won't have time to check! Just watch for visual cues.
Shrimp cook quickly, so watch for a color change and for the shrimp to curl into a C shape. If the C shape gets "too" tight, the shrimp is overcooked. PRO-Tip: Do a trial run with one or two shrimp to see how long it takes for them to cook and make a note of the time.
PRO-Tip: Soak your wooden skewers in water for an hour or so before grilling so they don't burn.
PRO-Tip: Use TWO skewers to stabilize the shrimp making them easier to flip. Check the photo above for details.
Simple, Flavorful Margarita Shrimp!
This uber-simple recipe made for tender and flavorful shrimp. The grilled shrimp marinade with the classic margarita flavors of lime, tequila and triple sec was also given a flavor boost from garlic, cilantro, and honey. The shrimp bathed in this flavorsome marinade for just a half-hour then basked under the heat of the broiler till pink. These Margarita Shrimp are pure deliciousness. Here are a few more margarita inspired recipes: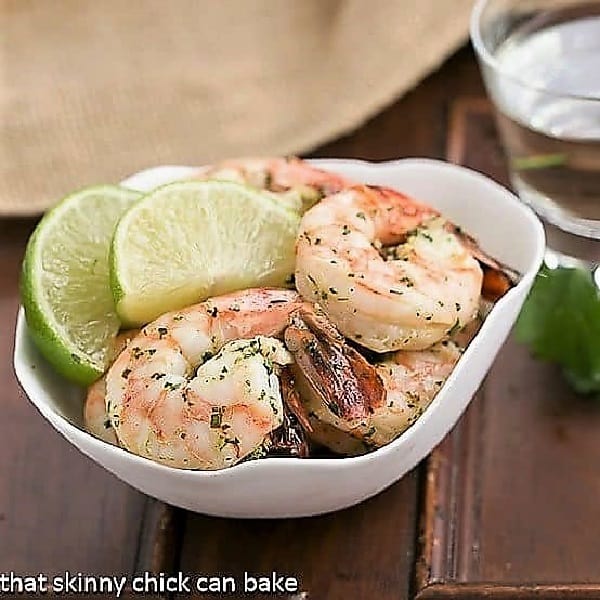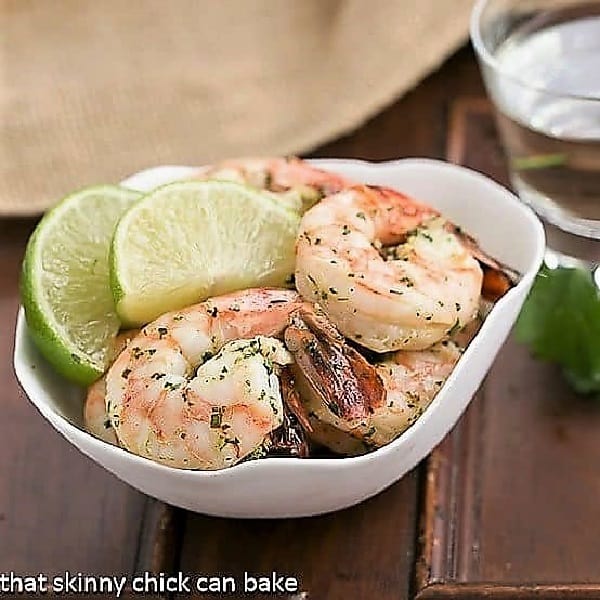 The Recipe:
Margarita Shrimp
Prep Time 30 minutes
Cook Time 5 minutes
Total Time 35 minutes
Yield 3 servings
Succulent marinated broiled shrimp inspired by the margarita cocktail!
Ingredients
1 pound large or jumbo shrimp, peeled and deveined with tails left on
2 cloves garlic, minced
1/2 teaspoon lime zest
2 tablespoons lime juice
3 tablespoons olive oil
1 1/2 teaspoons honey
2 teaspoons tequila
1 teaspoon triple sec
2 tablespoons minced cilantro
1/2 teaspoon kosher salt
Freshly ground black pepper
Instructions
Soak about 10 long wooden skewers in water while you prepare the shrimp.
Whisk together all ingredients in a medium bowl except shrimp. Add shrimp and gently toss to coat shrimp. Marinate in refrigerator for 30 minutes, gently stirring a couple of times.
Skewer shrimp onto two parallel skewers and place on a rack over a baking sheet or a broiler pan.
Preheat broiler and broil about 6 inches away from element for 3-5 minutes or until cooked through (time depends on the size of shrimp), turning at halfway point. Or grill if desired which may take even less time!
Serve warm.
Total time: 45 minutes
Nutrition Information:
Yield:
3
Serving Size:
1
Amount Per Serving:
Calories: 327
Total Fat: 16g
Saturated Fat: 3g
Trans Fat: 0g
Unsaturated Fat: 13g
Cholesterol: 319mg
Sodium: 1786mg
Carbohydrates: 8g
Fiber: 0g
Sugar: 4g
Protein: 35g
Note: This post may contain affiliate links; view
my Disclosure Policy
for details. I earn a small percentage from any purchase you make by clicking on these links at no extra cost to you.