French Garbure Stew
French Garbure Stew: A hearty chicken and vegetable peasant soup fortified with white beans and sausage for some magnificent comfort food!
This Bean Soup Recipe was a perfect meal on a chilly night. Layer after layer of flavor makes for a delicious entree.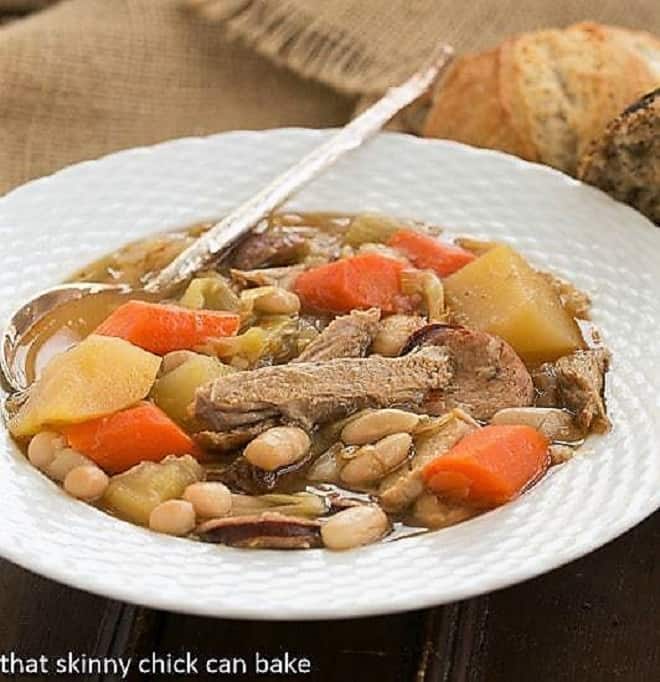 Why You Should Make this French Stew
Have you ever heard of a French garbure stew? Until we picked out February's French Fridays with Dorie recipes, neither had I. Turns out it's a peasant soup or stew hailing from Gascony in southwest France.
Typically made with a ham bone, Dorie gave us the option of using pork shoulder which worked wonderfully. I added the optional garlic sausage, but not the duck leg, plus a boatload of veggies and beans. It's a very versatile recipe.
Your kitchen will smell amazing as this savory French Bean Soup simmers away.
All that's needed to round out your meal is some crusty bread. And leftovers taste even better!!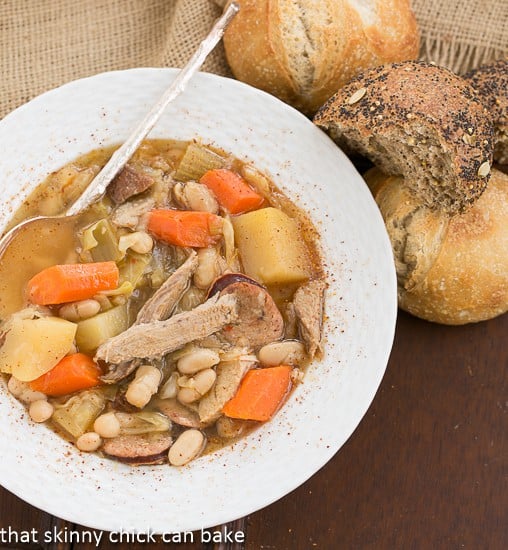 Hearty French Soup or Stew
Bill came home from work and walked straight to the kitchen, following the enticing aroma of this French garbure stew. "This looks like my kind of soup," he volunteered. And I agreed. I didn't mention the turnips as he dug in, and neither did he. Not that this enables me to add them to the foods he will now eat, but it was a small victory.
I used some Smoked Linguica Sausage from Whole Foods which just reinforced the spice and garlic flavors in this incredible stew. The onions, garlic, leeks, and shallots along with pork, sausage, a plethora of veggies, cannellini beans, and broth can all be purchased at the supermarket, and ensure that anyone can add to this French Bean Soup Recipe to their menu.
Frequently Asked Questions
What is Garbure?
Garbure, pronounced gar-BOOR, is a French vegetable and meat soup. It's thick enough to be called a stew. Most versions are made with cabbage, beans, bits of pork or bacon, or preserved duck or goose.
Where Did Garbure Originate?
This Soup comes from Southwest France along the Spanish border known as the Basque region. This French wine region is also known as Gascony.
What Should You Serve with Garbure?
Anything you enjoy with an American soup would be delicious with garbure. Bread, rolls, and crackers are perfect along with a green salad.
More Stew Recipes You'll Love:
The recipe can be found in Around My French Table by Dorie Greenspan. Bill and I both gave this rustic peasant food high praise. If you need some hearty comfort food, this garbure recipe will not disappoint.
Stay in touch through social media @ Instagram, Facebook, and Pinterest. Don't forget to tag me when you try one of my recipes! And if you love the results, please give it a 5-star rating in the recipe card. Note: As an Amazon Associate, I earn from qualifying purchases. Visit my Amazon Store for my favorite products.
The Recipe:
French Garbure Stew
Prep Time 20 minutes
Cook Time 2 hours 50 minutes
Total Time 3 hours 10 minutes
Yield 6 servings
A hearty French Stew with sausage, beans and loads of vegetables.
Ingredients
½ cup cannellini beans
2 bacon slices, cut into small pieces
1 medium-sized Spanish onion, cut into 8 wedges
2 garlic cloves, crushed
1 leek, white and light green parts only, split lengthwise, washed and cut into 1-inch long pieces
4 green onions, thinly sliced
2 bay leaves
1 teaspoon dried thyme
1 teaspoon dried savory
6 cups chicken broth (or 6 cups water + 3 chicken bouillon cubes )
2 medium-sized carrots, trimmed, peeled, quartered lengthwise and cut into 1-inch long pieces
2 stalks of celery, trimmed and cut into 1 inch long pieces
1 medium-sized turnip, peeled and diced
1 medium-sized potato, peeled and diced
⅓ medium-sized green cabbage, cored, outer leaves removed, shredded
2 chicken legs, deskinned
1 ½ teaspoons garlic salt
1 teaspoon white pepper
½ teaspoon crushed red pepper
2 pork sausages, cooked and cut into ½-inch slices (I used Smoked Linguica Sausage)
Instructions
Rinse the beans, cover with few inches of water, bring it to a boil and boil for 1 minute. Turn off the heat, cover and set aside for 1 hour or refrigerate overnight.
When ready to cook, drain off the beans, rinse and keep aside. Dutch oven pot over medium-low heat.
Add the pieces of bacon to a Dutch oven or large soup pot. Turning them often, cook the bacon bits until they are browned and crispy. Then transfer the bacon bits into a bowl, leaving the fat in the pot for cooking.
Keeping the heat at medium-low, add the Spanish and green onions, garlic, leek, the bay leaves and the herbs, stir and mix so that the veggies are are well coated with the fat and herbs. Cover and stir frequently, cooking until the vegetables become soft and translucent, about 10 minutes.
Pour the broth or water and bouillon cubes into the pot, add the carrots, celery, turnip, potato and cabbage as well as the reserved cannellini beans, the chicken legs and half of the cooked bacon bits.
Bring the pot of vegetables and meat to a boil, then reduce the heat to a gentle simmer.
Partially cover the pot, and simmer for one hour, stirring occasionally.
After an hour, remove the chicken legs. Using two forks, remove the meat from bones, discard the bones and put the meat back into the simmering pot of stew.
Stir in the garlic salt, white pepper and crushed red pepper and simmer the stew for another 45 minutes.
Add the sliced sausage and stirring occasionally simmer for the final 45 minutes.
Check the seasonings, add more salt and pepper if needed, then turn off the heat and ladle it into the serving bowls.
Notes
For a meatier version, brown a 2-3 pound pork shoulder along with the bacon. Remove and add back to with the broth or water. Shred before serving.
Nutrition Information:
Yield:
6
Serving Size:
1
Amount Per Serving:
Calories: 300
Total Fat: 12g
Saturated Fat: 3g
Trans Fat: 0g
Unsaturated Fat: 7g
Cholesterol: 125mg
Sodium: 1564mg
Carbohydrates: 20g
Fiber: 4g
Sugar: 5g
Protein: 28g
Note: This post may contain affiliate links; view
my Disclosure Policy
for details. I earn a small percentage from any purchase you make by clicking on these links at no extra cost to you.