French Garbure Stew:  A  hearty pork and vegetable peasant soup fortified with white beans and sausage for some magnificent comfort food!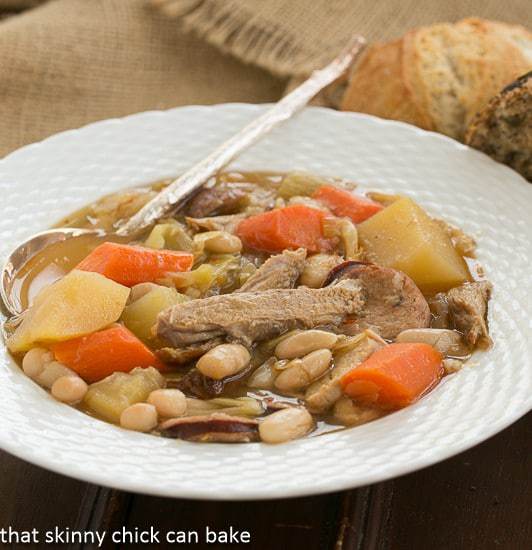 French Garbure Stew
Have you ever heard of garbure? Until we picked out February's French Fridays with Dorie recipes, neither had I. Turns out it's a peasant soup or stew hailing from Gascony in southwest France. Typically made with a ham bone, Dorie gave us the option of using pork shoulder which worked wonderfully. I added the optional garlic sausage, but not the duck leg, plus a boatload of veggies and beans and let this savory French garbure stew simmer away.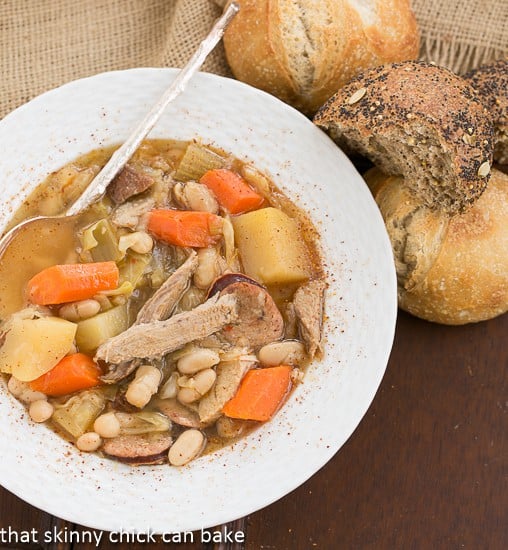 A Hearty Stew with Supermarket Ingredients!
Bill came home from work and walked straight to the kitchen, following the enticing aroma of this French garbure stew. "This looks like my kind of soup," he volunteered. And I agreed. I didn't mention the turnips as he dug in, and neither did he. Not this enables me to add them to the foods he will now eat, but it was a small victory. I used some Smoked Linguica Sausage from Whole Foods which just reinforced the spice and garlic flavors in this incredible stew. The onions, garlic, leeks and shallots along with pork, sausage, a plethora of veggies, canellini beans and broth can all be purchased at the supermarket, and ensure that anyone can add to this dish to their menu.
The recipe can be seen here or found in Around My French Table by Dorie Greenspan. Bill and I both gave this rustic peasant food high praise…so if you need some hearty comfort food, this garbure will not disappoint.
Note: This post may contain affiliate links; view
my Disclosure Policy
for details. I earn a small percentage from any purchase you make by clicking on these links at no extra cost to you.