Glazed Salmon with Fruit Salsa
I served this Glazed Salmon with Fruit Salsa for Ash Wednesday to rave reviews from the picky hubby. Simple, easy, and elegant! Can't beat that!
Of course, the tropical fruit salsa wasn't part of the deal for him, but he adored this Orange Glazed Salmon.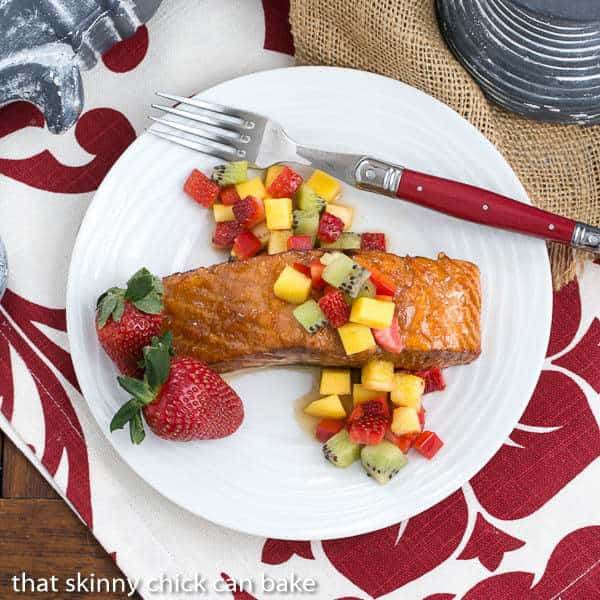 Why You Must Make
This recipe is from my foodie friend Kate. She said it was the first fresh salmon recipe her husband actually enjoyed.
Adding a fruit salsa isn't much work and makes a restaurant-worthy presentation.
The sweetness of this orange-glazed salmon was perfect for this fattier fish.
It was through serendipity that I've become friends with a lovely food blogger in town. I've mentioned Kate from the blog Kate's Kitchen before. Since meeting online, I've been to one of her fabulous parties, gone out to dinner with her and her hilarious hubby, run into her around town, and enjoyed cooking some of her fabulous recipes. She raved about this glazed salmon, and I'd been waiting for a rare rain-free evening this spring to fire up the grill and make her Glazed Salmon with Fruit Salsa.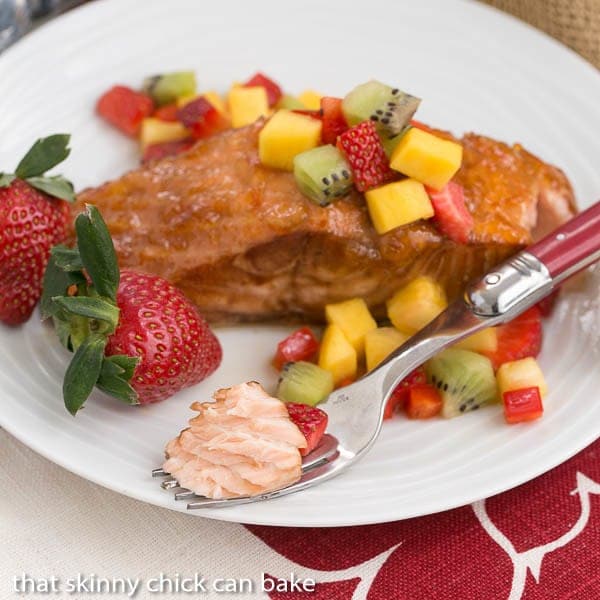 How to Make
This was an easy-peasy meal. A simple mixture of soy, Dijon and lemon juice was mixed for the marinade.
Once the salmon rested in the concoction for about a half hour, I removed it and glazed each slice with a scant tablespoon of orange marmalade.
I love grilling my seafood, but if the weather isn't cooperating, it's a snap to prepare in the oven, too.
The most complicated part of the salsa is the time it takes to chop all the components. Adjust the heat by scaling back the red pepper flakes if desired.
Hubby, Bill, thoroughly enjoyed this dish, but as predicted, he didn't even sample the salsa. That just left more for me! Tom was off to grill dinner at one of his friend's house, so he took a ziplock bag complete with marinade and fillet and made sure to ask me for the recipe. He knew his gal pals would ask about it. What a wonderful salmon recipe! Thanks, Kate. I'm looking forward to making this glazed salmon again and again.
Recipe Tips
You can roast, broil, or grill this salmon.
Marinate for at least 30 minutes to give the flavors a chance to infuse. Longer than 60 minutes can cause the salmon to get mushy due to the acid from the lemon juice.
Once you add the marmalade glaze, watch the fish carefully as the sugars can go from caramelized to burnt in less than a minute.
Use an instant-read thermometer to make sure to salmon is cooked to an internal temperature of 145 degrees, according to the FDA. If your salmon is from a reputable fishmonger, wild salmon can be pulled off the heat at 120 degrees according to Cook's Illustrated.
If possible, purchase your salmon on the day you plan to cook it. And buy the best salmon you can afford.
When selecting mangoes, look for ripe ones. They should be yellow or orange, not green.
Dice the fruit for the salsa in similar-sized cubes for the best presentation. If you don't find good mangoes, you can also use canteloupe instead.
You May Also Like: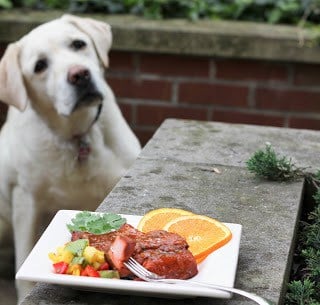 Lambeau, circa 2011.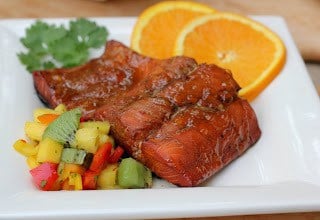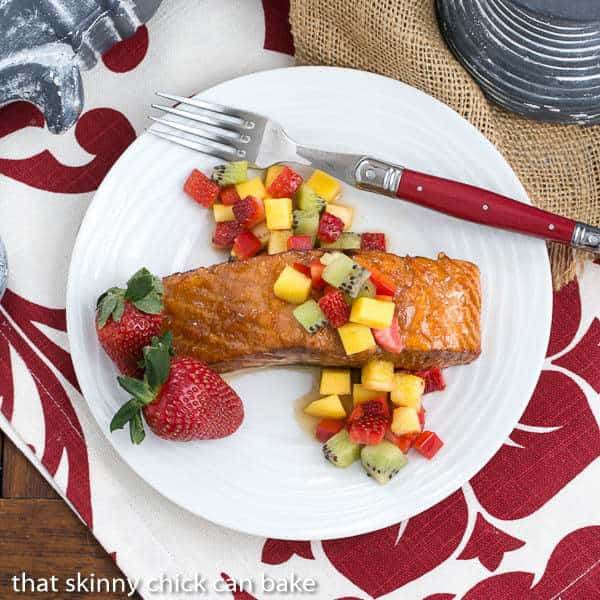 The Recipe:
Glazed Salmon with Fruit Salsa
Prep Time 20 minutes
Cook Time 12 minutes
Total Time 32 minutes
Yield 4 servings
Marinating and then grilling the salmon added delicious flavor. Plus the marmalade glaze and tropical fruit salsa were terrific additions.
Ingredients
For salmon:
3-4 8 ounce salmon fillets
½ cup soy
2 teaspoons Dijon mustard
1 tablespoon lemon juice
¼ cup orange marmalade
For salsa:
1 cup diced pineapple
1 kiwi, chopped
1 cup chopped mango
1 cup diced strawberries
¼-½ teaspoon crushed red pepper flakes
¾ cup diced red bell pepper
2 ½ tablespoons champagne vinegar
4 teaspoons sugar
Instructions
Mix soy, mustard, and lemon in a zip-lock bag. Add salmon and allow to marinate in the refrigerator for about 30 minutes.
While the salmon is marinating, prepare the grill.
Remove salmon from the marinade and top with marmalade. Grill over indirect heat to the desired doneness. Serve with Fruit Salsa.
If you'd like to cook in the oven, preheat to 450º and place salmon on a grill pan or in a cast-iron skillet. Cook for about 12 minutes (I use the 10 minutes per inch rule of thumb).
For salsa:
Combine ingredients, and refrigerate to allow flavors to meld. Serve at room temperature.
Notes
Recipes inspired by Kate Marvel via Simple and Delicious and Gourmet LA Cookbook.

Nutrition Information:
Yield:
4
Serving Size:
1
Amount Per Serving:
Calories: 614
Total Fat: 29g
Saturated Fat: 6g
Trans Fat: 0g
Unsaturated Fat: 20g
Cholesterol: 143mg
Sodium: 221mg
Carbohydrates: 37g
Fiber: 3g
Sugar: 31g
Protein: 52g
Note: This post may contain affiliate links; view
my Disclosure Policy
for details. I earn a small percentage from any purchase you make by clicking on these links at no extra cost to you.