Sea Bass en Papillote
I was treated to a delightful seafood lunch featuring a healthy, tasty Sea Bass en Papillote. With the Lenten season in full force, I knew I had to recreate this delicious dish at home.
Made with Barramundi Fish, this Asian Sea Bass Recipe is perfect for a tasty, healthy entree.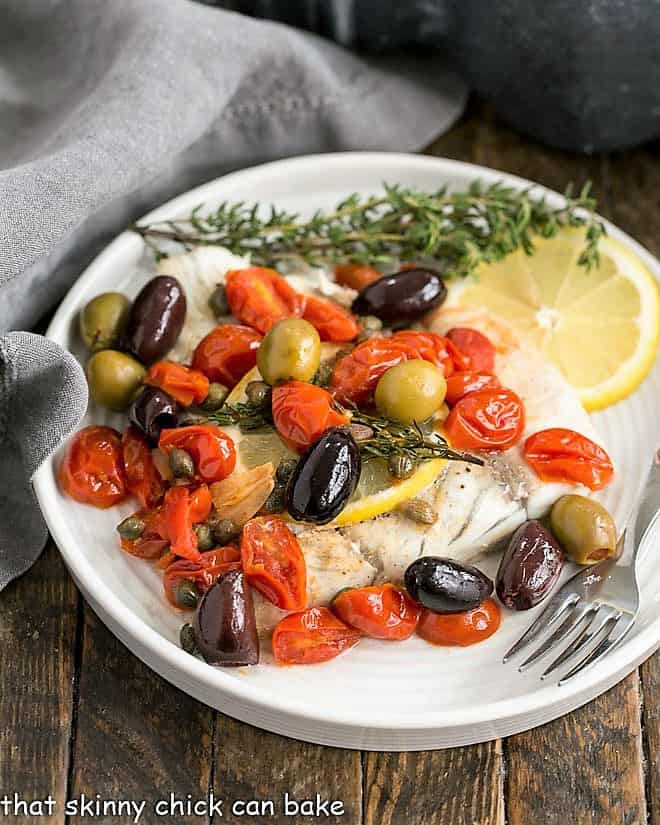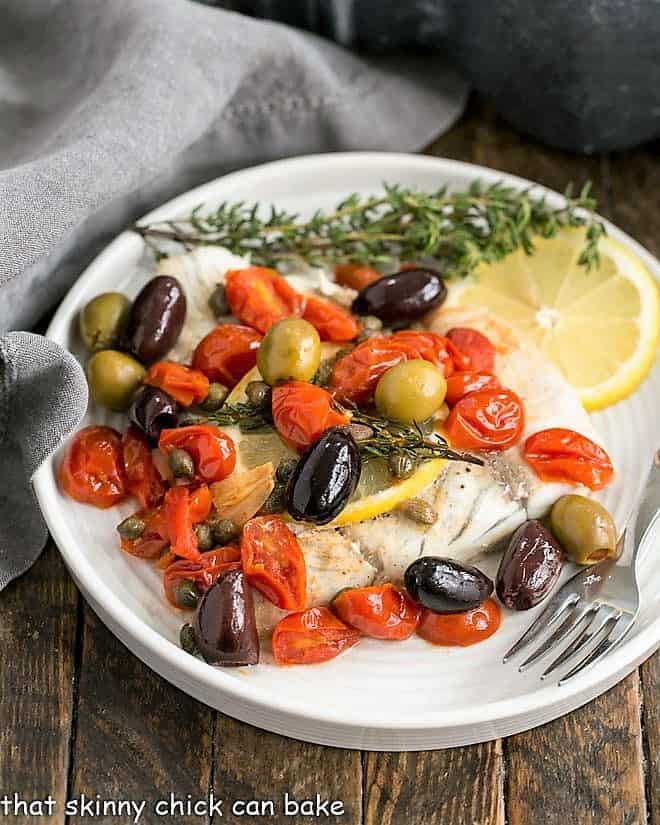 Sea Bass en Papillote
The big question was if the picky hubby would eat more than a courtesy bite. I'd be happy to finish his portion, of course, but my fingers were crossed. After years of cooking French recipes from Dorie Greenspan's cookbook, Around My French Table, I was quite comfortable cooking en papillote. And besides the questionable fish (at least for the one who questions any seafood that's not in a tuna casserole), the ingredients were straight forward. All classic Mediterranean foods. The whole process is quite easy, I promise.
Late Harvest Kitchen
This recipe is courtesy of Chef Ryan Nelson of Late Harvest Kitchen, one of our favorite local restaurants. He hosted a lunch along with the Seafood Nutrition Partnership and demonstrated how to cook seafood en papillote, which is cooking in a parchment envelope. Our first course was a salad of greens and tender salmon tossed in a Caesar dressing with a touch of tomato paste and hot sauce, then this lovely sea bass. We were pampered!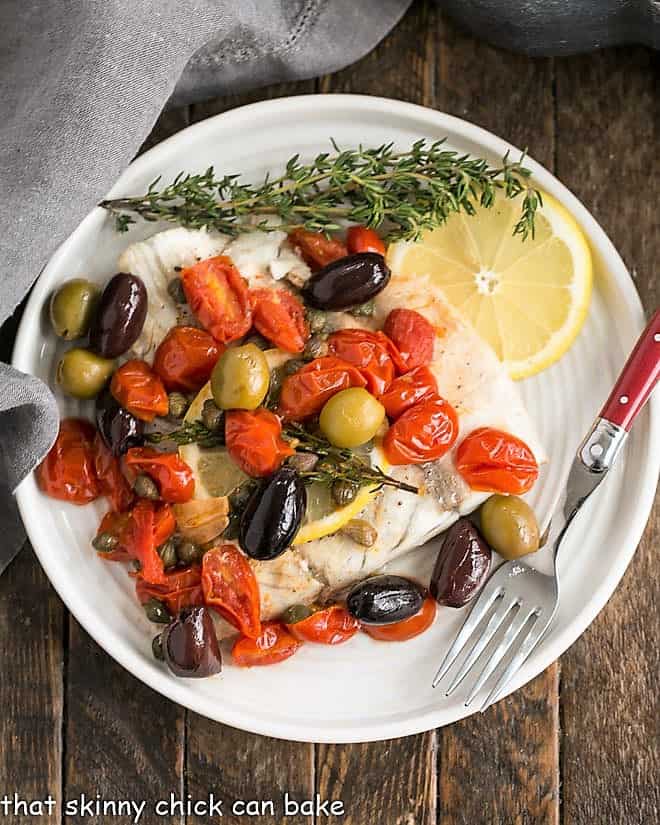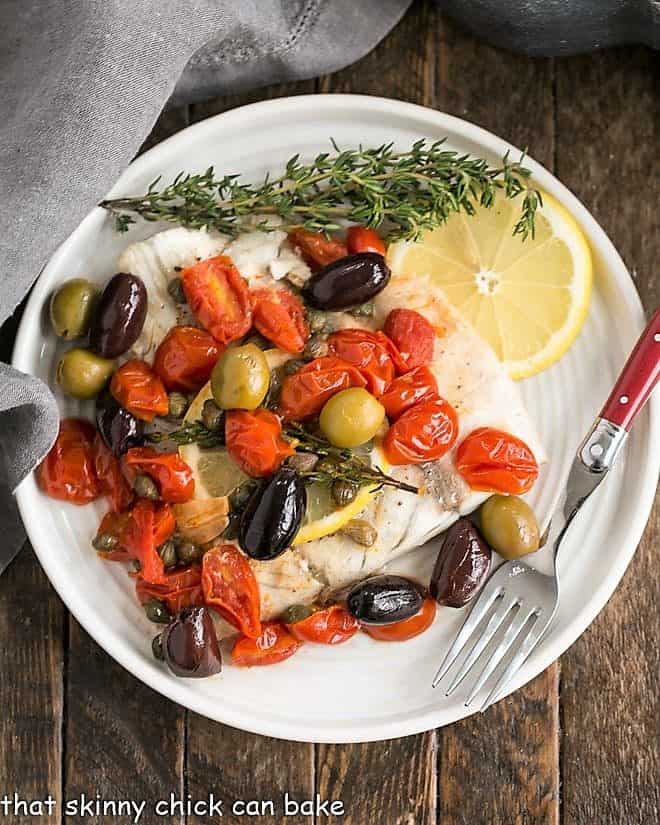 What Does en Papillote Mean?
Literally, papillote is the French term for the frilly paper used to decorate the rib bones on crown roasts, ends of lamb chops, etc. But the phrase en papillote refers to baking food inside a wrapping of parchment. Chef Ryan gave us some pre-made parchment envelopes that were slick to use. Otherwise, you can easily make a packet from a half sheet of parchment paper.
How Do You Seal a Papillote?
First, you need a piece of parchment paper large enough to fold over your ingredients with enough room left to fold over the edges. Place the fish and other ingredients on one half of the parchment and fold the other half over the top. Starting near one folded side, fold up a small section of the parchment, then work your way around, folding section after section, until the seafood is encased.
On occasion, Dorie Greenspan recipes instruct us to cook in foil as well as parchment, as it's easier to seal. If you're concerned about having foil touch your food, you can always wrap it in parchment first, then foil. You'll want to leave some room for the steam to expand, so you don't need to seal the packets up too tightly.
What is the Advantage of Cooking en Papillote?
There are many advantages to cooking en papillote. First is that cooking in a sealed packet helps keep the flavors in the dish as none of the steam can escape. Next, cleanup is simple since all the juices remain in the packet and little to none escapes to dirty the baking sheet.
And a third perk is that the presentation is unique and fun. There's nothing better than plating up all the parchment packages and having your guests slice them open to reveal a perfectly cooked entree.
How to Cook Sea Bass en Papillote
Since the ingredients inside the parchment basically steam while in the oven, the ingredients must be nicely seasoned as well as being flavorful themselves. This was the perfect recipe to showcase this French cooking method.
Season the Barramundi fillets, AKA Asian Sea Bass, generously with salt and pepper, then top with capers, olives, tomatoes, and garlic after a quick saute and deglazing with wine. So many delicious layers of flavor!
Next, place the fish in the bag, top with lemon slices and thyme, then half or a third of the topping. Fold over the open end of the bag tightly two or three times. It can be secured with a stapler or paper clips if the folds aren't secure.

Place the packets on a rimmed baking sheet and cook at 400º for about 12 minutes.
Generally seafood is cooked for about 10 minutes/inch of thickness.

The packets can be brought to the table on dinner plate, then slit with a knife to open (do this carefully to avoid getting blasted with hot steam). A fun production especially for dinner guests.
Use your favorite mild, white fish for this recipe like cod, halibut, branzino, flounder, talapia, perch grouper have all been offered as substitutes. The barramundi is quite thin, so you may need to adjust your baking times.
P.S. Bill, AKA, the picky hubby, loved this dish. I'm slowly making progress expanding his seafood repertoire! He loved this fish en papillote.
More Seafood Recipes You'll Love: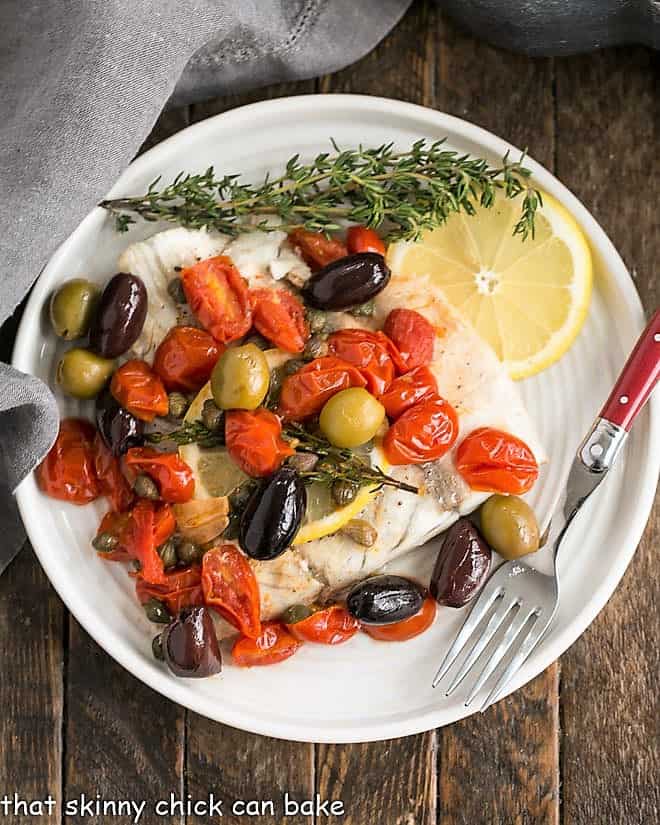 The Recipe:
Mediterranean Sea Bass en Papillote
Prep Time 10 minutes
Cook Time 17 minutes
Total Time 27 minutes
Yield 2-3 servings
Mediterranean Sea Bass cooked in parchment with tomatoes, olives, capers and more!
Ingredients
2 6-ounce sea bass fillets (I found frozen Barramundi at Whole Foods)
2 slices of lemon
2 sprigs of fresh thyme
1 tablespoon olive oil
2 tablespoons capers, drained and/or rinsed of salt if salt-cured
3/4 cup mixed, pitted olives (I used Kalamata and stuffed green olives)
2 cloves garlic, sliced thin
3/4 cup of grape tomatoes, cut in half
1/4 cup dry white wine
Salt and pepper to taste
Parchment or parchment bags
Instructions
Preheat oven to 400 degrees.
Season fillets well with salt and pepper and to with a slice of lemon and a sprig of fresh thyme. Insert into parchment bag.
In a saute pan, heat oil, then add capers, olives, garlic and tomatoes and cook a few minutes until tomatoes soften. Deglaze with white wine (may use chicken broth if desired).
With a spoon, top fish with tomato mixture, then fold over the open edges of the parchment bag, securing with a stapler or paper clips if needed.
Place on a rimmed baking sheet and bake for 10-12 minutes. Place packets on dinner plates and carefully tear or slice open to serve.
Notes
There is definitely enough topping to make 3 servings. The original recipe was to serve 2.
Nutrition Information:
Yield:
2
Serving Size:
1
Amount Per Serving:
Calories: 373
Total Fat: 17g
Saturated Fat: 3g
Trans Fat: 0g
Unsaturated Fat: 13g
Cholesterol: 90mg
Sodium: 1456mg
Carbohydrates: 8g
Fiber: 3g
Sugar: 2g
Protein: 42g
Note: This post may contain affiliate links; view
my Disclosure Policy
for details. I earn a small percentage from any purchase you make by clicking on these links at no extra cost to you.