Lobster Salad in Endive Cups
Lobster Salad in Endive Cups is a twist on the traditional New England Lobster rolls. Instead of buns, the succulent lobster salad is nestled in endive!
This nontraditional Lobster Salad Recipe was first served at a Maine themed book club meeting I hosted nearly a decade ago. How could I not serve a delicious seafood appetizer?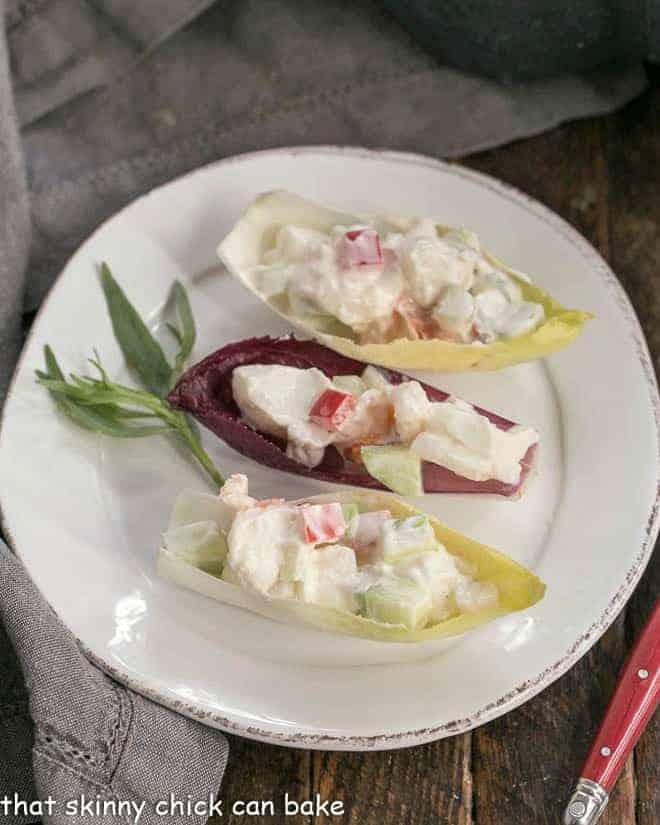 Lobster Salad in Endive Cups
I've finally gotten the picky hubby to eat a bit of seafood, other than tuna casserole and his mom's salmon loaf. He's even been known to order salmon instead of beef when we're dining out. Crab is OK, lobster is not. After 30 years, I still can't figure him out. But every once and a while, I make something delicious just for me, like this delicious lobster salad.
Served in endive cups instead of a lobster roll bun, it's almost a guilt-free appetizer or gourmet lunch. Though lobster recipes aren't regularly featured on our Midwest table, they're worth an occasional splurge. This seafood salad can easily be used for a lobster roll. Just fill a lobster roll bun or hot dog bun with a nice mound of lobster salad and dig in. Maybe you can even imagine the sound of the Maine surf as you're indulging.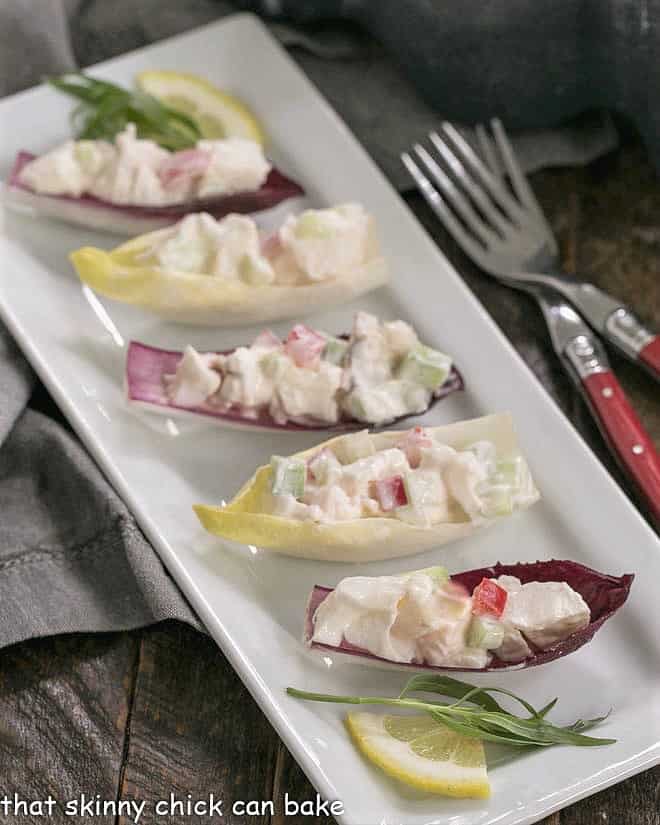 Tips for Making Endive Cups
First, pull off the leaves from each endive. The larger leaves will be best for holding the lobster salad. Trim the ends as needed.
To ensure the endive leaves sit flat on a plate or tray, trim a thin slice from the bottom of each leaf. Center the cut so that the endive leaf sits upright on the plate. Without making the bottom flat, the endive leaves will tip over once they're filled. Trust me, it's worth doing before adding the lobster salad.
If you'd like to try some of the additional seasonings listed like Tabasco, lemon juice, tarragon or even a touch of Dijon mustard, start slow. You can always add more, but if you add too much, it's tough to fix. I was pleased with just a simple lobster salad, allowing the lobster flavor to shine.
What is a Lobster Roll Made Of?
The lobster roll recipe is quite simple. Lobster meat is combined with butter, lemon juice, salt and pepper. Sometimes mayonnaise is substituted for the butter. My New England friends tell me that cucumber and scallions do not belong in a lobster roll, but only celery and onion. But when you live far from Atlantic, those rules can be bent, right?
This lobster salad in endive cups is an appetizer twist on the lobster roll and can be tweaked to your taste by adding Tabasco, lemon juice and even fresh tarragon.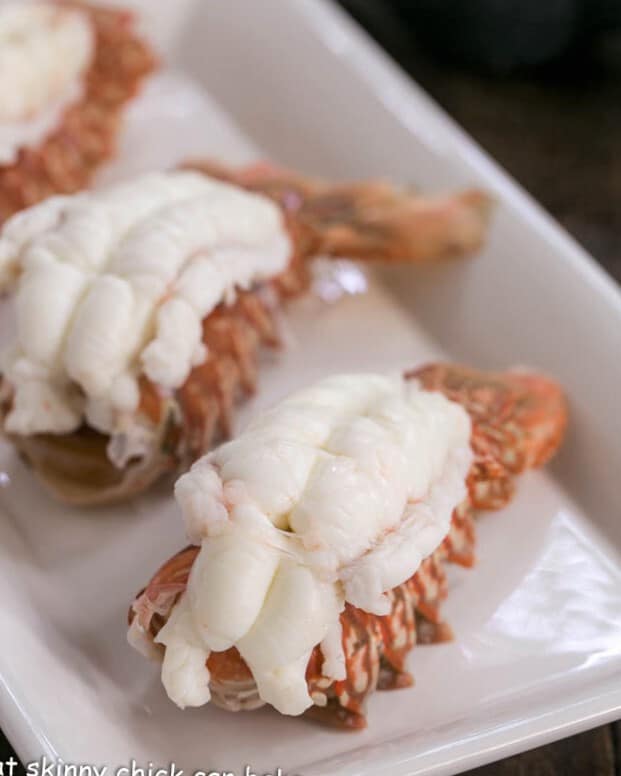 How Long Does Lobster Salad Last?
Chill the Lobster salad for about 30 minutes before eating, as it allows the flavors to meld. Best eaten within a few hours of making, it can be stored covered in the refrigerator for up to two days.
How Do I Cook the Lobster for Lobster Salad?
My fishmonger shared his method. They've steamed some lobster for me in the past, but it's nice to be able to cook it at home. This method is for lobster tails.
First, preheat the oven to 350 degrees. Next, pour about 1/4 cup of water into a skillet or shallow baking pan. Place the lobster into the pan, shell side down.
Brush with melted butter to keep the meat moist. Bake for approximately 15 minutes to an internal temperature of 180 degrees F. Meat should be firm, white and opaque. Overcooking makes the lobster tough and rubbery. To avoid overcooking, check the internal temperature before the 15-minute mark.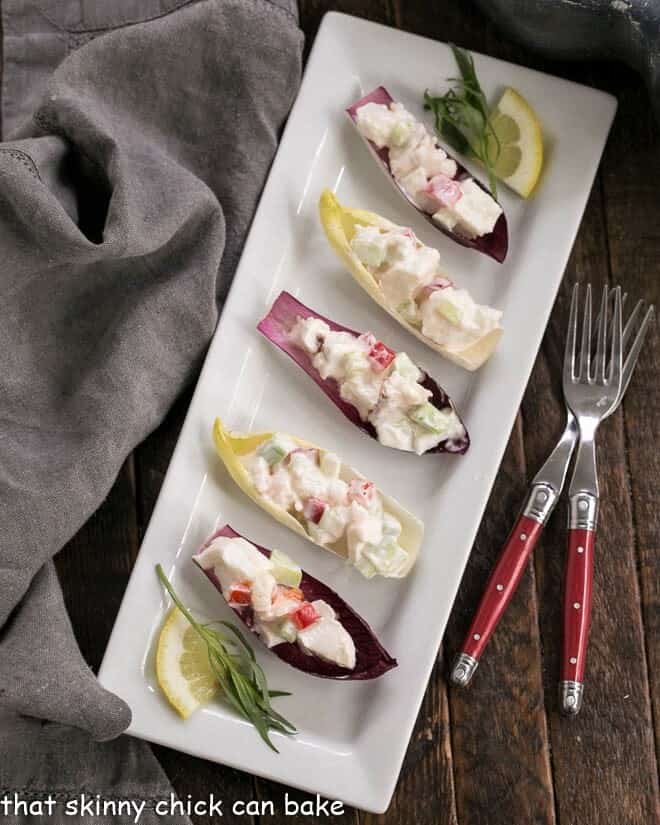 Can Lobster Be Frozen?
Yes, lobster freezes well. But lobster salad should not be frozen. Salads with mayonnaise do not freeze well nor do cucumbers.
What Does Tarragon Taste Like?
Tarragon has a distinctive flavor, both sweet and bitter. It's been described to have slight vanilla and anise undertones as well as hints of mint, hay, and turpentine. Anise is the flavor found in black licorice. You either love it or hate it. If you're new to this herb and want to add some to your lobster salad recipe, start with just a tiny amount and let it chill before tasting. Add more if desired. Note that dried tarragon is not a great substitute. Tarragon goes well with meats, fish, chicken and is the herb featured in the French béarnaise sauce.
Welcome to Progressive Eats, our virtual version of a Progressive Dinner Party. This month's theme is A New England Feast. From lobster and blueberries to Vermont cheddar and pizza, New England cuisine encompasses a lot. Our host this month is Sarah Walker Caron who blogs at Sarah's Cucina Bella.
If you're unfamiliar with the concept, a progressive dinner involves going from house to house, enjoying a different course at each location. With Progressive Eats it's a virtual party. A theme is chosen each month, members share recipes suitable for a delicious meal or party, and you can hop from blog to blog to check them out. Come along and see all of the deliciousness we've put together for our celebration inspired dishes!
A New England Feast
Cocktails
Appetizers
Bread
Main Courses
Sides
Desserts
More Delicious Salad Recipes:
Most salads can be served in endive cups. They make for a fun addition to an appetizer spread.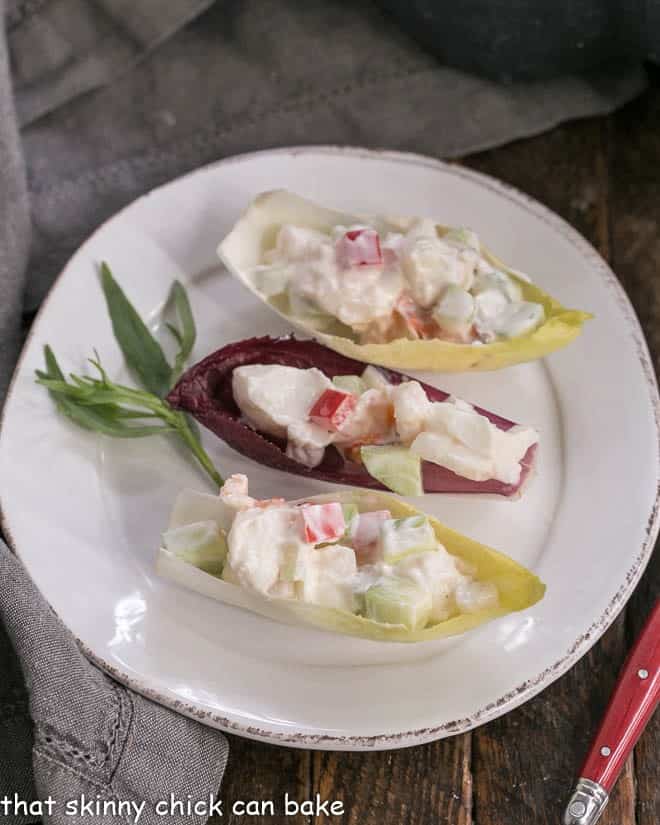 The Recipe:
Lobster Salad in Endive Cups
Prep Time 10 minutes
Total Time 10 minutes
Yield 8 servings
A delicious seafood appetizer with the best lobster salad!
Ingredients
1 1/2 cups cooked and cooled, chopped lobster (1/2-3/4 inch dice)
1/4 cup mayonnaise
2 tablespoons full fat plain yogurt
1/4 teaspoon kosher salt
Pinch of freshly ground black pepper
2 tablespoons minced celery
2 tablespoons small dice red bell pepper
2-3 tablespoons small dice peeled English cucumber
1/4 teaspoon minced tarragon, optional
Dash or two of Tabasco, optional
Few drops of fresh lemon juice, or to taste, optional
1 scallion, thinly sliced
Endive leaves
Instructions
Chop the lobster and set aside.
In a medium bowl, whisk together the mayonnaise, yogurt, salt and pepper.
Mix in the celery, bell pepper and cucumber.
Gently stir in the lobster meat. Taste and add tarragon, Tabasco and lemon juice to taste, if desired.
Cover and refrigerate the lobster salad for at least 30 minutes. Just before serving, mix in the scallions.
Notes
Can be made one day ahead.  I did not add tarragon, Tabasco or lemon juice.
Nutrition Information:
Yield:
8
Serving Size:
1
Amount Per Serving:
Calories: 99
Total Fat: 6g
Saturated Fat: 1g
Trans Fat: 0g
Unsaturated Fat: 5g
Cholesterol: 29mg
Sodium: 183mg
Carbohydrates: 4g
Fiber: 0g
Sugar: 1g
Protein: 8g
Note: This post may contain affiliate links; view
my Disclosure Policy
for details. I earn a small percentage from any purchase you make by clicking on these links at no extra cost to you.