Easy Guacamole Salad
This Easy Guacamole Salad has all the ingredients in the classic Mexican avocado dip and makes a terrific side dish!
This Avocado Salad has its fair share of creamy ripe avocado chunks along with bell peppers, tomatoes, and black beans. With a lime-based salad dressing, the avocados stay green and the vibrant, flavorful healthy salad recipe is perfect for any Tex-Mex meal.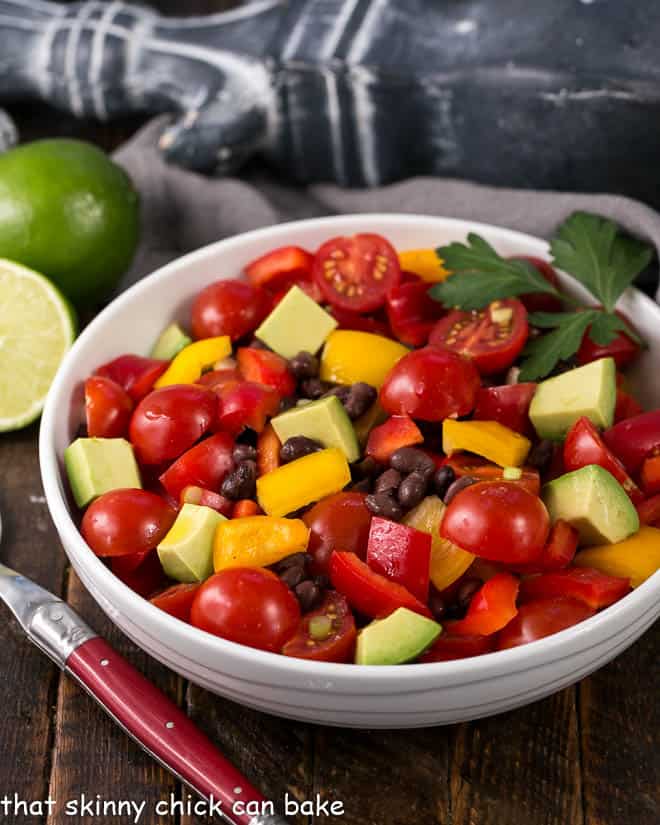 Why You Must Make
If you love traditional guacamole, you'll love this salad.
It's perfect for pitch-in meals and potlucks since it's safe to hold at room temperature for a couple of hours.
It's easily adaptable. Leave out the black beans if you're not a fan. Add more avocados if desired.
Guacamole is one of my guilty pleasures. I try not to eat too many chips, but when there's a big bowl of crisp tortilla chips and some spicy guacamole, my willpower flies out the window. This avocado salad recipe takes the traditional guacamole ingredients and serves them in a chunkier presentation. Plus, I couldn't help but add some bell peppers and black beans to make it even heartier.
Recipe Tips
There are even more ways to tweak this salad recipe. Try chopping the veggies finer, and serving this chunky guacamole salad as a salsa with chips. Add some minced cilantro to the mix, too, if you're not one of those folks whose genetics make cilantro taste like soap!
Without any heat in this avocado tomato salad other than a touch of cayenne in the dressing, it can definitely be spiced up. Adding diced or minced jalapenos or even a couple of pinches of red pepper flakes are easy ways to boost the heat.
If you're making this guacamole salad recipe mid-summer, substitute some chopped garden or heirloom tomatoes for the grape tomatoes. Tender fresh sweet corn cut right off the cob would be fabulous, too.
This avocado salad is healthy, full of vitamins and good fats, so there's no need to be shy when taking a helping or when you go back for seconds. You'll love this guacamole salad.
The acid in the lime juice minimizes the oxidation (browning) of the avocado cubes when they're exposed to air. Once you add them to the salad, make sure they are covered with salad dressing.
Frequently Asked Questions
How Do You Keep An Avocado from Turning Brown?
If you've ever kept a bowl of guacamole in the refrigerator overnight, chances are that the exposed surface had oxidized, or turned brown. This is a chemical reaction that occurs when oxygen reacts with this delicious fruit. Not dangerous, but definitely not appealing!
There are a couple of ways to keep your avocados, or guacamole for that matter, from turning brown. First, prevent air from reaching the surface of the avocados. This can be as simple as pressing plastic wrap directly over the surface of your guacamole or salad. With a chunky salad, though, keeping out all the air can be difficult.
Another method is to paint a neutral oil, like olive oil, over the exposed surfaces to block oxygen from the fruit. But the technique I use most is to use citrus juice or a citrus-based salad dressing. The acidic pH of lemon or lime juice prevents the enzymatic reaction that causes the oxidation of apples, pears, and avocados. This will help minimize browning until the juice is totally absorbed, so great for the short term. Pro-Tip: Using Sprite or 7-Up as the acid on fruit like apples or bananas won't give the tartness that fresh citrus juice imparts.
How Do You Ripen an Avocado?
Place your avocado in a brown paper bag with fruit like a banana or an apple. The fruit will give off ethylene gas which helps hasten the ripening. The bag helps keep the gas contained.
Alternatively, keep your avocados in a warm spot in your kitchen to encourage ripening.
The folks at Real Simple tested ripening avocados in a bag of rice, which worked well. I prefer the brown paper bag for ease of checking on the progress.
What's the Best Way to Cut an Avocado?
Using a chef's knife, insert and slice lengthwise going deep enough to hit the pit.
Carefully rotate the avocado until you've cut around the whole avocado using the hard pit as a landmark.
Twist the two halves apart. Next, use your knife to carefully whack the pit so the knife blade is wedged into the pit. Twist to remove the pit. PRO-Tip: place a hot pad on your palm to protect your hand from an accidental injury.
To cut into cubes, cut a crosshatch pattern into both halves without removing the peel, then scoop out the flesh with a spoon. Cut any longer pieces into cubes.
If you'd like to cut your avocado into slices, slice and remove the flesh with a spoon.
Alternatively, peel off the avocado peel carefully, then place the avocado on a cutting board, flat side down, and slice. If you want cubes, then continue by cutting the slices into cubes. This is the method I use most frequently.
You May Also Like
Stay in touch through social media @ Instagram, Facebook, and Pinterest. Don't forget to tag me when you try one of my recipes! And if you love the results, please give it a 5-star rating in the recipe card. Note: As an Amazon Associate, I earn from qualifying purchases. Visit my Amazon Store for my favorite products.
The Recipe:
Chunky Guacamole Salad Recipe
Prep Time 20 minutes
Total Time 20 minutes
Yield 6 servings
This Chunky Guacamole Salad has all the ingredients in the classic Mexican avocado dip and makes a terrific summer side dish!
Ingredients
Salad:
1 pint grape tomatoes, halved
1 yellow bell pepper, seeded and chopped
1 red bell pepper, seeded and chopped
1 (15-ounce) can black beans, rinsed and drained
4 scallions, sliced
3 ripe Hass avocados, seeded, peeled, and chopped
Dressing:
¼ cup freshly squeezed lime juice
1 teaspoon lime zest
1 teaspoon sugar
½ teaspoon salt
½ teaspoon freshly ground black pepper
⅛ teaspoon cayenne pepper
¼ cup extra virgin olive oil
Instructions
Place tomatoes, peppers, black beans, and scallions in a large bowl.
Whisk together the lime juice, zest, garlic, sugar, salt, pepper, and cayenne. Drizzle in olive oil, whisking constantly.
Pour dressing over vegetables and toss to coat.
Add avocados and gently fold them in. Check seasonings and add more salt if needed.
Serve at room temperature.
Notes
Helpful Tools (As an Amazon Associate and member of other affiliate programs, I earn from qualifying purchases)
Add avocados last and make sure they are coated in salad dressing to minimize oxidation (browning).
Nutrition Information:
Yield:
6
Serving Size:
1
Amount Per Serving:
Calories: 260
Total Fat: 20g
Saturated Fat: 3g
Trans Fat: 0g
Unsaturated Fat: 16g
Cholesterol: 0mg
Sodium: 187mg
Carbohydrates: 20g
Fiber: 9g
Sugar: 4g
Protein: 5g
Note: This post may contain affiliate links; view
my Disclosure Policy
for details. I earn a small percentage from any purchase you make by clicking on these links at no extra cost to you.