Quinoa is my new favorite grain. Nutty and chock full of protein, it's marvelous in this lightly dressed Quinoa and Black Bean Salad.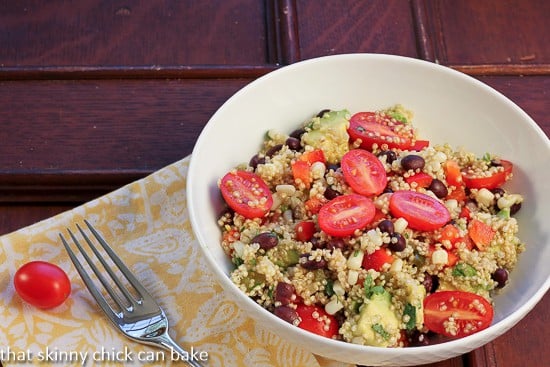 Today I'm guest posting for my sweet friend, Kimberly, of Badger Girl Learns to Cook, who happens to be celebrating her birthday today.  We became friends via Foodbuzz, and I have a soft spot in my heart for this Wisconsinite. She is one of the healthiest eaters I know…almost vegan with a focus on non-processed foods. And even though my blog is about as unhealthy as you can get, I, too, try to avoid artificial flavorings, bad fats (butter doesn't count, does it????), and ingredients like canned soup.  I was asked to share a healthy dish…so I went to an ingredient I'd been wanting to use again, quinoa. I made a Quinoa Black Bean Salad that is sure to please your palate!
I hope you'll visit Badger Girl Learns to Cook to check out my post and wish Kimberly a happy birthday! And please don't miss my Holiday Recipe Club post from earlier today (yeah, yeah…this isn't scaling back on posts, is it? Such craziness!).
Quinoa and Black Bean Salad~
Adapted from Gourmet
1 1/2 cups quinoa (cooked in salted water according to package instructions)
1 1/2 cups black beans (15 ounce can, rinsed)
1 1/2 tablespoons red wine vinegar
1 1/2 cups frozen corn (thawed)
1 red bell pepper (diced)
2 pickled jalapeños (minced)
1-2 avocados (chopped)
1 package grape tomatoes (sliced in half lengthwise)
1/4 cup finely chopped fresh cilantro
Dressing:
5 tablespoons fresh lime juice
1 teaspoon salt
1 1/4 teaspoons ground cumin
1/3 cup olive oil
Cook quinoa using package instructions. Drain and place in large bowl to cool.
Combine beans with vinegar and salt and pepper to taste. Add to quinoa along with corn, peppers, avocados, tomatoes and cilantro. Gently toss.
Make dressing by combining lime juice, salt and cumin. Whisk in oil. Drizzle over salad. Toss to combine. Serve at room temperature.