Red White and Blue Strawberries
Add these easy, tasty Red White and Blue Strawberries to your holiday menu! The perfect treat for the 4th of July or any patriotic holiday. They can also be tweaked with different colored sugars for any event or occasion!

Simply dipped in white chocolate and colored sugar, these patriotic berries are a fun treat that can be included on a brunch buffet, served as a light dessert or even an appetizer.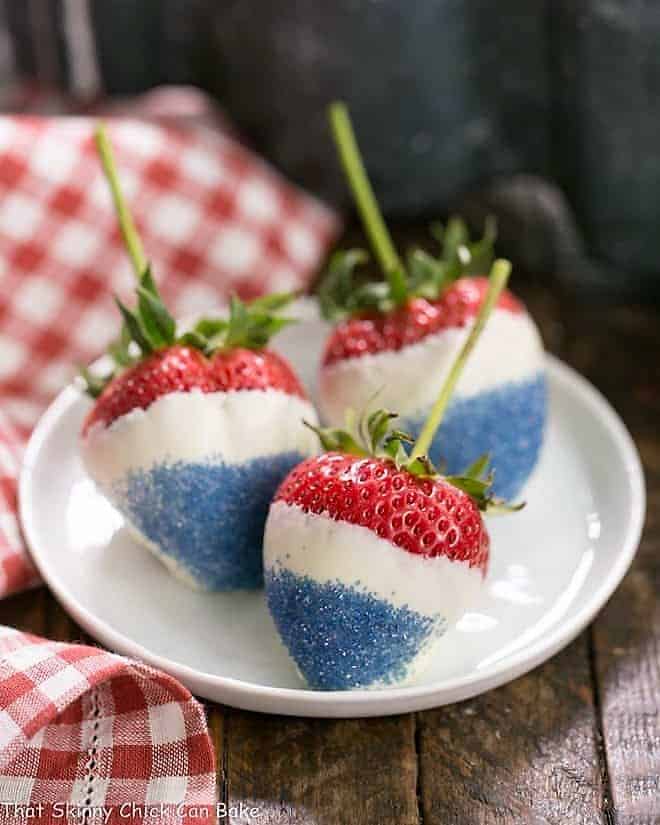 Why You Should Make
This is the first year in over a decade that we won't be hosting a neighborhood 4th of July party. We usually camp out in our front yard with festive cloth-covered card tables donned with mason jars filled with garden flowers. But with our house in the midst of renovations, we could not all fit in our living space in case of inclement weather. Thankfully, some generous neighbors are opening their homes so I'll do my share and create some festive sweets.
These patriotic strawberries are one of the easiest desserts you'll ever make.
Only 3 ingredients needed: strawberries, white chocolate melts and blue sanding sugar(affiliate links).
They are festive and tasty without much effort!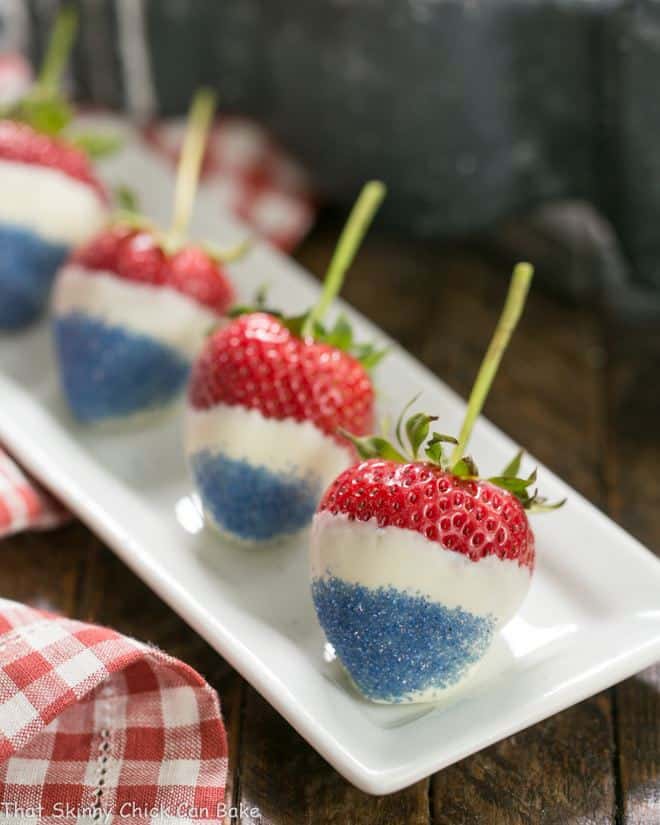 Tips for Making These Patriotic Strawberries
 Larger berries with the stems still attached make them easier for dipping. They're like built-in handles.
If you can find dark blue sanding sugar, it works best for matching the color of the American flag, but a lighter blue still makes a beautiful patriotic statement!
Red, white and blue desserts are always fun for Memorial Day, Independence Day, and Labor Day. Who doesn't love Holiday Recipes?? My family adores these Patriotic Monster Cookies, Patriotic Skillet Cookies, Red White and Blue Brownie Cookies, and this Berry Cheesecake Flag Cake, but there's always room for a new recipe!
Red, White, and Blue Muddy Buddies are a  perfect, easy-to-make munchie or with a little more effort you could whip up this gorgeous Red, White and Blue Cheesecake! Plus, Red, White and Blue Cupcakes are always a winner, especially with a gorgeous swirl of frosting!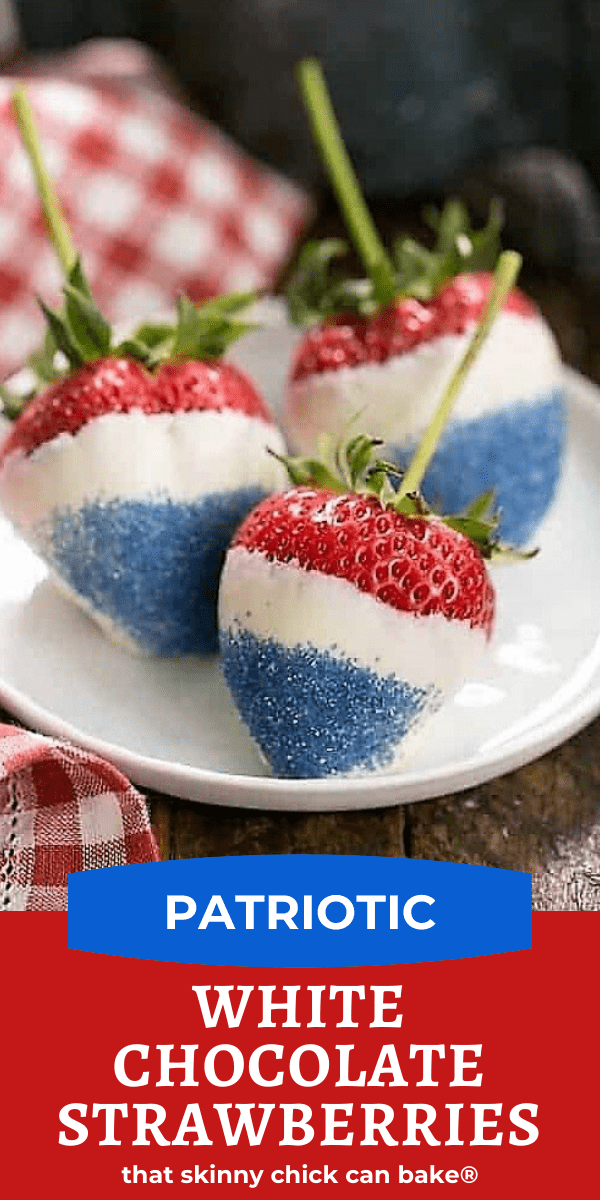 Tips for Making Chocolate Dipped Strawberries:
PRO-Tip: Buy large strawberries with the stems on so you have more dipping surface and a built-in handle for the process.
PRO-Tip: Make sure your strawberries are dry before dipping.
Line a baking sheet with wax paper or parchment paper to place your dipped berries on to dry. Having that non-stick surface is key
Use a small, deep dish for the melted white chocolate. A shallow dish will not allow you to dip 2/3 the way up on large berries.
Use melting wafers if you have access to them. They will dry faster than if you use pure white chocolate.
I added a teaspoon of vegetable oil to the chocolate so the coating didn't dry too fast. This is totally optional.
Dip your berries 2/3-3/4 the way up, then let the excess drip off before coating with blue sugar.
Use a dark blue sanding sugar if you can find it, otherwise, a lighter blue still looks nice. You can try to dye your own sugar if you're extra ambitious!
I tried dipping the coated berries directly into the sugar. But while the chocolate is wet, the dipping process will shift the coating and then it looks messy. I found that using a spoon and sprinkling across the berry about halfway up from the tip of the berry to the top of the chocolate worked much better.
I only sprinkled sugar on the front of the berries, since that's the side that will be visible when you place them on a serving tray. If you're so inclined, you could try to sugar all the way around.
These red white and blue strawberries taste best on the day they're made. They will start to sweat as they age, but my family still loved eating them on day number two and three.
These berries work for all sorts of occasions besides patriotic holidays. Dip in pink sugar for Valentine's Day, green sugar for Christmas, and on and on.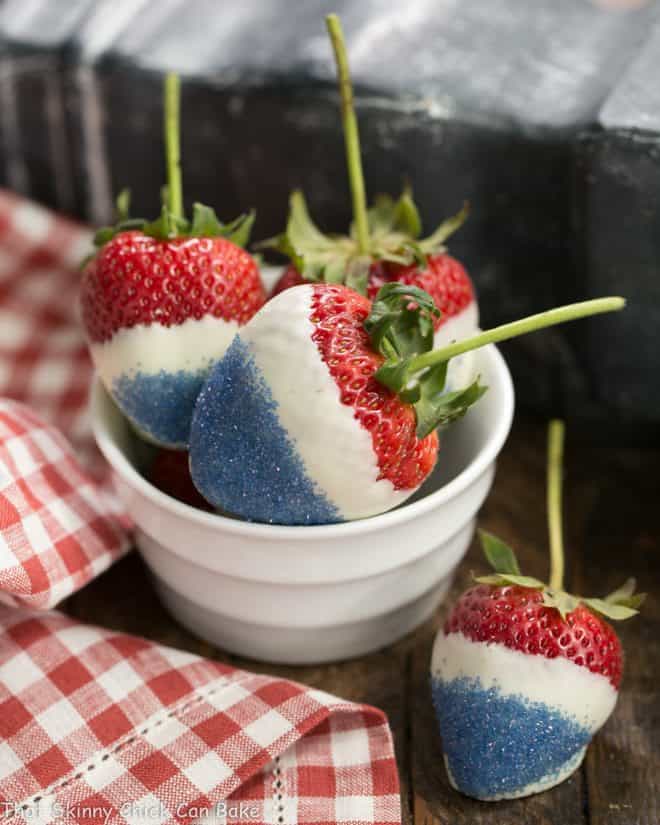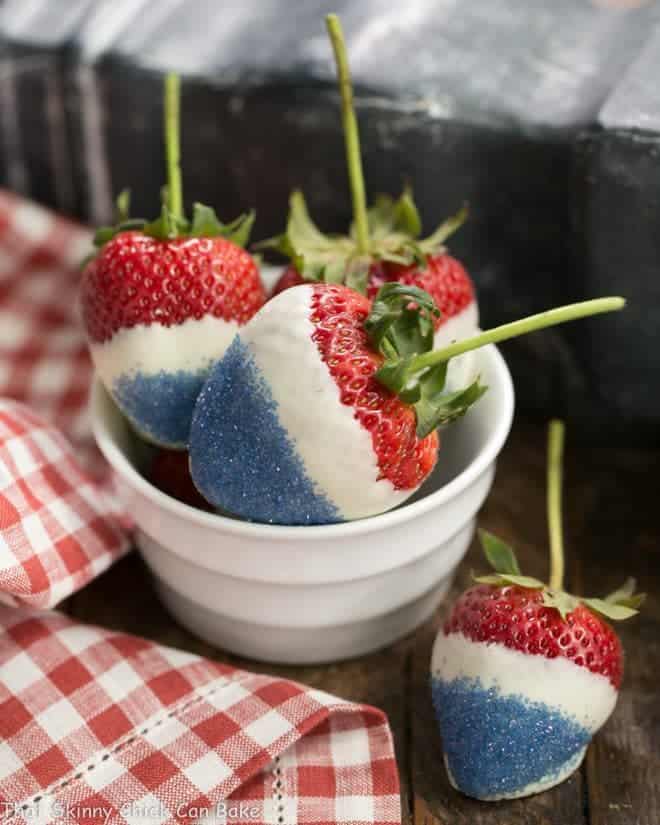 Don't Forget to Subscribe!
Have you subscribed to my weekly newsletter? You'll get the latest blog recipes plus some seasonal favorites delivered to your inbox every Saturday morning! And as a bonus, you'll receive a series of 5 Tips & Recipes for Leveling Up Your Desserts! Of course, you can unsubscribe at any time!!
SUBSCRIBE HERE—> https://bit.ly/3tLQIcL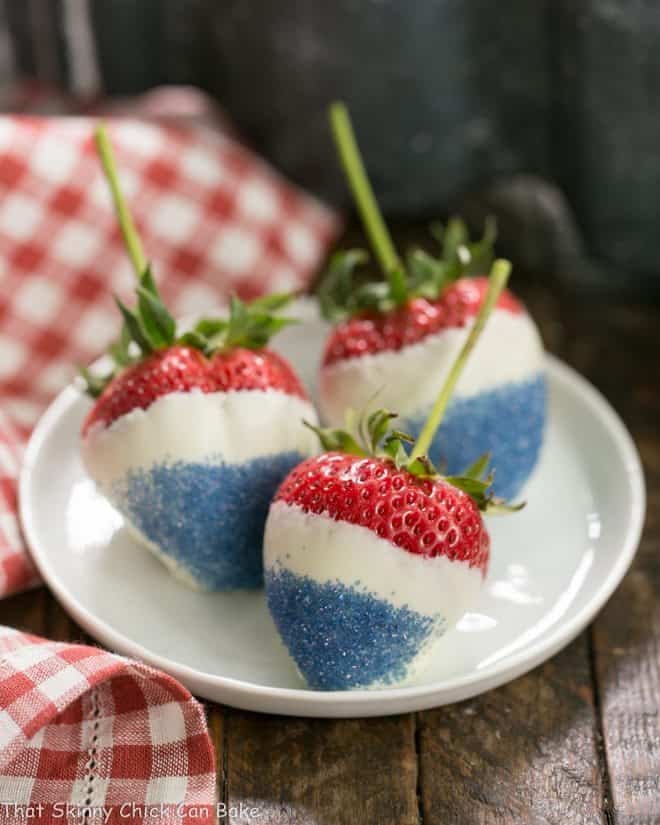 The Recipe:
Red White and Blue Strawberries
Prep Time 20 minutes
Cook Time 1 minute
Total Time 21 minutes
Yield 12
An easy, festive patriotic dessert!
Ingredients
12 large strawberries, with stems intact
5 ounces White Chocolate Melts, about a half package
1 teaspoon vegetable oil, optional
2 tablespoons dark or light blue sanding sugar
Instructions
Wash and then dry your strawberries thoroughly.
Line a baking sheet with wax paper or parchment paper and set aside.
Melt your chocolate melts in a small, deep bowl according to package instructions. Add oil if using.
Pour your sugar into a small deep bowl (if you plan to dip your berries, add enough to make the sugar deep enough for dipping).
Using the stem, dip the strawberry into the white chocolate 2/3 to 3/4 of the way up the berry. Let the excess drip off before using a spoon to sprinkle the colored sugar across the bottom 1/3 of the berry, trying to make a straight line.
Alternatively, you can try to dip the berry into the sugar before the chocolate hardens. I didn't like the way this technique worked, although it will give you a nice blue sugar coating all around the berry.
Place the berries, decorated side up, on the prepared baking sheet to allow the chocolate to firm up.
Notes
These berries are best on the day made.
Nutrition Information:
Yield:
12
Serving Size:
1 strawberry
Amount Per Serving:
Calories: 77
Total Fat: 4g
Saturated Fat: 2g
Trans Fat: 0g
Unsaturated Fat: 2g
Cholesterol: 2mg
Sodium: 11mg
Carbohydrates: 9g
Fiber: 0g
Sugar: 9g
Protein: 1g
Note: This post may contain affiliate links; view
my Disclosure Policy
for details. I earn a small percentage from any purchase you make by clicking on these links at no extra cost to you.