Black Magic Snack Cake
This super moist, decadent Black Magic Cake is topped with a rich silky smooth chocolate buttercream frosting. A perfectly portable dessert, it's baked in a 9 x 13-inch pan and is terrific to bring for picnics and potlucks!
I had no event in which to take this easy dark chocolate cake, but with home renovations in progress, I've scaled back to simpler dessert creations. This two-bowl, easy chocolate cake recipe was a win for me, a win for the family.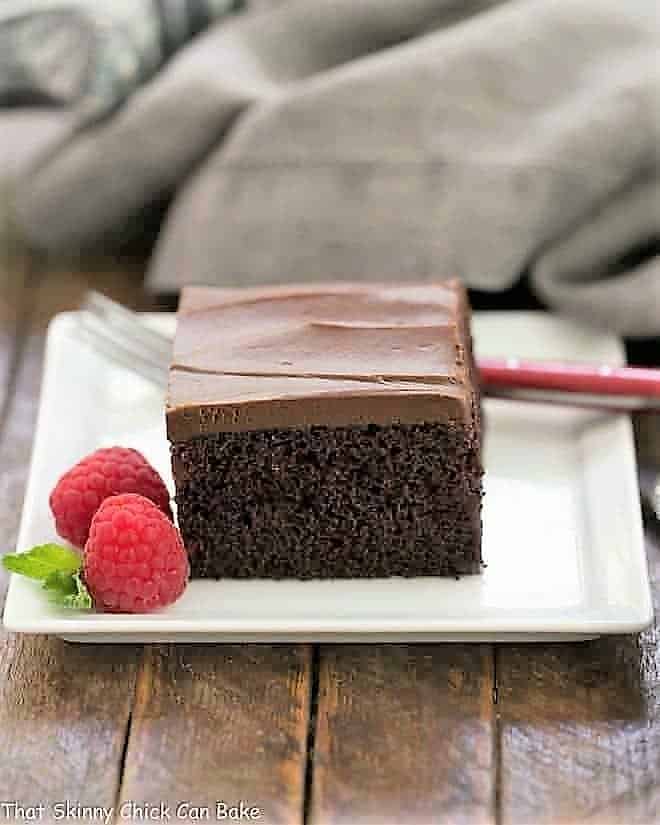 Why You Must Make
Black Magic cakes have been around for eons. Originating from Hershey's, this moist, rich cake is infused with a cup of strong coffee which magnifies the chocolate flavor. This 9 x13-inch version makes for a perfect snack cake. A slice of this old-fashioned, chocolate buttermilk cake is a delightful after-school treat or after-dinner dessert and is definitely less caloric than a slice of layer cake laden with frosting.
Another bonus is that it's not much harder to make than a box cake mix. There is just one bowl needed for the cake and another for the frosting! Easy as can be!
Speaking of buttermilk, this ingredient works its magic, too, by ensuring a tender crumb. And take a gander at the photo below and you'll see why the frosting bowl must be licked! The chocolate buttercream is smooth and luscious.
Reader Endorsement:
From the comments: Made this cake last night and took some to my friend who cuts my hair. She just sent me a text "Holy hell!!! I swear on my son's life that is the best cake I have EVER had!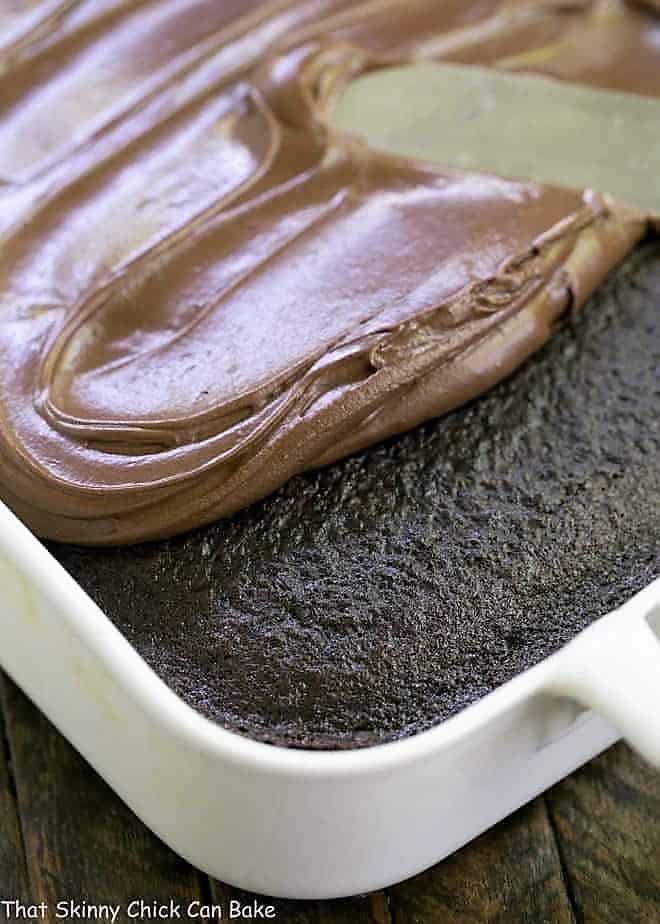 Expert Tips
If you love this recipe, check out how you can make it with different-sized pans listed below.
Have your eggs and buttermilk at room temperature for the best incorporation. Just let them sit at room temperature for about an hour before you start mixing. You can put the eggs in a bowl of warm water to speed things along.
PRO-Tip: If you don't have buttermilk on hand you can make it at home. Add 1 tablespoon of lemon juice or white vinegar to a liquid measuring cup. Add milk up to the 1 cup mark. Let sit for a few minutes as the acid will slightly curdle or thicken the milk. Use as the "buttermilk" called for in the recipe.
Prep the baking pan by greasing and then lightly dusting with flour to prevent sticking. A flour and oil spray like Bakers Joy also works well.
Note that when you see vegetable oil in a cake recipe instead of butter, the result is usually a nice, moist cake.
PRO-Tip: For the smoothest frosting, sift your powdered sugar. Otherwise, there may be very small lumps.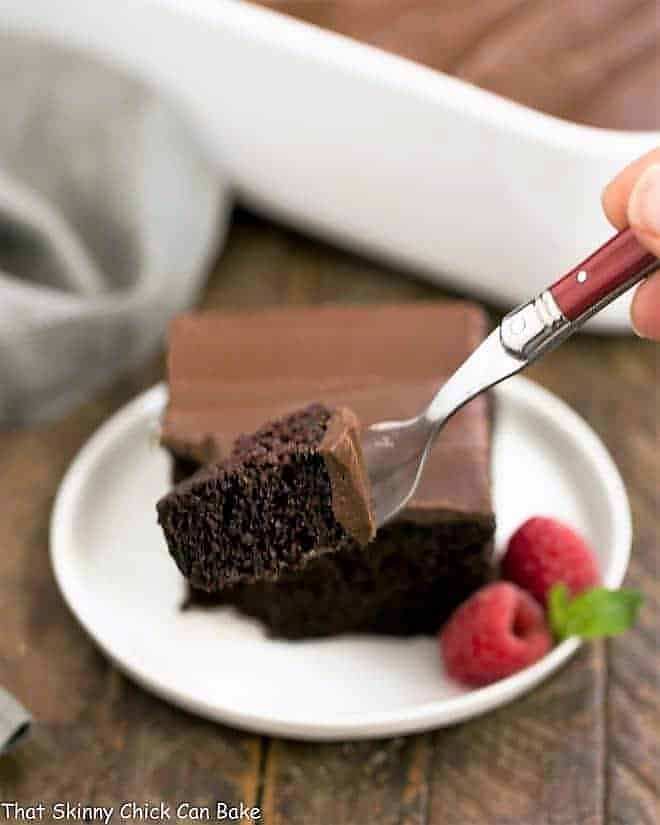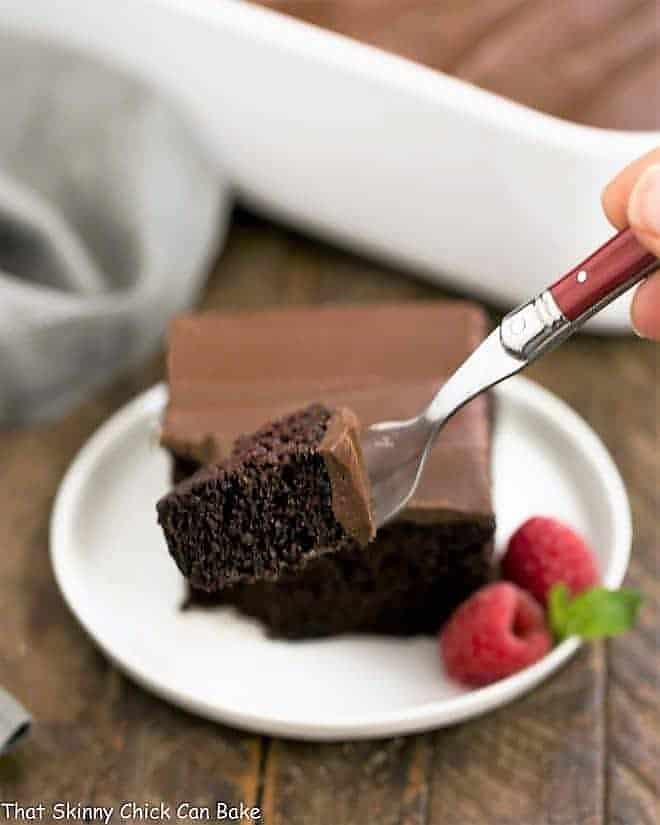 Helpful Tools:
This cake can be made as a Bundt cake, layer cake, cupcakes or a snack cake, like above. All of the alternatives are baked at 350 degrees, but the baking time will vary:
Frequently Asked Questions
Where Did the Name Black Magic Cake Come from?
Maybe not quite black, but this recipe does make a dark chocolate cake, thus deserving the name black magic. The taste is definitely magical!

King Arthur Flour sells a black cocoa (affiliate link)that could create an even darker cake. It's Dutch-processed so you can't just swap it out for regular cocoa as the leaveners also need to be tweaked. But feel free to accentuate the intensity by substituting 1/4 cup or less of the regular cocoa powder for the black cocoa if you'd like to go that route.
Why Is Coffee Used in this Chocolate Cake?
Coffee intensifies the chocolate flavor without making the cake taste like coffee or a mocha dessert. Don't worry if you're not a fan of coffee, the addition is so subtle it's practically indistinguishable.
Who Invented this Cake?
This recipe comes from Hershey's. Their recipe is made in a Bundt pan and is one of the rare recipes with all 5-star reviews!
You May Also Like
Note: This post may contain affiliate links; view my Disclosure Policy for details. I earn a small percentage from any purchase you make by clicking on these links at no extra cost to you.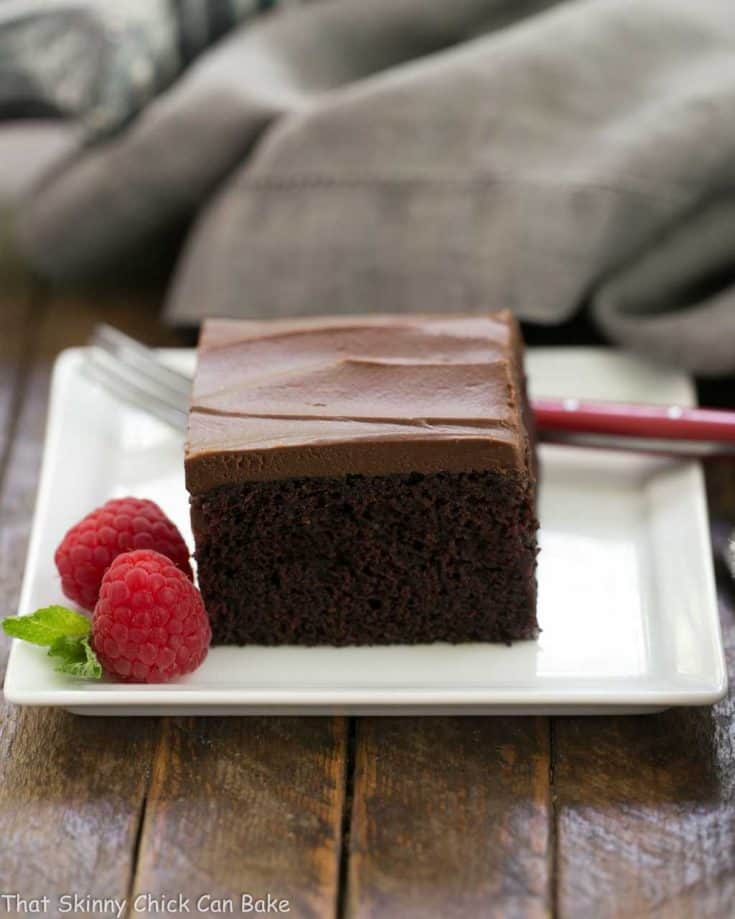 The Recipe:
Black Magic Snack Cake
Prep Time 30 minutes
Cook Time 40 minutes
Total Time 1 hour 10 minutes
Yield 24 servings
A one layer chocolate cake that's perfect for picnics, potlucks and family gatherings!
Ingredients
Cake:
2 cups sugar
1 3/4 cups flour
3/4 cup cocoa
2 teaspoons baking soda
1 teaspoon baking powder
1 teaspoon salt
2 eggs
1 cup buttermilk
1 cup strong black coffee
1/2 cup vegetable oil
1 teaspoon vanilla
Frosting:
2/3 cup cocoa powder
1/2 cup (1 stick butter)
3 cups powdered sugar, sifted
1/3 cup milk
1 teaspoon vanilla
Instructions
1. Heat oven to 350°F. Grease and flour one 13 x 9 x 2-inch baking pan.
2. Stir together sugar, flour, cocoa, baking soda, baking powder and salt in large bowl. Add eggs, buttermilk, coffee, oil and vanilla; beat on medium speed of mixer 2 minutes (Batter will be thin). Pour batter evenly into prepared pan.
3. Bake 35 to 40 minutes for rectangular pan or until wooden pick inserted in center comes out clean. Cool on a wire rack. Frost as desired.
4. Melt butter. Stir in cocoa. Alternately add powdered sugar and milk, beating to spreading consistency.
5. Add small amount additional milk, if needed. Stir in vanilla. Makes about 2 cups frosting.
Nutrition Information:
Yield:
24
Serving Size:
1 slice
Amount Per Serving:
Calories: 224
Total Fat: 6g
Saturated Fat: 1g
Trans Fat: 0g
Unsaturated Fat: 4g
Cholesterol: 16mg
Sodium: 241mg
Carbohydrates: 41g
Fiber: 1g
Sugar: 31g
Protein: 3g
Note: This post may contain affiliate links; view
my Disclosure Policy
for details. I earn a small percentage from any purchase you make by clicking on these links at no extra cost to you.