Instant Pot Baby Back Ribs
After making Instant Pot short ribs to rave reviews from the family, I started fixating on a baby back ribs version. These Instant Pot Baby Back Ribs were started in the pressure cooker to quickly cook and tenderize, then finished in a hot oven with barbecue sauce.
I love tossing baby back ribs on the grill, but the monsoon season has hit Indiana this summer, and now I have a baby back rib recipe that can be cooked all year round, no matter the weather!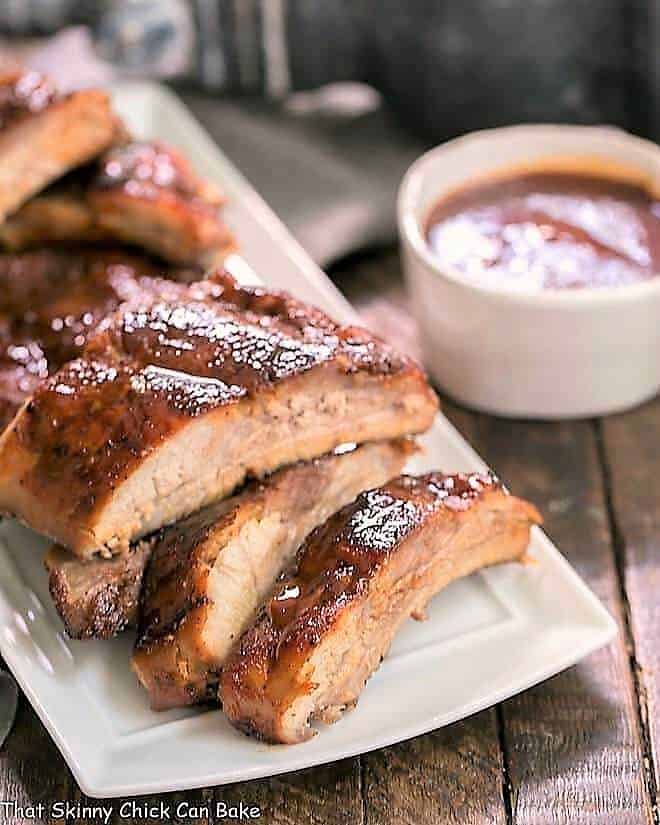 Note: This post may contain affiliate links; view my Disclosure Policy for details. I earn a small percentage from any purchase you make by clicking on these links at no extra cost to you.
Instant Pot Baby Back Ribs
The process to make these instant pot baby back ribs starts out like my other rib recipes. I mix up a flavorful rub with sugar, salt, and spices and smear it over the ribs the night before I plan to make them. This mixture will act as a dry brine and let the meat absorb some of the flavorings.
When it's an hour or more before serving time, cut into each rack into quarters, and stand them up in the Instant Pot along with some broth, before cooking under high pressure for 30 minutes. After a quick release, I popped these ribs in a hot oven doused with barbecue sauce to brown.
What Are Baby Back Ribs?
Baby back ribs are pork ribs that are visible when the loin of pork is removed. The upper ribs are smaller and were dubbed "baby" back ribs when compared to the lower, larger back ribs. Baby back ribs typically take low, slow cooking to ensure they're tender. But today, you'll learn that's not always the case! My family loved these Instant Pot baby back ribs.
How to Make Pressure Cooker Baby Back Ribs
Baby back ribs are leaner and more tender than many other forms of ribs, so it's what I reach for first when I want ribs for dinner. Here are some tips for how to cook baby back ribs.
When you purchase your ribs, ask the butcher to remove the membrane or silver skin from the bony side of the ribs. You can do this at home, but it's nice when you can skip this step.
Buy smaller racks, around 2 pounds, for more tender ribs. And allocate 1 pound per person.
Make sure you have a flavorful rub. You can purchase some terrific pre-made rubs or make your own as I did. I like the combination of salt, sugar, and spices.
Coat the ribs with your rub the night before you plan to cook for the best flavor infusion.
The method you use for cooking depends on your preference. Before trying this Instant Pot recipe, I would slow cook in the oven until very tender then finish off on the grill, like with my fall off the bone baby back ribs that I linked to at the top of this post.
Glaze with your favorite barbecue sauce using a silicone basting brush. Again, the sauce can be purchased or homemade. Brush on at the end of cooking time so it does not burn.
PRO-Tip: According to the USDA, pork is safe to eat at 145 degrees, but the connective tissue does not start to break down until closer to the 160-170 range. So if you pull your ribs out at 145, they're bound to be tough. 185-195 degrees allows time for the ribs to become tender. This will occur in a shorter amount of time in the Instant Pot. But on the grill or in the oven, low and slow is the way to go.
Whether you try these Instant Pot baby back ribs or a more traditional method, pass your ribs with extra barbecue sauce and lots of napkins!!
If you're a fan of the Instant Pot, you'll want to try this Whole Chicken in an Instant Pot. There are so many dishes you can make with the meat! Instant Pot Beef Barbacoa makes quick work of making beef for tacos, burritos and more. Even Corn on the Cob can be cooked in a red hot minute!
Don't forget the dessert and try this Instant Pot Cheesecake or how about a dreamy IP Dulce de Leche!
The Recipe:
Instant Pot Baby Back Ribs
Prep Time 15 minutes
Cook Time 45 minutes
Total Time 1 hour
Yield 4 servings
A quick recipe for fall off the bone baby back ribs using the Instant Pot and oven.
Ingredients
Spice Rub
2 tablespoons kosher salt
2 tablespoons brown sugar
2 teaspoons chili powder
2 teaspoons paprika
1/2 teaspoon celery seed
2 teaspoons garlic powder
1  teaspoons cayenne pepper
1/2 teaspoon ground black pepper
Ribs
2 racks baby back ribs
1 cup broth, I used chicken but beef works, too
Barbecue sauce
Instructions
Combine spice rub ingredients in a small bowl.
Line a sheet pan with foil and place the racks on top. Rub the meaty side of the ribs with the spice rub, flip and rub any excess on the back side. Turn the ribs back over and cover with plastic wrap.
Cover the ribs with plastic wrap and refrigerate overnight.
When you're ready for the first stage of cooking, cut the each rack into 4 pieces.
Add the broth to your Instant Pot, then stand the ribs upright. CLOSE and LOCK the lid. Make sure the vent is closed. Close and lock the lid. SELECT high pressure and SET the timer for 30 minutes.
Near the end of the cooking time, preheat the oven to 425 degrees. Line a baking sheet with foil and place an oven safe baking rack over the baking sheet. Set aside.
When the Instant Pot is finished cooking, carefully do a quick release of the pressure. Check your manual if you're unsure how to do this as you don't want to get burned.
Remove lid and place the ribs on the prepared rack over the baking sheet. Brush barbecue sauce on both sides of the ribs.
Cook for about 15 minutes, turning the ribs at the halfway point. Brush with more barbecue sauce if needed.
Serve with more barbecue sauce if desired.
Notes
Instant Pot technique adapted from AllRecipes.
Nutrition Information:
Yield:
4
Serving Size:
1/2 rack
Amount Per Serving:
Calories: 682
Total Fat: 42g
Saturated Fat: 15g
Trans Fat: 0g
Unsaturated Fat: 25g
Cholesterol: 172mg
Sodium: 3815mg
Carbohydrates: 24g
Fiber: 2g
Sugar: 18g
Protein: 49g
Note: This post may contain affiliate links; view
my Disclosure Policy
for details. I earn a small percentage from any purchase you make by clicking on these links at no extra cost to you.