Potato and Green Bean Salad with Dijon Vinaigrette
Summer picnics feature burgers, hot dogs, chips, and potato salad. If you'd like a change from the typical mayo-laden sides, check out this tasty Green Bean and New Potato Salad with Dijon Vinaigrette.
Lighter and dressed with a flavorful, well-balanced dressing, this Easy Potato Salad Recipe will be the first dish to disappear at your next summer gathering!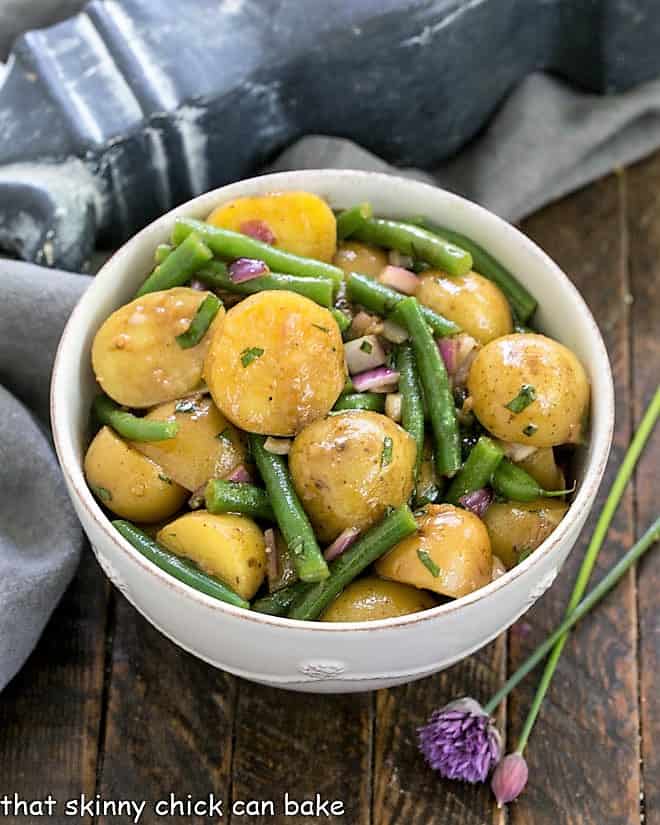 Why You Must Make
This out-of-the-ordinary version with a tasty mustard vinaigrette is a No Mayo Potato Salad. It's safer for picnics and potlucks when it may be sitting at room temperature or warmer for more than 2 hours.
The addition of fresh green beans and basil gives it a pop of color as well as a variety of flavors and textures.
It's easy to make ahead and is a delicious change of pace from other vinegar potato salads, like German potato salad.
Ingredient Notes:
Pantry ingredients: Salt, Freshly Ground Black Pepper, Extra Virgin Olive Oil, Fresh Garlic
New Potatoes – Any color will work. Look for smaller potatoes so the halves will be bite-sized.
Fresh Green Beans – Thinner is best, cut into bite-sized pieces. Frozen green beans can be used in a pinch but may need to be cooked first.
Red Onion – Adds a pop of color and a nice sharp flavor.
Well-Aged Balsamic Vinegar – Aged balsamic will be sweet and syrupy. If it's not aged, the dressing will taste very acidic and may need some sugar added to balance the flavors.
Dijon Mustard – Grey Poupon is my brand of choice
Fresh Lemon Juice – Never used bottled. The quality is lacking.
Worcestershire Sauce – Adds umami, or the 5th flavor category which is connected to glutamates, and is meaty and savory.
Fresh Basil – Do not use dried basil as it won't taste the same.
How to Make Potato Salad
Cook the potatoes in well-salted water until tender, cool slightly, and slice each in half.
Steam green beans until just tender, and rinse in cold water to stop the cooking process. Cut into bite-sized pieces.
Add potatoes, beans, and onions to a bowl.
Make the dressing.
Add dressing to the potato mixture and sprinkle with basil. Toss gently to combine.
Serve at room temperature.
For a more traditional potato salad, cook the potatoes, boil the eggs, cut them into bite-sized pieces when cooled, prep other ingredients, and add all those to the bowl, make the dressing, gently toss, and serve cold because of the mayonnaise-based dressing.
Expert Tips:
If you prefer a red potato salad, buy red new potatoes instead of yellow.
Waxy potatoes are firmer and work best for potato salads compared to starchy russets.
Make sure you cook your potatoes in well-salted water. This will ensure the potatoes are not bland. Note that this boost of flavor can't be replicated by salting after cooking.
When making potato salad, add the vinegar (or vinaigrette)  to the potatoes while still warm. It makes a world of difference, even in a mayonnaise-based version.
Use well-aged balsamic vinegar as it will be sweeter.
PRO-Tip: If you don't like the taste of raw onions, you can soak the chopped onions in either ice water or vinegar with a  few pinches of sugar to remove some of the bite! Even 15 minutes will lessen the sharpness.
Frequently Asked Questions
What Are the Best Potatoes for Potato Salad?
For this salad, the smaller new potatoes are best. Their thin skins don't require peeling and simply cutting them in half makes them bite-sized.
How Long Do You Cook New Potatoes?
Their sizes vary, so there is no exact answer. Aim for about 15 minutes, but pierce them with a knife to make sure they are tender, before draining. Use well-salted water and start timing from the point where the water begins to boil vigorously.
What Makes Potato Salads Go Bad?
Many of the ingredients have bacteria on their surfaces and if conditions are right, some types of bacteria can lead to food poisoning. Bacteria need protein to survive which can be found in eggs and mayonnaise. Acid inhibits protein growth.
Using a vinaigrette instead of a mayo-based dressing minimizes bacterial growth. In addition, leaving a potato salad out at room temperature or warmer for more than 2 hours increases the chance of food poisoning.
You May Also Like:
The Recipe:
Potato and Green Bean Salad with Dijon Vinaigrette
Prep Time 10 minutes
Cook Time 15 minutes
Total Time 25 minutes
Yield 8 servings
A twist on potato salad with green beans and no mayo.
Ingredients
1 1½ pounds new potatoes
¾ cup fresh green beans, trimmed and snapped in half
1 small red onion, chopped
1 teaspoon salt
¼ teaspoon freshly ground pepper
¼ cup good quality balsamic vinegar
2 tablespoons Dijon mustard
2 tablespoons fresh lemon juice
2 cloves of garlic, minced
1 dash Worcestershire sauce
½ cup extra virgin olive oil
¼ cup chopped fresh basil
Instructions
Place potatoes in a pot with well-salted water. Cook until tender, drain, and allow to cool slightly.
Steam green beans until just tender, rinse in cold water to stop the cooking process.
Cut potatoes in half and place in a bowl. Add beans and onions.
Make the dressing by whisking together salt, pepper, vinegar, mustard, lemon juice, garlic, and Worcestershire. Continue whisking while slowly adding olive oil.
Add dressing to the potato mixture and sprinkle with basil. Toss gently to combine.
Serve at room temperature.
Notes
Recipe adapted from Bon Appetit
Nutrition Information:
Yield:
8
Serving Size:
1
Amount Per Serving:
Calories: 217
Total Fat: 14g
Saturated Fat: 2g
Trans Fat: 0g
Unsaturated Fat: 11g
Cholesterol: 0mg
Sodium: 380mg
Carbohydrates: 22g
Fiber: 3g
Sugar: 3g
Protein: 3g
Note: This post may contain affiliate links; view
my Disclosure Policy
for details. I earn a small percentage from any purchase you make by clicking on these links at no extra cost to you.