Greek Farro Salad
Perfect for a picnic, this Greek Farro Salad is full of chewy farro, kalamata olives, tomatoes, feta cheese, and more!
This twist on a Greek Salad Recipe adds a nutty ancient grain to the mix. Along with a simple Greek
Salad Dressing, this hearty salad makes a tasty lunch!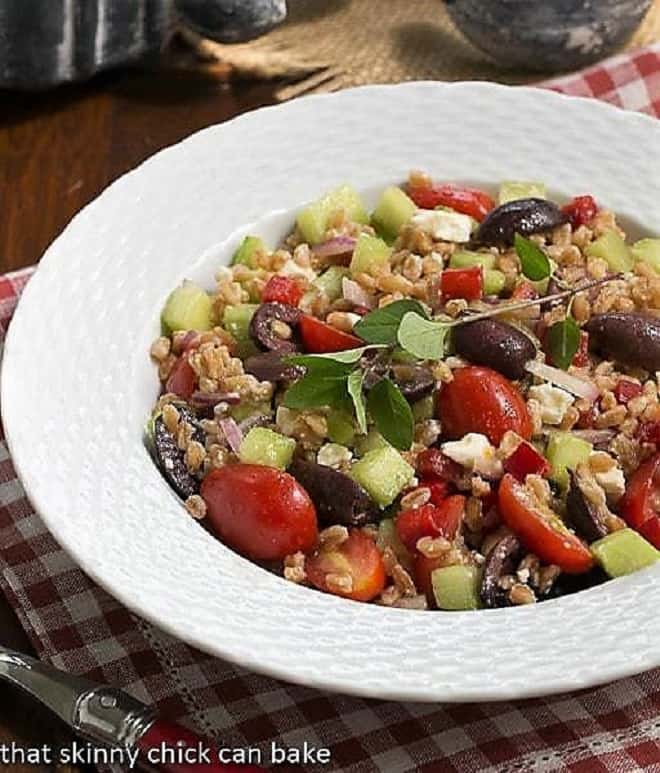 Why Your Must Make
A twist on a classic Greek salad, this verison has more fiber and nutrients.
It's a delicious way to try a new grain.
The dressing is wonderful on a traditional Greek salad, too.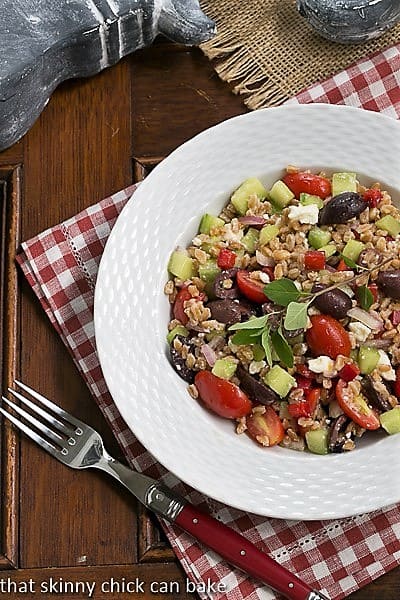 How to Make
If you can boil, chop and whisk, you can make this salad.
Cook the farro in chicken broth, but salted water is perfect, too. If you use plain water, it will bland.
Chop the vegetables: tomatoes (a seeded, beefy garden tomato would be ideal), cucumbers, onion, and black olives into bite-sized pieces.
Crumble the feta cheese if using a block of cheese.
Make the Greek Salad Dressing with red wine vinegar and lemon juice whisked with olive oil. Some minced fresh oregano provides some additional Mediterranean flair. PRO-Tip: If you make it ahead of time, rewhisk before dressing the salad.
Frequently Asked Questions
What is Farro?
Farro is a hearty, nutty ancient wheat grain that originated in Mesopotamia and domesticated over 10,000 years ago.
How Do You Cook Farro?
Farro should be cooked in seasoned water or broth for the tastiest result. Salt is a flavor enhancer and salting after cooking is not as effective as during the process.
Cook it like rice, until the farro is al dente or chewy yet tender.
What Nutritional Value Does Farro Provide?
Besides fiber, farro is full of nutrients. Besides antioxidants, it is a source of iron, magnesium, and zinc.
Does a Greek Salad Have Lettuce?
A traditional Greek salad does not contain lettuce, but instead just vegetables, tomatoes, olives, and cheese (feta). In Greece, it's a peasant salad known as Horiatki.
Can You Make a Greek Salad Ahead of Time?
Yes, though best on the day it's made, it's good for 3-4 days if stored in the refrigerator. You can make the dressing and cut up some of the veggies the day before. Store those in the refrigerator.
Tomatoes, though, are best cut on the day you're serving. Make sure to bring the salad dressing to room temperature and remix to emulsify it before pouring it on the salad.
You May Also Like:
Stay in touch through social media @ Instagram, Facebook, and Pinterest. Don't forget to tag me when you try one of my recipes! And if you love the results, please give it a 5-star rating in the recipe card. Note: As an Amazon Associate, I earn from qualifying purchases. Visit my Amazon Store for my favorite products.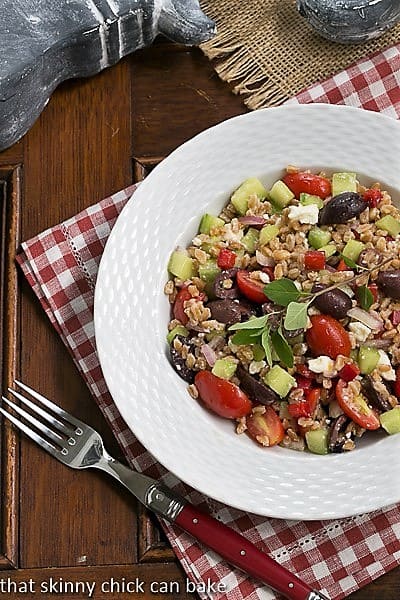 The Recipe:
Greek Farro Salad
Prep Time 20 minutes
Total Time 20 minutes
Yield 4 servings
A farro salad filled with Mediterranean flavors and ingredients!
Ingredients
1 cup farro, cooked according to package instructions (I cooked in chicken broth) and drained well and cooled slightly
⅓ cup extra virgin olive oil
1 cup grape tomatoes, halved
1 English cucumber, peeled, seeded and diced
½ red bell pepper, diced
¼ cup thinly sliced, then chopped red onion
¼ cup Kalamata olives, halved
1 tablespoon red wine vinegar
4 teaspoons lemon juice
1 teaspoon sugar
1 teaspoon minced fresh oregano
Salt and freshly ground black pepper, to taste
¼-½ cup crumbled Greek or French feta
Instructions
In a serving bowl, toss together cooked farro with olive oil.
Add tomatoes, cucumber, bell pepper, onion, and olives.
Whisk together vinegar, lemon juice, sugar, oregano, salt and pepper.
Add to salad and toss.
Add feta and gently toss.
Allow salad to sit at room temperature for about a half hour to let flavors meld. Adjust seasonings as needed.
Notes
To lessen the bite of raw onions, soak them in ice water for 15-30 minutes, drain, and dry on paper towels before using.
Recommended Products
As an Amazon Associate and member of other affiliate programs, I earn from qualifying purchases.
Nutrition Information:
Yield:
4
Serving Size:
1
Amount Per Serving:
Calories: 383
Total Fat: 26g
Saturated Fat: 7g
Trans Fat: 0g
Unsaturated Fat: 18g
Cholesterol: 25mg
Sodium: 392mg
Carbohydrates: 31g
Fiber: 5g
Sugar: 9g
Protein: 9g
I was lucky enough to spend 3 days in Miami with some of my best blogger buddies. The food highlight of the trip was eating brunch with my dear blogger friends, Kim of Cravings of a Lunatic, Aly of Cooking in Stilettos, and Shaina of Take a Bite out of Boca.
The ever-informed Aly guided us to Michael's Genuine Food and Drink and we literally swooned over every bite. Shaina and I split a Greek Farro Salad that I immediately wanted to recreate. What better platform than at a picnic organized by my blogger friends? I took the letter "G" for Greek Farro Salad.
Note: This post may contain affiliate links; view
my Disclosure Policy
for details. I earn a small percentage from any purchase you make by clicking on these links at no extra cost to you.