Fresh Corn Pancakes
At the peak of fresh corn season, I couldn't bear to use a can of cream corn. I tweaked a Dorie Greenspan recipe, used local sweet corn, and created these scrumptious Fresh Corn Pancakes.
These Corn Cakes make for a tasty appetizer! Garnish them beautifully and they'll fly off the platter.
Why You Must Make these Corn Pancakes
They're a delicious, out-of-the-ordinary appetizer or starter!
They're easy to glam up to make an elegant presentation.
Made with fresh sweet corn, they're a delicious addition to any summer menu!
This Dorie Greenspan corn cake recipe was a crowd-pleaser. Dorie first fell in love with these fritters in a French country inn decades ago but didn't see them in the states till celebrity chef Jean-Georges whipped them up for her.
I just couldn't bear the thought of using canned vegetables (does this make me a food snob???). I think a few servings of gray canned peas during my childhood ruined canned veggies for my lifetime! Defrosted frozen corn or fresh steamed corn cut off the cob are my recommendations.
How to Make Corn Cakes
This simple batter was created by putting a drained can of corn (or in my case, 2 cups of defrosted frozen corn or fresh sweet corn in the summer), flour, eggs, and salt in a food processor and pulsing until pureed.
Tablespoons of batter were sautéed to a light golden brown. Easy peasy.
I'd consider adding some fresh kernels next time for even more texture.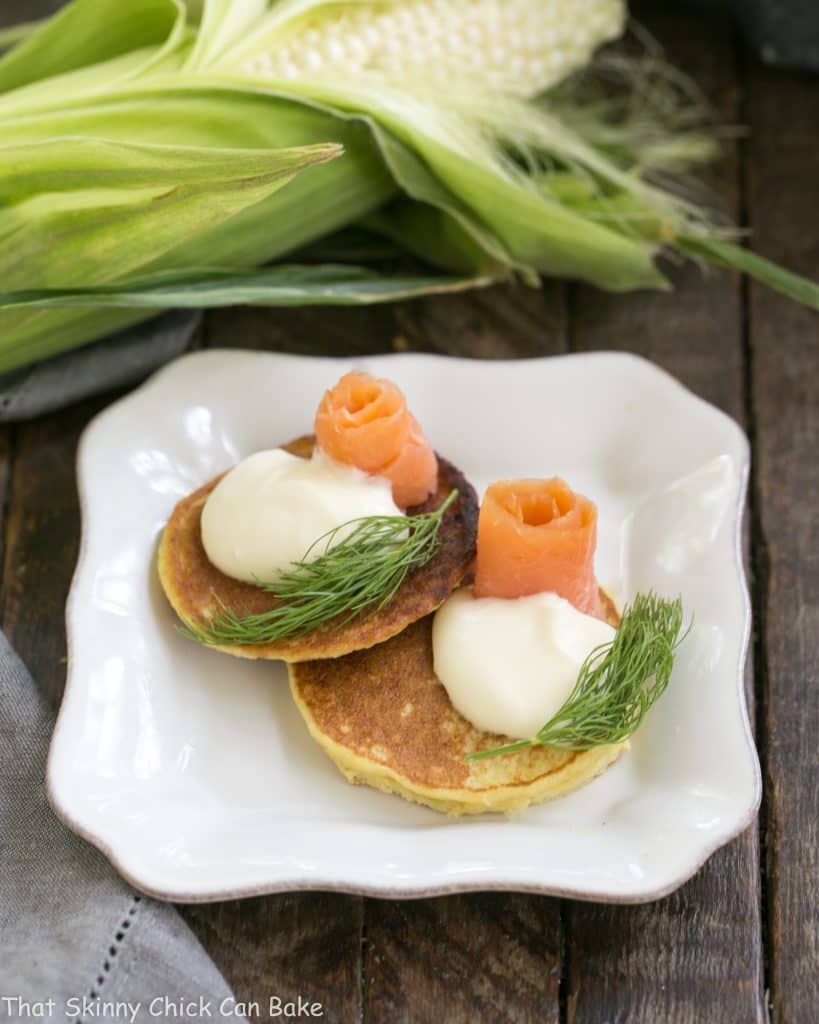 Frequently Asked Questions
I just couldn't bear the thought of using canned vegetables (does this make me a food snob???). I think a few servings of gray canned peas during my childhood ruined canned veggies for my lifetime! I love the plethora of gorgeous vegetables available in the summer, and that's the perfect time to whip up this corn pancakes recipe.
What is a Corn Cake?
Corn cakes are small corn pancakes fried in a skillet or on a griddle. They're often made with cornbread batter.
What's the Difference Between Corn Cakes, Corn Bread, and Corn Pones?
Corn Cakes are small corn pancakes often made with cornbread batter and sauteed.
Corn Bread is baked in a loaf pan, as muffins, or in cast iron skillets or molds and typically uses cornmeal. Corn Pones are a popular Southern version of an eggless cornbread shaped into ovals, then fried or baked.
What Goes Well with Corn Cakes?
They're a terrific side dish with any summer meal. Perfect with grilled meat like burgers and chicken. They're lighter than many other starchy sides you'd serve in the winter.
They're also a wonderful starter or appetizer. Try them with a side of guacamole.
Recipe Notes:
Defrosted frozen corn was a fabulous alternative to canned corn.
If you wanted to use fresh corn to make your corn cakes, make sure to cook it first. Just steaming for a few minutes will remove the raw flavor.
I enhanced mine with crème fraîche, smoked salmon, and a few capers, and created an amazing appetizer.
Just plain, these fresh corn pancakes are a delectable accompaniment to so many entrées. Move over mashed potatoes, these fresh corn pancakes are in town! And if you're looking for a great casserole option, this Cheesy Corn Casserole is easy AND delicious!
More Recipes You'll Love:
The Recipe:
Fresh Corn Pancakes
Prep Time 10 minutes
Cook Time 15 minutes
Total Time 25 minutes
Yield 6 servings
An adaptation of a Dorie Greenspan recipe for delicious corn pancakes. Perfect for summer corn, but there are alternatives to enjoy all year long!
Ingredients
2 cups corn (I steamed 2-3 ears of corn, then removed from the cob)
2 eggs
6 tablespoons flour
3/4 teaspoon salt
Vegetable oil
Creme fraiche, smoked salmon, capers, dill, for serving, optional.
Instructions
Preheat the oven to 200 degrees. Line a tray with paper toweling.
Place corn, eggs, flour and salt in a blender and process until thick and smooth.
Add a few tablespoons of oil to a non-stick skillet and heat over a medium-high heat. When oil is hot, drop batter by tablespoonfuls into oil. Cook for a few minutes until browned, then flip and cook until the other side is lightly browned as well.
Remove to tray and cover with foil and place in oven to keep warm.
Serve with creme fraiche, smoked salmon, capers and dill or your favorite toppings.
Recommended Products
As an Amazon Associate and member of other affiliate programs, I earn from qualifying purchases.
Nutrition Information:
Yield:
6
Serving Size:
1
Amount Per Serving:
Calories: 156
Total Fat: 7g
Saturated Fat: 2g
Trans Fat: 0g
Unsaturated Fat: 4g
Cholesterol: 71mg
Sodium: 613mg
Carbohydrates: 17g
Fiber: 1g
Sugar: 2g
Protein: 7g
Note: This post may contain affiliate links; view
my Disclosure Policy
for details. I earn a small percentage from any purchase you make by clicking on these links at no extra cost to you.